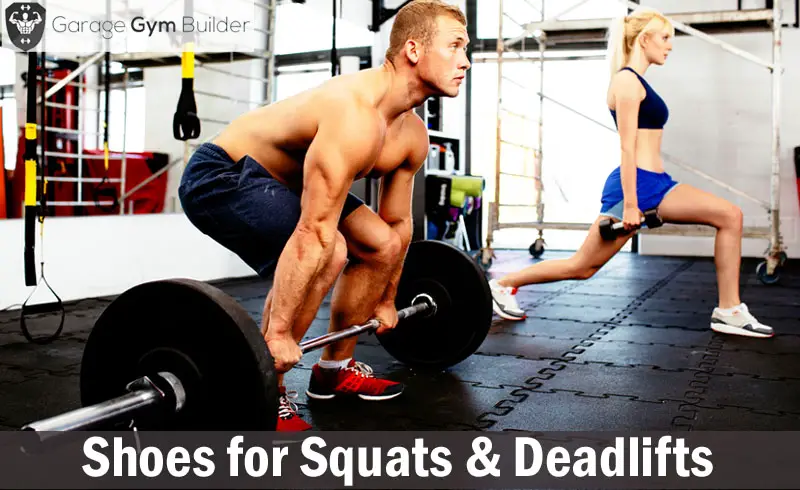 Shoes for Squats & Deadlifts 2018 – A Review
The forces that come to bear on your feet during a squat or deadlift can be many times what nature intended. To approach this type of extreme activity without providing them some form of assistance is unwise at best. Yet at the same time it's not a case where just any old shoe will do. Here we'll look at what we consider the 3 best shoes for deadlifts and squats and then select an overall winner.
The Best Shoes for Squats and Deadlifts

Some people believe the best shoes for squats are their expensive raised-heel shoes but we believe a flat sole is more important to getting the most out of your squats and deadlifts. The shoes we've chosen all share other characteristics as well, including:
Zero or Near-Zero Drop - Because performing squats and deadlifts in shoes with raised heels has never been proven to provide an advantage.
Flat Firm Sole - Because weightlifting shoes for squats and deadlifts should let you feel the floor through the sole of your shoe.
Wide Toe Box - Because shoes that hold your forefoot in an iron grip keep it from splaying the way it was designed to do.
Lightweight Construction - This is mostly a psychological advantage, but if you think your brain isn't involved in lifting...
With that in mind here are our choices for the best shoes for squats and deadlifts.
Dedicated lifters will not be surprised to see the KSO Trainer on this list. Powerlifters have been singing their praises for several years. Whatever else you may use them for you can't go wrong if you employ them as your weightlifting shoes for deadlifts and squats. They stay flat. They stay put. And they're well built.
Sabo's Deadlift Shoes is virtually the only shoe manufactured specifically for deadlifts. Most other lifting shoes for deadlifts or powerlifting squat shoes have a more varied list of applications that include running and rope climbing. Not the Sabo. Its flat profile and tarsal strap mean you'll get plenty of downward force and lateral stability out of this shoe, which is an advantage over both bare feet and other minimalist shoes lacking the strap. Build quality is also excellent.
We go with what works. That's why Chuck Taylors are on the list. When Nike bought Converse a few years back some feared the venerable CT All Stars would get a high tech makeover. Fortunately Nike knew a winner when they saw one and didn't mess with the formula. The result is that today's CTs are as good as yesterday's at doing what the best powerlifting squat shoes should do:
The Adidas Performance Men's Powerlift 2 Trainer is an entry level shoe into the pure weight lifting market. These Adidas squat shoes do have a raised heel. This will help you perform your lifts better. The heel height is 0.6 of an inch, which is a little lower than most Oly lifting shoes. At first impression you may think that this is too low to put you in the correct biomechanical positioning for your lifts.
​Adidas Performance Men's Powerlift 2 squatting shoes actually have stability plates built into the heel. They don't have a lot of bend, though there is some flexibility in the toe box. However, you won't find a lot of flexibility in the heel. That's why these are specialty weight training shoes.
The Inov-8 Fastlift 315 provides a heel wedge, which allows the Olympic lifter to drive into the heels in order to stabilise the weight when lifting overhead. The three quarter inch heel is specifically designed to be ramped up. When you put them on you'll notice that your feet are already tilted. This means that you won't need as much range of motion to get down on the lift.
The Inov-8 Fastlift 315 has little to no cushioning. This means that whatever force you drive into the shoe is going to come out to assist your lift, rather than being dissipated. The Inov-8 Fastlift 315 has a beautiful low profile sporty design. It comes in it a mere eleven ounces.
The Inov-8 Bare XF 210 is Inov-8's first foray into a crossfit specific shoe which allows the female trainer to go hard on both Olympic lifts and plyo type exercises without having to change up their footwear. The shoe features a completely zero drop sole with no difference between the height of the heel and the forefoot. This provides a level and balanced feel. The toe-box and the sides of the shoe are reinforced to improve durability. The upper material is a lightweight breathable mesh.
Inov-8 Bare-XF 210 is incredibly lightweight and the toe-box has plenty of room to spread your feet out for heavy lifts. The sticky rubber sole provides a ton of rigidity, connecting your foot firmly to the floor when lifting overhead, with absolutely no slip.
The Men's Reebok CrossFit 2.0 is a hybrid between the Reebok Nano and an Olympic weightlifting shoe. This means that the shoe is designed to handle other movements alongside Olympic weightlifting movements, including gymnastics and cardio.
The Reebok CrossFit 2.0 looks quite different to most lifters. The heel is not that pronounced. Neither is it a stable pressing surface. It does provide a good amount of cushion and compresses when you initiate your lift. Reebok refer to this mechanism as a spring system. The heel will make a difference in your lifts, allowing you to go heavier as a result of the spring action. The Reebok Lifter has only one securing strap, but it works brilliantly.
The Reebok Crossfit Nano 6 is wrapped end to end in an abrasion resistant cage, the Duracage. This makes the shoe extremely tough and does a great job of securing your foot, and preventing it from sliding around. The Nano 6.0 Reebok has a four millimeter heel to toe deficit. This makes them great for any movement from short distance runs to Olympic and Power lifts.
Reebok CrossFit Nano 6 has seven lace hoops, which travel all the way up your foot. The Reebok Crossfit Nano also has a wide toe box that allows your feet to stretch out, making them more comfortable. The sole is fairly cushioned, but not so much that it will be a problem when performing Olympic lifts.
The Nike Romaleos 2 has been specifically designed for the weightlifter, being originally made for the 2008 Beijing Olympics. Form and function merge seamlessly here, resulting in comfort, performance and stylish looks. The Romaleos is 25% lighter than Version 1 and has a reworked forefoot to increase flexibility. This gives more lift and drive due to the lighter weight.
The quarter inch heel powerbridge features a honeycomb system of trusses and bridges. This creates a lightweight alternative to the ancient wooden shim. This allows you to lift as much weight as you can handle without any kind of compression. The upper body of the shoe is constructed from ultra durable synthetic materials. It has both integrated lacing and opposing velcro straps.
The Adidas Men's Leistung 16 weightlifting shoe delivers a synthetic upper that features a triaxial design micro adjusting boa closure system for the ultimate, consistent hold. It has a flat, flexible forefoot for a smooth transmission of power. The weightlifting engineered chassis features lightweight injected polymer for added structural strength. The rearfoot cradle ensures stability with lockdown. The heel height is 24.8 mm.
The Leistung 16 incorporates the latest in Adidas high tech to provide a more functional, lightweight workout. The shoe comes in red but has a pink heel, which may not be to everyone's liking. The Boa lacing system provides a perfect tightness to the entire foot. The toe also provides breathability.
Our Choice for Best Squats and Deadlift Shoes Is...
Sabo Deadlift Shoe
While it's the most expensive of the three shoes reviewed here it's also the only one designed specifically for deadlifting and performance is undeniable. While the Chucks are a sentimental favorite this is not about nostalgia. And while the Vibram KSO Trainer is a great shoe you just can't deny the advantage the Sabo's reinforced sides, tarsal strap and additional structural oomph provide a decent value option.
---
Other minimalist lifting shoes for squats and deadlifts you may want to consider include the Merrell Flux Glove, the Nike Free and the New Balance Minimus MX20v3. All are quality weightlifting shoes to deadlift in and can help you achieve your goals.
The subject of whether or not to deadlift in weightlifting shoes with a raised heel has been raging for years and isn't about to go away anytime soon. We're in the 'feet flat on the ground camp' until we see or hear evidence that there's a better way. Our choice of the Sabo as best shoes for squats and deadlifts reflects this belief but mostly reflects the fact that the Sabo and brands like Inov8 (click here to read our Inov8 weightlifting shoe review) are first-class lifting shoes.

If you would like to learn more about best CrossFit shoe for women and other different types of weightlifting shoes currently on the market, check out this article where we cover everything you could ever want to know.