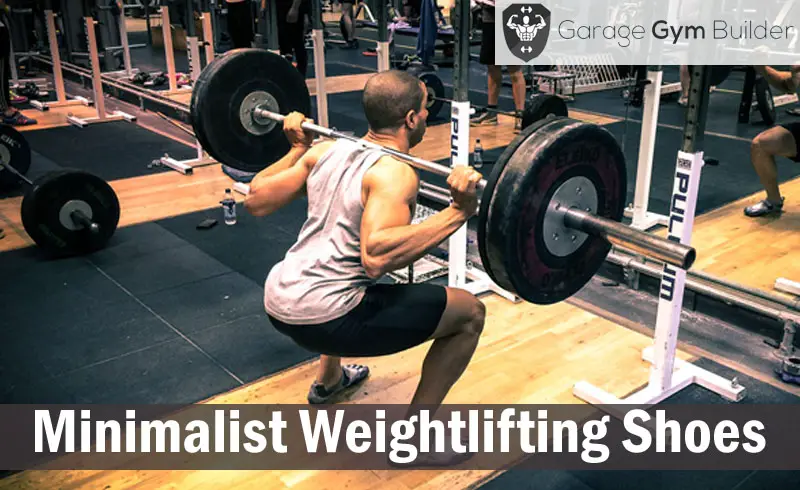 Review of the Best Minimalist Weightlifting Shoes of 2019
updated January 1, 2019
Flat-soled minimalist lifting shoes have caught fire in recent years with everyone from podiatrists to Olympic athletes singing their praises. Their attraction has spread beyond the edge of the lifting platform to the world of CrossFit where the sole-to-the-ground ethos has been heartily embraced and spawned dozens of new designs. Below we'll take a close look at the best minimalist lifting shoes available today and see if one stands out above the others.
The Best Minimalist Weightlifting Shoes
Whether or not you subscribe to the theory that modern footwear is killing our feet the fact is that there are many types of athletic activity, including weightlifting, that are performed more effectively wearing lightweight, minimalist footwear. The three best minimalist shoes for lifting are all shoes we believe fit the performance bill while also delivering outstanding value.
---
The Five Fingers design tends to divide people into the love-em or hate-em camps but no matter which camp you're in the quality and versatility of these minimalist weightlifting shoes is something that can't be denied. This particular model of Five Fingers footwear is noticeably more comfortable than most of its predecessors and for many lifters is the closest thing to going barefoot. Unique among minimalist shoes for weightlifting is the antimicrobial footbed designed to keep odor under control. Other key features include:
Machine washable
Well ventilated upper mesh
Extremely flexible throughout
Dri-Lex® linings to prevent moisture buildup
---
The Flux Glove is Merrell's all-purpose shoe intended to attract the attention of CrossFitters by being as at-home in the box as it is on the lifting platform. The extremely lean sole offers barefoot style feedback on any indoor or outdoor surface and the shoe really shines when the powerlifting weights get piled on. Excellent for deadlifts and squats the Flux Glove will have you running straight from the lifting platform to the cross country trail. Key features include:
Zero drop
Extra wide toe box
Snug yet breathable upper
Vibram rubber sole for superior grip
---
The New Balance MX409V3 handles whatever comes its way and is one of the best weightlifting shoes for CrossFit. Feather light yet boasting impressive all around support, the shoe will provide that barefoot experience at times while keeping you properly aligned during your Oly lifts. The soft heel pillow comfort insert provides super comfy ride, while the antimicrobial lining keeps things comfortable and odor free even for those who prefer going with no socks. A great overall CrossFit value shoe. Key features include:
Excellent build quality
Lightweight design
Excellent grip on all surfaces
The high quality construction also promises longevity and while I have not owned my pair of Adidas Adipower weightlifting shoes long enough to know for sure yet, I would be very surprised if they don't turn out to be one of the most durable pairs that I have owned.
---
Our Favorite Minimalist Shoes
Winner:
You would do well to memorize this shoe's less than amazing name because if it's minimalist shoes for weightlifting you're after you won't find better value than this offering from New Balance. Extremely well built, versatile, comfortable and able to hold its own under the weight or dragging a sled, the MX20V3 is a lifting shoe to be reckoned with.
Final Thoughts / Additional Information
The overall number and quality of minimalist shoes for lifting has increased exponentially in recent years. If none of the above mentioned shoes is your particular cup of tea you'll find plenty of others out there to choose from including the Nike Free, Inov8 F-Lite 195, Reebok Nano 2.0 and Asics Onitsuka Tigers. Our choice - the New Balance MX20V3 - is a shoe that is guaranteed to impress without breaking your bank and will be a welcome addition to any lifter or box junky's kit. For more information on the New Balance MX20V3 check out this video:
Minimalist lifting shoes are propelling weightlifters to new personal bests on a daily basis and casting doubt on the long held belief that barefoot is best. Whether you're a novice or veteran lifter, a weekend CrossFitter or dedicated extreme athlete these amazing, nearly invisible pieces of 21st century weightlifting footwear can raise the bar of your performance with minimal fanfare or expense.
Looking for more affordable shoes? Check out Wei Rui weightlifting shoes that are available to both men and women.

If you suffer from being flat footed please read this article on the best weightlifting shoes for flat feet. We've broken down the best flat footed weightlifting shoes currently on the market. Fear not! We've got you covered.
My name is Jim Roose. I'm a former competitive power lifter and gym owner. I've bought millions of dollars of fitness equipment over the last 20 years. This site is my way of giving back to the fitness community that's done so much for me. Every article on here is carefully researched and written by me. Leave a comment if you have any questions.