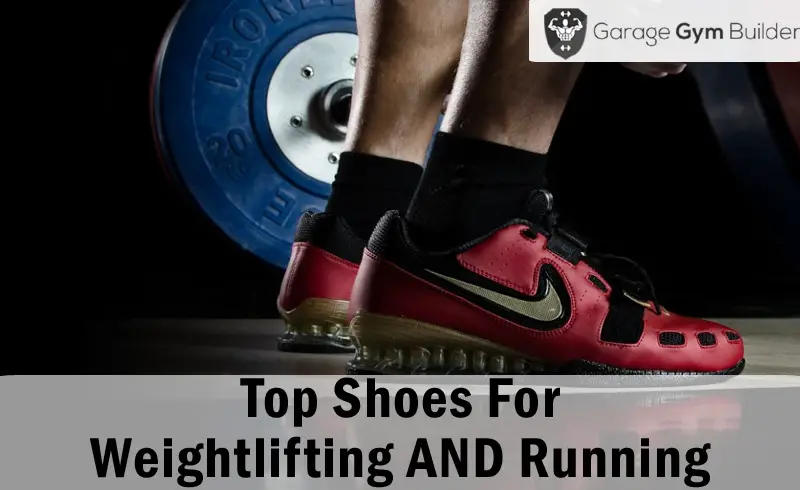 Best shoes for weightlifting and Running / Cardio
Not all great weightlifting shoes are good for running and vice versa. In fact, lifting in running shoes is one of the biggest mistakes you can make, while dedicated Oly shoes with their hard raised heel are not going to get you far on the track. There are however shoes that do an excellent job handling the demands of both sports and below we'll look at the best shoes for weightlifting and running.
The Best Shoes for Lifting and Running
First we'll highlight what we feel are the three best shoes for weight training and cardio and from them select one as the best overall value.
The New Balance MX409V3 handles whatever comes its way and is one of the best weightlifting shoes for CrossFit. Feather light yet boasting impressive all around support, the shoe will provide that barefoot experience at times while keeping you properly aligned during your Oly lifts. The soft heel pillow comfort insert provides super comfy ride, while the antimicrobial lining keeps things comfortable and odor free even for those who prefer going with no socks. A great overall CrossFit value shoe.
Features Include:
Extremely lightweight
Great all-round support
Soft heel pillow
---
Ultra lightweight construction
Highly durable and versatile
Injected EVA midsole
3mm footbed
---
You've no doubt heard the term "tough as nails", but what
about "tough as Kevlar"? Well the Reebok Nano 5.0 is
exactly that with the introduction of Kevlar fabric into the
upper. In spite of this the shoe somehow manages to
maintain a high degree of flexibility during prolonged runs.
The Nano also displays excellent lateral stability which,
when combined with the wider than normal toe box,
makes it one of the best shoes for running and lifting .
key features include:
Flexible, flat sole for lifting or running
MetaSplit grooves mimic natural flex lines
Solid TPU shell for excellent overall support
Available in a range of color combinations
Our Choice for the Best Shoes for Running and Weightlifting
The MX20V3 is our choice for best shoe for running and lifting because it just feels right whether you're lifting bar-bending weights or blazing through your 3rd mile on the track. While the other shoes will both serve you well performance-wise, we believe the added comfort level of the MX20V3 when combined with the more attractive price point and superior arch support make these the best shoes for weightlifting and running currently available.
Final Thoughts on the Best Shoes for Weightlifting and Cardio/Running
While it may be tempting to just pick any dedicated CrossFit shoe as the best shoe for running and lifting, often the best shoes can come from surprising places with the Inov8 F-Lite 195 being a good example. Primarily designed as a running/light workout shoe it turns out to be incredibly effective on the lifting platform as well. The lesson? Don't judge a shoe by its marketing alone.
If you spend any time on weightlifting forums you'll find plenty of folks who still advocate lifting in bare feet. Our advice: don't do it. It's an idea as discredited as lifting in running shoes. February be 50 years ago the best shoes for lifting and running were so poor that barefoot was a realistic option, but not today. Today the best shoes for weightlifting and running feature first-class construction while also being affordable. They'll not only help you push to new PBs but, more importantly, help you avoid injury and deftly move from the platform to the track without skipping a beat.
Up Next:
Check out our review of the Risto's weightlifting shoes and best high-top weightlifting shoes. If you are a lifter that loves high top weightlifting shoes than you definitely need to check out that article.
If you liked this article, please comment and share the article with friends. If you hated it, we'd love to hear why so that we can improve our content across the board!
My name is Jim Roose. I'm a former competitive power lifter and gym owner. I've bought millions of dollars of fitness equipment over the last 20 years. This site is my way of giving back to the fitness community that's done so much for me. Every article on here is carefully researched and written by me. Leave a comment if you have any questions.