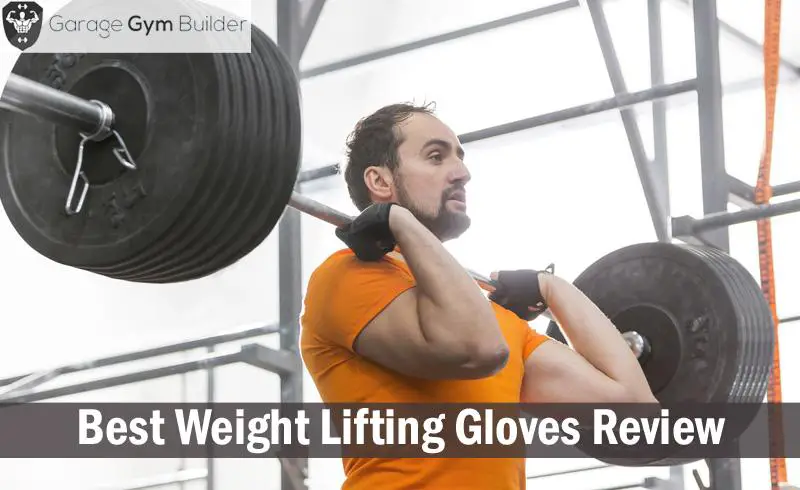 Best Weightlifting Gloves Review 2018
The quality of your grip can make or break your workout or weight training session. Unless you've got a secure, slip free hold on the bar, you are likely to stop your set short of target muscle failure.
Weightlifting gloves strengthen your grip, increase your comfort level and stop you from ripping up your palms. In this article, we identify the 10 best weightlifting gloves to allow you to push to the limit in the gym.
The Best Weightlifting Gloves at a Glance

​The top weightlifting gloves on the 2018 market is the Emerge Weightlifting Half Finger Gloves which are made perfectly to provide you the full support for your heavy training and weight lifting needs.
​The second-best weightlifting glove is the Harbinger glove, with its thick leather palm, durable double stitch seams, and vented design. Rounding out our top 3 is the Nike Men's Lockdown glove, which is made from soft dry-fit fabric, has a mesh backing, and extended fingers.
To make is easy for you to compare the best brands of weightlifting gloves side by side, we've rated the best weightlifting gloves on the basis of price and durability, and then have given an overall rating out of 5.
We review each product in depth later in this article.
| | | | | | |
| --- | --- | --- | --- | --- | --- |
| | | | | | |
| | | | | | |
| | | | | | |
| | | | | | |
| | | | | | |
| | | | | | |
| | | | | | |
| | | | | | |
| | | | | | |
| | | | | | |
Benefits of Weightlifting Gloves
As mentioned above, when you are looking for a good set of weightlifting gloves, there are a few things that you should take into consideration:
The Grip
Using gloves while weightlifting and weight training will help improve and strengthen the grip you have on your weights. It is common for hands to become quite sweaty during weightlifting which can seriously hinder the grip you have on the weights. The weightlifting gloves will keep your hands on the weights and will keep them safely in position, rather than slipping from your grasp.
Help Prevent Calluses and Blisters
Calluses and blisters are also a common occurrence when you are weightlifting. If you have blisters, it can also be painful and can also cause your hands to slip because you cannot comfortably maintain your grip on the weights. The weightlifting gloves can hide these small imperfections while allowing you to maintain a secure grip on the weights, while preventing future calluses and blisters from forming during your weight training program.
Pressure and Improved Wrist Support
Using weightlifting gloves can also provide your hands and wrists with much-needed support while you are lifting heavy weights. The material of the gloves also faces scrutiny because this material will be what helps stabilize your wrists as the wrists bend backwards while you lift the weights.
The weightlifting gloves can also help increase the pressure capacity that your hands and wrists can handle during weight training so that you can lift more weight effectively and safely. The gloves will help distribute the weight more evenly, especially while you are performing deadlifts and upright rows. Adding wrist straps to the weightlifting gloves can also help you increase the amount of weight you can handle during your training sessions.
Choosing the Best Weightlifting Gloves
If you participate in exercises and weight training activities that involve dumbbells, pull-up bars, and other strength training exercise equipment, then you know that after these sessions your hands can become very sore and even raw if you don't utilize weightlifting gloves for the added protection and support you need.
Your weightlifting gloves should fit tightly so that they will not risk moving and sliding around while you are lifting weights. If they slide around, it can turn disastorous because you can easily lose your grip on the weights which is dangerous when you are doing overhead lifts.
The weightlifting gloves should also be comfortable to wear and should not cause additional pain when you are wearing them. If you experience any discomfort, then you most likely purchased a size that is not suitable for you. There are a lot of weightlifting gloves that come as fingerless options as well so they still offer you the support you need for your hands, wrists, and palms, but it may be easier to grip if the top half of your fingers can still be exposed.
Good weightlifting gloves should also be extremely durable, flexible, and breathable. The gloves are going to be used very often in weight training programs so it is important that they can maintain their shape and support for continued usage. Finding a non-slip material for the palm is also a good idea to help prevent slipping.
Flexibility will allow more movement. They may take more time for you to break in than the other more rigid weightlifting gloves, but you will find that the more movement you are allowed and the better grip you can get will be a big advantage to you in the long run.
Fingerless gloves are the more breathable option and tend to be lighter in weight. Some even have mesh material to allow for increased air circulation. If you choose leather weightlifting gloves, you should remember that the material will definitely be less breathable and less flexible. Neoprene gloves are better and can wick moisture away from your hands and provide you with a very suitable workout glove.
The Top 10 Up Close

Emerge Weightlifting Half Finger Gloves are a multipurpose training aid that is perfect for Cross Training, Olympic lifting, and bodybuilding. These weightlifting gloves feature breathable wrist and grip wraps that provide a comfortable layer of padding between your skin and the bar; this means no more painful calluses or dangerous hand slipping because of the sweat.
​Emerge Fitness Gloves features extremely sturdy wrist wraps that are built right into the weightlifting gloves; this provides you with that essential wrist support you need when doing heavy lifting. The wrist straps also hold your gloves firmly in place, giving you the confidence that they won't move around when you're pushing a max lift.
​Your grip will be stronger than ever thanks to the PVC leather and silicone printing palm reinforcement. We believe these are the best weightlifting gloves on the market because they combine they key factors of quality, reliability, and durability at a price which is, quite simply, unbeatable.
Extremely sturdy
Breathable
Extra long wrist straps
​Harbinger Weightlifting gloves feature all leather palms that are cushioned with open cell technology; this provides you with the softest and most comfortable and resilient padding for your palm that we have come across.
​The vented design of Harbinger Weightlifting Gloves make it excellent at wicking away sweat, thus preventing sweat slippage. They also feature a wraparound thumb cover that is reinforced with an extra layer of leather.
The Harbinger weightlifting gloves have double stitched seams which make them amazingly strong and durable. The half finger length of these weightlifting gloves ensures that you get maximum gripping ability.
They also carry a 90-day replacement warranty. These weightlifting gloves are available in five sizes, so you can get the very best fit.
Leather palms
Vented design
Double stitch seams
​The Nike Men's Lockdown glove is made of soft dry-fit fabric. The padded palms are perforated to increase the breathability and sweat removal ability. The back of the hand is a mesh fabric to enhance aeration, breathability, and increased flexibility. The wrist strap is completely adjustable so you can get just the right fit. Moisture wicking technology removes sweat, keeping your hands dry and slip resistant.
​The Nike Men's Lockdown Gloves have extended fingers to add protection and comfort. These weightlifting gloves are very easy to take on and off.
The Nike swoosh logo is featured along the side of the glove. These weightlifting gloves are great for pull-ups and chin up exercises and they come with a full manufacturer's warranty.
Soft dry-fit fabric
Mesh on back of the hand
Extended fingers
​Bionic weightlifting gloves for men provide you with a half finger fit to allow for the best balance between grip control and comfort. Padding has been strategically placed around the glove to prevent painful blisters and calluses. These weightlifting gloves also enhance the gripping ability of the glove and adds comfort.
​These Bionic weightlifting gloves have been treated with an antimicrobial treatment to reduce the effect of odor, germs, and bacteria.
The Bionic weightlifting glove features a patented pre-rotated finger design. The benefit of this is that it enhances the natural closer effect of the finger to produce a stronger hold. It also helps to reduce hand fatigue while you are exercising. The Polytowel thumb design adds to the moisture wicking ability of the glove.
Strategically placed padding
Antimicrobial treatment
Pre-rotated finger design
​GoFit weightlifting gloves feature a unique Diamond-tac gripping pattern that help to improve your grip strength when you are performing reps. It also reduces the fatigue level of the hand and wrist.
​The palm pad has been cut to an ergonomic pattern that give your hand the maximum amount of protection. The thumb is made from terry cloth, making it ideal for wiping perspiration from your brow.
The GoFit weightlifting gloves for men feature reinforced rubber on the thumb and forefinger. This reinforcement provides you with greater gripping power when you reach the 7th and 8th reps of your set.
The flexibility of these weightlifting gloves are also enhanced by the neoprene knuckle panel and a two way stretch top allows you to get the best fit.
Diamond-tac gripping pattern
Terry cloth thumb
Reinforced rubber thumb
​The Gold's Gym weightlifting glove provides you with a pair of half finger gloves that are ergonomically enhanced to provide superior fit and stronger grip. The Amara Suede palms ensure that you get the most comfortable grip possible without giving too much cushioning that impedes your hand closing ability. A hook and loop adjustment allows you to get the perfect fit for your needs.
Gold's Gym weightlifting gloves are jet black and feature the famous Gold's logo on the enclosure tab. Knowing that Gold's Gym have put their name to this glove can give you the confidence that it is a high-quality product. These durable weightlifting gloves are ideal for all of your Crossfit moves, including pull ups and chin ups.
Amara Suede palms
Hook and Loop adjustment
Gold's Gym logo
Sizing runs a little small
​The Valeo Competition weightlifting gloves provide you with three quarter inch fingers to enhance your comfort and gripping ability. The Velcro wrist wraps allow you to get a more secure grip and a more customized fit. These weightlifting gloves have double leather construction, making them amazingly sturdy and durable. They also feature a nylon mesh back for better breathability and comfort. Hook and loop closure tabs enhance the secure gripping ability.
​The Valeo glove has reinforced stitching throughout, giving you confidence that they won't fail when you need them the most. You can safely wash the gloves in a machine. These weightlifting gloves come in six sizes, allowing you to get the perfect fit. The padding on the palm makes these gloves great for heavy bench pressing.
Three quarter inch fingers
Wrist wraps
Hook and loop tabs
​Meister wrist wrap weightlifting gloves feature a unique gel padding that integrates with foam to give maximum palm protection when holding the bar. The Velcro wrist wraps stabilize the glove, providing a tight enclosure around the wrist. The finger panels allow you more movement than most other weightlifting gloves.
​Meister Wrist Wrap Gloves actually flex and conform along with your hands when you move around. A mesh backing on these gloves provides a good amount of breathability.
The Meister workout glove is constructed from the highest quality Amara leather. It features double stitching to ensure rugged quality. These gloves are a great choice if you are going extra heavy on your lifts. They are completely machine washable and dryable.
Gel padding
Velcro wrist straps
Mesh backing
Stitching may dig into your hand
The Trovis weightlifting glove is a minimalistically designed weightlifting glove that leaves you with an open back of the hand. This makes it feel as if you aren't even wearing a glove, providing maximum breathability.
​The chamude and neoprene palm covering also leaves the fingers completely exposed; this allows you to get the maximum amount of freedom of movement as you grip the bar.
The free flow of air through the hand reduces sweat build up, along with blisters and calluses. These weightlifting gloves come in two different sizes and are available in black, red or blue. They are an amazingly comfortable and lightweight glove and are ideal for Crossfit training.
Open back and fingers
Lightweight
Extremely comfortable
Finger hole a little tight
​The Fit Active Sports ventilated weightlifting glove gives complete protection to the palm while leaving the back of the hand open; this allows for maximum breathability while giving full gripping protection.
​The material used in the construction of Fit Active Sports Gloves is silicon printed neoprene which provides maximum comfort, while also protecting from water, hazardous chemicals, heat and oils.
These weightlifting gloves also feature Velcro wrist straps to allow you to get a tight, secure fit around the wrist.
The Fit Active glove features an open hand design which enhances odor resistance, while reducing sweat build up and wicking away moisture. These weightlifting gloves come with a no questions asked money back guarantee.
It is a very good glove for deadlifting and bench pressing.
Maximum breathability
Velcro wrist straps
Money back guarantee
Next: Best weightlifting and workout gloves for women
Conclusion
Our favorite weightlifting glove is the one from Emerge for its outstanding quality that comes at such a pleasant price. We were also very impressed with the Harbinger, with its vented ergonomic design and leather palm protection.
Rounding out our top 3 of the best weight training gloves is the Nike Men's Lockdown glove, which features extended fingers, mesh backing and is made from a very soft dry-fit fabric.
---