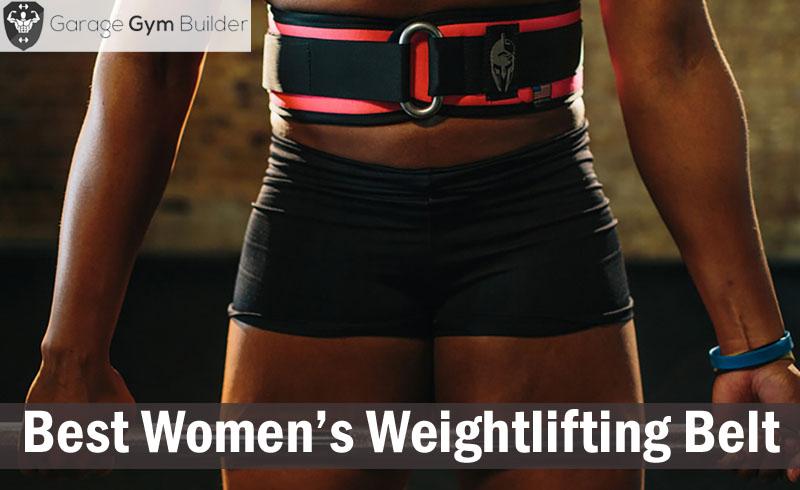 Best Women's Weightlifting Belt Review 2017
A weightlifting belt is an essential piece of training equipment for anyone who's serious about heavy lifting. For many years, however, women were forced to contend with belts that were designed for their male counterparts. Often they were too big, bulky and didn't provide a cinched fit. Fortunately, times have changed and there is an impressive selection of belts specifically designed for the female lifter. In this article we discover the top 10 on offer.
The Best Women's Weightlifting Belts at a Glance
The best women's weightlifting belt on the current market is the RitFit, with it's market leading 6 inches of belt thickness, and extra comfort by way of tricot lining, and soft bound edges. A close second is the Schiek, which has 3 patented aspects, including hip and rib contours. Our third favorite is the FitGirl pink model, providing 5 inches of thickness all the way around and a supportive foam inner core.
To allow you to make a quick comparison of the top weight lifting belt for women, we've rated each of them on the basis of price and durability. We've then provided and overall rating out of 10 for each one. In the following section, we go in depth on each brand.
| Product | Product Name | Price | Durability | Overall | Product Link |
| --- | --- | --- | --- | --- | --- |
| | | 4.75/5 | 4.75/5 | 4.75/5 | |
| | | 4.5/5 | 4.75/5 | 4.5/5 | |
| | | 4.75/5 | 4.5/5 | 4.5/5 | |
| | | 4.5/5 | 4.5/5 | 4.5/5 | |
| | | 4.25/5 | 4.5/5 | 4.25/5 | |
| | | 4.25/5 | 4.25/5 | 4.25/5 | |
| | | 4.25/5 | 4.5/5 | 4.25/5 | |
| | | 4.5/5 | 4/5 | 4.25/5 | |
| | | 4.5/5 | 4/5 | 4.25/5 | |
| | | 4/5 | 4/5 | 4/5 | |
The Best Weightlifting Belts For Women In-Depth
The RitFit women's powerlifting belt provides an impressive six inches of back thickness. This is the most back support that we have yet seen in a women's lifting belt. The belt has been ergonomically designed to provide the best ergonomic support to the entire core area while lifting. The inner foam core of this unit provides extra comfort and protection to the lower back. Comfort is enhanced with soft bound edges and tricot inner lining.
The thickness of this unit tapers down by about and inch at the front, still providing plenty of support for the abs to brace against. A velcro enclosure allows you to get just the right fit. The RitFit is hand washable.
PROS
Six inches of back support
Inner foam core
Soft bound edges
The Schiek women' lifting belt provides four inches of support around the back, tapering to a slightly narrower from. It is ergonomically designed to provide the ideal fit to support the lumbar, region, core and hips, while not getting in the way of your exercise movement pattern.
Schiek women' lifting belt has 3 patented features that make it a superior choice for women who are looking for the best in support and comfort. The downward angled design works with the natural movement patterns of the body around the waist, allowing you to perform more freely. Hip and rib contours provide the snuggest, most comfortable fit imaginable, and the one way Velcro closure provides you an incredibly fast and easy on-off system.
PROS
Hip and rib contours
One way Velcro closure
Downward angle design
The FITGIRL pink weightlifting belt gives you 5 inches of wrap around thickness for a very good lover of both lumbar and abdominal support. A two inch pink support strap with buckle runs around the main fabric. Sizing adjustment occurs by way of a Velcro strap, meaning that you are not limited to the predetermined holes in a leather strap.
An ultra light foam core gives added support and protection to the lower back. Breathability and sweat wicking capability is provided by way of a tricot inner lining. The lining also ensures that the muscles of your core remain warm while you are training. FITGIRL pink comes with a 60 day money back guarantee.
PROS
5 inches all the way around
Velcro adjustment strap
Foam core inner
CONS
Hard to size for small framed women
The Harbinger women's belt comes in a stylish pink and black and features an extra wide 5 inch back width. This tapers down as the belt comes around to the stomach. The pick support strap that runs around the middle is two inches thick. With a very flexible, ultra-light foam inner core, this unit provides plenty of lumbar support and plenty of comfort.
The nylon webbing of the harbinger provides a fabric that is at the same time firm yet flexible. That makes it a great choice for the women who wishes to quickly move from heavy power weight based exercises to cardio moves that require movement through the hip area. A breathable tricot lining makes for a comfortable fit on the skin.
PROS
5 inch back
Foam inner core
Tricot lining
CONS
Needs to be thicker in front
The Fire Team Fit ladies' weightlifting belt for women has a lightweight, contoured design that looks great and is highly functional. It provides 5 inches of back support which tapers down to 3 inches in the front. The nylon webbing construction of the belt is breathable, anti microbial and sweat resistant. This unit looks great and is available in black, grey, blue and pink.
The Velcro strapping system on the Fire Team Fit weightlifting belt allows you to cinch it to just the right level. This belt is great for such exercises as squats, deadlifts, overhead presses and power cleans. At the same time, it is ideal to provide back support when performing CrossFit type moves.
PROS
5 inch back support
Anti microbial and sweat resistant
Velcro strapping system
The Rip Toned women's weightlifting belt provides you with 4.5 inches of support back and front which tapers slightly at the waist. This provides a great deal of stability for the lower back and the core, while still giving plenty of freedom of movement through the sides of the waist. You get a super comfortable, snug fit thanks to a tricot lining.
The Rip Toned powerlifting belt for women provides a metal clasp that provides a secure, easy-on, easy-off system, and fits very securely. You get the added security of an extra long Velcro strap to allow you to cinch up as tightly as you need to. This belt is washable and comes with a 100% lifetime money back guarantee.
PROS
4..5 inch back and front support
Waist taper
Free guide book
Lifetime guarantee
The Grip Power Pads Pro workout belt for women features a cool back and pink design that will complement a woman's figure as it provides maximum protection. The belt is 5 inches wide around the back and tapers down to a 3 inch width around the abdominals. The thick nylon fabric is firm for lumbar support while also affording the flexibility needed to for movement in the gym.
Grip Power Pads Pro comes with Sure Grip Velcro to allow for quick fastening. It also features a rubber pull tab to make it even easier to get the belt off. With no buckles to fasten, this belt is completely adjustable so you can a perfect fit every time.
PROS
Rubber tab
Sure Grip velcro fastening
5 inch backing
CONS
Front width needs to be thicker
The Crossactiv weightlifting belt for women is an ultra slim model that provides an impressive level of support without being too obtrusive. It features a very durable Velcro fastening strap that allows for the level of micro adjustment that you just can't get with a leather hole belt. Because of it's slim-line design, this belt won't chafe or irritate you and it won't interfere with the moves that you're performing in the gym.
Crossactiv weightlifting belt features an extra stiff back and a foam interior for extra lumbar padding. As well as providing max support and comfort, these features ensure that this unit will never warp, fold or bend. It is also guaranteed not to unexpectedly open.
PROS
Ultra slim design
Extra lumbar padding
Durable velcro fastening strap
CONS
Needs to be a little thicker
The Quest Women's belt provides 3.25 inches of width in a thick nylon design that has an extra Velcro strap around the outside. The blue and black design is very attractive and minimalistic, so that it won't get in the way when you're doing exercises such as bent over barbell rows.
Quest Women's belt is so unobtrusive that you can wear it at the gym while doing squats and under your clothing at the office to provide ongoing lumbar support. The nylon fabric used on this unit provides just the right mix of strength and flexibility. That makes this an effective tool to use when you are transitioning from Olympic type lifting to plyometric based CrossFit exercises.
PROS
Minimalistic design
Great mix of strength and flexibility
Strong Velcro strap
Leather weightlifting belts offer some unique benefits over nylon. Check out our Leather Weightlifting Belts Review 2017 to find the best leather belts in the market.
The LadyFit women's weight lifting belt gives you plenty of support for the vulnerable lower back when performing squats and overhead lifts. You get a full 5 inches of thick Velcro back support. This tapers ever so slightly in the front, but generally offers full support all the way around the core.
Because LadyFit women's weight lifting belt is made of nylon and features a tricot lining, you won't have to contend with rubbing on the skin or bruising when you use the LadyFit. This model comes in a range of sizes, so you are able to find just the right fit for you. The Velcro fastening system is totally reliable and extremely easy to use. The LadyFit is a very attractive, lightweight, firm and flexible lifting belt.
PROS
5 inch thickness
Easy on-off Velcro fastening
Very comfortable to wear
CONS
Sizings run a little small
Discover the top weightlifting belts across the entire market with our Best Weightlifting Belts Review 2017 – it will help you make the right buying decision.
Conclusion
The best weightlifting belt for women is the RitFit, which provides an exceptional six inches of lumbar support, with almost the same level at the abdominals. An inner foam core and soft bound edges ensure max lifting comfort. We were also very impressed with the Schiek women's belt, with it's patented downward angle design, hip and rib contours and one way Velcro enclosure.
Our third favorite was the FitGirl pink model, featuring 5 inches of uniform thickness, foam core inner and Velcro support strap.