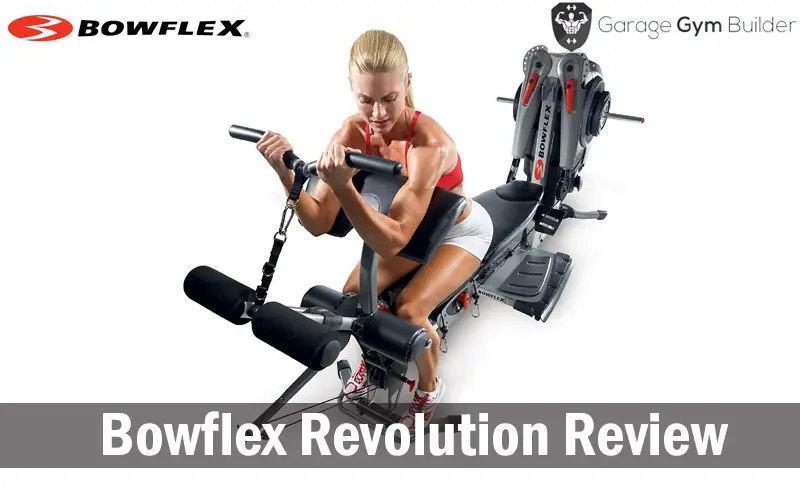 Bowflex Revolution Review
Bowflex have been producing home gyms since the mid 1980's and most of us are familiar with their patented power rod technology. However, with Bowflex Revolution, they have introduced a new resistance technology, which they have called SpiraFlex. The Revolution is Bowflex's top of the line home gym. It is a heavy duty model that boasts in excess of 100 exercises and a max resistance of 200 pounds, which includes an 80 pound upgrade.
In this article we provide you with an in-depth review of the Bowflex Revolution. We also compare the Revolution with a popular competitor product to help you make the smartest buying decision.
Bowflex Revolution Pros and Cons:

Innovative Spiraflex Resistance System
Huge exercise range
Heavy Duty construction
200 pound max resistance
Requires quite a large workout area
Expensive
Difficult assembly
Key Specs
Length = 9' 4"
Width = 3' 2"
Height = 6' 1"
Workout Area: 10' 7" (L x W)
Seat: Adjustable Bench
Exercises: 100+
Max User Weight: 300 pounds
Resistance Type: Spiraflex
Accessories: Resistance Plate Upgrade, Accessory Rack, Training Software, Machine Mat
Warranty: 10 Years
Features
Bowflex Spiral Technology
Bowflex have always been innovators when it comes to resistance weight training. However, with the Revolution, they have moved beyond the traditional weights, cables and rods that you may be used to. For this one, they have leaned on the technology that is used on the International Space Station. When the astronauts in the space station attempted to work out with traditional free weights in order to combat the losses of bone and muscle mass that occur in a weightless environment, the lack of gravity made it impossible. That is what set NASA technologists to work on something that would work. The result is how the SpiraFlex system that we see on the Bowflex Revolution originated.
The Spiraflex technology revolves around cleverly designed plates, each of which is constructed with a heavy duty elastic strap housed inside the plate. When you perform an exercise, the Spiraflex plates rotate around the center. This stretches the elastic strap and creates resistance. The plates combine with a mechanism inside the machine to create constant resistance throughout the entire range of motion. The result is a more consistent gym quality experience.
The Spiraflex plates look a lot like free weight plates. They are assigned a pound rating based on their resistance as follows:
5 pounds
10 pounds
20 pounds
40 pounds
The great thing about the plates is that, even though they differ in created resistance, they all weigh about the same, which is just a few pounds. That means that the real power of the workout is in the resistance, not the weight plate. This makes it so much quicker and easier to stack these light weight plates onto the Revolution home gym and get a great workout. The light weights of the plates also make them a whole lot safer to use than traditional free weights.
The original Bowflex Revolution provides you with 220 pounds of resistance. The XP Home Gym comes standard with 200 pounds of resistance. There is also an 80 pound upgrade available for each machine.
A major advantage of the Spiraflex resistance packs (that's what they call the weight plates) is that it provides resistance through the entire range of motion. The result is a more consistent training experience and greater time under tension. This allows for a greater burn, a better workout and faster results.
Because no metal parts are used in the Spiraflex technology system, there is a reduced likelihood of parts breaking down.
Full Body Workouts​
The majority of full body home gyms do a pretty good job of working the muscles of your upper body. However, they generally fail when it comes to the lower body. That is not the case with the Bowflex Revolution. The Revolution provides you with some serious leg training options.
The Revolution comes with a high quality leg press station. It also provides you with a weighted harness set up so that you can simulate a heavy squat workout.​
Exercise Range​
The Bowflex Revolution provides you with a far greater exercise range than you find on most home gyms. There are a large number of configurations that allow for differing angles to be able to work your muscles, including the flat, incline and decline bench. It also includes a preacher bench attachment so that you can do targeted bicep work.
The independently moving arms allow for 10 position adjustments over a 170 degree range of movement. A leg extension attachment, as well as a leg press allows you to hit your quads.
Within the 100 exercises available on the Bowflex Revolution are more than 400 variations. In addition, you are able switch quickly between hundreds of exercises with less set-up time than most gym machines. The result is that your workout time is shortened while, at the same time it allows you to keep your heart rate up to burn more calories.​
Changing between exercises on the Bowflex Revolution is simple. The free arms rotate between 0 and 9, with 0 being straight up and 9 being straight down. That provides you with ten arm positions to work out with. Each of these positions provides you with a slightly different variation of each exercise. To change the cables between exercises you simply adjust the snap hook attachments.
Moving & Storage​
The fully assembled weight of the Bowflex Revolution is 300 pounds. That makes for a heavy piece of home training equipment. The machine is fitted with wheels for ease of transport. It also folds down to a compact size to allow you to easily store the unit away when not in use.
Accessories​
The Bowflex Revolution provides you with a number of accessories units to extend your exercise options. These are:​
Tall Seat Back.
Leg Press Plate
Leg Press Seat Back
Preacher Curl Assembly
Resistance packs
Handgrips & Foot Harnesses
What We Don't Like
The biggest problem that users have experienced with the Bowflex Revolution is that it is not designed for larger people. If you are around 6'3" or taller, you will find that you are just a little too large for the machine, making it uncomfortable to do such exercises as lat pulldowns. On leg extensions you will not be able to get enough extension to press to a full range of motion.
In addition, if you are an experienced lifter, you probably won't get enough resistance for exercises like the leg press. You will also find the preacher curl set up to be quite awkward and not to feel natural. To set up the preacher curl you have to attach a curl bar to the to the leg extension attachment. This does not provide you with a full range of motion, making the exercise pretty ineffective.
The biggest problem with the Bowflex Revolution, however, is the cost. It is about twice the price of what you would pay for the majority of the competitor models that are on the current market.
The Total Gym FIT is the latest incarnation of the Total Gym, which has been famously promoted by Chuck Norris for decades. The FIT targets all major muscle groups simultaneously. It provides you with the ability to do more than 85 exercises over 12 levels of resistance.
The Total Gym allows you to transition very quickly between exercises, meaning that you can get a great workout done in just 20 minutes. With the total gym, the resistance comes from your own bodyweight. The greater the angle that you exercise on, the greater the resistance that your body will feel. The unique design of the Total Gym also means that it will greatly improve your cardiovascular fitness level.
With the Total Gym you are able to exercise at your level, whether you are a beginner, intermediate or advanced trainer. If you're a doubter, just try bench pressing with the seat at the top angle. That makes the Total Gym one of the few home gym machines that is truly capable of providing a serious workout for the advanced athlete.
The Total Gym FIT comes with 6 workout DVDs, providing you with an excellent complement of workout options to choose from. You also get an illustrated wall chart that illustrates 35 of the exercises. In addition, you get the Total Gym Training Deck, which is a deck of cards with different exercises on them. With the aid of the card holder, you can use the cards to arrange your own personal training session.
Another neat extra that comes with your purchase is the 'Nutritional Program & Meal Plan.' It was written by popular Hollywood personal Trainer Dan Isaacson.
The specifications of the Total Gym are as follows:
Length = 93 inches
Width = 18.5 inches
Height = 44.5 inches
Weight = 29.9 kg
The assembled size of the unit is about the same size as a 3-seater couch. However, the machine is collapsible for storage, folding down to about the size of an ironing board. This allows you to easily store it away in a cupboard or under a bed when not in use.
An additional accessory which is available for the Total Gym Fit is a weight bar which allows you to add extra weight plate resistance to the glide board. Other accessories are the following:​
Squat Stand -

the upgraded squat stand does a good job when compared to other products on the market

Leg Extension / Curl -

this attachment will allow you to focus on your hamstrings and quads

Two-Piece Wing Attachment -

this is an upgrade of the basic Total Gym attachment

Ab Crunch -

great to allow you to target the ab dominals, obliques and intercostals.
Working out on the Total Gym Fit provides you with a low impact resistance which is joint and tendon friendly. That makes this a great choice for rehabilitative exercise.
The Total Gym FIT comes with a lifetime warranty on the frame, and a two year warranty on the parts.
Conclusion
The Bowflex Revolution has introduced an innovative new form of exercise resistance that provides you with a quicker, smoother and more natural workout feel than the power rods that have been traditionally used on Bowflex home gyms. It provides you with an impressive range of exercises and is a well built, sturdy machine.
However, when you take the price, and the fact that it is not really designed for larger people, into account, we feel that the Total Gym FIT is a better overall option. The Total Gym offers around 85 exercises and can be used by exercisers of all shapes and sizes. It is also a lot lighter and can be folded away for storage. With the new weight bar attachment, you can also add weight plate resistance for a more advanced workout.