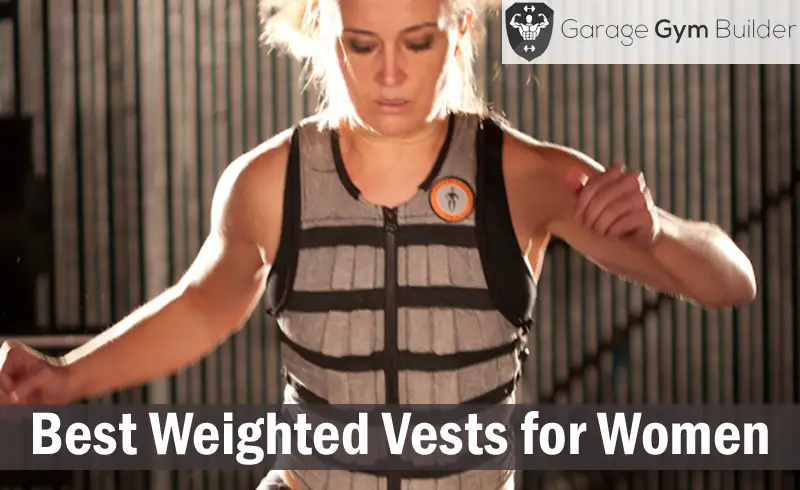 Best Weighted Vests for Women Review 2018
When you're ready for an extra challenge to your workout, weight vests are a great option. They provide a hands free way of adding extra resistance, allowing more results from the same amount of work. The majority of vests, however, are made for men. They don't allow for a woman's shape and are generally too bulky for comfort. In this article, we'll zoom in on the 10 best weight vests specifically designed for women.
A Quick Glimpse at the Top Women's Weighted Vests
Our favorite weighted vest for women is the Tone Fitness Weighted vest, which provides a stylish, slimline design in a soft neoprene fabric that looks great and works well. We were also very impressed with the Empower Women's Weighted vest, with it's adjustable 'X' design, easy on-off buckle system and secure, comfortable fit.
Our third favorite women's weight vest is the Zeyu Sports Walking Vest, which comes in striking pink and is made from renewable latex rubber.​
The Top 10 Women's Weighted Vests
To make it easy for you to weigh up the 10 best women's weight vests, we've rated them on a scale of 1-5 in terms of price and durability and then provided and overall rating. In the following section, we'll provide in depth reviews of all 10 products.
The 10 Best Weighted Vests In Depth
The Tone Fitness Weighted Vest is a slimline buckle up jacket that provides an extra 12 pounds of weight to your workout. It comes in a stylish blue and features reflective safety strips to keep you safe at night. Made from a soft neoprene fabric, this jacket is extremely comfortable to wear.
The Tone Fitness vest comes with a removable secure shoulder pocket to hold your MP3 player or iPOD. A temperature control design ensures that you don't become overheated when you work out in the jacket. The weight is evenly distributed across the front and back to maintain balance while training.
This is a very effective training tool to add extra resistance to your HIIT training and running workouts.​
Slimline design
Soft neoprene fabric
Shoulder pocket
The Empower Women's weighted vest comes in an original, adjustable 'X' design. This makes it a secure, easy fit for every body type. The quick on and off buckle system allows you to be ready to work out in seconds.
The Empower weighted jacket provides 8 pounds of evenly distributed weight to add an extra challenge to your training. It sits very comfortably on the torso and will not come loose or change position in the middle of your session. It comes with a handy pocket that will securely hold your cell phone or other electronic device. The weights are provided as sand pockets sewn into the fabric, making them very secure.
Adjustable 'X' design

Cell phone pocket

Weights sewn into fabric
The Zeyu Sports walking womens weighted vest provides you with an extra 8 pounds of resistance in a stylish, minimalistic design. It comes in a striking pink and is made from renewable synthetic rubber. This material is very comfortable to wear and provides excellent breathability.
Quick release side buckles make this jacket simple to put on and ensures that it is adjustable to any body shape. It has a reflective strip along the bottom to keep you safe at night, as well as a pocket to house your cell phone. Even though it is marketed as a walking vest, this jacket works well when you are doing calisthenics and weight training, though will jump around a little with plyometric work.
Minimalistic design

Reflective strip

Quick release side buckles
Jumps around when doing plyometric type exercise
The GoFit 10 pound walking vest is a slip over the head design that covers the entire torso. This makes it very easy to put on and take off. It also ensures that t will fit any body shape. You get an extra 10 pounds of adjustable weight with this jacket. Weights come in 0.75 pound increments, so you have a lot of adjustment variety to keep your training progressive.
The weights are provided by way of granulated steel shot pellets. They are evenly distributed throughout the body to ensure proper workout balance. The jacket is made from a very soft and comfortable neoprene padding and features a unique double cross design, making it suitable for both men and women.
Slip over the head design

Soft comfortable neoprene construction

0.75 pound weight increments
Sweat builds up as the jacket heats
The Everlast weighted vest is a slimline jacket, consisting of two shoulder strips that are connected by velcro fabric. This makes the jacket very breathable and comfortable to wear. It is constructed from neoprene. Resistance is provided by way of built-in iron and sand fillings.
Adjustable side buckles provide a quick on off mechanism as well as providing for customized fitting for any body shape or size. Everlast Weighted Vest makes use of advanced Evergrip technology to included textured pandels on the underside that hold the jacket securely in place. This ensures that it won't move around when you're doing core movements. Everlast provide a 120 day warranty with this product.
Very breathable and comfortable to wear

Textured pandels

Adjustable side buckles
Some users have reported leaking sand granules
The MIR Women's adjustable vest is made from 1200-D nylon, providing an extremely snug, comfortable fit. It has an 'X' design with side buckles to allow for a custom fit to any body shape or size.
The weights are removable so you can adjust to your preference and add more weight as you get fitter. The 10 pound vest comes with 3 three pound weights, with the jacket itself weighing a pound. The weights are made of metal and positioned equally around the torso to provide the best balance.
The MIR vest provides a form hugging fit that will not cause chaffing nor move around when you are exercising. It also has a pocket for your cell phone.​
Form hugging fit

'X' design with side buckles

Weights equally balanced

Cell phone pocket
Shoulder straps not very comfortable
The HumanX weight vest is an adjustable weight jacket which comes with a series of half pound weights up to a total of ten pounds. That provides you with infinite variety to add resistance as you get stronger. The jacket is constructed with an abrasion resistant outer shell that will provide a snug, comfortable fit. Dual padding is provided on the chest and shoulders for an even more comfortable experience.
The HumanX system makes use of unique contoured weights which are able to mold to the shape of your body. This provides for an excellent body hugging fit while also ensuring that the weights stay securely in position while exercising. A neoprene belt ensures even more stability.
Contoured weight design

Half pound weights

Abrasion resistant outer shell

Neoprene belt
The CFF Pink Women's Vest provides an extra ten pounds of resistance to your training. The weights are fully adjustable and come in units of 2 pounds. You get ten 2 pound iron blocks with your jacket. Weight pockets are evenly distributed around the jacket. A lower chest belt with a snap lock buckle ensures that the vest fits securely and stays in place while exercising.
CFF Pink Women's Weight Vest comes in heavy duty pink nylon. It is double stitched for extra strength and durability. Mindful that weight pushing down on the chest can be especially uncomfortable for women, CFF have done away with the front sides of the jacket. This frees up the rib area while making the jacket far more breathable.
Fully adjustable weights

Lower chest belt strap

Heavy duty pink nylon

Double stitched
At two pounds, weights are a little large
The Hyperwear Hyper Vest SXY features an extremely slimline design that is both comfortable and functional. It is made from a stretchy, breathable spandex fabric and has 5 pounds of iron weight sewn into the material. The weights are housed in thin rubber casings and even distributed about the jacket.
Adjustable side lacing allows for a custom fit to any body shape. HyperWear Hyper Vest SXY feels very comfortable on the body. It will not cause any irritation to the skin such as chafing or itchiness. The fabric has great breathability so that you will not get a heat buildup that could lead to a rash.
Unlike many competitors, the Hyperwear Hypervest SXY is completely machine washable.​
Adjustable side lacing

Breathable spandex fabric

Very comfortable fit

Limited to 5 pound resistance
The RUNmax Runfast weighted vest is a completely adjustable weighted jacket made from neoprene fabric. The RUNMax range starts at a maximum weight of 12 pounds. Weights can be taken out or added to the pockets that are evenly distributed around the jacket. Extra weights can be purchased at a later date to fill empty pockets.
A large belt around the middle ensures that the RUNfast stays securely in place even when you are exercising vigorously. This jacket is one size fits all. The RUNmax Runfast is a very effective way to add extra resistance to your run or calisthenics workout. It fits securely and will not shift around when you are training.
However, it doesn't doing a very good job of keeping the heat away.​
Weight adjustable

Middle belt for extra sturdiness

One size fits all
Once you've got your weighted vest, you're going to want to get the maximum training benefit from it. Here's a challenging workout to get you started . . .
Conclusion
There are a number of quality weight vests specifically designed to meet the needs of the female exerciser. Our favorite is the Tone Fitness vest, which provides a stylish functional jacket in soft neoprene. Our second choice is the Empower Women's Weighted Vest, with its slimline 'X' design and quick on-off buckle system.
The third best vest that we reviewed for women was the Zeyu Sports Walking vest, which comes in pink latex rubber and provides a very snug, form hugging fit that stays in place while you're working out.