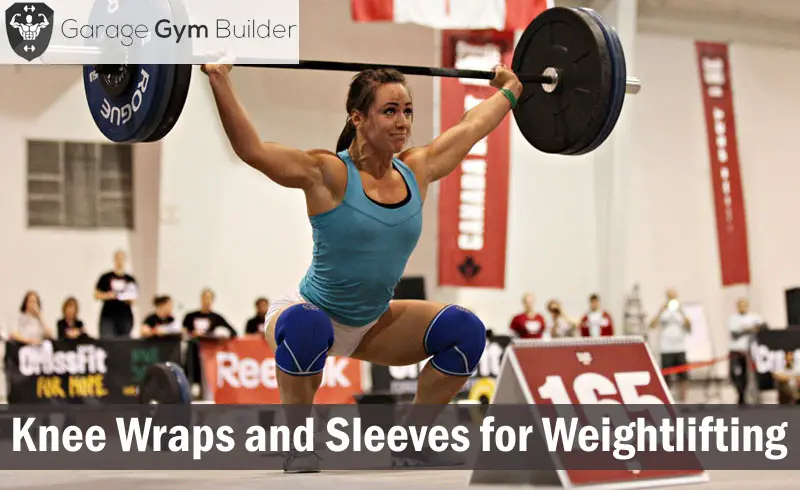 Best Knee Wraps and Sleeves for Weightlifting 2018
Weightlifters place huge demands on their joints, especially their knees. Having top quality weight lifting training straps and sleeves is essential equipment for any serious iron pumper. Whether you're squatting, deadlifting, or doing Olympic lifts you need to know that your knee protection is up to the job. This article identifies the top 10 best weightlifting knee sleeves and wraps on the market right now.
A Brief Look at Our Favorite Knee Wraps and Sleeves for Weightlifting
There are dozens of brands of weightlifting knee wraps and sleeves. However, we have waded through them all and found the best of the best. Our top weightlifting protective sleeve is the Emerge 7mm sleeve. The Emerge is an extremely durable, form fitting and functional sleeve that comes in at an incredible price point. Our runner up sleeve is the Workt 7mm. Unlike most other sleeves, it is made from Ecoprene, which has unique qualities.
When it comes to Knee wraps, the CAP Barbell elastic knee wrap is our clear favorite. It features high quality materials, good elasticity and great compression. This is the best value quality wrap that we could find. The MAVA sports protective wrap, was another wrap that really impressed us. This is one of the few wraps which come with velcro straps to keep them secure.
Rounding out our top three knee wraps is the Rogue training wrap which has all the strength and durability that you'd expect from the official wrap of the CrossFit Games. Needless to say, this is a great multi-sport wrap.​
Top 10 Knee Wraps and Sleeves for Weightlifting
Here's a quick breakdown of the 10 best wraps and sleeves for weightlifting on the market right now. We've ranked them out of 5 for your convenience.
Top 10 In-Depth Reviews
We've gone in depth to give you a detailed analysis of the 5 best knee sleeves for weightlifting and the 5 best weightlifting protective straps. Read on to get all the info you need to make a purchasing decision.
The Emerge is a cost effective sleeve that provides you with durability, comfort and - above all - performance.
Emerge sleeves do a great job of storing rebound force on the descent of your lift. This is then transferred to the uplift as you push back up.
There is very good power dissipation with these sleeves. That all adds up to greater weight lifting poundage. In fact, Emerge users report that they can get an extra 10% on their squat lift the very first time they use Emerge bands.
The stitching on the Emerge sleeve is of a very high quality. Reinforced cross stitching on all seams affords with a level of strength that ensures durability. The close fit that you get with this sleeve will make sure that the heat is retained in the joints and surrounding areas. This will reduce the risk of injury and post exercise soreness.​
Extremely durable with reinforced cross stitching
Elasticity will improve your squat poundage
Double inay cross stitching
Cost effective
The interior lining may cause slight rubbing to the back of the knee in extreme heat.
Find out to how to size your legs for the perfect knee sleeve fit . . .
Workt provide both a 5mm and a 7mm knee band. These sleeves will not slip down, which is a common problem with many lesser models. Neither will they bunch up while you are wearing them. They are very comfortable throughout your workout. This means that you won't have to waste any of your workout time pulling your protective sleeves up.
The interior of the Workt training band is made from unlined ecoprene, which is a neoprene alternative. It looks and smells like neoprene, but is more environmentally friendly. It is naturally occurring, being made from limestone rather than petroleum. This material is more comfortable and snug fitting than neoprene.
The Workt band offers enhanced stretchability, yet will not lose its basic shape over time. Because of the Ecoprene fabric's tight cellular structure, the band is extremely strong and durable. It will last longer than most other brands on the market.
Excellent insulation
Water proof
Eco friendly
Strong yet light weight
The Tommy Kono TK Knee Band is one of the few sleeves that is made completely of rubber. This is according to the design of the original knee band produced by Tommy back in the 1960's. Rubber provides the greatest insulation, making this ideal band to provide max heat insulation. That's great if you've got a pre-existing patellar injury.
The TK knee band will provide you with a tight fit that does a really good job of compressing the knee joint. This ensures that your patella tracks the right way when you're squatting or pushing out Oly lifts. One downside is that the rubber band is hard to peel on and off.
Tommy Kono bands have been around for 50 years. Their permanence is due to the durability and reliability of a basic product that works just as hard as you do.
Superior level of knee warmth
Constructed from Rubber
Tight fit providing excellent compression
The Rehband 7mm fits snugly on your knee to keep your patellar warm and enhance your proprioception. The insulation around your joint keeps it heated, allowing it to move a lot better.
The 7mm does a great job of adding compression to the knee area. The tighter the area around the patellar, the greater the stability you are going to have. It will also give you a mental confidence booster when under the heavy weight.
The Rehband 7mm features a unique 3-D contoured design that moulds to the shape of your leg. This allows for a tighter, more comfortable fit than virtually any other sleeve that is out there. Another thing that sets this band apart is the quality of the stitching. While other brands tend to come undone after a few months of hard and heavy use, or even tear, the Rehband 7mm will stand the test of time.
Very durable construction
Anatomical form fitting design
Comfortable, tight fit
Sweat build up within the sleeve
Expensive
Rapidly absorbs odor
The McDavid Hex Padded Knee Sleeve is a little longer than most other brands. This provides greater warmth and stability. However, they are a little too tight in the thigh area. The McDavid features an advanced moisture management technology to remove sweat and keep your patellar joint well lubricated.
The McDavid sleeve is constructed from neoprene, incorporating HEX technology. This provides a closer cell structure that makes the sleeve more resilient. That means that this pad will last longer, powering you through weight workout after weight workout.
The McDavid sleeve doesn't provide a great deal of compression. It is not designed to be used with max lifts, but is a great choice to provide the rigidity and support to guide your patella through multiple rep set exercises.
Full length 16 inch sleeve
Superior sweat and moisture removal
Compact fit
Extra hex knee padding
A little too tight in the thigh area
Fabric covering the padded area of the knee is very thin
The CAP Barbell elastic knee wrap is the best value wrap that we came across. You can pick up a pair for less than ten bucks. They have a great deal of stretch to provide an effective rebound on exercises like the squat. With the CAP wrap, you don't need to chalk up your knees, because the CAP wraps cling to your knees for a no slip experience.
CAP wraps are relatively light. They are not as stiff as most other brands, which offers more flexibility in the knee joint. They do a good job of keeping the knee warm, which helps to keep the synovial fluid moving. These wraps provide you with all of the features of the top names brands without the big brand price!
Durable construction
Less stiff than most brands
Great value for money
Excellent gripping ability
After repeated use, the wrap tends to lose its elasticity
MAVA Sports knee wraps are extremely comfortable to wear. They will not slip while working out and are easily adjustable according to your compression needs. This knee wrap is 72 inches in length. They are very malleable and will stretch to almost double their original length. They also come with a velcro strap. This helps the wrap stay firmly in place and avoids the problem of the wrap unraveling.
You can adjust the MAVA wraps as tightly or as loosely as you want to. MAVA offer a very functional knee wrap which has the added benefit of a secure closure by way of the velcro strap and has superior compression to fully lubricate the knee joint.
Comes with velcro strap for easy, secure attachment
Easily adjustable for tension
Excellent level of knee compression
May shrink after repeated washes
Rogue knee wraps come in 2.0 and 2.5 meter lengths. They feature a velcro locking system. The velcro is high quality and will stand the test of time. The wraps are made from a lightweight material which will stretch to double its original length.
The Rogue wraps are a little too elastic to provide for serious rebound. That means that the amount of extra weight that you can lift is limited. As a result, we feel that the Rogue knee support for squats would be better suited to a new lifter rather than an experienced athlete intent on upping his squat max. They are constructed from 40% elastic, 10% polyester and 50% cotton.
The Rogue wrap is a favorite for Crossfitters, as it provides just the right balance between compression to power you through your Oly lifts and flexibility to allow you to transition directly into plyo moves.
Great for a range of gym exercises
Velcro locking system
Stretchy, lightweight material
Not enough support for max one rep lifts
The Slingshot knee wrap is made from a reactive type of material that is a lot stretchier than a lot of the other brands out there. That makes this type of knee wrap great for beginning lifters and anyone who's doing repetitions in their training. If you're going for a heavy set of 4-5 reps, using a Slingshot wrap will give you better performance.
It's really important that novice lifters graduate the stiffness of their wraps. If you just start out with a cast iron type wrap, you are not going to be able to learn the proper mechanics of the squat. However, when you start with the Slingshot 7mm sleeves, you are able to push into the wrap, driving your knees out and staying in the natural groove of the squat movement.
Very stretchy material

Ideal for high rep training

Keeps your patellar locked into proper alignment
Not suitable for max lifts
The Hookgrip knee sleeve is a combination of nylon, rubber and spandex. This allows for an adequate amount of compression while providing the flexibility and elasticity to perform plyometric and deep knee bend movements. This sleeve is not designed for single max lifts. But it is a great option if you want to go straight from a set of 10 squats to box jumps.
The Hookgrip sleeve offers an excellent level of heat insulation to keep the entire knee area warm and well lubricated. It provides a tight but comfortable fit and is easy to put on and take off. The stitching on the sleeve is high quality along the seam.
This Hookgrip Knee Sleeve is not designed to offer a whole lot of support to your knee, but it will give you the best heat insulation of any product we came across, except for the Tommy Kono rubber sleeve.
Offers great warmth to the entire knee area

Very good flexibility and elasticity

Tight, comfortable fit
Not a lot of support to the knee joint
Not very thick
Are you confused about the differences between knee wraps and knee sleeves. Get the low-down with this informative video . . .
Looking for the best knee sleeves and wraps for running? Check out our Top 10 reviews.
Conclusion
Our favorite knee sleeve was the Emerge 7mm sleeve, which provides the best compression, warmth and lubrication at the best price. The Workt sleeve with Ecoprene fabric was our runner up due to its elasticity, strength and robustness. The Tommy Kono sleeve rounded out our top three, being the best sleeve to provide warmth and lubrication to the knee joint.
When it comes to knee wraps, the CAP Barbell wraps, which provide all the high end features at a very good price point, was our number one choice. Our second favorite wrap was the MAVA sports wrap which uniquely features a velcro strap to keep the wrap extremely secure and sturdy. Rogue knee wraps were our next best option, providing the right combination of compression and flexibility for Crossfit movements.