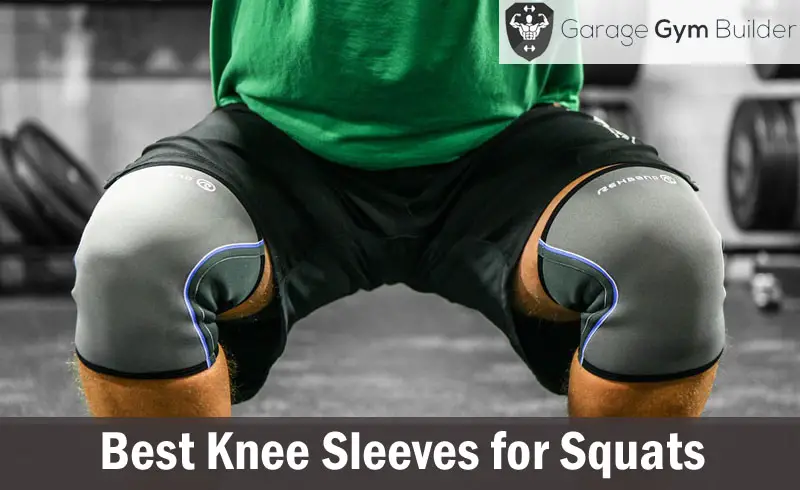 Best Knee Sleeves for Squats 2018
Squats are the king of exercises. They are also the number one exercise for torn ACL, PCL and cartilage injuries. That is why knee sleeves are absolutely essential when you're squatting 80% or more of your one rep max. In this article we'll wade through the masses of cheap, nasty squatting protective sleeves to bring you the top 10 sleeves on the market today.
A Quick Look at the Best Knee Sleeves for Squats
The best squatting protective sleeve will combine compression, warmth, comfort, durability and price into a package that looks goods and allows you to squat more weight safely. According to this criteria, Emerge Fitness stands at the top of the list. The Emerge band will do everything that you get from the top name brands but for almost half the price.
We also loved the Tommy Kono compression band. Made from rubber according to the original T.K. design from the 1960's, this sleeve will give you best level of warmth and immersion of any band on the market. The Rehband 7751, which we ranked third, is the most popular squatting band out there due to its quality of design, ergonomic fit and superior tightness and compression.
Top 10 Knee Sleeves for Squats
Here's a quick ranking of the 10 best squatting knee sleeves, rated for price, durability and overall quality.
| Product | Product Name | Price | Durability | Overall | Product Link |
| --- | --- | --- | --- | --- | --- |
| | | 4.5/5 | 5/5 | 5/5 | |
| | | 4/5 | 4.5/5 | 4.5/5 | |
| | | 3.5/5 | 4.5/5 | 4/5 | |
| | | 4/5 | 4/5 | 4/5 | |
| | | 4.5/5 | 5/5 | 4.5/5 | |
| | | 4/5 | 4/5 | 4/5 | |
| | | 4/5 | 4/5 | 4/5 | |
| | | 4/5 | 4/5 | 4/5 | |
| | | 4.25/5 | 4/5 | 4.25/5 | |
| | | 4/5 | 4/5 | 4/5 | |
Top 10 In-Depth Reviews
We went deep into the squat knee sleeve market to bring the full scoop on the best products. Read on to discover the Top 10 in detail.
We rated the Emerge Knee Sleeve as the best sleeve for serious squatters. It features extra thick 7mm neoprene padding, has superior construction with double inlay cross-stitching and an ergonomic design to mold to the patellar for better squat depth and performance.
The Emerge slips on your legs easily, providing a tight fit that will stay in place,rep after rep. It will place maximum compression on your patellar joint, keeping the synovial liquid warm and well lubricated. The pressure on the joint ensures correct movement of the patellar as you push out of the deep squat position.
Emerge have established a very competitive price point for their bands. You can pick up a pair of these sleeves for about 40% less than the high visibility brand names, yet the quality and features are as good, if not better. That's why this brand has emerged as our market leader.
PROS
Extremely durable with reinforced cross stitching
Elasticity will improve your squat poundage
Double inlay cross stitching

Cost effective
CONS
The interior lining may cause slight rubbing to the back of the knee in extreme heat.
The original knee band created by Tommy Kono in the 1960's has been brought back by the legend to benefit a new generation. These bands provide great support while squatting at a great price. They will give more effective joint warmth than any other sleeve on the market.
The Tommy Kono band is longer than most sleeves providing you with complete coverage from your lower thigh all the way to your upper calf. This aids in patellas stability and gives you a better proprioceptive response.
Tommy Kono knee bands are more tricky than neoprene sleeves to slip on and off. They fit very tightly to add compression to your lift. They are slip resistant and will not bunch up at the back of the patellar, which is a problem with many lesser brands. These bands are very tough, being put together with double stitching and durable rubber material.
PROS
Superior level of knee warmth
Constructed from Rubber
Tight fit providing excellent compression
Rehband are the original and biggest company in the knee band space. Their 7051 knee straps for squats is a popular band that will keep your knee very warm while squatting. This keeps the fluid moving around your patellar joint, creating a sauna like environment.
The 7051's come as individual purchases, making the double investment quite expensive. For sizing you measure around your patellar, with the recommendation that you go a size smaller to get the best fit. They fit very snugly, providing the stability and safety you need when going heavy on the squat.
The Rehband 7051 is very comfortable to wear. They feel and look great and are easy to slip on and off. Made from 5mm thick neoprene, they are nice and stretchy and have a unique 3-D design for extra fit and form.
PROS
Provides for ergonomic form fit

Very good compression and support

Durable, sturdy construction
CONS
At 5mm, lacks thickness for maximum protection
Expensive
RockTape Knee Caps come in both 5 and 7mm options. They are very thick and supportive, keeping your joits very warm as you squat. They are very good value in comparison to the name brands. They are 90% neoprene and 10% nylon, whereas more expensive brands such as Rehband will be 100% neoprene. The 10% difference is not a big deal unless you are a hardcore powerlifter.
RockTape Knee Caps are very durable. They use the latest in stitching technology, known as double Mouser stitching to provide much greater seam strength. A four way lycra liner provides greater wearer comfort, preventing itchiness and scratching.
RockTape Knee Caps come in distinctive designs. They provide complete patellar coverage, being slightly longer than many other brands. They are easy to get on and off and will not bunch up when in use.
PROS
Thick and supportive

Double Mouser stitching

Four way lycra liner

Distinctive designs
Workt Knee Sleeves are made from the revolutionary Ecoprene fabric, as opposed to neoprene, which most other brands are constructed from. Ecoprene's point of difference is that it uses limestone technology to create a much tighter, more uniform cell structure. This makes the sleeve far more robust, while retaining its lightweight and flexibility. It also means that Workt bands are waterproof and able to provide better insulation.
The Workt band slips on easily yet provides a tight, compressed patellar fit. This traps in the warmth, allowing for lubrication fluidity through the synovial joint. The rigidity of the Ecoprene fabric ensures that the patellar is tracking correctly as you push out of the bottom squat position.
Workt bands are coated with a hyper composite coating. This makes them 98% bacteria and moisture resistant. That means you don't have to worry about moisture or bacteria related odor when you use this product.
PROS
Excellent insulation
Water proof
Eco friendly
Strong yet lightweight
If you're a runner, you need the best knee protection to keep you safe when you're pounding the pavement. Discover the best knee support sleeves for running with our awesome in-depth article.
The Slingshot Strong Knee Sleeve by powerlifting legend Mark Bell is a quality knee protector that fits snugly and offers a good deal of insulation to the joint. They feature a soft inner lining to provide leg comfort and to avoid itchiness.
The Strong band has a vertical slit seam up the side. This is in contrast to brands such as SBD and Rehband which have diagonal seams. The vertical seam is less intrusive when you are going into heavy lifts. The stitch used on these sleeves is cross-over double stitching, which provides extra strength.
The Strong bands provide an effective slingshot effect out of the bottom squat position. This will have the effect of increasing your squat poundage. The marketing material for the Strong band claims that you will get an extra 20-50 pounds on your squat max from wearing these sleeves!
PROS
Soft inner lining for enhanced comfort
Sweat soak up ability
Good level of compression
Check out this handy clip on how to wrap knees for squats
Nordic Lifting knee sleeves are made from 100% thick 7mm neoprene. They are about half the price of the leading competitors in the protective sleeve space. It will provide your patellar with great support when squatting.
The Nordic band is very similar in look and design to the Rehband 7051. The Rehband, however, is a little longer, providing moe lower thigh coverage. Still, the Nordic band will give you a good level of support, providing compression and warmth. Double stitching is used on the seams of these sleeves to provide an extra level of strength and durability.
Nordic bands have an impressive level of in-built elasticity. This will allow you to make maximum use of the spring loading effect when coming out of the squat 'hole'. The result is that you can lift more weight. The Nordic sleeve is not approved for competition lifting by the IPF and IWF.
PROS
Cost effective
Don't slip or bunch up
Effective level of compression
CONS
Not a lot of padding and protection to the knee
No moisture eliminating effect
Primal Elite Knee sleeves are made from 100% high quality neoprene. They are uniquely contoured to fit snugly to the leg, providing the best protection and compression possible. The ergonomic design makes these bands easy to pull on and off, yet very secure fitting. That means that you'll never have to worry about the sleeves slipping or bunching at the back of the knee while you're training.
The double reinforced stitching on the seams of the Primal Elite adds to the strength and durability of the product. This is no cheap knock-off brand. Even though it is almost half the price of the leading brand names in the space, it is built to last!
The Primal Elite will keep your patellar tight and lubricated, while the compression factor will help ensure that squatting movement patterns follow the proper squat trajectory. The built-in elasticity will also help you push more weight.
PROS
Double reinforced stitching
Ergonomically contoured design
Free gym bag
Get the latest reviews of all the top knee sleeves with our mega article - We know you'll love it!
The people at Grim Reapers have spent a lot of time, money and effort through research, product testing and fine tuning to produce their entry model into the fitness band category. The 7mm thick neoprene sleeve impresses with its level of comfort, large size and compression of the knee. It does a very good job of keeping the loint tight enough to offer safety to the patellar while free enough to ensure proper squatting technique.
Reinforced stitching complements the thick neoprene padding to give you a hardy yet lightweight knee protector that will stand the test of time. Grim Reapers will not bunch up. Yet they are easy to roll down while you're wearing them. This makes the Grim Reaper training band ideal for use while deadlifting, doing RDL's or performing box jumps.
PROS
7mm thick neoprene
Reinforced stitching
Good level of compression
ThruFit knee bands are anatomically designed to hug your leg, providing a good level of compression. It will insulate the heat to keep the joint warm and malleable.
The reinforced seams and unique seam layout provides extra strength to ensure that these sleeves will not come apart after a few months of regular use. The ThruFit knee sleeve has a soft inner lining to add comfort to the fit. It will not snag on your leg hair or cause itchiness. Neither will this model slide down your leg while you are squatting, as some other brands are known to do.
The tight fit of the ThruFit band ensures a tight fit around the knee This will provide a good level of compression around the joint, keeping the patellar in place while squatting and also ensuring that the joint is war and well lubricated.
PROS
Soft inner lining
Competition approved
Effective joint compression
Reinforced seams
CONS
A little tricky to put on and remove
For the best knee sleeves and wraps for weightlifting, be sure to check our Top 10 review.
Conclusion
The best knee support for squats that we found were the Emerge which gives you a thick 7mm neoprene sleeve that is ergonomically designed, has double cross-stitch seams and offers superior compression, all at a great price. Our second favorite knee straps for squats were the classic rubber bands by Tommy Kono. These are your go to bands if your priority is warmth and lubrication around the patellar joint.
Rounding out our top 5 are the Rehband 7751, which is the most popular protective support for squats. These bands have a great ergonomic design and are extremely durable. RockTape Knee Caps are perhaps the best priced quality knee sleeves on the market today. Finally, the Workt knee band brings the unique Ecoprene fabric to the market, which provides a stronger, firmer, more elastic squat band than anything else on the market.