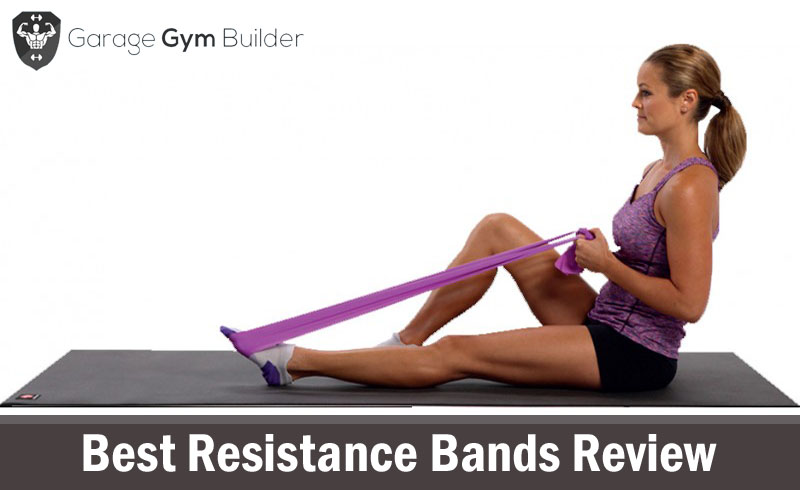 The Best Resistance Bands Review 2018
Working out with resistance bands is an effective stepping stone between body weight exercise and using weight resistance machines. However, bands are also a very effective tool for more advanced users as they allow you to hit a muscle from a range of angles that you just can't get with machines. With bands you can also simulate sports movements more effectively that with cables or other types of equipment. That makes resistance bands an essential requirement for your home gym.
In this article, we discover the Top 10 resistance bands on the 2018 market.
A Quick Overtop of the Top Resistance Bands
The best resistance band on the current market is the Emerge range of high density composite high density rubber bands. These bands are extremely durable with a maximum carrying capacity of 800 pounds. The bands are color coded according to the resistance level provided. Unlike most competitors, the equivalent poundage resistance is boldly printed on the sides of the band. They are extremely portable so you can take them anywhere. Our second favorite band is the Rogue Monster band, which provides the range of resistance to be used as a stand alone exerciser and to be added to squats and bench presses. Made in the USA, these bands are extremely rugged and hard wearing.
The Vulcan range also impressed us, offering top quality bands that range up to 200 pounds in equivalent weight.
Our third favorite is the Black Mountain range of bands, which provide 5 stackable tubes, two handles, a door anchor, ankle strap, exercise chart and carry case. Black Mountain also provide a lifetime guarantee.
To make it easy for you to compare the best resistance bands on the market, we have rated the top 10 on a scale of 1-5 based on price and durability. We have also provided an overall score for each product. In the following section, we go in-depth on each band.
The Top 10 Resistance Band Reviews
The highest quality bands on the market are the Emerge brand, which provide you with composite high density rubber that is capable of holding up to 800 pounds. These bands have been especially treated to enhance their strength, prevent tears and other breakage. These bands feel great against the skin and comfortable to grab.
Each set of Emerge bands consists of 5 bands that range in resistance between 40 and 80 pounds. Bands are color coded for easy identification. Each band has a length of 41 inches. They are easy to set up and come with a handy carry bag.
Composite high density latex rubber
No odor
Carry bag
No training guide provided
Rogue Monster Bands are heavy duty resistance bands that are ideal for both beginners and advanced powerlifters. Made from heavy duty latex rubber, they come in a range of strengths that are color coded through seven levels of resistance, from orange through to silver.
Each Rogue band is 41 inches long. The versatility of these bands means that they can be used as stand alone devices for dozens of exercises as well as being added to your bar when squatting and bench pressing. These bands are made in the USA under Rogue's exacting conditions. They will not crack, and you can expect years of service from them. If you do have any problems, Rogue's customer service is first class.
Heavy duty latex construction
Made in the USA
Excellent customer service
Only get one resistance level with each purchase
Vulcan Strength Bands are constructed from rugged 100% heavy duty latex rubber. Each band measures 41 inches in length and has a thickness of three eighths of an inch. The width of the band increases with the resistance level. The lightest band is ideal for rehab and stretching work, providing a resistance of about 30 pounds. This progresses over six levels to the extra heavy band which gives you between 150-200 pounds of equivalent weight.
This Vulcan tension band can be used both for individual work and an additional resistance for conventional weight resistance exercises. They are also great for stretching prior to beginning your resistance work. They are very good quality and you will have no problems with fraying or cracking on your Vulcan purchase.
100% heavy duty latex rubber construction

Provides up to 200 pounds of resistance at highest level

Will not fray or crack
Black Mountain Resistance tubes are a complete set of tubular bands, two handles, a resistance band door anchor, ankle strap, carry case and exercise chart. You get 5 heavy duty bands with metal clips on each end to hook onto the handles. The lateral resistance bands are color coded, from Yellow (2-4 lbs resistance) through to Red (25-30 lbs resistance). All five tubes can be attached to the handles simultaneously, providing 75 pounds equivalent weight.
The stackable nature of the tubes allow for a greater range of progressive resistance than you get from other models. You are able to easily perform descending sets to push your workouts further. Black Mountain Products guarantee these tubes for life, though the quality of their customer service is questionable.
5 heavy duty bands

Exercise chart

Stackable attachment
Clips may irritate the wrists
Fringe Sport bands promote themselves as the toughest bands you can get anywhere. They are made from 100% latex rubber, which are constructed in a continuous layering process that ensures super strength. Every band is 41 inches in length and 3/16ths of an inch in thickness. The width of bands varies according to the equivalent weight level.
Fringe Bands provide 7 different levels of resistance in a color coded system, from XX Light (RED) to XX Heavy (Dark Red). These bands are made in China. You are able to perform a full complement of resistance bands exercises for both the lower and upper body. The heavier bands can also be used as an adjunct to your powerlifting training by adding them to an Olympic bar.
Continuous layering manufacture process

7 resistance levels

100% latex rubber
Can only buy one resistance level at a time
Fit Insanity resistance bands come as a set of five color coded professional bands. Each band has high quality steel clips on the ends for handle attachment. Your total combined resistance is 150 pounds. Each band is 1.2 meters long and has its equivalent weight clearly marked.
Your purchase comes with four exercise guides to give you all the training choices you'll ever need. Yu also get a door anchor, heavy duty handles and a pair of ankle straps. It all comes in a cool waterproof carry bag.
Set of 5 bands

4 training guides

Door anchor

DynaBand resistance bands come as single bands and are offered in a range of resistance levels. The bands are flat rubber made from 100% latex. The heaviest band on offer is the 6 foot purple product. It is very durable and does offer a challenging level of resistance. In order to preserve the life of the band, it is recommended that you store it in a self sealing plastic bag when not in use.
The length of the DynaBand Resistance Bands allows you to double it over when you need more resistance, such as when you are doing leg presses. You don't get any accessories, such as a door anchor or exercise chart, but the price is very competitive. This is a solid, reliable form of exercise.
6 foot long

Flat 100% latex rubber

Very sturdy and reliable
These 12 x 2 inch heavy duty resistance bands are made from 100% natural latex rubber, meaning that they are completely TPE free. Each set provides you with 5 bands of varying resistance levels. This makes them the ideal workout solution for beginners, intermediate and advanced trainers. Your purchase come with a very smart and practical carry bag.
FitSimplify bands are stringently quality tested before being shipped to you. That gives you greater assurance that you are getting the best. FitSimplify also provide you with a very well written training guide - and they have great after sales service. By the way, your purchase is covered with a lifetime guarantee!
Heavy Duty Bands

5 Bands in each set

Carry bag

The Cayman Fitness system provides you with everything you need to get in a great workout. You get five color coded resistance tubes with clips attached to connect to the two handles that are provided. In addition, there is a door anchor, a pair of neoprene lined ankle straps, and a convenient carry case You also have access to two downloadable exercise guides and a huge online video library.
Cayman tubular bands are made from high quality latex rubber. Each band is approximately 47 inches long. This is considerably longer than most brands on the market, providing more workout versatility. The handles feature soft, comfortable cushioning and the ankle straps are also cushioned for comfort. A sturdy door anchor allows you to perform pull-down type exercises.
47 inches long

2 x exercise guides

Access to video library
Band clips not as sturdy as the rest of the unit
The SPRI Ultra Toner is a Figure 8 type loop resistance band that features soft rubber handles on each end and thick rubber protective sleeve around it's middle. It is available in a range of color coded resistance levels, from ultra light (lavender) to super heavy (purple).
The patented figure-8 design used by SPRI offers a unique way to hit your muscles that intensifies the effect of your training. It is especially effective for double arm exercises such as upright rows and shoulder presses. The exercise bands are not gravity dependent, meaning that you can move through any plane of movement. You can even use it while sitting down, if you have limited mobility.
Patented figure 8 design

Soft, comfortable handles

Can be used in a seated osition
Only get one level of resistance
Conclusion
Our favorite band was the Emerge Pull Up Resistance Band, which is made from heavy duty latex rubber and provide resistance between 40 and 80 pounds. This makes them suitable for both beginners and advanced lifters. We were also very impressed with the Vulcan range of bands, with up to 200 pounds of resistance and very sturdy, stretchable bands.
The Black Mountain bands provide a complete set of 5 bands, which can be stacked together or used individually. They come with a lifetime guarantee.