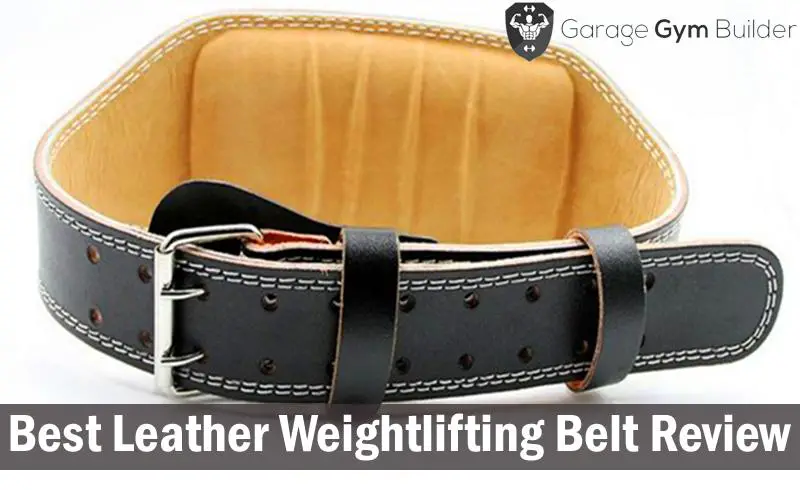 Best Leather Weightlifting Belt Review 2017
The leather weight lifting belt is the original old school model that has stood the test of time. Apart from being more resilient and hard wearing than the modern fabric belts, a leather lifting belt has a certain macho appeal that's hard to define but very real. That's why many gym junkies wouldn't be seen dead in anything but a genuine leather belt. In this article we present the best leather belts on the current market.
A Quick Overview Top Leather Weightlifting Belts
Our favorite leather powerlifting belt is the Dark Iron Fitness genuine leather model, which provides 4 inches of three eighths inch thick leather all the way around your core, along with four layers of double stitching. Running a close second is from Serious Steel Fitness. This belt also features 4 inch wide leather all the way round, but includes a suede interior lining and double prong buckle.
Rounding out our top three is the Grip Power Pads Lever, which features a unique buckling system for easy on / off and is individually handmade for the finest quality.
To allow you to easily compare the best custom leather weightlifting belts on the market, we've given each of the top 10 a rating from out of 5 based on their price and durability. Then we've given each an overall score out of 5. In the following section, we provide an in-depth review of each product.
| Product | Product Name | Price | Durability | Overall | Product Link |
| --- | --- | --- | --- | --- | --- |
| | | 4.75/5 | 4.75/5 | 4.75/5 | |
| | | 4.5/5 | 4.75/5 | 4.75/5 | |
| | | 4/5 | 4.75/5 | 4.5/5 | |
| | | 4.5/5 | 4.5/5 | 4.5/5 | |
| | | 4.25/5 | 4.5/5 | 4.25/5 | |
| | | 4.5/5 | 4.25/5 | 4.25/5 | |
| | | 4.25/5 | 4.5/5 | 4.25/5 | |
| | | 4.25/5 | 4.5/5 | 4.25/5 | |
| | | 3.75/5 | 4.5/5 | 4/5 | |
| | | 3.75/5 | 4.5/5 | 4/5 | |
The Top 10 Up Close
The genuine leather back support belt from Dark Iron Fitness is a tough unit to provide maximum support when you're under the heavy iron. With four inches of three eighth inch thick leather all the way around your core, you'll get the lumbar and ab support you need to perform. The double stitching around the edges looks smart while providing extra reinforcing.
A double buckling system makes sure that you get cinched in tightly and securely. Loops keep the tab from getting in your way and 11 pairs of holes allow you to get just the right fit. The addition of an adjustable, non-slip fit features prevents the unit from moving while you're lifting. If for any reason you're not happy, the manufacturer's offer a replacement warranty.
PROS
4 layers of double stitching
4 inches of uniform thickness
Replacement warranty
The Serious Steel Fitness leather workout belt is a heavy duty core support that provides you with 4 inches of black leather with a suede inner lining. The leather is three eighths of an inch thick. High quality double stitching is heavily featured on this product, giving both a look of strength and quality and robust durability.
You will be securely cinched in with a three eighths inch double pronged buckle. You don't get any padding with this unit. Padding can often minimize the level of support, so the lumbar rigidity on this product is outstanding. You have a choice of 4 sizes to ensure that you get just the right fit. This is a serious belt for putting up some serious poundage.
PROS
Suede inner lining
4 inch uniform thickness
Double prong buckle
The Grip Power Pads lever buckle belt gives you four inches of all round thickness, ensuring bracing for your abs as your lower back is being protected. Handmade from top of the line natural leather, this unit is built to perform and to last. It is 13 mm thick, and features edge stitching, which also acts as a moisture and odor wicking system.
The unique lever buckle system of the Grip Power Pads models sets it apart from the competition. Finally, you have an instant on / off process that provides you with as much rigid protection as the traditional double prong buckle system. It has a natural tanned leather finish with the Grip Power Pads logo stamped into it.
PROS
Lever buckle system
Handmade
4 inches of uniform thickness
The leather belt from IronCompany provides a 6.5mm thick uniform 3.5 wide support for your entire core area. It is treated leather, a process which gives you more suppleness to ensure that it doesn't crack, twist or bend. This process also gives a deeper color to the leather. This is a one piece piece unit, so there is no stitching – and, therefore, no weak points.
There is a single belt buckle to ensure a solid, reliable and quick enclosure. Rivets and buckle are nickel plated. This 3.5 model is perfect for smaller framed guys and female lifters. It won't dig into your ribs the way many wider belts do. It is made in the USA and comes with a lifetime warranty.
PROS
Treated leather
One complete piece
Nickel plated rivets and buckles
The Valeo 4 inch leather weightlifting belt is a very comfortable wearing unit, thanks largely to the suede leather lining that feels great on your skin. You won't have to worry about chafing or bruising when you wear this belt. The addition of a foam lumbar pad adds to the comfort level. The edges of the belt are double stitched, providing moisture and bacterial protection.
The Valeo 4 inch comes with double buckle prongs to ensure a secure, tight fit. It also has double loops to keep the tab secure and out of the way. The belt is 4 inches wide all the way around and a quarter of an inch thick. It is finished in a dark hue which provides the look of style and quality.
PROS
Uniform 4 inch width
Foam lumbar pad
Suede leather lining
The LIFT leather Powerlifting belt gives you four inches of non tapered width so that, not only your lumbar region, but also your abdominals, receive maximum support while you are squatting.
You also get an impressive half inch thickness which is double what you see with most products. That makes this the 'go to' belt for heavy powerlifting, weightlifting and strongman training.The simple chrome buckle has a single prong to provide a quick on/off access. LIFT leather Powerlifting belt comes with a seamless roller buckle. With this product you get a rugged, super strong, genuine leather core support that is free of any foam, plastic or other additions that could weaken it. It has heavy stitching and black suede lining for comfort
PROS
Half inch thick
Non tapered 4 inch thickness
Black suede lining
CONS
May pinch the sides of the waist
The Ader leather belt allows you to show your patriotism with it's red, white and blue color scheme. You get 4 inches of uniform thickness in a top quality leather designed to provide the rigidity you need to support your lumbar region when going heavy. The leather is three eighths of an inch thick and has a suede inner lining for comfort against the skin.
A double prong chrome buckle makes sure that you get a tight, cinched waist when it's time to go to work. Quality stitching runs around the edges of the product, with double stitching on the single loop. You get a feel of power and robustness when you wear this belt, allowing you to push harder for longer.
PROS
4 inches of uniform thickness
Red, White and Blue color
Suede lining
The RDX leather belt provides you with a massive 6 inches of lower back support by way of three eighth inch thick oil-fixed leather. This model tapers in to a 3 inch width around the abdominal area. You get double stitching around the entire edging for maximum strength and style. Double loops make sure that the tab stays out of the way, and are emblazoned with the RDK logo.
The double pronged chrome buckle will keep you securely winched in and you get plenty of double holes to allow you to select just the right fit. You also get riveted underpinning for extra strength. RDX leather belt is treated with moisture wicking and anti odor properties to ensure maximum user comfort.
PROS
6 inches of lumbar support
Double stitching
Double loops
CONS
Not thick enough around the abdominal region
Looking for belt for women? Our Women's Weightlifting Belt Review 2017 has ranked and reviewed the top 10 in detail – don't miss it!
The Ohio from Rogue is a top quality belt that is individually hand made to ensure that you the best craftsmanship. This belt is constructed from vegetable tanned leather. This process produces a leather that is stronger and longer lasting than any other leather curing process out there. You also get a product that, while extremely sturdy, is also flexible so that is will not crack, but, rather, naturally bends with the body.
The Rogue Ohio is water resistant. It has a single prong buckle, allowing you to get it on and off more quickly, while ensuring that you are securely cinched in place. With the Rogue Ohio, you don't have to break the belt in.
PROS
USA Made
Vegetable tanned
Crack resistant
Now that you know where to find the best leather belts, check our Best Weightlifting Belts Review 2017 to see how they compare with the rest of the market.
The Harbinger leather contoured belt provides you with four inches of leather protection for your lumbar area when lifting heavy. This tapers to a three-inch front. A suede inner lining makes sure that you get a comfortable fit against the skin. Double stitching around the edges of the unit make sure that it is as sturdy as possible, while also wicking away sweat and preventing odor build-up.
The Harbinger features a double prong buckle system and has a generous number of holes to ensure that you get just the right fit. A sturdy loop makes sure that the tab stays out of the way when you are lifting. You get a full board backing to provide enhanced lumbar support.​
PROS
Four inch backing
Double stitching
Board backing
CONS
Not wide enough at the front
Conclusion
The best leather weightlifting on the market right now is the Dark Iron Fitness brand, providing you with a uniform four inches of thickness, a double buckle belt and 11 sizing holes. We also love the Serious Steel Fitness model, with its suede leather lining and four inches of black leather.
Our bronze medal leather belt is the Grip Power Pads model, with its lever fastening system for a quick yet very secure cinching process.