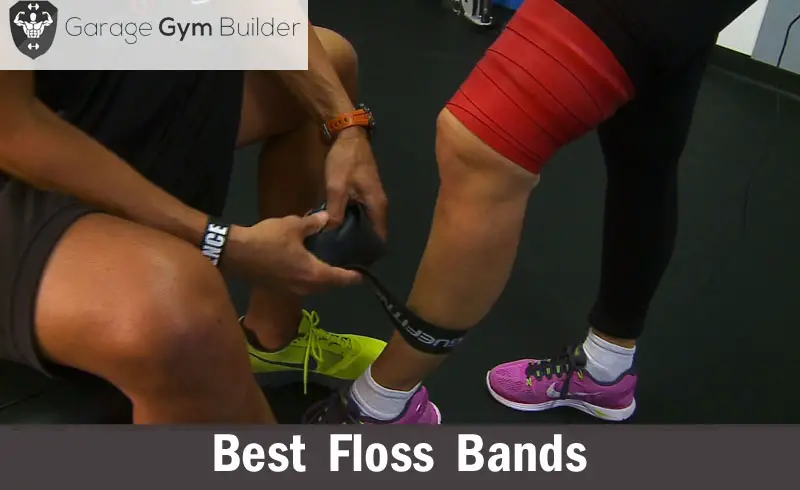 Best Floss Band Reviews 2017
Are your workouts being compromised due to poor joint mechanics, restricted motion or tight tissue? If so, you need to start flossing. Floss bands allow you to move more freely by compressing the tissues in the joint and constricting blood flow. Removal of the band flushes out toxins, lactic acid and scar tissue. In this article we'll wade through the floss market to bring you the 10 best floss bands out there right now.
A Snapshot of the 2017's Best Floss Bands
The best floss bands that we came across are the ever popular Rogue Voodoo floss wraps. Voodoo straps provide you with a superior level of compression with great gripping power and durability. We also loved the Masters of Muscle bands which give a tight fit that is comparable to the Voodoo range, but at a reduced price point.
Our bronze medal floss band is the Serious Steel wrap, which is guaranteed to be 99.9% free of latex allergens, making it the go to band for anyone with a latex allergy.
2017's Top 10 Floss Bands
To make it easy for you to scan over the best bands, we've rated each of the top 10 floss bands out of 5 according to price and durability and then given them an overall rating. In the next section we go in depth on each of them.
| Product | Product Name | Price | Durability | Overall | Product Link |
| --- | --- | --- | --- | --- | --- |
| | | 4/5 | 4.75/5 | 4.5/5 | |
| | | 4.5/5 | 4.5/5 | 4.5/5 | |
| | | 4.25/5 | 4.25/5 | 4.25/5 | |
| | | 4.25/5 | 4/5 | 4.25/5 | |
| | | 3.75/5 | 4.25/5 | 4/5 | |
| | | 4.25/5 | 4/5 | 4/5 | |
| | | 4/5 | 4/5 | 4/5 | |
| | | 4.25/5 | 4/5 | 4/5 | |
| | | 4/5 | 4/5 | 4/5 | |
| | | 4.25/5 | 4/5 | 4/5 | |
The Top 10 in Depth Reviews
The Voodoo floss knee band is the most popular band on the planet. It is made from natural latex rubber and are 7 feet long. The band is capable of stretching to 150% of its original length.
It is two inches wide.
Voodoo floss knee band have an excellent grip that holds tightly to your skin for maximum compression. This will improve the time to gain relief from inflammation. The bands are very flexible, and will easily wrap around any joint. You can voodoo floss shoulder joints as well as knee flossing.
The Voodoo X band is thicker than the standard Voodoo crossfit band. This provides greater compression than the conventional voodoo tape. The X band is ideal for powerlifters and bodybuilders who use a lot of weight.
PROS
Superior grip on the joint
Extremely flexible
Most durable band on the market
CONS
Comes with quite a lot of powder on the band
The Master of Muscle Floss Bands are made from top quality 100% natural latex rubber. The manufacturing process utilizes a special layering process that makes these bands stronger and more durable that many of its competitors.
You have a choice of two strengths; for regular compression there is the .051 inch thick and two inch wide strap, while more complex muscle areas will require the red x-heavy band which measures .060 inches in thickness and is two inches wide. Both bands are 7 feet long.
Master of Muscle not only guarantee to give you a no questions asked refund if you have any problems, they will also send you a replacement product. The bands come with a free ebook.
PROS
100% natural latex construction
Layered construction technique
Money back guarantee with replacement
Serious Steel Mobility and recovery Bands are constructed from 100% natural latex rubber and are guaranteed to be 99.9% free of latex allergens. This makes them a great option for anyone who has a latex allergy. You have a choice of either a silver/black compression band for regular work or a more heavy duty red version.
Serious Steel wraps allow for full compression around any joint, allowing for everything from hip flossing to calf muscle flossing. They are especially effective compression bands for legs and for treating tennis elbow.These compression wraps will feel like a soothing massage, giving you the tight compression that you need to flush out toxins and bring quick post exercise relief.
PROS
100% natural latex rubber
99.9% free of latex allergens
Tight compression
CONS
Comes with a lot of powder on the band
WOD Nation Floss Bands come in two thicknesses to allow you to treat every area of your body with maximum compression. A black band provides compression for most joint issues, whereas the red band gives you extra thickness for those larger, more complex muscle areas.
WOD Nation Floss Bands do a stellar job gripping the skin and giving extra tight levels of compression. When you force the muscle through a full range of motion and then release the band, you will very effectively flush out the scar tissue and lactic acid that is causing pain.
WOD joint wraps come with a free e-book that provides all the information you need to get the most from your purchase. They also come with a 60 day money back guarantee.
PROS
Effectively grip the skin
Tight level of compression
Free instructional e-book
The Original Floss Bands by Neptune Barbell Co. provides you with a tight level of compression throughout your entire training session. It grips tightly to the skin and will not come loose.You can choose from two levels of compression, with the red-x heavy band providing the greater force around your joints. The bands will stretch to 150% of their original length.
The Neptune bands are made from 100% natural rubber latex and are 99.9% free of soluble proteins. The construction process makes use of wrapped layer technology to make the product more durable.
These bands are sold singly, as opposed to in a pair. This makes them more expensive than most brands on the market.
PROS
100% natural latex rubber
Wrapped layer technology construction
Very elastic
The Olympiada wrap will provide you with a tight, secure fit without giving you the sticky feeling that comes from other brands. This makes it a great tool for applying specific, select compression and mobility flossing. The bands are two inches thick and 7 feet long. It is easy to wrap all areas of the body, though the shoulder wrap will require assistance.
Olympiada wrap are made from 100% high grade latex and are constructed using advanced wrap technology to enhance their durability. You also get a convenient carry bag when you purchase Olympiada bands.
Olympiada wraps come with a lifetime guarantee. It comes in at a great price point and delivers quality compression for all your joint issues.​
PROS
100% high grade latex construction
Advanced wrap technology
Comes with carry bag
Lifetime guarantee
Victorem Floss Bands feature a durable and form fitting compression for any problem joint. The standard black wrap is .051 of an inch and two inches wide, while the extra strength grey version is .060 thick and two inches wide. Both versions are 7 feet long.
Victorem Floss Bands feel like a second skin when you are wearing them. They adhere to the skin without giving that uncomfortable sticky sensation. The level of compression is very good, providing a high quality experience that will give immediate restriction for the affected area.
You do not get an instruction guide with this product, but you can easily go onto YouTube to find what you need. However, Victorem wraps come with a 60 day money back guarantee.​
PROS
​
Superior skin adherence
Very good compression level
Durable, form fitting construction
CONS
No instruction guide
Not very breathable
Exo Trinity Bands have been scientifically tested to increase your mobility by 121%. The bands come in two compressions; black for extreme and red for intense. Beginners and intermediates should begin using black, while advanced trainers should use red.
The Exo Trinity wraps are made from highest quality latex rubber. They are very thick and durable, however do not breathe very well. They provide a high level of compression while still providing for maximum fluidity.
When you order this product you also get a handy carry bag and a full color glossy guide. The people behind Exo Trinity wraps stand behind their product with a 100% money back guarantee.
PROS
Thick and durable
Top quality latex rubber construction
Provide compression while retaining fluidity
Full color guide and carry bag
Neuro Floss Mobility Bands by RecoveryHacks are made from 100% natural latex. It is also 99.9% free of allergens. You have two compression options; black for conventional use and red for heavy duty. It provides a non-stick form hugging fit that gives you a superior level of rigidity and firmness. The elasticity on this band is also very impressive, with it stretching to in excess of 150% of its original length.
For weightlifters, the Neuro Floss wrap will allow them to lift heavier more comfortably. Runners will find faster relief after a run. While the band has favorable overall ratings, some users have found that it starts to separate after a few months of use.
PROS
100% natural latex
Great elasticity
Non-stick form fit
CONS
Band may begin to separate after a few months
The WOD Fitters Floss band are super sturdy, being made from the highest quality 100% latex rubber materials. This ensures a tight fit to the skin and an excellent level of compression. The result is that your muscles will be warmed up faster and the restrictive nature of the bands will come into play sooner, relieving your pain and fast tracking your recovery.
The WOD Fitters Floss band are available in two compression sizes; .051 thick by two inches wide by 7 feet long for regular use and .060 thick by two inches wide by 7 feet long for more complex muscle areas such as the hips.
The bands are sold as a pair and come with a handy travel case.
PROS
100% latex rubber construction
Very tight fit on the skin
Travel case included
Want to know how to use voodoo floss to get the maximum joint relief? Check out this cool, instructive video . . .
Conclusion
Our favorite floss band is the Voodoo Band sold by Rogue Fitness. This popular band is incredibly durable, gives upper tight compression and provides a body hugging, comfortable fit. The Master of Muscle beast wrap almost matches Voodoo in terms of durability, with it's layered wrapping construction process, yet is considerably cheaper.
We were also very impressed with the Serious Strength floss band which is a great choice for people who have a latex allergy.