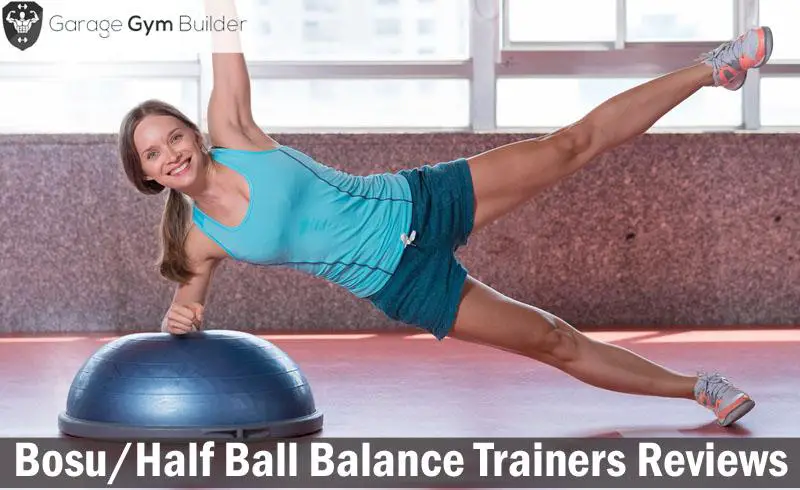 Bosu Ball Reviews / Best Half Ball Balance Trainers Reviews 2017
The Half ball balance trainer may look a little strange, but this little device is one of the most effective tools you can have in your home gym. The benefits of the half round exercise ball are that it will improve your core strength, flexibility and proprioception. You can also do your weight training while standing on the ball, making it more challenging and effective. In this article, we identify the Top 10 half balance balls of 2017.
The Best Half Balance Balls at a Glance
The best half balance trainer of 2017 is the Bosu Balance trainer, the original half dome ball, which provides a top quality dome, 300 pound user capacity and very rigid platform. Our second favorite ballast ball is the Giantex Ball Balance Trainer which provides resistance cables in addition to a solid dome and has a Bosu ball weight limit of 660 pounds.
Our bronze medal winning dome ball is the RitFit Balance ball Trainer, which gives you a quality pair of resistance bands with your trainer and comes with a handy foot pump.
To make it easy for you to compare them, we have rated each of the Top 10 half fitness balls on the basis of price and durability, and then given each one an overall rating out of 5. In the next section, we go in depth on each product.
| Product | Product Name | Price | Durability | Overall | Product Link |
| --- | --- | --- | --- | --- | --- |
| | | 4/5 | 5/5 | 4.75/5 | |
| | | 4.5/5 | 4.75/5 | 4.75/5 | |
| | | 4.5/5 | 4.25/5 | 4.5/5 | |
| | | 4.5/5 | 4.5/5 | 4.5/5 | |
| | | 4.25/5 | 4.25/5 | 4.25/5 | |
| | | 4.25/5 | 4/5 | 4.25/5 | |
| | | 4/5 | 4.75/5 | 4.5/5 | |
| | | 4/5 | 4/5 | 4/5 | |
| | | 4.5/5 | 4.25/5 | 4.25/5 | |
| | | 4.25/5 | 4/5 | 4/5 | |
The Top 10 Up Close
The Bosu Fitness Ball consists of a rubber inflated half ball affixed to a PVC rigid platform. Bosu is the original half balance ball and highly respected throughout the fitness industry. The Bosu Balance Trainer has a maximum user weight of 300 pounds. It has a diameter of 26 inches (65 cm). The weight of the iconic blue Bosu ball is 15 pounds.
When you purchase the Bosu Balance Trainer you also get an impressive DVD training video, an owner's manual and a pump to inflate the half ball. You can use both sides of the Bosu ball to work your core and develop proprioception. It comes with a 1 year limited warranty.
PROS
The original half balance ball
300 pound user capacity
1 year warranty
The Giantex Ball Balance Trainer is a large domed half balance ball which has a pair of resistance handles. It is made from sturdy PVC and has a rigid ABS base. This half fitness ball also has a huge max user weight of 660 pounds. With your purchase comes the two resistance handles, and air pump and a valve pump. This unit allows you to perform a huge range of exercises.
The Giantex stability half ball balance gives you great balance and a very firm level of support. The base is very rigid. The handles of the resistance bands are very comfortable and the bands themselves will give you a good level of resistance. The material of this stability half ball is latex free and anti burst.
PROS
Firm level of support
Max user weight of 660 pounds
Sturdy PVC construction
The Rit Fit Balance Ball Trainer consists of a ridged half dome ball that has resistance band handles attached. You also get a free air pump, a colorful resistance wall chart, a workout DVD and a measuring tape. The ball is 28 inches in diameter and can be inflated to a height of 12 inches. The elastic resistance bands have comfy grip handles. The bands can be detached and used as stand alone units.
The free foot pump that comes with the Rit Fit Balance Ball dome exercise ball gives you a handy, easy way to inflate the half dome. The DVD provided gives you a wide range of exercise options. You get a one year warranty when you buy this product.
PROS
Resistance band handles attached
Free foot pump
1 year warranty
CONS
Ball is a little too oily
The AW Yoga Balance body dome ball is a pink half dome ball with a set of resistance cables attached. It is very popular as a yoga exercise tool and offers many more options for any workout. As well as providing a level of resistance, the cables on either side give you a balancing aid when you're just getting started. Along with your yoga ball comes an air pump, valve plug and the detachable resistance bands.
The AW Yoga Balance ball dome is rigid enough to give you peace of mind when standing on it. You can also flip it over and balance on the ridged flat end to provide yourself with an even greater challenge. This unit has a weight capacity of 660 pounds.
PROS
Resistance cables attached
Air pump provided
660 pound user capacity
CONS
Ball will deflate over time
The VEVOR Balance Trainer consists of a half dome ball on a rigid PVC base. It has a pair of elastic cables attached. The cables allow you to have a balance support as you improve your proprioception. They can also be used as a resistance training method for your arms. The half dome ball can be inflated to a height of 10 inches.
The resistance band dimensions are 35 inches in length, with 5 inch handles with soft padding for the palm grips. The base of the VEVOR Half Ball Balance Trainer gym half ball is made of ABS material, providing a very rigid platform to work from. This versatile fitness half ball can be used for balance, stability, strength, flexibility and proprioception.
PROS
Rigid PVC base
Resistance bands
ABS Base
CONS
Not much tension in the resistance bands
The Orange A Yoga Balance Trainer is a half dome ball connected to a solid PVC platform. The platform has a pair of resistance bands attached that are detachable, allowing you to use them by themselves and on the dome. The dome has ridged circles that provide you with an enhanced gripping ability. This unit is latex free and made from environmentally friendly materials.
The Orange A flat exercise ball has resistance bands that are 35 inches long, giving you a good level of support as you are getting used to the balance aspect of the dome. You get an impressive 2 year warranty when you purchase this product. This unit is very compact and lightweight, making it ideal for your home gym and for transportation to wherever you are training.
PROS
35 inch resistance bands
Ridged circles on the dome
2 year warranty
CONS
Not much resistance in the cables
The Bosu Elite Balance Trainer is Bosu's top of the line model. Bosu is the original and best half dome ball manufacturer. This ball uses high density foam for a very strong, firm dome. It features a honeycomb grip and a high tactile surface that allows you to get the best grip possible when standing on it. The dome has two designated training areas that are labeled as 'power zone' and 'power line'.
The Elite version of the Bosu balance trainer offers precise foot positioning with the Power Line innovation. In the Power Zone area, you get a special spring loading. This unit has a max user weight of 400 pounds. When you buy the Bosu Elite, you get a 2 year limited warranty.
PROS
2 unique training zones
400 pound user capacity
Spring loading
The Best Equip Yoga Balance Trainer is a 23 inch diameter firm half dome ball with resistance cables attached. This unit has a user capability of 400 pounds. Domed ridges allow you to get a firm grip with your feet. The dome is made from anti-water material, and is extremely durable, making it able to withstand a great deal of pressure.
The resistance bands are detachable, so you can use them with the dome or on their own. When used with the dome, the bands help you to train your balance. Best Equip Yoga Balance Trainer is very lightweight and compact. It can easily be stored under a bed or in the corner of your home gym. It comes with a 12 month warranty.
PROS
Domed ridges for better grip
400 pound user capacity
Detachable bands
CONS
Dome tends to deflate over time
Once you've invested in your balance ball trainer, you'll need a quality pump to inflate it. Our Best Stability Ball Pumps Review 2017 will guide you to the best on the market.
The Titan Fitness Balance Ball Trainer provides you with a ridged dome, detachable resistance bands and a foot pump. The resistance tubes are 23 inches in height and have comfortable, easy grip handles. The weight capacity of this balance ball trainer is 350 pounds. This unit is ideal for physiotherapy treatment and recovery from injury. The exercise dome of this unit is very firm, allowing you stand to on it with it compressing the ball.
The Titan Fitness Balance Ball Trainer provides you with a versatile system that will increase your flexibility and balance. The resistance bands allow you to do a whole range of upper body exercises and help you to balance when you are first using the balance ball.
PROS
Ridged dome for better grip
Resistance tubes
Very solid dome
Discover the best fitness stability balls on the 2017 market with our Best Half Ball Balance Trainers 2017 - we rated the best balls on the planet.
The Exercise Core Balance Disc is an inflatable disc cushion that provides you with a very similar training effect as a Bosu ball. It has a textured foot massage surface which improves grip while it provides an excellent massage to your feet. This inflatable disc has been especially designed to focus on strengthening the core and lower body. It is 13 inches in diameter and made from high quality materials. The unit comes with a 12 month warranty.
The Exercise Core Balance Disc is extremely lightweight and portable. Your purchase includes a pump and inflation needle so you can inflate it to the ideal level for you. One side of this gym half ball is smooth while the other side is covered in massage nodules.
PROS
Inflatable disc cushion
Textured massage surface
Very lightweight
Discover how to get the most out of your half ball workout equipment by checking out this cool training video . . .
Conclusion
Our favorite half fitness ball is the Bosu Balance Trainer. Bosu was the brand to introduce this product line to market and offer a very high quality dome and platform. Our second favorite half ball balance trainer is the Giantex Ball Balance Trainer, which includes resistance bands and has a max user weight of 660 pounds.
Rounding out our top 3 half Swiss balls is the RitFit Balance ball Trainer, which also comes with detachable resistance bands attached to a high pec dome and platform.