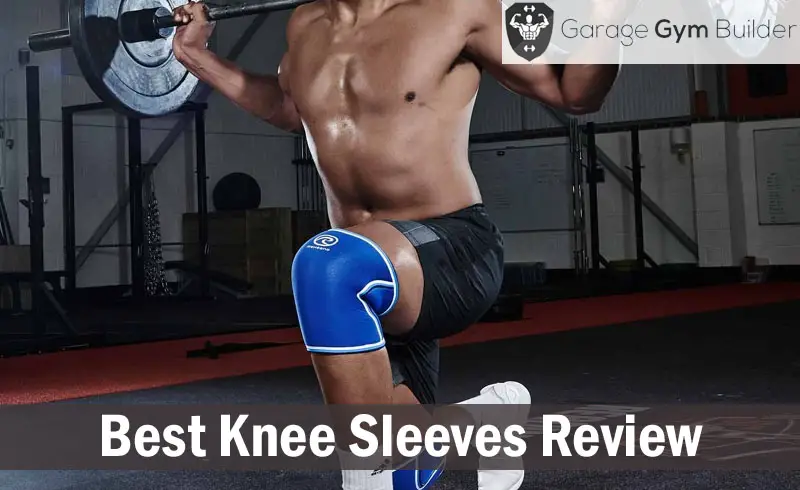 Best Knee Sleeves Review 2018
updated October 5, 2018
​Your knees can take a pounding under the heavy iron. Weightlifting sleeves provide you with the support to push more weight for more reps. To find the best leg protection, you've got to check the stitching, compression, and heat insulation. In this article, we'll review the best knee sleeves on the market today, and we'll identify the best knee protection for running, squatting and weight lifting.
A Quick Look at our Top Rated Knee Sleeves

​Our favorite weightlifting sleeve is the Emerge 5mm neoprene sleeve. Emerge has produced a durable, elastic, and form-fitting sleeve that does a great job of compression and warmth retention. Emerge offers two options on their premium knee bands - the KX1 (7mm) and the KX2 (5mm).
Select the KX1 for your heavy lifting work and if you have pre-existing knee problems. The KX2 is the sleeve of choice for CrossFit, running, plyometrics and sports.
We also love the Rehband range, with the 7051 being our second best sleeve. The Rehband 7051 features a unique contoured 3-D design which gives great joint compression. Rounding out our top 3 knee sleeves is the Sable sleeve, which provides you with anti slip technology and a very secure compressive fit..
Our Top 10 Knee Sleeves at a Glance
​We've ranked the top 10 best knee sleeves to make it easy for you to make your choice. We considered ratings out of 5 for price, durability and then gave an overall rating.
How to Pick the Best Knee Sleeve
There are different thicknesses involved when it comes to the several knee sleeves you can choose. Every thickness is used for a different reason and targets a specific area. There are 3MM, 5MM, or 7MM knee sleeves that are available.
If you are a long-distance runner, then the 3MM knee sleeve will be suitable if you are looking for additional stability and support while you are running or participating in any other type of endurance sport. The 3MM knee sleeve is lighter because it is not as thick as the others, which makes it more comfortable during running.
The 7MM knee sleeve is best for weightlifting and other shorter and heavier activities, especially when you are required to lift extra weight and put more pressure on your knees. It will add the additional support you will need to lift. It is best for shorter durations because it is the thickest and therefore will be the heaviest. It is often used in gyms as well for additional stability and support during weightlifting training.
The 5MM knee sleeve is suitable for use with all other sports and activities. The 5MM knee sleeve is considered more of a general knee sleeve and can be used for all activities, including the activities already listed for the other knee sleeve thicknesses.
To find the best knee sleeve, you should consider how the knee sleeve will feel as you participate in your particular activities. It is recommended that you try each of them on to help you determine how the compression would feel and if you will need more thickness and support.
How Do Knee Sleeves Work?
The best knee sleeves are able to provide your knees with warmth and compression that they need during workouts and other sports and activities. Knee sleeves can be worn during different physical activities to help alleviate pain that can occur because of conditions like shin splints and calf cramps and can offer additional knee support.
When worn by weight lifters, the best knee sleeves can allow weightlifters to lift more weight during squats, and the knee sleeve will reduce any stress that may be placed on the quadricep tendon which attaches the quadriceps to the patella, or kneecap.
The Top 10 Up Close

Now, that you've got an overview of the best knee sleeves on the market, let's zoom in on each of them for an in-depth look at what makes them the best.
​The 5mm KX2 sleeve is the premium choice if your primary focus is on CrossFit, running and plyometric exercises. These knee sleeves will allow for ultimate protection of your patellar joint, boosting the flow of blood to fast track nutrients to the synovial area. At the same time, these best knee sleeves will allow for a free range of movement so that you can run, jump and lunge without interruption.
Emerge have created a very durable leg sleeve. It features double stitch cross weaved seams that run diagonally for greater strength. The sleeve fits snugly and stays in place. Even if you're doing multiple reps, it will not slip down or bunch up.
The close fit that you get with this sleeve will make sure that the heat is retained in the joints and surrounding areas. This will reduce the risk of injury and post-exercise soreness.
​The most impressive feature with the Emerge is its price - it's almost half the cost of the big-name brands like SBD and Rehband. In fact, many users of both SBD knee wraps and Rehband knee sleeves are now Emerge converts, having realized that they can improve the same quality at a much-reduced cost.
Emerge KX1 and Emerge KX2 Knee Sleeves Comparison​
​Emerge have recently expanded their range with the release of the Emerge KX2 workout sleeve. The KX2 features the same high specifications that have made the KX1 our top performing workout knee sleeve on the market today. The big point of difference is that the KX2 is not as long as the KX1. Whereas the KX1 comes down to your mid-shin, the KX2 limits its coverage specifically to the knee area.
So, which Emerge knee sleeves should you select?
​The Emerge 7mm sleeve provides an easy fitting, durable sleeve that is molded to the patellar area for a custom form. It provides a comfortable inner lining that won't snag or cause itching. Compression is top notch, providing the support that the patella needs to perform safely.
​If you have pre-existing knee problems, then you need all of the compression and protection you can get. The KX1 will deliver maximum heat compression in order to increase circulation and blood flow.
The KX1 is also a great option if you are focused on doing heavy squats. It will give you the maximum level of support and guidance to allow you to track in the ideal plane as you are performing the exercise.
Extremely durable with reinforced cross stitching
Elasticity will improve your squat poundage
Double inlay cross stitching
Cost effective
The interior lining may cause slight rubbing to the back of the knee in extreme heat.
​The Rehband name is the most respected in the knee sleeve market. They have built a reputation on custom fit, ergonomically molded, durable sleeves that stand the test of time.
​The 7mm Rehband knee sleeve in its distinctive original blue is their flagship model, and it lives up to the reputation. It provides a snug fit, does a great job of compressing the patellar and retains the warmth needed to lubricate the joint.
​The Rehband 7mm has an extremely smooth inner surface to provide a comfortable fit without any snagging or chafing. Also, you will never have to worry about the knee sleeve slipping or bunching up while you're running.
Rehband knee sleeves are among the priciest on the market. Be aware that you buy these sleeves singly, with one 7mm almost being as expensive as a pair from some other suppliers.
Very durable construction
Anatomical form fitting design
Comfortable, tight fit
Sweat build up within the sleeve
Expensive
Rapidly absorbs odor
The Sable knee brace is made from a spiral elastic weaving. The brace stretches above and below the knee to provide complete protection. The brace fits tightly around the knee to give a good level of compression. The anti slip design ensures that you won't have to out up with sippages or bunching up, even when you're active.
The Sable Knee brace provides just the right mix of patellar compression and looseness to allow the joint to track through your exercise range of movement. It also retains the warmth to the joint, ensuring that the entire area is thoroughly warmed up and ready for action. You also get great breathability with this brace.
Excellent insulation
Waterproof
Strong yet lightweight
The Iron Bull Knee sleeve is made from 7mm neoprene flex material which is designed for maximum support, compression and stability for CrossFit, weightlifting, powerlifting and bodybuilding.
You'll find the Iron Bull knee sleeve hard to get on, but it'll give you the best form fit of any knee sleeve out there. These knee sleeves will also give you the best heat retention of any product on the market right now.
Iron Bull sleeves bans are the go to and best knee sleeve for people with pre-existing knee complaints who are looking for maximum heat generation while lifting. The upper of the sleeve features double silicone gel strips to lock it in place during intensive activities. This means that you will never have to reposition the sleeves again while working out.
Superior level of knee warmth
Double silicone gel strips
Tight fit providing excellent compression
The Powerlix Compression Knee Sleeve provides extra patellar padding with four way compression. It is also a lot longer than most other sleeves, both above and below the patella. This sleeve is better suited for running and CrossFit movements rather than powerlifting. Its long length offers compression while also providing a free form flow of movement.
The Powerlix Sleeve has a very effective built-in moisture and odor evaporating system. It will wick away sweat and build-up in the knee area so that the knee sleeve doesn't slip around and there is a minimum of discomfort while training.
It also improves the compression of the sleeve, allowing to fit more snugly to the skin. Although there is extra padding over the patellar, the fabric covering it is very thin.
Full length 16 inch sleeve
Superior sweat and moisture removal
Compact fit
Extra hex knee padding
A little too tight in the thigh area
Fabric covering the padded area of the knee is very thin
​Nordic Lifting Knee Sleeves are an affordable, premium quality compression band that is designed for protection and performance. They are constructed from 7mm neoprene with double reinforced stitching; this makes the Nordic knee sleeve a relatively thick band, which is better suited for heavy lifting than for running. Ergonomically designed for a form fit, the Nordic knee band is comfortable to wear, allowing for a natural knee bend.
​Nordic Lifting Knee Sleeves are a no frills performing that does the job well. It will give you a snug, comfortable fit and is easy to get on and off. You will get the warmth and compression that you need with needless restriction. They will also provide you with a lot of assistance if you have knee pain. These bands are sold as a pair.
Form fitting
Well priced
Thick construction
​The Rehband RX Knee Support is a very popular band that is especially loved by CrossFitters. It features a patented anatomic construction to deliver a superior level of muscle coordination.
​The Rehband knee support will also enhance the stability of the patellar joint while eliminating wasted movement during exercise performance. This band brings together the three key components of warmth, stability, and compression. The result is a device that reduces injury while enhancing your body's natural muscle memory.
The Rehband RX Knee Support prevents the joints and soft tissue around the knee from getting injured. This allows for a quick, efficient warm up, followed by a safe, protected exercise performance and this product comes in either a 3mm, 5mm or 7mm option.
Patented anatomic construction
Enhances patellar stability
Three thickness options
Could be a little tighter
​Exous Bodygear Compressions Supports are a 7mm thick neoprene sleeve designed to provide maximum support while going heavy on the weights. The length of this sleeve is longer than the average on the market, providing a superior level of guidance, support, warmth, and protection. The extra 2 cm of length provides you with a greater surface area of protection.
​​Rather than the standard SBR neoprene, Exous have upgraded to NCR neoprene. The result is better thickness, quality, and density. It is triple stitched for maximum strength and durability. Exous have also placed their labeling on the outside of the band to prevent skin irritation. Exous offer a full 12-month guarantee on this product.
Longer length
Higher grade neoprene material
Triple stitched
The MAVA Sports knee compression sleeve has been anatomically to prevent training injury and speed up recovery after heavy squatting sessions. It features an anti slip silicone which stops the sleeves from sliding down half way through your workout. The elastic support material offers stable compression and there is no danger of these sleeves rolling off or sliding down.
​The MAVA sleeve provides a high level of heat compression to allow for enhanced blood circulation and faster nutrient supply to the knee area. The fabric used in the manufacture of this sleeve is anti-itch, anti- odor and anti-moisture, ensuring the ultimate in wearer comfort.
Anatamonically designed
Anti slip silicone
High level of het compression
A bit tight around the lower thigh
Knee Sleeves vs Knee Wraps
Many people are confused about the difference between sleeves and wraps. Let's break it down, so you can make sure you have the right tool for the job.
​The purpose of a knee sleeve is to provide warmth around the joint. When you start working out, the synovial fluid in the knee joint starts to warm up. That's good, but when you stop working it cools down and this will tighten up the entire knee area.
​The best knee sleeves will lock in the warmth, keeping the synovial fluid in a liquid state. It will provide a little bit of support by keeping your knee locked into a position. Knee sleeves, however, will not add to the strength of your lift.
Knee wraps create artificial pressure and elasticity on the knee joint that allows you to push more weight. When you put the strap on, it pulls tight around your knee.
When you squat down, the elastic stretches, allowing you to explode out of the hole a lot more easily. The problem with a knee wrap is that it puts pressure on your knee cap. If overused, they can cause damage to the joint. That's why you should only wear your knee wraps when performing maximum squat attempts.
Best Knee Support Sleeves for Running Reviews 2018
​Runners place unique demands upon their joints. The constant pounding can work away at the patellar, breaking it down and causing long term damage. That's why they need a protective support sleeve that is tailor made to handle the pace.
​The best runners training sleeve is the Emerge 7mm sleeve, which provides great support, compressions, and freedom of movement at a very impressive price point. Our in-depth breakdown of the 10 best knee support sleeves for runners has everything you'll ever need to make a smart purchasing decision.
Best Knee Sleeves for Squats Reviews 2018
​Squats are probably the hardest exercise in the gym. They are especially tough on the patellar. When you're ready to go heavy on the squat, you need to be wearing a quality pair of protective knee sleeves.
​In terms of durability, compression, rebound effect and heat insulation, the best product on the market is the Emerge 7mm sleeve. This versatile sleeve outperforms the big names and comes in a whole lot cheaper.
If you want to get into the total breakdown of the best knee sleeve for squats, check out our article on what the best protective sleeves for squats are. I know you'll love it.
Best Knee Wraps and Sleeves for Weightlifting 2018
​As a weightlifter, you need to have confidence that your joints can perform. The knees are the most vulnerable of all body parts when you're under the heavy iron. Training wraps and sleeves are the types of products that all look the same. Unless you know what to look for, however, you could easily end up with a dud.
To go beyond the surface and dig deep into the best knee wraps and sleeves for weightlifting, check out our best of 2018 reviews. It's the most comprehensive article of its kind.
If you're a bodybuilder, you absolutely need to check out this informative clip about the best lower leg support for squats​
Conclusion
​In this article, we have found and compared the premium, most popular that the current market has to offer as far as knee sleeves go. Our search led us directly to the Emerge 5mm compression sleeve. This amazing product provides all of the support, compression, and insulation that you get from the market leaders, but for a whole lot less money.
​The second most popular wrap among our team was the Rehband 7051, which comes with a unique contoured 3-D design that provides an elevated level of compression and support. We were also extremely impressed with the Workt 7mm compression sleeve, which uses Ecoprene fabric to provide superior compression, warmth, and rigidity.