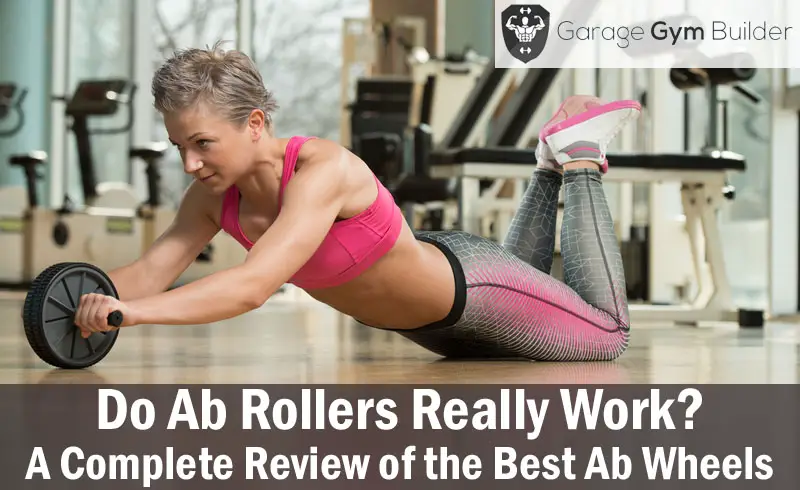 Do Ab Rollers Really Work? A Complete Review of the Best Ab Wheels in 2018
The Ab Roller, or Ab Wheel, is one of those familiar exercise devices that seems to have been around for ages. Way back in the '70's, they could be found lying around in the corners of basements or tossed onto the kid's play bin. Most people didn't take them seriously as a training device.
Today, the ab roller has had a face-lift. It is flashier, more hi-tech and more durable. It also comes with it's own marketing department, promising all sorts of amazing results. Most of it is hype. Look beyond that, though, and you'll find a few gems that can help to transform your waistline.
Like every product range, there are good and bad ab rollers proliferating the marketplace. We scoured the online Ab Roller space and came up with 5 devices that we believe are among the best that you'll find anywhere. Our favorite is the Ab Carver Pro by Perfect Fitness, which adds kinetic energy to the training mix by way of a carbon fiber spring.
We also really liked the FitNessery Ab Wheel because if its varied angle of resistance, the VIM Ab Roller Wheel and the Maximisa Ab Wheel. The Valeo Ab Roller Wheel, a great budget double wheel model, will also be reviewed.
Best Ab Wheel Reviews:
The Perfect Fitness Ab Carver Pro was designed by a Navy Seal in his quest to find a better core training solution for the soldiers that he was whipping into shape. He hit upon the idea of adding kinetic energy into the training mix in the form of a carbon steel spring which provides resistance when you roll the wheel out and assistance when you roll it back in.
Many ab wheels are really hard to use and put a lot of strain on the lower back. The Ab Carver was designed to allow for the new user to attain the benefits of the stretch and contraction while still being successful in performing the move.
They did this with the following four innovations:
The track is much wider than a traditional Ab Roller. This dramatically increases the balance.
The track is slightly angled to allow for the carving motion which fully engages the internal and external obliques at the sides of the waist.
The handles are angled down. This allows you to more engage the triceps muscles and not put so much effort on the shoulder. This gives you more engagement and control. It also turns the Ab Carver from an Ab device into an Ab and Arm device.
The kinetic engine in the form of a heavy duty spring that allows you to get resistance on the way out as the spring coils up and as well as assistance on the way back.
The carbon steel spring adds an extra element of resistance to the movement to really challenge you on the roll out. This makes the exercise more effective, giving you stronger abs faster.
The wider than normal tread on the Ab Carver allows for greater stability when rolling out the wheel, especially when doing so on an angle to target the sides of the waist.
When you purchase the Ab Carver you get access to a digital download which provides a range of workouts, from beginner to advanced.
The unit comes with high quality, thick styrofoam knee pads to protect your knees on hardwood surfaces.
CONS
The handles may buckle a little for people who are more than 200 pounds.

Some people view the assistance on the way back that you get from the spring as cheating.

The Perfect Ab Carver Pro has a lock to prevent you from rolling out too far. Some people have complained that this doesn't allow them to achieve a full range of motion.

The Spring cannot be removed
Summary
​The Ab Carver Pro has some stand-out features which set it apart from the rest of the pack. This will allow new users to enjoy the benefits of this movement safely without compromising their form or the health of their lower back. The angled design on both the track and the handles are examples of attention to detail that make the Perfect Ab Carver ab effective ab roller. The stylish, professional design and extra wide tread make this a quality offering.
The FitNessery Ab Wheel is a simple, no frills ab trainer that provides you with a smooth rolling, durable wheel. It is made of strong stainless steel, non-slip rubber and durable PVC. The handles of the foam roller are made from comfortable EVA foam padding to give you a safe,, secure grip. Your purchase of the FitNessery Ab Wheel coomes along with two training ebooks and a pair of knee pads to add to your comfort while training. This extremely popular wheel will give you a solid, reliable workout, with the solidity to allow you to work from a number of different angles so you can target your obliques and intercostals.
The FitNessery Ab Wheel will work effectively on any type of surface and through and movement angle.
This product comes with a no questions asked lifetime guarantee.
Very comfortable hand grips
Stable, smooth and fluid movement
CONS
Cannot add resistance

Single wheel only
Summary
The FitNessery Ab Wheel is a simple, functional wingle wheel roller that performs an effective job of hitting your abs and intercostals. It doesn't have the extra features found on some models but does come with bonus knee pads and training and nutrition ebooks. A good, basic ab trainer.
The VIM Ab Roller Wheel is the first Ab Roller to feature 3 wheels. The patented 3-wheel triangular design allows for far greater balance and stability during the roller out motion. That makes this device a great choice for beginners, who often give up on this terrific exercise because they cannot get the rollout sorted out.
Another innovative feature is the stand alone floor stopper wedge which allows you to stop the roll out in precisely the right place to effect the right extension and contraction for you. Also included is a foam knee pad for comfort when exercising.
Patented 3-wheel triangular design for enhanced balance and stability

Floor stop wedge

Super comfy soft grip handles

Premium materials and construction
CONS
Knee pad is not designed for large people
The Maximiza Ab Wheel is another double wheel unit that is very popular with users. It's design is not as robust as the the previous two units. The overall size of the machine is smaller and it doesn't have angled handles or wheels. However, the Maximiza is an abwheel that will do the job that you need it to do effectively and reliably.
Featuring a wobble free design and coming with a premium knee pad, the Maximiza is suitable for all user levels. Newcomers to ab roller exercise will appreciate the balance and stability that you get with this ab roller.
Dual wheels for increased balance and stability

Quality knee pad provided

Easy to assemble

Ultra durable lightweight design for easy portability

Soft high grip foam handles

Lifetime guarantee
CONS
Not as sturdy and durable as the Ab Wow and Ab Carver Pro
The Valeo Ab Roller Wheel in an extremely affordable double wheel roller that provides added rigidity and ease of roll to allow you to get in a great workout on any surface. The wheel is made from plastic, yet provides all the strength that you will need for normal home use. The non-slip wheels ensure that you get a smooth roll on wood, plaster or carpet.
With its double wheel design, this ab wheel takes a little bit of construction. However, it is extremely easy to put together. This is an entry level ab wheel that is a great fit for people who are not used to working out with an ab wheel. It provides you with contoured handles for enhanced grip. However, there is no padding on the handles so you might find the grip slightly uncomfortable. There is also no spring loaded with the unit to provide extra resistance.
Smooth roll on all surfaces

Double wheel

Easy to assemble

Great for beginners
CONS
No hand grip adding

No internal spring

No bonus extras
Summary
The Valeo Ab Roller Wheel is a cost effective, simple ab trainer. It has double wheels which is impressive for a wheel in the budget category. Your will get an effective workout for your upper and lower abs, along with your intercostals. There a couple of disadvantages here; the hand grips, absent of padding, are not very comfortable and it doesn't come with any bonus extras.
Do Ab Rollers Really Work?
As with most abdominal exercise devices, the marketing departments responsible for the promotional material that accompanies Ab Rollers cannot help promising rapid fat loss and six pack abs. So, if that is the criteria, then they do not work. Only cardio exercise and diet will reduce body fat.
However, if your effectiveness criteria is to strengthen and tighten the abs and and core, then yes, they certainly do work. But they only work if you use them properly. A lot of people push too much with their arms, rather than using their core to force the wheel out and in.
To establish just how effective the Ab Roller was, the American Council on Exercise sponsored a study which was conducted by San Diego State University. The study involved testing 13 ab exercises and determining how strongly they activated the abs. The Ab Roller came in ninth, ranking about the same as crunches. In another study, the Ab Roller ranked fourth out of nine exercises.
Assuming, then, that your eating pattern is on track and that you are doing cardiovascular exercise to burn off calories, the Ab Roller can be an effective aid to getting your abs on track.
Conclusion
Our favorite Ab Roller by far was the Ab Carver Pro by Perfect Fitness. The Ab Carver Pro stands alongside the Perfect Push Up and the Perfect Multi Gym as elite in its product category. It has more grunt, more kinetic energy, a wider track and better angles than the other players in the market. It will get you to rock hard, strong abs faster than anything else.