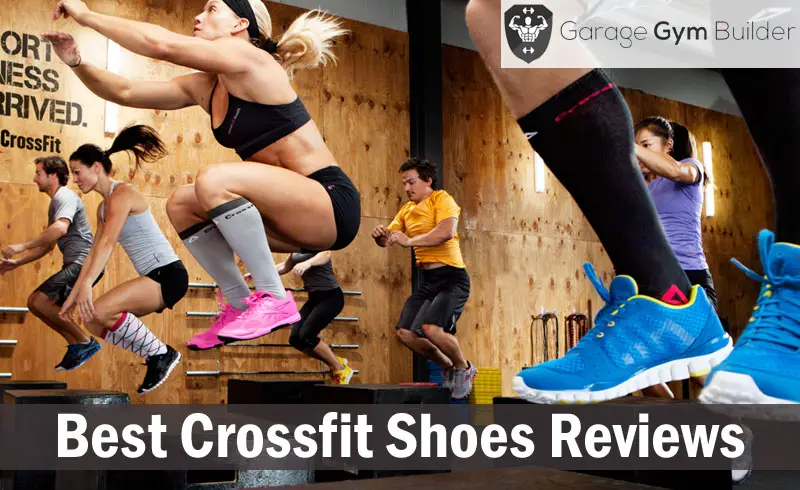 The Top Crossfit Shoes – Best Crossfit Shoes Reviews 2016
What are the best shoes for CrossFit? It's a tough question to answer because today most of the major athletic shoe manufacturers have entered the CrossFit market and the result is some of the most breathtaking, high-tech footwear known to man. Lightweight, versatile and durable as all get-out today's best CrossFit shoes are light years ahead of athletic footwear of even a decade ago and picking one shoe as the 'best' is no easy task.
Our Favorites
In this CrossFit shoes review we'll take a look at the best CrossFit shoes of 2016 in three categories: "Best in Class", "Best Overall Value" and "Most Affordable". "Best in Class" is our choice for the best CrossFit shoe you can buy regardless of price, "Best Overall Value" means the ultimate combination of quality, performance and price, and "Most Affordable" are the best discount CrossFit shoes you can buy for less than $100. Now that we're clear on that, it's on with our CrossFit shoes review.
BEST VALUE
BEST BANG FOR YOUR BUCK
The MX20V3 handles whatever comes its way and is one of the best weightlifting shoes for CrossFit. Feather light yet boasting impressive all around support, the shoe will provide that barefoot experience at times while keeping you properly aligned during your Oly lifts. The Vibram outsole provides a nice snug grip on any surface while the combination of the no-sew upper and antimicrobial lining keeps things comfortable and odor free even for those who prefer going with no socks. A great overall CrossFit value shoe.
BEST IN CLASS
BEST SHOES ON THE MARKET (REGARDLESS OF COST)
The Reebok Nano is the kind of shoe no one would have thought possible 10 years ago. An athletic shoe with a Kevlar upper? Really? As a matter of fact yes, and it's tough as nails as you might expect. Thankfully it's not a gimmicky shoe as it also sports amazing stability, excellent ventilation and breathability and it retains the light weight of its predecessors. Oh and it looks awesome as well. The best CrossFit sneakers available.
MOST AFFORDABLE
GREAT CHOICE FOR THOSE ON A BUDGET
The Free 5.0 is notable for its array of styles, impressive build quality and grip that really needs to be experienced firsthand. Said grip comes courtesy of the hexagonal rubber sole construction and is simply the best available on any CrossFit shoe. The zero drop will do you well when powerlifting and the ultra lightweight construction and aforementioned crazy grip will have you ascending the rope like Tarzan. Hard to believe but these discount CrossFit shoes retail for less than a hundred bucks, which makes them a clear choice for most affordable CrossFit shoes.
HOLIDAY HOT DEALS FOR SHOES
---
Discounts For Weightlifting Shoes/CrossFit Shoes /Training Shoes & Clearance
Click the button below to see the deals:
BENEFITS OF CROSSFIT SHOES
You don't need a CrossFit shoes review to figure out the benefits of Crossfit shoes. The stresses you expose your feet and lower legs to are varied and severe and approaching them with shoes built for a leisurely jog in the park is a not wise thing to do. What you need in the box is support, versatility, stability and grip and if your current shoes aren't providing all of those things you need better shoes.
TOP BRANDS
It's pretty amazing that in just a few years the footwear industry has analyzed the particular needs of CrossFit athletes and developed, tested and brought to market a variety of shoes that effectively address CrossFit issues in different ways. Today, the best CrossFit shoes embody the same qualities asthe athletes that wear them: ironclad resolve, versatility, strength and durability.
---
Reebok
Reebok has been making shoes since the late 19th century and since 1958 under the current name. They're the official shoe of CrossFit and without a doubt make some of the best shoes for CrossFit youcan buy.
---
The CrossFit Sprint features the cushioning of a running shoe along with the lateral support and lockdown stability of the better Oly weightlifting shoes. Reebok's heat resistant lining keeps your feet cool when things heat up and the styling is second to none. Features include:
Reinforced toe wrap for forefoot protection
Excellent shock absorption qualities
Flexible and breathable
Durable PU upper
The CrossFit Sprint is one of best sneakers for CrossFit and effortlessly combines high-grade materials, quality construction and high-performance. Read more about the Reebok Crossfit shoes here.

---
NIKE
Nike doesn't offer quite as many models of CrossFit shoes as Reebok but the ones it makes are serious footwear. Nike seems to always find a way to reduce bulk while retaining both comfort and performance. A nice trick that allows the shoes' good looks to shine through.
---
"Metcon" is short for Metabolic Conditioning and this shoe is certainly one of the best sneakers for CrossFit you can buy. Definitely a shoe you want on your feet when facing a daunting WOD. Features include:
4mm drop
Stable and flexible throughout
Lightweight, breathable upper mesh
Flywire filaments buttress structural integrity
With their outstanding Romaleos weightlifting shoe Nike took on segment leader Adidas and their Adipower. They seem to have taken the same approach to CrossFit with the Metcon taking aim squarely at the best shoes for CrossFit by the leader of this segment, Reebok. Learn more about Nike's top weightlifting shoes here.

---
Inov-8
Inov-8 makes superb running and now CrossFit shoes that embrace minimalist qualities while not neglecting strength, durability and other things that earn a shoe a place in the CrossFitter's bag.
---
The F-Lite 195 is not only an excellent shoe for running and roping but another of the top weightlifting shoes for CrossFit. Stable, lightweight and long lasting the F-Lite 195 keeps pace with the ever evolving world of CrossFit. Features include:
3mm drop
Firm yet breathable upper
Contemporary minimalist look
Meta-Flex groove system promotes natural foot flexion
Inov-8 shoes have made their reputation by transcending expectations and the F-Lite 195 is yet another example of that. Inov8 has a great store of awesome designs, you can read a great review of the Inov8 weightlifting shoes in that article.
---
Adidas
Adidas is known more for their weightlifting shoes than their CrossFit shoes yet their Power Lift Trainer is an excellent CrossFit shoe and, perhaps surprisingly, there are those who believe the legendary Adipower to be top notch weightlifting shoes for CrossFit as well.
---
When it comes to the Adipower for CrossFit the thinking is that you gain so much in terms of your performance with the weights that any edge you may lose during an outdoor run is inconsequential. Key features of the Adipower include:
Incredible stability
Top of the line build quality
Distinctive, cutting edge style
Improved ventilation and breathability
As stated, as long as you're not taking this shoe outside for a 10k on a wet track you should find it excels within the confines of the box, especially during Olympic lifts. Learn more about Adidas and Adipower here.

CrossFit Shoes Review: Conclusion
In this article we went over the best weightlifting shoes. That article coupled with this article should give you all the information you could ever need. You wouldn't run sprints in workboots, wouldn't climb El Capitan in sneakers and wouldn't play tennis in sandals. So why would you even consider engaging in CrossFit with anything less than the best shoes for CrossFit?
The incredible stresses your feet will encounter during CrossFit are not to be underestimated or ill-prepared for. You owe it to yourself to show up for your first WOD sporting the newest CrossFit shoes. If you are a woman and you would like to learn more about the many advantages of the best CrossFit shoes for women, check out this article. We've included a ton of information that will cover the subject in entirety and is a must read for any woman looking purchase crossfit shoes.