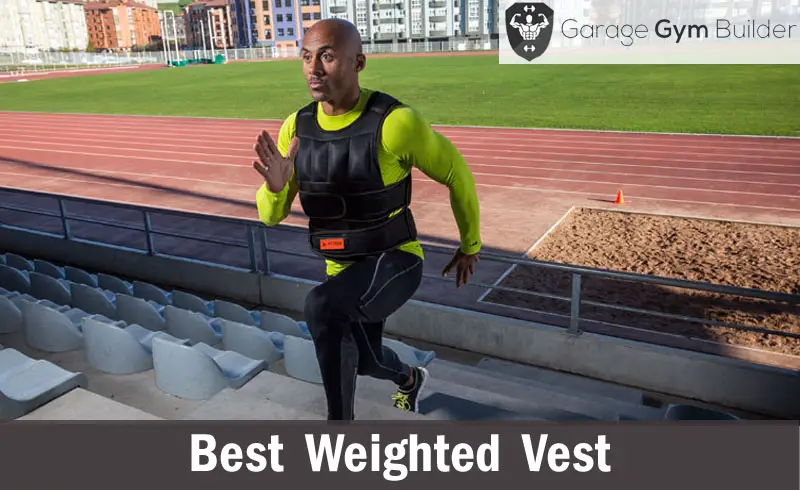 Best Weighted Vest Reviews 2018
When you're ready to take your workout to the next level, a weighted vest provides all the extra challenge you need. Whether you're doing bodyweight moves like dips, hardcore weight exercise such as power cleans or running on the treadmill, a weighted jacket pushes you harder to make you better. This article provides in-depth reviews of the 10 best weighted vests on the current market, so you can make the right buying decision.
A Quick Glance at the Best Weighted Vests
Our favorite weight vest was the Hyperwear Hyper Vest PRO Unisex. This jacket is made from a unique lightweight, breathable, sweat wicking fabric and provides a custom, chest hugging fit. We were also mightily impressed with the Tone Fitness Weighted Vest, which is made from soft, lightweight neoprene material and features a temperature control system.
Our third favorite weighted jacket was the Cross 101 Adjustable Weighted vest, with its compact design and incremental weight system.
Top 10 Weighted Vests
We've rated all 10 of the best weight vests according to price, durability and then given an overall rating out of 5. Below this section you'll find in-depth reviews of all 10 jackets, so you can find the best one to complement your workouts.
The 10 Best Weighted Vests In Depth
The Hyperwear Hyper Vest is made from a unique stretch fabric that wicks sweat away from the body as it provides a ventilated, lightweight piece of clothing. The jacket is packed with 10 pounds of evenly distributed weight. The thin profile, with its side lacing, allows for a full range of motion as you're exercising. The Hyper Vest is odor resistant and sweat resistant.
The Hyper Vest is designed as a unisex jacket, allowing for custom fitting by way of the side lacing. The compressive nature of the fabric allows the jacket to hug to the chest as you're working out. Additional booster packs can be purchased to increase the weight of the jacket. It has a full zipper for easy placement on and off.
Lightweight, stretch fabric
10 pounds of resistance
Unisex design
Full zipper
Some users report that weights break through the jacket after a few months
The CAP Barbell adjustable weighted vest is a lightweight, yet durable chest worn jacket. It will add 40 pounds of resistance to whatever exercise you happen to be doing. This jacket is especially good for pull ups and dips, as it remains securely in place as you exercising. The CAP provides full upper body coverage and is secured by Velcro side straps.
The CAP jacket is quite comfortable. It provides lots of places that you can place extra weight. It sits securely on your torso, despite having only one strap. It is well made with heavy duty double-cross stitching for durability. The CAP is a bulky unit that becomes extra hot and sweaty over an extended period of use.
Lightweight and durable

Velcro side straps

Comfortable fit
Bulky fit
Very hot to wear
The Tone Fitness weighted running vest is constructed of a soft, lightweight neoprene material. This makes the jacket extremely lightweight, yet incredibly rugged and durable. This is a one size fits all unit that comes in an attractive blue and black design. High quality stitching on the seams ensures strength while carrying the weight.
The Tone Fitness weighted vest comes with a pocket to hold your MP3 player or cell phone. It also features reflective strips to keep you safe while jogging in the dark. The design of this jacket is temperature controlled, providing the most comfortable experience during hot conditions. The wicking nature of neoprene will remove sweat build up and keep the jacket odor free.
Made from soft, lightweight neoprene

Rugged and durable

Pocket for MP3 or Cell Phone

Sweat removal system
Places some strain on the lower back
The VForce weighted training vest is a short torso vest that keeps the weight off the stomach. It features reinforced pockets, adjustment straps and high density, mildew resistant crush proof and ozen protected foam. This jacket sits securely on your chest, without any annoying slipping. The Velcro straps hold it in place securely, while allowing for a custom fit. This jacket is very comfortable to wear and will not in any way restrict your breathing.
The VForce features nearly invisible seams and stitching which are very strong, making the jacket very durable. It sits comfortably on the shoulders with no sliding. Interskeletal webbing reinforces the pockets and shoulders to maintain the shape of the jacket year after year.
Interskeletal webbing

Secure velcro straps

Very durable
Quite uncomfortable to run with
The Cross 101 Adjustable Weighted Vest is an impressively compact, with measurements of 15 inches in length from the collarbone down and 13 inches in width. It comes in a cool camo design and features a number of pockets to places added resistance. It comes with 10 pieces of 4-pound iron weight, allowing you to use progressive resistance to build up your weighted jacket strength.
The Cross 101 has a one piece design with a belt attachment that has a Velcro locking system. This makes it super easy to put the jacket on and and to customize your fit. As a result, one size fits all users. The Cross 101 comes with a full manufacturer's warranty.
Compact design

Camo design

10 x 4 pound weights

Velcro locking system
The Empower Women's Weighted Fitness Vest is constructed from soft, ultra flexible neoprene fabric. This makes it very light and form fitting. The jacket has a unique 'X' shaped design to allow it to fit comfortably on any woman's body. The weights are evenly distributed throughout the jacket to provide a balanced workload.
The Empower Fitness Vest features a convenient to house your iPOD or cell phone. It has clips that keep the vest rigid and secure while you are working out. With 8 pounds of extra resistance, this jacket will add a high level of challenge to any lady's workout, while providing a comfortable experience that will not aggravate the lower back.
Neoprene fabric construction

'X' shaped design

Even weight distribution

Pocket for iPOD or cell phone

8 pounds of resistance
No option to increase the resistance
The ZFOsports weighted vest provides a huge range of adjustable resistance from 4 to 60 pounds (lb). The weights come in 4 pound increments so your options are virtually endless, making this a great progressive resistance exercise tool. The jacket is designed to contour around your body, hugging your chest in a tight, secure fit.
The ZFOsports vest is secured by a velcro strap, making it a one size fits all design. It is breathable and lightweight, allowing for a very comfortable fit. The seam stitching is top quality, adding to the strength of this impressive unit. This is the top selling weighted jacket on Amazon, and is available at a very good price point.
Adjustable resistance from 4 to 60 pounds

Contoured, snug fit

One size fits all

Durable quality seam stitching
Total body coverage gets very hot
The Everlast Weighted Vest for running is a minimalistic neoprene jacket that is very breathable and comfortable to wear. It makes use of patented Evergrip technology to hold the shoulder straps securely in place. The textured pandels on the underside of the vest hug the jacket to the wearer's body, minimizing any lateral movement while working out. The shoulder straps are fully adjustable to allow for a custom fit.
The Everlast weighted jacket is slimline enough to be worn throughout the day without being noticed by others. It uses weighted beads and sand for resistance. It is well made with strong seams and quality stitching. The neoprene fabric does a good job of absorbing sweat while you're running with a weighted vest.
Made from neoprene fabric

Hugs securely to the body

Adjustable shoulder straps

Absorbs sweat
Women may not find it comfortable when running
The Zeyu Sports Walking Fitness Weighted Vest is an 'X' shaped vest with a minimalist design especially for women. It comes in stylish pink and grey and has a form fitting design. 8 pounds of resistance are even distributed around the jacket to allow for balanced movement. The jacket is constructed from synthetic rubber to provide a durable yet lightweight fabric.
The Zeyu weightvest is ideal for walking and gym exercising. However, it will bounce around a little when you are running. It is fully adjustable to suit any user and comes with a quick release buckle in case of an emergency. This jacket will not unduly strain the lower back or pull the shoulders forward.
'X' shape design

8 pounds of evenly distributed resistance

Made from synthetic rubber
Bounces around while running
The Human X 20 lb weight vest is a Velcro strap jacket that gives full torso coverage. Resistance is by way of 1 pound weights, so you can progressively increase as you get stronger. The patent pending Flex design allows the jacket to maximally contour to your body as you are working out.
The Human X vest has a compact design and features a one size fits all thick belt to keep it secure on your body. The jacket is very well made with double cross stitching in all seams. It comes in a stylish green and black design. It fits snugly, with very little bounce, even over an extended run.
20 pounds of incremental resistance

Patent pending

Flex contour fit design

One size fits all
No padding on shoulder straps
Get the maximum benefit from your weight vest - and avoid the common mistakes - by checking out this weighted jackets dos and don'ts video . . .
Conclusion
The best weighted vest that we came across was the Hyperwear Hyper Vest, which comes in a lightweight, breathable and odor resistant fabric that hugs the body. It also has a full zipper , making it easy to put on and take off. Our runner up jacket was the Tone Fitness weighted jacket, which is made from lightweight neoprene fabric. It makes use of a unique temperature control system to keep cool while you're training.
We were also extremely impressed with the The Cross 101 Adjustable Weighted Vest, which comes with a thick Velcro strap for easy on and off and an incremental weight system to allow you to progressively increase the resistance.​