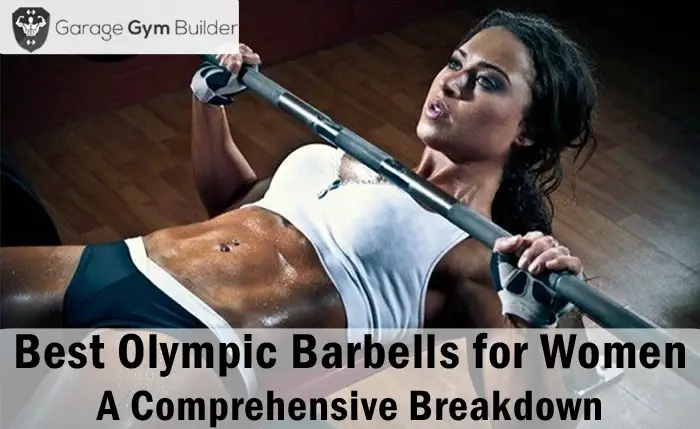 Best Olympic Barbell for Women 2018 Reviews
If you are seeking a commendable Olympic barbell for a woman, then you first must get a grasp about the varying lifting requirements for women, men and junior weightlifters. All the barbells featured for these categories differ in weight and the diameter of the shaft. In some instances, that bar length varies as well.
Men's Barbells Predominate the Marketplace
Most of the bars showcased on the market are made for men. However, major barbell producers do offer product variations of their line of popular men's bars for women. They also feature variations for youths who have taken up the activity.
Barbell Dimensions for Men and Women
Usually a man's barbell weighs around 44 pounds or 20 kg. The length of the bar is generally around 7.2 feet or 2.2 meters. By comparison, a woman' barbell weighs in at around 33 pounds (15 kg) and features a bar that runs a length of just over 2 meters or 79 inches. The manufacturers cut down the length off the sleeves for women's barbell equipment.
Three Types of Barbells
Now that you know a little bit about the differences in the dimensions of women's and men's barbells, you can learn a little bit about the three kinds of barbells that are offered for sale. Major manufacturers highlight Olympic bars (very popular), power bars and bars that are touted as multi-purpose. Power bars are made for seasoned weightlifting enthusiasts who want to concentrate on squats, bench presses and deadlifts that are more challenging.
Powerlifters
Power barbells are stiff and rigid bars that are not designed to hold any kind of elastic energy, thereby making them unsuitable for Olympic type lifts. This fact is noted by the knurl markings on the Powerlifters, which are different than those seen on an Olympic bar.
Olympic Barbells and Exercises
When you think of an Olympic barbell, if you are acclimated to weightlifting, you naturally think of Olympic lifts. In this case, the two explosive exercises performed with these bars are the snatch and clean and jerk. The Olympic bars are ideal for women lifters as they are smaller in dimension and more flexible than the Powerlifting equipment. The Rogue Barbells are great for this.
Bars with More Whip
Again, Olympic barbells store more whip or elastic energy, all which bodes well for the woman lifter when she is practicing a heavy clean and jerk. Markings on Olympic bars are placed several inches away from center.
Now that you know the advantages of Olympic barbells, you can more easily determine which Olympic brand of barbell is best suited for the female frame or woman weightlifter's objectives.
One of the premium barbell brands for men and women is Vulcan. Its 15 kg Women's Olympic barbell is considered one of the best, if not the best Olympic barbell, for women, considering its affordable price and its outstanding features.
Ideal Features for the Weightlifting Enthusiast
The high-quality Vulcan model highlights a 191,000 PSI and 25 mm shaft, which features an oxide blacked-out coating and four needle bearings for each sleeve. Vulcan bars provide a decent amount of whip and this woman's barbell is no exception.
A High-quality and Affordable Choice
This bar is made to be a premium and more budget-friendly choice over the brand's professional Olympic bar for women. The cost is more affordable as the bar uses black oxide instead of chrome for a finish and has a slightly reduced tensile strength. Click here for a review of the best barbells on the market, it is quite comprehensive.
A Dual Weightlifting Bar
This bar also makes an exceptional Cross Fit bar as it is dual-marked for both Olympic and Power lifting exercises. To keep the bar in tip-top shape, you will need to clean it with 3-in-one-oil to maintain the oxide. If you don't mind doing this task from time to time, this is the best Olympic barbell for women on the market today.