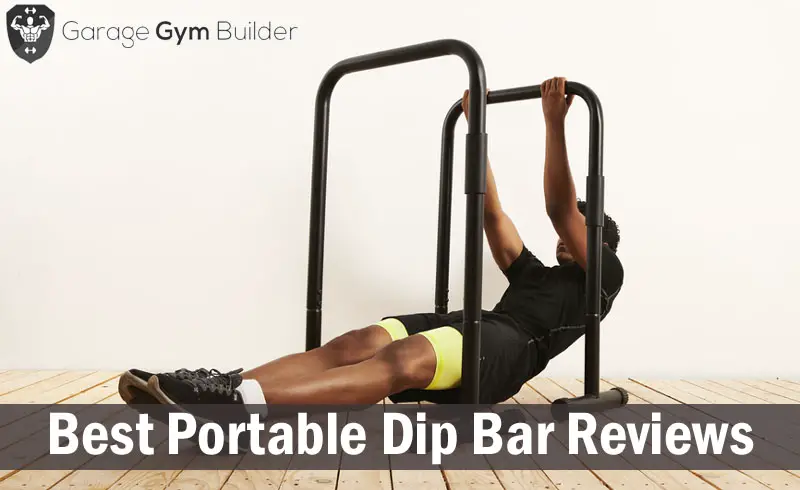 Best Portable Dip Bar Reviews 2018
Dips are a great bodyweight exercise that will muscle up and strengthen your chest, shoulders and triceps. They're an exercise you can do anywhere, so long as you've got the right gear. If you've ever tried them between two chairs, you'll know how essential a portable dip station is! Without one, you're likely to come crashing to the floor. In this article, we'll discover and profile the 9 best portable dip bars of 2018.
A Quick Overview of the Best Portable Dip Bars
Our favorite portable dip stand is the Ultimate Body Press Dip Stand, which features an asymmetrical frame and angled handles to put your body in the ideal dipping position. We were also majorly impressed with the Black Mountain Products Heavy Duty Stand, with it's rigid design, 300 pound user capacity and stabilizer pads.
Our third favorite dip stand is the Fitness Training Dip Station from Trademark Innovations, which comes with resistance bands and carabiners to greatly increase your exercise options.
Top 9 Portable Dip Stands
We've reviewed the top 9 portable dip stands on the market right now. Our full reviews are a little further down, but firstly, here's an overview of our results. We've ranked the Top 9 according to price, durability and overall functionality, rating them out of 5 for your convenience. Then we'll provide in depth reviews of all 9 dip stands.
Best Portable Dip Stand In-Depth Reviews
The Ultimate Body Press is a single piece station which has a 'U' shape that provides rigidity and stability. It is made from thick tubular 1.5 inch mandrel heavy gauge bent steel tubing and is color coded in black and white for easy assembly. The asymmetric frame and angled handles put your torso in the ideal position for working the chest and triceps.
The Body Press is designed to allow you to perform a range of movements including inverted pull ups, knee raises and 'L' sits. The unit is very compact and lightweight, making it an ideal travel companion. Optional straps and weighted dip belt allow you to perform even more exercises. The max user weight is an impressive 350 pounds.
Very sturdy design

Angled handles and asymmetrical frame for better body positioning

Straps and weighted dip belt available
Bar does not have enough height to perform weighted dips
This lightweight single piece 'U' shaped station has an angled frame to provide for ideal positioning. The feet feature four stabilizer pads that allow you to keep it level on almost any surface. This dip stand is extremely rigid, being rated to 300 pounds. The foam grips that cover the entire handle are extra thick, providing comfort and wicking away sweat.
The dip handles are 36 inches from the floor, giving you plenty of clearance to perform dips, even when you have extra weight hanging from your waist. The width between the handles is 20 inches, which provides for a good extension of the pectoral muscles while dipping. This product comes with a lifetime warranty.
Four stabilizer pads for rigidity on any surface

Thick foam grips

Angled frame

Lifetime warranty
Minor wobbling where the pieces connect
Check out our complete coverage of the best dip stands of 2018 in our dedicated article. We've gone in-depth on the year's best.
The Fitness Training Dip Station from Trademark Innovations is a single piece 'U' shaped station that offers a very rigid dipping movement. Lightweight and portable, the unit has rubber stops on the base to both provide rigidity and to protect your floor surface.
Fitness Training Dip Station provides exercise bands, are attached to the main frame with carabiners. This allows you to work your chest with flys and range of other cable exercises. The handles are covered with foam hand grips to provide comfort and grip strength. The dip handles are 17 inches apart on one side which tapers to 21 inches on the other side. This allows you to maximally activate both the triceps and the chest muscles.
Built in exercise bands

Lightweight and portable

Tapered dip handles
Dip height not enough for weighted dips
The Atlas Adjustable Dip Station allows you to adjust the height of your handles to fully customize the unit to your height requirements. You can quickly set the height to either 30, 33 or 36 inches. The station consists of two parallel stands. They have full foam grip handles. Knobs at the base of the stands allow you to perfectly align the stands for stability.
The Atlas Adjustable Dip Station can quickly be adjusted to place emphasis on either the chest or triceps. The bars are made of heavy duty tubular steel, providing a lightweight but strong unit that is extremely sturdy. This unit is easy to assemble and pull apart, so you can easily take it on the road with you.
The Titan Fitness HD Dip Station is a 'U" shaped one piece dip unit that tapers to a narrower handle grip. This aids support and allows for better body alignment when dipping for chest and triceps. The heavy duty steel frame provides rigidity and strength. Four rubber blocks on the base allow for alignment on all floor surfaces. Ergonomic foam handles cover the entire handle area.
The Titan Fitness HD Dip Station is powder coat finished in jet black which looks very stylish. The unit is very lightweight and portable. Despite that, it is strong enough to handle a maximum user weight of 750 pounds. The handle height is 38 inches, which gives you ample room to move up and down.
Very stable 'U' shape design

Rubber blocks for stability

Ergonomic foam handles

750 pound max user weight
Dip handle width of 24 inches is a little wide
The Lebert Equalizer Bar is a simple, portable and lightweight dip stand at 28.5 inches in height. That is the ideal height to perform a large range of exercises, including those under the bar. They can support a total user weight of up to 400 pounds. You can put the unit together in just a few minutes. This is a very solid, durable steel construction unit.
The foam grips are very high quality which will last for a long time. The parallel bars are easily stackable making them very easy to transport or store. The Lebert Bar comes with a free workout DVD and a wall chart exercise poster.
Very solid, durable construction

Supports up to 400 pounds

Suitable for a huge range of exercises

Comes with workout DVD
Dipgrips Home Gym Dip Station is a unique doorframe home dip station that screws into any interior door frame. It simply consists of a pair of dip handles, two brackets, four crews and a set of instructions. These handles are made from durable steel and are easy to install. When your workout is over, you can quickly de-install them.
With the Dipgrips Home Gym Dip Station, you are able to place the grips at the height that you need for best results. The Dipgrips take up no room at all, making them perfectly portable. The only downside is that you have to make small screw holes in the doorframe that you are using.
Very compact dip alternative

Installs on door frame

Can be installed at any height

Easy to install and remove
Require screw holes

Max weight just 200 pounds
The TDS Parallel Bars are full size dipping parallel bars that are very sturdily constructed to provide maximum user safety. The heavy duty 2 inch square tube construction frame bolts together rigidly. The actual grip handle is made from 1 ¾ inch pipe that is 43 inches long. That makes this unit big enough to perform a full range of gymnastic movements.
TDS Parallel Bars comes with variable hole options so that you can easily aliter the width between the handles. This allows you to customize the bars to suit your height. These bars are a little bulky and not the easiest to transport around with you.
Full size parallel bars

2 inch square frame construction

Variable dip width
Not easy to transport
Expensive
The CoreX Functional Fitness Parallette Dip Station is designed to be extra sturdy. It features large square tubing 'boots' that give rigidity and stability when doing bodyweight exercises. The rubber foot boots add to the strength. The angled placement of the boots allows for even more rigidity, , allowing for a total user weight of 400 pounds. The 'U' shaped handles are constructed from sturdy tubular steel.
A pair of spin handles are fitted with loop straps to allow you to do more advanced exercises. The bars are 34 inches from the floor and twenty one inches apart. Padded handle grips allow for dips and push ups to be done in comfort.
Extremely sturdy

Spin handles

Loop straps
Strong rubber smell from the feet
Want to get the most out of your dip bars? Check out this inspiring video, which shows you 21 different moves you can do on your dip bars . . .
Conclusion
A portable dip station will allow you to perform one of the best bodyweight moves that exist anywhere, anytime. The best stand we came across was the Ultimate Body Press station, which is amazingly strong, rigid and compact. The Black Mountain Products Heavy Duty stand is another standout, with its four stabilizer pads to provide stability on any surface.
Rounding out our top three portable dip stands is the Fitness Training Dip Station from Trademark Innovations, which provides exercise bands to greatly increase your exercise options.​