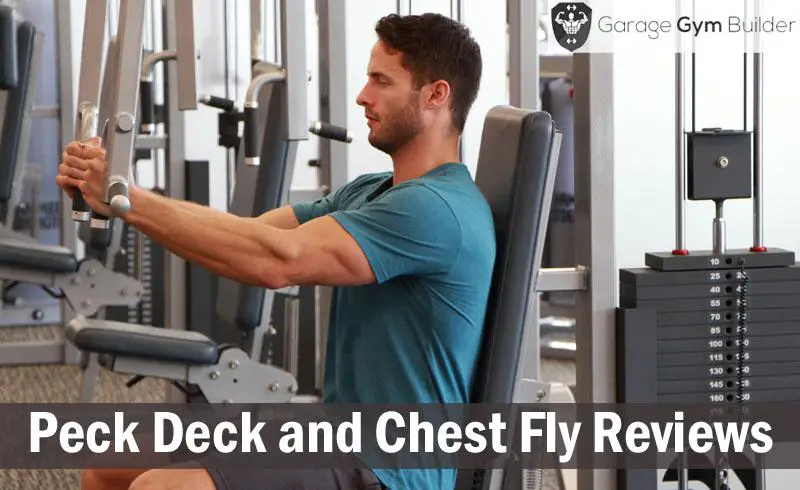 Best Peck Deck and Chest Fly Reviews 2018
The Peck Deck is one of those exercises that marks a good home gym from a great one. Most peck decks are a joke - they don't provide nearly enough range of movement. Finding the right one makes all the difference. Peck Deck machine benefits include isolating and stretching the inner pecs and giving a great pump to the chest. In this article we discover the 9 best peck deck machines for home use.
A Quick Glimpse at the Top 9
Our favorite pec dec machine is the Marcy MWM-990, which combines a ton of exercise functionality into a great price, including a very effective pec dec unit. We were also impressed with the Body Solid GPM 65, which provides a dual overhead variable cam to provide the smoothest action we came across.
Rounding out our top 3 is the Pec Rear Delt Upper Body Gym, which features a very effective pec dec stretch, is fully adjustable and has a light commercial grade frame.
To help you to quickly compare the best peck deck butterfly machines on the market, we've rated each of the top 9 on the basis of price and durability. We've then given each one an overall rating out of 5. In the following section, we provide in depth reviews of each product.
The Best Peck Deck Machines In-Depth
The Marcy MWM-990 is a dual functioning stand alone pec dec / rear delt fly machine. It comes with a 150 pound weight stack. It also provides dual chest press arms and a leg extension unit. You also get both high and low pulleys for a whole raft of cable exercises. It features a preacher bench for isolating your biceps. An overhead lat station even allows you to work your upper back muscles.
The Marcy MWM-990 gives you a very effective pec dec facility. It provides you with a full extension and contraction and a smooth pec dec action. This is a very well priced machine. You can also perform a very effective rear shoulder fly exercise on this machine.
Very good value
Can work entire body
Effective extension and contraction
Pec Dec not adjustable for larger people
The Body Solid GPM65 seated chest fly machine is a free standing, plate loaded unit that is solidly constructed and ergonomically designed for a great chest workout. Dual overhead, variable resistance cams provide a smooth movement. The range of motion on this machine is superb, allowing for a full extraction and contraction. You are able to effectively work each pec unilaterally on the GPM65.
Body Solid GPM65 machine doubles as a seated rear delt machine. Made from 2 inch square high tensile heavy gauge steel the frame is extremely secure, providing security when you pile the weight on. The low profile design on this machine adds to its balance and compactness. It comes with a lifetime warranty.
Rear pec deck fly facility
Dual overhead, variable resistance cams
Heavy duty steel framing
Confusing assembly instructions
The Pec Dec Rear Delt Upper Body Gym is a light commercial grade stand alone unit. It has a solid, square 2.5 inch by 2.5 inch heavy duty frame. A footrest allows you to get comfortable positioning when pressing the handles. You are able to get a very effective stretch on this machine. It is also able to be used as a pec deck rear delt machine to effectively target the shoulder muscles.
The seat and back pad are generously padded and covered in tear resistant fabric. The seat and arms are fully adjustable to allow for customization of your user position. Pec Dec Rear Delt Upper Body Gym comes with a lifetime warranty. A 200 pound weight stack is an optional extra.
Light commercial grade
Effective pec dec stretch
Seat and arms fully adjustable
Weight stack is not standard
While not your standard pec dec fly set up, the Perfect Fitness Rip Deck system does provide you with a fantastic pec fly motion. It is a track that sits on the floor with in built handles that allow you to get an extreme stretch and contraction through the entire chest muscles. The adjustable track locks in 7 positions. This unit, though amazingly compact, allows you to do 9 chest exercises.
The Perfect Fitness Rip Deck quickly separates into two parts by means of a pull pin. It is constructed from heavy duty steel. With the Rip Deck, you can move in two planes of motion, to get a complete level of pec development. This unit is accompanied by a 21 day digital workout.
Very affordable
9 chest exercises
Great extension and contraction
The Powertec Fitness Pec Fly accessory is an attachment which fits onto any Powertec weight bench. It is a high spec unit that is solidly constructed and easy to fit. The range of motion of this pec dec unit is very good, in contrast to the majority of workout bench pec dec attachments. You can also work your shoulders on this machine by facing backwards and doing reverse pec dec flys.
The Powertec Fitness Pec Fly is a very effective machine for working each arm individually. The maximum weight that can be added to this machine is 200 pounds. This is the best pec dec attachment we have found, but it only works on Powertec benches.
Solid construction
Doubles as rear delt reverse pec fly
Can work each arm separately
Only compatible with Powertec workout benches
The BodyCraft Galena Pro Home Gym is a fully functioning home multi gym that provides you the facility to work every muscle in your body, including the legs. Though expensive, this machine will provide you with everything you need for a complete workout. The butterfly pec dec unit is an outstandingly designed piece. It offers a full extension and contraction of the pectorals, allowing for a great workout of the inner pecs.
The pec dec attachment on the BodyCraft Galena features pivot points that revolve around sealed rolling bearings. This provides an excellent level of smoothness and fluidity when pressing the handles together. You have full range of motion adjustment to allow you to customize your pec dec experience.
Full extension / contraction
Full range of motion adjustment
Provides a complete workout
The MultiSports MS-5000 is a four station light commercial gym that offers a great pec dec unit. It also has a separate leg press, chest press and high and low pulley for dozens more exercises. When you buy this machine, you get a truly impressive 400 pound weight stack, divided into dual 200 pound stacks. The unique design of the leg press allows you to push all 400 pounds on it.
The Pec Dec unit on the MultiSports MS-5000 has range of motion adjustments to allow for a complete extension and contraction on the exercise. High spec bearings and a dual cam pulley system provide a smooth gliding motion. Weight shrouds are included for added safety.
Range of motion adjustments
Dual cam pulley system
Weight shrouds
The Caribou III is a home gym and smith machine that, among other things, have a very impressive pec station. The pec dec sits on the reverse of the machine. It features a generous back pad that has a thick foam inner and tear and sweat resistant vinyl outer. Oilite bushings and industrial quality cams provide a smooth motion. This machine is ergonomically designed to provide a full chest extension on the fly.
The Caribou lll also allows you to do other chest exercises, such as the seated chest press and cable flys. In addition, it has a very good smith machine in which you can bench press and do squats in total safety. This unit would be a great addition to any home gym.
Thick back and seat padding
Fluid motion
Excellent smith machine
The Iron Chest Master is a floor based tracking system that operates with two gliding handles. The handles can be set to a number of stops. It is an excellent alternative to the conventional pec dec fly, providing you with an exceptional level of stretch and contraction of the pecs. It's arc movement technology provides a unique angle of chest activation which take your pec workout to the next level.
The Iron Chest Master was designed by 7 time natural Mr. Universe Ron Williams. It comes with a diet guide, workout chart and training DVDs. The total weight of the unit is just 7 pounds and comes it at a very good price point. That makes the Iron Chest Master an attractive pec dec alternative.
Great pec extension and contraction
Arc movement technology
Well priced
Can't work shoulders or back
Having identified where to go to get the best Peck Deck machine for your home gym, find out how to get the most out of it. This clip shows you how to use the Peck Deck to bring out chest separation . . .
Conclusion
The best Pec dec machine on the 2018 market is the Marcy MWM-990, which provides you the ability to exercise the whole body, has a very fluid pec dec and comes in at a very good price point. Our second favorite is the Body Solid GPM 65, with its dual overhead variable cam that offers a superior range of movement for the chest muscles.
Our bronze medal winner is the Pec Rear Delt Upper Body Gym, which is a light commercial grade machine that has very good functionality and user customization.