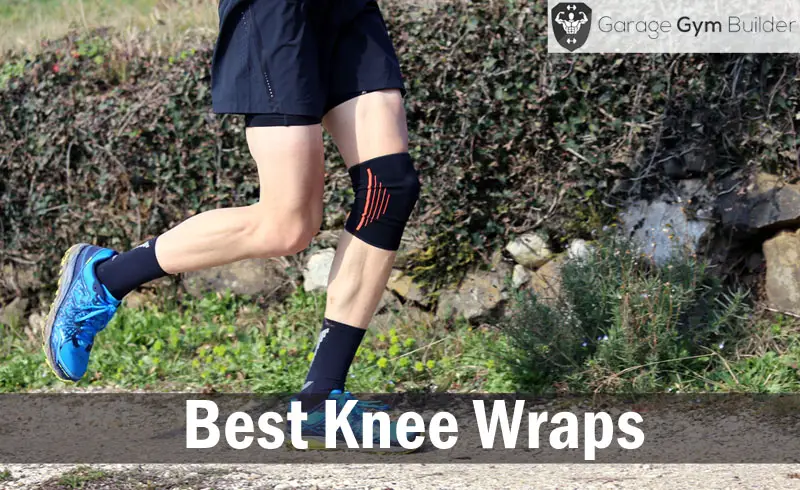 Best Knee Wraps Review 2017
You train heavy in the gym - and nothing taxes you more than the squat rack. Your knees bear the brunt of the pressure so if there's a training aid that will give them support, you want to know about it. The great thing about knee wraps is that they'll not only give you that support, they will actually allow you to lift more weight. The elastic rebound effect can add up to 10% on your lift.
In this article we identify the 10 best knee wraps on the 2017 market.
The Top Rated Knee Wraps at a Glance

When it comes to knee wraps, our premium selection is the Emerge KX1 and KX2. These knee sleeves are durable and versatile enough to perform wonderfully as wraps without having to actually wrap them. They provide great elasticity and compression at an unbeatable price.
Our next best offering is the CAP Barbell Elastic lifting wraps, which offer the durability and stretch of the competition, but at a reduced price point. We were also really impressed with the MAVA Sports wrap, which provides excellent firmness and protection.
To make is easy for you to compare the premium wraps on the market, we've given each product a rating for price and durability and them provided an overall rating out of 5. In the following section, we go in depth on each wrap.
| Product | Product Name | Price | Durability | Overall | Product Link |
| --- | --- | --- | --- | --- | --- |
| | | 5.0/5 | 5.0/5 | 5.0/5 | |
| | | 4.5/5 | 4.05 | 4.5/5 | |
| | | 5.0/5 | 5.0/5 | 5.0/5 | |
| | | 4.0/5 | 4.25/5 | 4.0/5 | |
| | | 3.75/5 | 4.0/5 | 4.0/5 | |
| | | 4.0/5 | 4.25/5 | 4.25/5 | |
| | | 4.0/5 | 4.0/5 | 4.0/5 | |
| | | 4.25/5 | 4.0/5 | 4.25/5 | |
| | | 4.25/5 | 4.0/5 | 4.25/5 | |
| | | 4.0/5 | 4.25/5 | 4.25/5 | |
| | | 4.5/5 | 4.25/5 | 4.5/5 | |
The Top 10 Knee Wraps Up Close

While not technically a knee wrap, the Emerge KX1 and KX2 sleeves are versatile enough and provide the superior level of elasticity that they work perfectly well as a knee wrap alternative.
The Emerge KX2 is a 5mm thick neoprene sleeve that covers the entire patellar area, providing maximum support and compression. The sleeve is moisture resistant and slip free.
Unlike the majority of sleeves, the Emerge KX1 features built in elasticity to provide that all important rebound effect when you are squatting.
The Emerge KX1 is a 7mm sleeve that also features superior elasticity to deliver a powerful rebound effect when squatting. This band is longer than the KX1, making it the model of choice for your CrossFit workout.
It allows you to move freely from squats to plyometric jumping exercises without having to remove your sleeves.
PROS
No need to wrap knees
Superior elasticity
Great price
The CAP Barbell elastic knee wrap is the best value knee wrap that we came across. You can pick up a pair for less than ten bucks. They have a great deal of stretch to provide an effective rebound on exercises like the squat. You don't need to chalk up your legs, because the CAP wraps cling to your knees for a no slip experience. In that way it delivers all of the benefits of a wrap without having the hassle of wrapping and unwrapping.
CAP wraps are relatively light. They are not as stiff as most other brands, which offers more flexibility in the knee joint. They do a good job of keeping the patellar warm, which helps to keep the synovial fluid moving.
PROS
Inexpensive
Flexible
Provide great insulation
CONS
Not very stiff, so provide less compression around knee joint
MAVA Sports knee wraps are extremely comfortable to wear. They will not slip while working out and are easily adjustable according to your compression needs. This training wrap is 72 inches in length. They are very malleable and will stretch to almost double their original length. They also come with a velcro strap. This helps the wrap stay firmly in place and avoids the problem of the wrap unraveling.
You can adjust the MAVA wraps as tightly or as loosely as you want to. MAVA offer a very functional training wrap which has the added benefit of a secure closure by way of the velcro strap and has superior compression to fully lubricate the synovial joint. These are very effective knee wraps for deadlifting.
PROS
Velcro strap
Malleable and elastic
Very comfortable
CONS
Tendency to bunch up behind the knee
Rogue knee wraps come in 2.0 and 2.5 meter lengths. They feature a velcro locking system. The velcro is very high quality and will stand the test of time. The wraps are made from a lightweight material which will stretch to double its original length.
The Rogue wraps are a little too elastic to provide for a serious rebound. That means that the amount of extra weight that you can lift is limited. As a result, we feel that the Rogue knee support for squats would be better suited to a new lifter rather than an experienced athlete intent on upping his squat max. They are constructed from 40% elastic, 10% polyester and 50% cotton. Rogue provide the best knee wraps for powerlifting that we have found.
PROS
Hook and loop fastening
Very stretchy band
Very durable velcro ends
CONS
Too much elasticity for strength rebound effect
The Slingshot protective wrap is made from a reactive type of material that is a lot stretchier than a lot of the other brands out there. That makes this type of training wrap great for beginning lifters and anyone who's doing repetitions in their training. If you're going for a heavy set of 4-5 reps, using a Slingshot wrap will give you better performance. We believe that these are the best knee wraps for rebound.
It's really important that novice lifters graduate the stiffness of their wraps. If you just start out with a cast iron type wrap, you are not going to be able to learn the proper mechanics of the squat. However, when you start with the Slingshot, you are able to push into the wrap, driving your patellar out and staying in the natural groove of the squat movement.
PROS
Very elastic - great for beginners
Not too stiff
Durable construction
CONS
Too much elasticity for heavy rebound effect
Not for advanced lifters
The Meister heavy duty elastic training wraps provide a very tight hold that will provide maximum support while squatting and powerlifting. The super tight, extreme strand design provides the ultimate in rebound effect, allowing you to lift heavier on squats and power cleans. In fact, Meister training straps will add an average of about 10% to your one rep max on both of these lifts.
The Meister wrap provides a loop and wrap and has a sturdy velcro closure . These wraps add more flexibility and elasticity to the patellar while keeping the area warm, thus providing a greater level of overall protection.
PROS
Velcro closure
Maximum elasticity
Three inches thick
Inzer Z knee wraps are a very sturdy and resilient elastic wrap that provides the needed solidity without being overly thick and cumbersome. They provide a great deal of warmth around the knee joint, providing the lubrication you need you need for ideal mobility. The great strength of this wrap is its durability. You will get normal wear and tear, but they will remain functional year after year.
These wraps for gym use are best used when you're going for your max lifts. They are tightly stitched to enhance their wearable strength. You should be able to lift your max lift by 5-10% when using Inzer Z wraps. They are a very well priced knee wrap.
PROS
Sturdy and resilient
Extremely durable
Well priced
Harbinger Red Line wraps feature the distinctive led line, which has come to seen as a symbol of quality and performance. They are made from competition grade elastic, providing for a build up of kinetic energy to power you out of the hole when you are squatting.
These wraps are available in a 78 inch length, which is considerably more than the industry standard. This allows you more flexibility in the amount of leg coverage and the tightness of your wrap. Harbinger sell their red line wraps as a pair. This is a solidly performing wrap that won't slip or unravel while you are pumping out your reps. Wrap it tight and you can get up to an extra 10% on your squat max.
PROS
Competition Grade Elastic
78 inch length option
Adds elastic energy to your squat
CONS
A little tricky to take off
Fit Active Sports wraps come in a distinctive blue and black design. They are made from stretchable, high performance elastic fabric that provide a high level of compression, while being extremely flexible. The unique hook and loop design of these wraps ensures that they will fit tightly and will not come loose or slip down while you're squatting. The 72 inch length allows you to wrap several times and get a full coverage of the entire knee area.
Your purchase includes two 72 inch long Fit Active knee wraps. You also get a 30-day money back guarantee on this product. While not the best for running, these are very effective aids for heavy lifting.
PROS
Very stretchable
72 inches long
Hook and loop fastening design
Pro Fitness Knee Wraps come in a stylish grey and black design. They are constructed from a soft, breathable elastic material, providing comfort while ensuring maximum compression and elastic rebound ability. The breathable nature of these straps give them a very good moisture wicking ability, ensuring that you don't have to contend with sweat slippage.
Pro Fitness Knee Wraps are 72 inches in length and have a very secure velcro fastening. You can have confidence that your wraps will not slip down or begin to unravel when you're in the middle of a set. They come in a range of attractive colors, are machine washable and can be used by both men and women. Your purchase is backed by a 30 day money back guarantee.
PROS
Soft, breathable elastic construction
Moisture wicking ability
Secure velcro fastening
CONS
A little too much elasticity
How To Use / Put On Knee Wraps
Now that you know where to find the best knee wraps, it's time to learn how to put them on properly. If you don't they will not only NOT be effective, they may actually be a cause of injury.
You can do a great deal to prevent / reduce knee pain by learning how to use knee wraps for knees properly. In doing so, you'll also learn just how tight your wraps should be. So, here's how to properly wrap your knee.
Start wrapping from just below the knee joint, placing a finger to support the wrap before wrapping around once and pulling nice and tight to lock it into place. Continue wrapping, going up the knee with each revolution. Make sure to pull tight after every revolution. Keep working up the leg until you get to the patellar tendon at the top of the knee.
Now wrap again for a double wrap at the knee, pulling nice and tight. Now wrap back down on an angle toward where you started. You should now be at the end of the wrap, which you can fold into the strapping to lock everything into place.
You'll probably have a little portion of material left over, which is less than enough to get a final revolution out of. To release the wrap, simply pull the flap out.In terms of tightness, you want the wraps to feel almost cast like. The tighter the wrap, the greater the level of support will be on your patellar and quadriceps tendons on either side of the knee cap. This provides a thick wall of support when squatting. At the same time of course, you should still be able to squat in them. It may take a little trial and error, but pretty soon you will have figured out the ideal wrap tightness for you.
Can Knee Wraps Make You Stronger?
Many people are confused between knee wraps vs knee sleeves in terms of adding to your lifting power. Sleeves are for support and compression, while wraps can add to your lift.
Technically, wraps will not make you stronger, but they will allow you to lift more weight. The elastic make-up of the knee wrap builds up potential energy as you descend down into the bottom position of the squat. This is similar to the potential energy that builds in an elastic band when you pull it back.
When you push out of the hole, the elastic energy is released, helping you to power your way back up. Depending on the quality of your wrap, you can increase your lift by as much as 10%.​
Conclusion
The best knee wraps for weightlifting on the 2017 market are Emerge KX1 for heavy weightlifting and Emerge KX2 for your CrossFit Oly lifts, both of which provide great elasticity with superior compression and pricing. Our next best is the CAP Barbell Elastic lifting wrap, providing a high level of durability and elasticity at a very impressive price point.
Rounding out our top 3 is MAVA Sports wrap, delivering a top quality of firmness and elasticity.
---