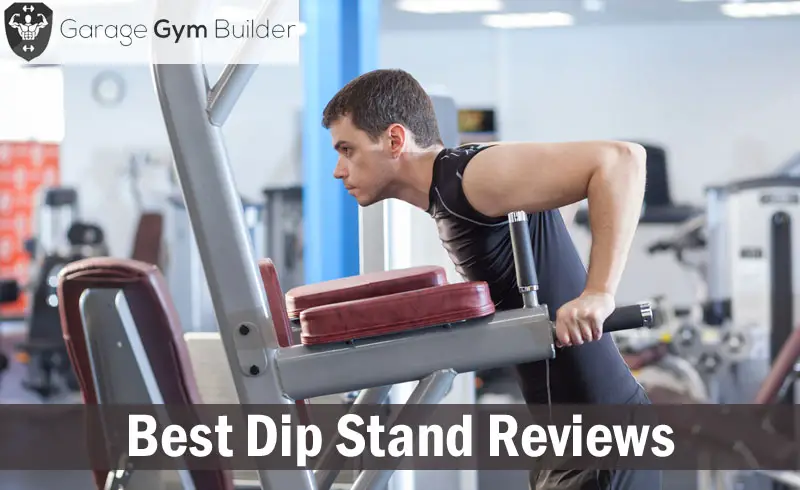 Best Dip Stand Reviews 2018
If you want a massive, strong chest and triceps, you have got to do dips. Finding the right equipment to do them safely can be a real challenge, especially when you're working out at home. Let's face it, most home dip stands are cheap and nasty. That's why we've waded through the market to hunt out the best performers. In this article we have collected together the 10 best dip stands of 2018.
A Quick Look at our Favorite Dip Stands
Our best performing dip stand was the Fuel Pureformance Deluxe Dip Station. The Fuel Pureformance has angled grips to allow you to target your chest and triceps and comes with Olympic rings to give you the ultimate training challenge. The Body Solid Vertical Knee Raise machine is our second favorite dip station. This power tower has oversized diameter grips and just the right base frame angle to hit your chest.
We were also very impressed with the Vertical Knee Raise Dip Station which is incredibly rigid and stable and provides ideal positioning.
Top 10 Dip Stands
We have rated the 10 best dip stands that are on the market right now. We rated them on price and durability and then given them an overall rating out of 5.
Top Ten Knee Sleeves In Depth Reviews
We reviewed the top ten knee sleeves for runners on today's market. Our full in-depth reviews provide you with everything you need to know to make the right buying decision. Check them out below.​
In Depth Dip Stand Reviews
The Fuel Pureformance Deluxe Dip Station is a stand alone station made from thick steel, finished in a powder coating. The angled hand grips are ideal for targeting the chest during the dipping movement. Olympic rings suspended from the handles allow you to perform suspended chest flyes and other exercises that challenge the pecs and triceps.
The open pass through design of the Fuel Pureformance Deluxe Dip Station provides more versatility than closed design stands, allowing you to perform a greater range of ab specific exercises. Thick padded grips provide comfort when gripping the bar while wicking away sweat build up. The unit is easy to put together and feels very solid and sturdy when in use. It will easily accommodate a user who is 300 pounds.
Angled handles

300 pound user capacity

Olympic rings
Does not allow for vertical knee raise exercise
The Body Solid Vertical Knee Raise is a fully functioning power tower, complete with pull up bar, push up stands and knee raise station. The main frame is set at a 10 degree pitch to recruit greater activation of the chest muscles when doing dips. The handles protrude forward to provide you with a freer range of motion when performing the exercise.
The handles of the dip station have a larger diameter than what you find on most dip bars. This provides for a more natural and comfortable grip.
The Body Solid Vertical Knee Raise is a very rigid, reliable power tower which has a dip station that is better than most.
10 degree main frame angle

Forward protruding dip handles

Raised push up stands
Pull Up Bar does not provide for wide grip
The Vertical Knee Raise Dip Station by Body Solid is a two exercise device that is made from heavy gauge steel framing. All sides are welded to improve overall strength. The frame supports act as a step up to the dip station and feature non-slip pads.
With a distance between the dip handles of 20.5 inches and at a height of 51 inches from the floor, the dipping station allows for the ideal chest expansion and accommodates users of all heights.
The Vertical Knee Raise Dip Station is an impressively rigid and stable unit. In fact, it is solid enough that it is rated for commercial as well as home use. You'll get a great chest and triceps workout with this impressive station.
Step up to dip station

Heavy gauge steel framing

Non-slip grip pads
Pull up bar height a little low for tall people
The XMark Vertical Knee Raise with Dip Station is an impressive unit with a 14 gauge steel mainframe and powder coated finish. It features a lot of bolts which ensure the strength and integrity of the unit. The forward facing dip handles provide a full and free range of motion when you are performing dips.
The thick padding of the back support and arms rests allow you to perform your core work in comfort, without having to contend with the frame digging into your forearms. The handles are ergonomically designed, angled and spaced apart to provide the maximum chest stimulation when performing dips. The XMark Vertical Knee Raise is an excellent choice if you are wanting a station that provides outstanding performance and comfort.
14 gauge steel mainframe

Thick padding for arms and back

Ergonomically designed dip handles
The unit is not entirely stable on the floor (rocks slightly)
The NYB Dip Stand is a back to basics unit that provides you with a sturdy, no frills exercise option. The extra long handles are 15 inches long allowing you the freedom to lean forward during the dipping motion in order to more specifically work your triceps. A 500 pound user capacity makes this unit suitable for all body shapes and sizes.
The NYB Dip Stand bolts together easily and provides a superior level of strength and rigidity. This stand is so strong that it can be used in commercial gym facilities. This unit will allow you to get a full range of motion without any interference, so that you can get a full extension and contraction on your chest.
15 inch handles

500 pounder max user weight

Very rigid construction
The K KingKang Power Tower is a compact, lightweight multifunction machine that allows you to do pull ups, chin ups, dips, vertical knee raises and push ups. It has a heavy duty steel construction, thick padding and lots of bracing.
The dip station on the K KingKang Power Tower provides you with forward mounted dip handles and a pair of mounting stands. This allows for a full and free range of motion as you perform the exercise. Though lightweight, the unit is sturdy throughout the exercise. The distance between the bars feels ideal for a great stretch while doing the exercise.
This power tower has a maximum user weight of 330 pounds, providing you with the confidence to be able to rep out in total safety.
Heavy duty steel construction

Max user weight of 330 pounds

Compact and lightweight

Foot pads for dips

Angled support brackets

A little tricky to assemble
The Body Champ VKR 1010 provides a full range of exercises in a power tower set up, The dip station on this unit is 83 inches off the ground with handles spced 23 inches apart. This provides the ideal dimensions for a complete dipping motion. The forward facing handles allow you to do the exercises with interference from the main frame.
The Body Champ VKR 1010 has an elevated push up station directly below the dip bar. These provide you the opportunity to work your chest with three continuous exercises. You also get a pull up an arm pads to allow you to perform hanging leg raises. This is an amazingly compact exercise station that is functional sturdy and lightweight.
Forward facing dip handles

Compact and lightweight

Some wobbling when doing pull ups at over 200 pounds
The Lebert Equalizer bars are a pair of free standing dip stands that will allow you to perform this exercise very safely anywhere, anytime. The design is simple, with each 25 inch high stand being made from heavy duty yellow tubing. The tubing is two inches in diameter and have a foam grip handle where you grip the dip station. Rubber end caps on the feet protect your floors from scratching.
In addition to performing dips on this station, you can also perform push ups, inverted pull ups, L Sits and various stretching movements. Each of the stands weighs in at 18.7 lb, yet is solid and robust enough to comfortably handle a user bodyweight of 300 lb.
Very solid and durable

Portable

300 lb weight capacity
Limited exercise use (can't do pull ups or knee raises)
Think you can't make your own homemade dip station? Read our awesome step-by-step article to discover how easy it is.
The Ultimate Body Press Dip Stand is a one piece portable dip station. It is made from heavy duty tubing which fits together to produce an impressively solid dip station. It will not move when you are performing the exercise and provides a very good range of motion with its 3 foot height. The frame angles inward from the base to provide a 21 inch dipping width.
The soft foam grips of the dip handles provide you with a comfortable non-sweat grip. The base of the unit has four stoppers to secure it on the floor. This dip station is rated to 300 pounds. Te frame is sturdy, being made from thick 1.5 inch steel tubing.
Portable dip station

Rigid, solid design

Soft foam grips

3000 pound rating

Can only perform dips on this unit
Want to get the full scoop on the 10 best power towers on the market? Read our mega article - it's awesome!
The Stamina 1690 Power Tower is a very impressive multi-station that allows you to perform pull ups, sit ups, leg raises, dips , push ups and chin ups. It has a solid, rigid design with tubular steel framing. The dip station on the 1690 curves forward from the main frame on the opposite side to the pull up bar. It provides you with a full range of motion.
The Stamina 1690 Power Tower provides you with a quality pull up bar that provides a wide grip with angled ends. The foam grips on all workout stations provide comfort while wicking away sweat. This power tower is the best value you'll find in terms of a top quality home calisthenics multigym that you are likely to find.
Very good value for money

Sturdy tubular steel construction

Wide grip angled pull up bar
Pull up bar distance is a little too wide
Once you've got your new dip station you'd better know how to do dips properly. Check out this cool video that exposes 5 common dip mistakes . . .
Conclusion
In this article we have presented the 10 best dip stations that are available today. Our standout is the Fuel Pureformance Deluxe Dip Station, which has a sturdy main frame construction, angled handles and Olympic rings for an extra workout challenge. The Body Solid Vertical Knee Raise is a power tower that offers a full and free range of dipping motion, thick handles and padding and a push up stand directly below the dip stand.
We were also hugely impressed with the Body Solid's Vertical Knee Raise Dip Station, which focuses on just two exercises and does so very well. It will provide you with the angling, range of motion and rigidity to perform at your best.​