1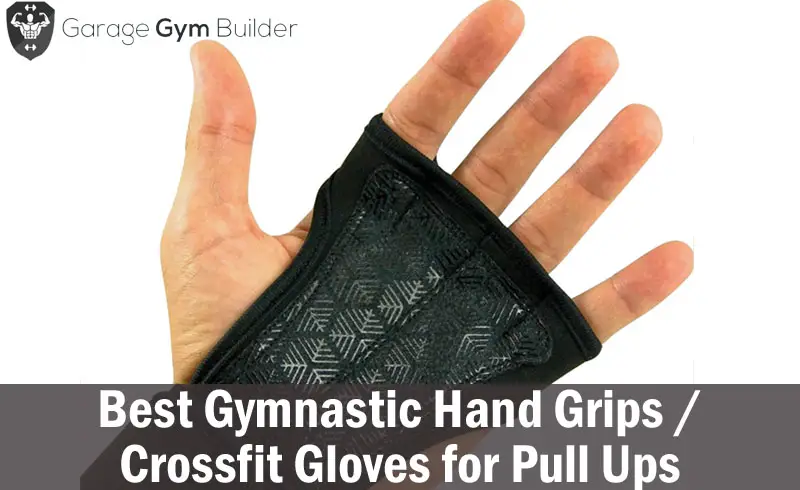 What's the Best Gymnastic Hand Grips / Crossfit Gloves for Pull Ups (Updated for 2018)
In the following article I have written about the best crossfit gloves that are currently on the market, as well as written a few reviews for other different options. Enjoy!
The Best Gloves for Crossfit
While general weight training and bodybuilding make use of fingerless training gloves, when it comes to CrossFit, hand grips do the job more effectively. Typical hand protectors Hand grips consist of a leather or synthetic leather covering for the palm. They are used mainly for bar based exercises, like pull ups, muscle ups, and basically any Crossfit WOD.
We have scoured the internet for the best hand grips on the market. When we discovered the crossfit grips from Emerge fitness we knew immediately we had found a winner. These are, hands down, the best crossfit grips by a LONG SHOT.
Emerge provide extremely comfortable black callus guard workout protectors. These protectors are fully breathable, and made from very durable textured synthetic leather, which actually molds to the bar you are holding. They feature four neoprene finger holes for comfort and full callus protection, and secure double attached wrist wraps for extended wrist support.
Unlike the one size fits all options that lesser grips provide, Emerge grips come in a range of sizes to allow you to get the perfect fit. You can check our easy fit size guide below to help you to choose the right fit for you."​
Size Guide
The grips come with a rigid wrist support. This is designed to protect the wrist when performing exercises that place the hand in a compromising position. The wrist support is by way of velcro strip which can easily be secured in place by the user.
Emerge Fitness Workout Gloves are also machine washable. They provide a tight fit that is not uncomfortable and will not impede your ability to naturally hold onto the bar.
Another great choice from Emerge - The Pull Up Fitness Gloves. Emerge Fitness are deeply immersed in the fitness way of life. They know Crossfit inside out, with everyone who works there being a devoted CrossFitter themselves. That means that they don't just make products from a design concept; they create the gear that they would love to train with. The Emerge Fitness standards are quality, durability and reliability.​
​Perfect for gymnastics bar training. Just buy these Emerge Gymnastics Hand Grips with confidence because Emerge offer a first class customer service experience. If for any reason, you are not completely satisfied with your purchase, they will provide an immediate, no questions asked refund.
Other options to consider
If for some reason the Emerge grips are sold out here are a few other 2nd place options.
The updated version of Rogue's gymnastic grips provide textured American leather on both sides. This prevents slippage and provides for a more secure hold. They have also included a convenient hook and loop strap to ensure the most comfortable, precise fit.
Rogue grips are 2.5 inches wide and come in an attractive gray.
Rogue is a name that stands for quality and reliability in the fitness industry. They're not the exclusive providers of training gear for the Cross Fit Games for nothing. When you buy grips from Rogue, you can be confident that you're buying a quality product.
The folks at Bear Komplex are intimately acquainted with the pain that comes from workout induced torn hands and calluses. It's what drove them to create their super cumfy grips. They're made out of highest quality leather that actually molds to the bar.
The wrist strap includes a design that will stop the buckle from digging into your wrist, which is a problem with many brands.
The Bear Komplex callus guard and CrossFit grips come in a range of sizes and two color options. Bear Komplex also offer either two or three finger hole grip options.
Red Grilla grips combine a finest quality leather palm grip with a very comfortable, moisture resistant neoprene wrist strap. Neoprene is a more sweat resistant material than elastic blended cotton or polyester. It will provide maximum moisture resistance while still providing ample flexibility.
Do you really need grips to get in the most effective workout?
I believe that the answer is an emphatic yes. Here are three compelling reasons why -
Enhanced grip -

when you are in the throes of a heavy workout, sweat will be dripping from your body. Much of it will end up in your palms. This will make it increasingly harder for you to maintain a firm hold on the dumbbell, barbell or pull up bar. Crossfit gloves will allow you to maintain that firm grip on the bar.

Comfort -

Not wearing gloves or grips as a sign of manliness is a childish, immature concept. There is nothing wrong with comfort, and palm protecting workout gloves make you more comfortable when you are training. This will allow you to work harder, longer. And, let's face it; no-one enjoys hitting the shower with gaping open wounds all over their hands.

Wrist support -

Often grips and gloves come with extra padding, straps and wraps to provide support for the wrist. This can be very valuable when performing Olympic Lifts. Pain associated with pronation of the palm during snatches and clean and jerks can be largely eliminated with such wrist support.
Summary
Blisters and tears on your palms are no fun during your workout. They're even worse when you hit the shower afterwards. A good quality pair of hand grips will, not only, prevent your hands from tearing up during muscle ups, they will keep moisture away from your hands and strengthen your gripping ability, allowing you to hold on for longer.
The best CrossFit bar grips that we came across were the Emerge Fitness USA callus protector and workout grip. These grips are ultra comfortable and super moisture resistant. They will allow you to train harder for longer. They will also ensure that you don't walk away from your workout with torn and blistered hands.
Investing in a pair of grips by Emerge Fitness will prevent your hands from ripping up, allowing you to rip it up during your workout.

Check out these other reviews by GainsBible
Are you also looking for the best knee sleeves for running, squats or weightlifting? We've got it covered in this massive review.​