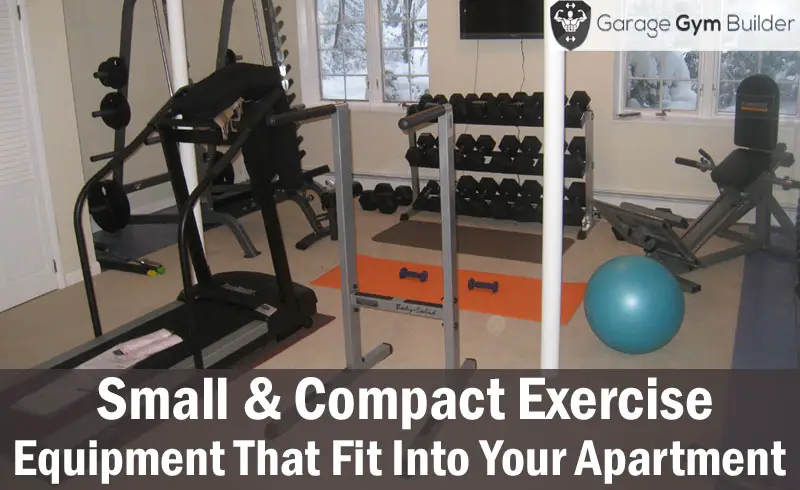 11 Small and Compact Pieces of Exercise Equipment That Fit Into Your Apartment
​
updated August 2, 2017
You want to work out at home, but you just don't have the space in your small apartment. Don't worry – we've rounded up the very best compact exercise gear to allow you to work your entire body in even the most challenging of workout spaces. Whether you're after a great cardio, muscle building or endurance training workout, our reviews below have got you covered, with treadmills, weights, ab machines and even a versatile climber!
A Snapshot of the 11 Best Pieces of Compact Exercise Gear
Our favorite piece of compact home fitness equipment is the EX2 suspension trainer that would fit in any type of space yet affordable. Our second favourite is the Maxi Climber Vertical Climber, which provides you with a great cardio burner in a fraction of the space you'd find from most cardio gear. The PowerBlock Sport 24 Piece Dumbbell Set provides you with a full complement of dumbbells that take up hardly any space and cost a whole lot less than conventional bells.
We were also extremely impressed with the Flex Force 50 in 1 Resistance Chair Gym, which gives you more than 50 exercises in a compact design that provides variable, natural resistance through a full range of motion.
​Here's a list of our 11 favorite compact exercise devices. For your convenience, we've rated them out of 5 for price, durability and then given an overall rating. The next section goes in deep on each of the top 10 devices.
The Top 11 Up Close
We also reviewed the top ten knee sleeves for runners on today's market. Our full in-depth reviews provide you with everything you need to know to make the right buying decision. Check them out in the link above.​
The CrossCore 180 Suspension Trainer features a patented pulley design that sets it apart from the other suspension trainers on the market. This makes the entire unit more unstable, which is a good thing when it comes to suspension trainers. It puts more emphasis on the muscles of your core. However, you can use it as a conventional trainer by inserting a locking pin. In effect, you get two trainers for the price of one.
The military grade webbing on the CrossCore 180 ensures the highest level of strength and durability. You also get extremely strong buckle and pulley systems. Your purchase comes with a lot of training support including DVD instruction video.

PROS
Patented pulley design
More core involvement
Military grade webbing
The Maxi Climber Vertical Climber is a vertical exerciser that brings the many benefits of vertical cardio climbing into your home. The compact upright design takes up hardly any space but delivers a calorie churning workout without stressing the joints. The easy to set up design provides a total body workout that stresses both cardiovascular and strength fitness.
The Maxi Climber Vertical climber is amazingly lightweight, yet very durable. You will feel totally safe when using it, and then be able to quickly fold it up for compact storage. The unit will arrive 90% pre-assembled on delivery, so you'll be burning calories within minutes. We thoroughly recommend it!
PROS
Compact upright design

Works total body while protecting joints

Very durable
Click here to read our reviews of more best stair climbers to get in shape fast.

The Power Block dumbbell system is an amazingly compact way to have a full range of weights in your apartment. It features a select design that allows you to dial in and lift off the weight you want from a compact block of plates. The weights adjust from 3 to 24 pounds. The Power Block comes with padded handles for maximum comfort and wrist protection.
The Power Block replaces eight pairs of dumbbells with a total weight of 216 pounds. The square power block design has been shown to be more effective that the traditional round plate shape, allowing for a fuller extension and contraction on many exercises. This is the ultimate dumbbell solution when you are challenged for room.
PROS
Extremely compact

Square block design

Easy select system
CONS
Only goes up to 24 pounds
If you need more information about adjustable dumbbells, why not check out our massive reviews to find out if they suit you or not.

The Flex Force 50 in 1 Chair Gym is like no other home gym you've seen. It features a patented system of pulleys and cables to allow you to work your body through a complete range of motion. The chair and cables are ergonomically designed to put you in the ideal training position. You can do in excess of 50 exercises on this machine, though the emphasis is on the upper body.
The Flex Force comes with graded resistance bands that arrange from 5 to 20 pounds. Comfortable handles allow you to work each limb separately. The system comes with 3 workout cards and 7 DVDs, so you have plenty of guidance and workout ideas. The unit folds for compact storage.
PROS
50+ exercises

Range of cable resistance

7 DVDs + 3 workout cards

Ergonomic design for maximum efficiency
CONS
Not a lot for the lower body
The Confidence Power Trac is one of the few folding electronic treadmills that you're likely to find. It has a 600 watt motor that will take you from 0.6 to 6.2 miles per hour. It comes with 4 pre-set speeds and a dozen built-in programs. The running bed can be set to three different angles.
The Confidence Power Trac has an easy to read LCD display which provides you with a continuous readout of your calories, distance, time and speed. It provides a generous runway size of 14 inches by 22 inches. When folded the arm length is 22 inches with a total thickness of just 10 inches. This makes it ideal to store under a bed or in a cupboard.
PROS
Folds for compact storage

12 built-in fitness programs

4 pre-set speeds

14 x 22 inch running bed
The ProSource Multi-Grip Bar is the ideal doorway pull up solution, offering 12 different gripping options, including neutral and hammer grips. This allows you to work the back and biceps from every conceivable angle. The easy slip in design will fit almost any doorway and sets up in seconds. The fit is extremely secure and will not damage your door surrounds.
The ProSource Bar is constructed of high grade steel. It is designed to take a lot of punishment, easily being able to handle up to 300 pounds of user weight. It comes with J frames to allow you to get an even more rigid door attachment. The Pro Source bar will fit any doorway between 24 and 36 inches in width.
PROS
12 gripping options

Easy slip in set up design

J Frames for extra support

300 pound max user weight
CONS
Assembly instructions confusing
Read more: Ten best doorway pull up bar reviews. They are cheap yet versatile equipment for you home gym.

The Perfect Fitness Ab Carver Pro makes use of a unique form of kinetic resistance thanks to a patented carbon spring. This provides a greater level of resistance when you roll out on the roller, as well s giving you more stability when you roll it back in. You also get a wider rolling track on this unit than you'd find with the competition. This takes a lot of the strain away from your lower back. The angled design of the track also allows for greater involvement of the obliques.
The Perfect Fitness Ab Carver is constructed from an extremely hardy plastic molding. The slight downward angle of the handles allows for more involvement of the triceps throughout the movement. The package even comes with pair of knee pads.This is a very unique, highly functional unit that is light years ahead of most of the ab rollers on the market today.
PROS
Extra resistance on the roll out

Extra assistance on the roll back

Wider than normal tread

Digital workout support
CONS
Lock out mechanism may prevent tall people from getting a full extension

The spring is not removable
Do ab rollers really work? Find out more here where we have reviewed the best ab  wheels for you.

The Exerpeutic Folding Magnetic Upright bike provides a very natural riding experience thanks to its 8 level magnetic tension system and 3 piece high torque cranking system. The pedaling experience on this bike is amazingly smooth, without the joltiness that you get with many home bikes. This bike is also surprisingly strong, being able to handle a max user weight of 300 pounds.
The unique design of this bike makes it very easy to mount and dismount. It folds quickly and easily for very compact storage. The bike comes with extended leg stabilizers to prevent any accidental tipping of the bike when in use. The large pedal design features safety straps to further enhance your safety when riding.
PROS
8 levels of magnetic resistance

Smooth riding experience

3 piece high torque cranking system

300 pound max user weight

Extended leg stabilizers
CONS
Pedals are a little too far forward for ideal ergonomics while riding
Find out more about exercise bike benefits for your workout here.

The Weider Ultimate Body Works features an adjustable incline bench with cables attached that allow you to use your body weight as the resistance. It allows you to perform more than 50 exercises to work your entire body. To increase the resistance level you simply raise the bench to the next level. Thicker bands allow you to add 50 pounds of extra resistance.
The cable and pulley system of the Weider Body Works means that you get a completely natural feeling level of resistance on every workout. The super saver design provides a complete body workout in the most compact space possible, with the entire unit taking up a 62 inch x 19 inch x 8 inch footprint.
PROS
More than 50 exercises

Extra 50 pound resistance

Space saving design

Natural cable resistance
CONS
A little wobbly on the top incline level
Check out our Weider incline weight bench reviews here. It's massive!

With the Fit Force Athletics Bands you get a complete set of resistance bands to suit every level of fitness. 5 bands are included, ranging in resistance from 7 pounds to 32 pounds. The bands are completely adjustable, featuring a unique mix and match design that allows you to pair them with different handle and ankle strap combinations. The bands are made from premium latex rubber, making them among the strongest on the market.
The handles that come with your Fit Force Athletics Bands are padded for your comfort and ergonomically designed for best performance. The heavy duty clips that attach the handles to the bands have been thoroughly tested for strength and durability. Bands are guaranteed not to rip and come with a 100% replacement warranty.
PROS
5 bands ranging from 7 to 32 pounds

Fully adjustable

Premium latex rubber construction
CONS
The door stopper that comes with the set is very robust
Want a great total body workout? Check out this clip that features our Number One Rated Compact Fitness Product, the maxi Climber . . .
The Thane Total Flex Gym is an amazingly compact total home gym that provides you with in excess of 50 exercises to work your entire body. Yet, it folds up to smaller than the size of a suitcase. The Total Flex features progressive resistance by way of a range of power pods.
The Thane Total Flex is easy to adjust between exercises; you simply squeeze the locking pins and will immediately transform from one move to the next. These instant changes keep your pulse up as you exercise. The padded back and seat are ultra comfortable and hand grips large enough to allow for a solid, secure grip. The entire gym measures 24 inches by 30 inches, providing you with the most compact total gym imaginable.
PROS
50+ exercises

Quick adjust system

Amazingly compact

Variable resistance
CONS
Exercises have a upper body focus
Want to know more how to set up your own home gym with limited budget? We will show you how to build one with just $650 here.

Conclusion
Our investigation into the best compact home exercise equipment market has uncovered an excellent selection of top quality offerings. Our favorite is the EX2 suspension trainer from Emerge. Next is the Maxi Climber Versatile Climber, which provides you with a fantastic calorie burner which also strengthens your whole body. We also love the PowerBlock Sport 24 Piece Dumbbell Set, which allows you to get a full range of dumbbells for a fraction of the cost and space requirement.
Our 4th favorite compact home exerciser is the Flex Force 50 in 1 Chair Gym, which provides you with more than 50 exercises in a compact package that gives you a full range of resistance, along with excellent support materials.