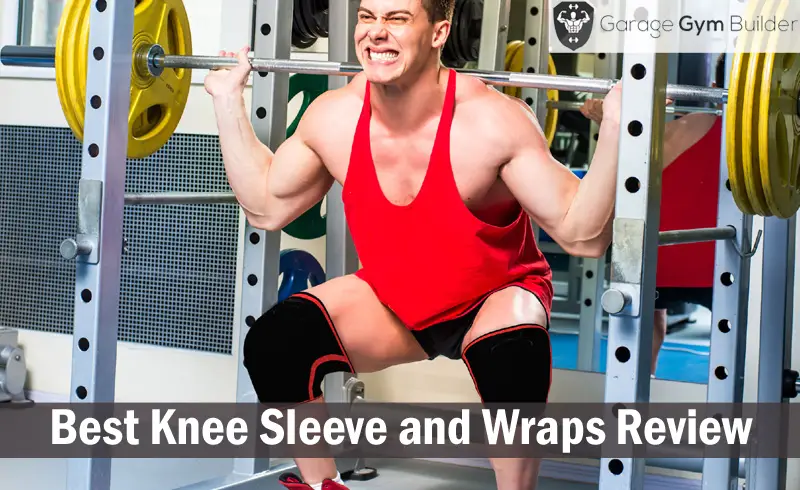 Best Knee Sleeve and Wraps Review 2017
Your knees can take a pounding under the heavy iron. Weightlifting knee sleeves and wraps provide you with the support to push more weight for more reps. To find the strongest leg protection, you've got to check the stitching, compression, heat insulation and, for wraps, the elastic rebound effect. In this article, we'll review the top sleeves and wraps on the market today and we'll identify the best knee protection for running, squatting and weight lifting.
A Quick Look at the Best Knee Sleeves and Wraps
Our favorite, and, in my opinion, the best weightlifting knee sleeve is the Emerge neoprene sleeve. Emerge have produced a durable, elastic, form fitting sleeve that does a great job of compression and warmth retention. We also love the Rehband range, with the 7751 being our second favorite. The Rehband 7751 features a unique contoured 3-D design which gives great joint compression. Rounding out our top 3 knee sleeves is the Workt sleeve, made from patented Ecoprene fabric.
When it comes to knee wraps, our standout is the CAP Barbell Elastic lifting wraps, which offer the durability and stretch of the competition, but at a reduced price point. We were also really impressed with the MAVA Sports wrap, which provides excellent firmness and protection. Our third favorite wrap was the Rogue wrap, providing all of the durability, performance and strength that we've come to expect from the guys at Rogue Fitness.
Our Top 10 Knee Sleeves and Wraps at a Glance
We've ranked the top 5 knee sleeves and wraps to make it easy for you to make your choice. We considered rating out of 5 for price, durability and then gave an overall rating.
| Product | Product Name | Price | Durability | Overall | Product Link |
| --- | --- | --- | --- | --- | --- |
| | | 4.5/5 | 5/5 | 5/5 | |
| | | 4.5/5 | 5/5 | 4.5/5 | |
| | | 4.0/5 | 4.5/5 | 4.5/5 | |
| | | 3/5 | 5/5 | 4.5/5 | |
| | | 4/5 | 3/5 | 4/5 | |
| | | 4.5/5 | 4/5 | 4.5/5 | |
| | | 4/5 | 4.25/5 | 4/5 | |
| | | 3.75/5 | 4/5 | 4/5 | |
| | | 4.25/5 | 4.5/5 | 4.25/5 | |
| | | 4/5 | 4.25/5 | 4/5 | |
Now, that you've got an overview of the premier training wraps and sleeves on the market, let's zoom in on each of them for an in-depth look at what makes them the highest quality.
In depth Knee Sleeve Reviews:
The Emerge 7mm sleeve provides an easy fitting, durable productf that is molded to the patellar area for custom form. It provides a comfortable inner lining that won't snag or cause itching. Compression is top notch, providing the support that the patella needs to perform safely.
Emerge have created a very durable leg sleeve. It features double stitch cross weaved seams that run diagonally for greater strength. The sleeve fits snugly and stays in place. Even if you're doing multiple reps, it will not slip down or bunch up.

PROS
Extremely durable with reinforced cross stitching
Elasticity will improve your squat poundage
Double inay cross stitching
Cost effective
CONS
The interior lining may cause slight rubbing to the back of the knee in extreme heat.
The Workt knee sleeve stands out due its unique fabric design. Unlike nearly all other sleeves, which are made from neoprene, it is made from a patented compound called Ecoprene. The key difference is that Ecoprene's cell structure is far more compact and uniform. This translates to a stronger, more elastic and firmer fitting training sleeve. Ecoprene is also easier to slip on and off, is waterproof and sweat and resistant and has great breathability.
It provides just the right mix of patellar compression and looseness to allow the joint to track through your exercise range of movement. It also retains the warmth to the joint, ensuring that the entire area is thoroughly warmed up and ready for action.
PROS
Excellent insulation
Water proof
Eco friendly
Strong yet lightweight
Tommy Kono knee bands are the original band produced by the iconic weight lifter back in the 1960's. Unlike most bands they are made from rubber, which makes them extremely durable and very form fitting. You'll find the Tommy Kono hard to get on, but it'll give you the best form fit of any sleeve out there. This product will also give you the strongest heat retention of any product on the market right now.
Tommy Kono Bands are the go to sleeve for people with pre-existing knee complaints who are looking for maximum heat generation while lifting. The band is longer than most sleeves providing you with complete coverage from your lower thigh all the way to your upper calf. This aids in patellar stability and gives you a better proprioceptive response. This allows you to have greater awareness of your body while under the heavy iron.
PROS
Superior level of knee warmth

Constructed from Rubber

Tight fit providing excellent compression
The Rehband name is the most respected in the knee sleeve market. They have built a reputation on custom fit, ergonomically molded, durable sleeves that stand the test of time. The 7mm sleeve in its distinctive original blue is their flagship model and it lives up to the reputation. It provides a snug fit, does a great job of compressing the patellar and retains the warmth needed to lubricate the joint.
The Rehband 7mm has an extremely smooth inner surface to provide a comfortable fit without any snagging or chafing. Also, you will never have to worry about the it slipping or bunching up while you're running.
Rehband sleeves are among the most pricey on the market. Be aware that you buy these sleeves singly, with one 7mm almost being as expensive as a pair from some other suppliers.
PROS
Very durable construction
Anatomical form fitting design
Comfortable, tight fit
CONS
Sweat build up within the sleeve
Expensive
Rapidly absorbs odor
The McDavid Hex Leg Sleeve provides extra patellar padding with a hexagonal cushioning. It is also a lot longer than most other sleeves, both above and below the patellar. This sleeve is better suited for running and CrossFit movements rather than powerlifting. It's long length offers compression while also providing a free form flow of movement.
The Hex Sleeve has a very effective built-in moisture evaporating system. It will wick away sweat and build-up in the knee area so that it won't slip around and there is a minimum of discomfort while training. It also improves the compression of the sleeve, allowing to fit more snugly to the skin. Although there is extra padding over the patellar, the fabric covering it is very thin.
PROS
Full length 16 inch sleeve
Superior sweat and moisture removal
Compact fit
Extra hex knee padding
CONS
A little too tight in the thigh area
Fabric covering the padded area of the knee is very thin
The CAP Barbell elastic knee wrap has the greatest value wrap that we came across. You can pick up a pair for less than ten bucks. They have a great deal of stretch to provide an effective rebound on exercises like the squat. You don't need to chalk up your legs, because the CAP wraps cling to your knees for a no slip experience.
CAP Knee Wraps are relatively light. They are not as stiff as most other brands, which offers more flexibility in the knee joint. They do a good job of keeping the patellar warm, which helps to keep the synovial fluid moving.
PROS
Inexpensive
Flexible
Provide great insulation
CONS
​Not very stiff, so provide less compression around knee joint
MAVA Sports knee wraps are extremely comfortable to wear. They will not slip while working out and are easily adjustable according to your compression needs. This training wrap is 72 inches in length. They are very malleable and will stretch to almost double their original length. They also come with a velcro strap. This helps the wrap stay firmly in place and avoids the problem of the wrap unraveling.
You can adjust the MAVA knee wraps as tightly or as loosely as you want to. MAVA offer a very functional training wrap which has the added benefit of a secure closure by way of the velcro strap and has superior compression to fully lubricate the synovial joint.
PROS
​Velcro strap
Malleable and elastic
Very comfortable
CONS
Tendency to bunch up behind the knee
Rogue knee wraps come in 2.0 and 2.5 meter lengths. They feature a velcro locking system. The velcro is very high quality and will stand the test of time. The wraps are made from a lightweight material which will stretch to double its original length.
The Rogue wraps are a little too elastic to provide for a serious rebound. That means that the amount of extra weight that you can lift is limited. As a result, we feel that the Rogue knee support for squats would be better suited to a new lifter rather than an experienced athlete intent on upping his squat max. They are constructed from 40% elastic, 10% polyester and 50% cotton.
PROS
Hook and loop fastening
Very stretchy band
Very durable velcro ends
CONS
Too much elasticity for strength rebound effect
The Slingshot protective wrap is made from a reactive type of material that is a lot stretchier than a lot of the other brands out there. That makes this type of training wrap great for beginning lifters and anyone who's doing repetitions in their training. If you're going for a heavy set of 4-5 reps, using a Slingshot wrap will give you better performance.
It's really important that novice lifters graduate the stiffness of their wraps. If you just start out with a cast iron type wrap, you are not going to be able to learn the proper mechanics of the squat. However, when you start with the Slingshot, you are able to push into the wrap, driving your patellar out and staying in the natural groove of the squat movement.
PROS
​Very elastic - great for beginners
Not too stiff
Durable construction
CONS
Too much elasticity for heavy rebound effect
Not for advanced lifters
The Meister heavy duty elastic training wraps provide a very tight hold that will provide maximum support while squatting and powerlifting. The super tight, extreme strand design provides the ultimate in rebound effect, allowing you to lift heavier on squats and power cleans. In fact, Meister training straps will add an average of about 10% to your one rep max on both of these lifts.
The Meister wrap provides a loop and wrap and has a sturdy velcro closure . These wraps add more flexibility and elasticity to the patellar while keeping the area warm, thus providing a greater level of overall protection.
PROS
Velcro closure
Maximum elasticity
Three inches thick
Best Knee Sleeves For Running
Runners place unique demands upon their joints.The constant pounding can work away at the patellar, breaking it down and causing long term damage. That's why they need a protective support sleeve that is tailor made to handle the pace.
The best runners training sleeve is the Emerge 7mm sleeve, which provides great support, compressions and freedom of movement at a very impressive price point. Our in depth breakdown of the 10 best knee support sleeves for runners has everything you'll ever need to make a smart purchasing decision.​
Best Knee Sleeves For Squats
Squats are probably the hardest exercise in the gym. They are especially tough on the patellar. When you're ready to go heavy on the squat, you need to be wearing a quality pair of protective sleeves. In terms of durability, compression, rebound effect and heat insulation, the highest quality product on the market is the Emerge 7mm sleeve. This versatile product outperforms the big names, and comes in a whole lot cheaper.
​If you want to get into the total breakdown of the best knee sleeves for squats, check out our article for what the top protective sleeves are. I know you'll love it.
Best Knee Sleeves For Weightlifting
As a weightlifter you need to have confidence that your joints can perform. The knees are the most vulnerable of all body parts when you're under the heavy iron. Training wraps and sleeves are the type of products that all look the same. Unless you know what to look for, however, you could easily end up with a dud.
To go beyond the surface and dig deep into the best knee wraps and sleeves for weightlifting, check out our top 2017 reviews. It's the most comprehensive article of its kind.
If you're a bodybuilder, you absolutely need to check out this informative clip about the top lower leg support for squats​
Conclusion
In this article, we have found and reviewed the very best that the current market has to offer as far as knee wraps and sleeves go. Our search led us directly to the Emerge 7mm compression sleeve. This amazing product provides all of the support, compression and insulation that you get from the market leaders, but for a whole lot less money.
We were also extremely impressed with the Workt 7mm compression sleeve, which uses Ecoprene fabric to provide superior compression, warmth and rigidity. The best knee wrap that we found was the CAP Barbell wrap, which provides great elasticity, rebound and strength at a great price. Our second favorite rap was the MAVA training wrap, which offers a solid fit, durable construction and plenty of rebound elasticity.
Here's another comprehensive article by GainsBible.com​