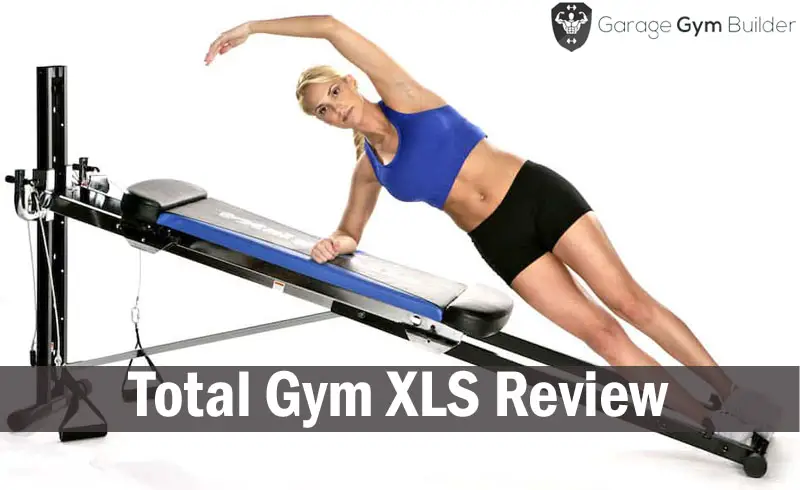 Total Gym XLS Review
The Total Gym XLS is the most popular model in the Total Gym Range. In terms of that range it is priced somewhere in the middle. In terms of the overall market it sits in the upper mid price range. The XLS provides you with more than 85 exercises, a user capacity of 400 pounds and great back up support.
In this article, we provide you with an in-depth review of the Total Gym XLS, along with a comparisons between it and the others in the range.
Total Gym XLS Specifications
Max Weight: % of bodyweight
More than 80 exercises
Glideboard Seat
Weight Capacity: 400 lbs
Length: 90"
Width: 19"
Height: 43"
Foldable: Yes
6 resistance levels
Arrives Fully Assembled
Flexible nylon strap handles
Ribbed squat stand
Frame Warranty: Lifetime
Parts Warranty: 6 months
Padded glideboard with head support
2-Piece Wing Attachment
Leg Pull Accessory
Includes workout DVDs and a nutritional program
Upgraded pulley and cable system
Total Gym XLS Features
The Total Gym system is founded upon the concept of utilising just your bodyweight in conjunction with the patented glideboard and pulley Total Gym system. That is a major bonus, doing away with the need to have to purchase extra resistance.
The Total Gym system allows you to increase the resistance beyond that of your physical body-weight by having you exercise on an ever increasing angle in order to make the exercise harder. This is achieved by way of a ladder with runs to which you attach the glide board.
This system makes working out a lot more joint friendly. You do not get the problems that are associated with working out with weights. That makes using this system a good idea for the elderly as well as those who have joint problems.
Exercise Range
Total Gym XLS allows you to perform more than 80 exercises thanks to its pulley system, glideboard and accessories. You are able to do all of the basic moves that you would expect to find in a commercial gym. This includes the 'big' moves like squats and bench presses. However, you can also do a wide range of angled moves to allow you to get a full range of motion a to isolate different muscle groups.
Accessories
The Total Gym XLS comes with a number of accessories that allow you to extend your exercises capability.
The accessories include with Total Gym XLS are as follows:
Wing attachment for isolating the back and biceps
Leg pull accessory for quadriceps and hamstrings
Ankle straps
Squat station
Pulleys
Customized workout are able to be produced with the aid of a training deck of cards that can be combined in an infinite number of varieties.
An additional bonus extra that comes with the Total Gym XLS is the complete nutritional guide and meal plan for weight loss and healthy eating. This has been produced by Dan Isaacson, who has been a trainer to the stars for a quarter of a century.
GlideBoard
The Glideboard on the Total Gym XLS is of a high quality, with plenty of padding. It provides you with a head support to provide added comfort and ergonomic positioning when you are lying down to do exercises like the bench press.
Warranty
The Warranty information on the Total Gym XLS is as follows . . .
Lifetime warranty on the frame
Six months warranty on the parts
We don't think that a six months parts warranty cuts it on a home gym of this price. It should be 12 months at a minimum.
Solid Build
The Total Gym XLS is a very well built machine. The frame is very solidly constructed from high quality tubular steel. As a result, it can support a user weight of up to 400 pounds. The glide board is also well made, providing you double stitching on the covering and thick, comfortable padding.
No Assembly Required
There's nothing worse than waiting expectantly for your new home gym to arrive and then having to spend frustrating hours trying to out the thing together. When you buy the Total Gym XLS you do not have to face that prospect. Your gym will arrive fully assembled and ready to use.
There's nothing worse than waiting expectantly for your new home gym to arrive and then having to spend frustrating hours trying to out the thing together. When you buy the Total Gym XLS you do not have to face that prospect. Your gym will arrive fully assembled and ready to use.
Total Gym XLS VS Weider Ultimate Body Works
The Total Gym XLS competes against a number of competitors who have taken the Total Gym concept and modified it just enough so as not to infringe it's patent protection. Often these come in at a cheaper price than the original. Most time we would advise being wary of these products as many of them can only be described as 'cheap rip-offs'.
We have made an exception with the Weider Ultimate Body Works because the Weider brand is one of the most reputable in the industry. So, let's take a look at the Ultimate Body Works and see how it compares.
The Weider Ultimate Body Works looks like a Total Gym. That is because it has 'borrowed' the glide board concept of body-weight resistance. However. It has added another element to make it unique. That other element is the inclusion of resistance bands which are attached to the unit and give an extra dimension of resistance and exercise options.
The Ultimate Body Works provides you with around 50 exercises. You also get a squat stand to allow you to work your quads and hamstrings, along with cables, pulleys and the rolling glide seat.
The seat on the Ultimate Body Works is well constructed with a generous amount of padding and a quality vinyl cover that has been double stitched.
The adjustable incline on the ultimate Body Works can be set to different incline settings to provide you with plenty or resistance options. You also get four resistance bands that are capable of giving you a total of fifty pounds of extra resistance.
Weider Ultimate Body Works is a good choice for peThe ople who are wanting to get in their pilates and flexibility training. This is a compact unit that has a smaller footprint than the Total Gym XLS. When not in use it can be folded flat and slid under the bed or in the cupboard for convenient storage.

The big problem with the Weider Ultimate Body Works, however, is that it does not provide you with a heavy enough resistance level to challenge experienced users. This unit will be fine for beginners but those who are after a serious workout will soon get frustrated with it. It would pay to spend the extra dollars to get the original Total Gym.
80+ exercises
Suitable for all heights
Max user weight 400 pounds
6 DVDs
Only six months warranty on parts
Conclusion
The Total Gym XLS is the most popular selling Total Gym on the market. It is priced in the middle of the Total Gym range, offers a huge exercise selection, comes with 6 DVDs and a complete nutritional plan and is made to last. We believe that it is the best option out of the Total Gym range. Before you buy, however, go into a store and test out a few of the exercises to see if the 'feel' of working out the Total Gym glide system is right for you.