Strongest woman in the world of all time – Garage Gym Builder
updated January 1, 2019
Who's the Strongest Woman in the world of All Time? Strength has traditionally been the domain of men. Which is why strong women are so fascinating. They take the stereotype of the weaker sex and throw it off a cliff.
So, who's the strongest woman in the world who ever lived? With so many different gauges of strength, that's a difficult question to answer.
What we can do is to present to you profiles of the 10 Strongest woman in the world of all time, and allow you to decide for yourself.
So, let's do it.
Quick NavigationWorld's Strongest WomenAbbye 'Pudgy' StocktonBev Francis Chen Wei LingAneta FlorczykTatiana KashirinaRobin ColemanHeini KoivuniemiBecca Swanson Jan ToddJill MillsThe World's Strongest Woman Competition
World's Strongest Women
Abbye 'Pudgy' Stockton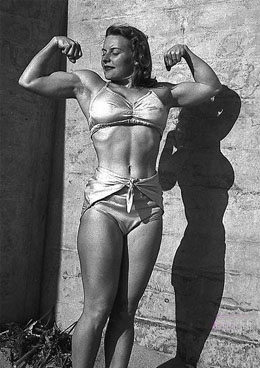 'Pudgy' Stockton was a pioneer in the field of women's strength display at a time when men well and truly had the market cornered. Born in 1917, she was known as the 'Queen of Muscle Beach' during the 1940s and 1950s.
Pudgy had a hand-balancing act that toured around the LA area. In it, she would hold her husband straight over her head in adjoining handstands for long periods. She was a great inspiration for women to get into weight training. In the 1940's she had a monthly column in Strength & Health magazine called Barbelles.
Abbye Stockton died in 2006.
Bev Francis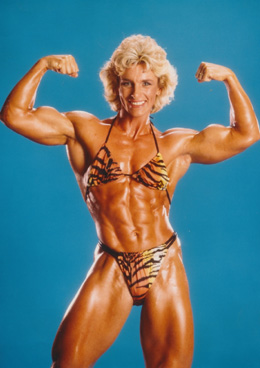 Bev Francis is an Australian former bodybuilder and powerlifter. She started as a track and field athlete, competing on the Australian team between 1977-82. She competed in javelin, shot put and discus.
Bev found her real niche in powerlifting. She was a natural and was proclaimed World Powerlifting Champion between 1980 and 1985. As a competitive lifter, she never lost a competition and has broken more than 40 world powerlifting records.
Bev was the first woman to bench press 300 pounds. Her best lifts are:
Squat

–

500 pounds

Bench press –

335 pounds

Deadlift –

501 pounds
Bev's bodybuilding career was sparked by a photo of her that appeared in several bodybuilding magazines after she smashed the 300-pound bench press barrier. The image ignited the bodybuilding world because, although not being a bodybuilder, she was already more muscular than most female competitors.
She placed 10th in her first Miss Olympia in 1986. She was told that she was too muscular to place well, so reshaped her body to be leaner and more streamlined. Over the next few years, her placing improved until she managed a second place finish in 1990, behind Lenda Murray.
At 1991, Miss Olympia, the first to be televised on ESPN, a more massive Bev led Lenda Murray through the first two rounds, and the victory seemed assured. However, she lost by a single point, with the consensus being that the judges were just not ready for such a hugely muscled woman to take the title.
Bev is married to IFBB judge and former powerlifter Steve Weinberger. In 1986, they opened Bev's Gym in Los Angeles. In 1990 they opened up a second location in Syosset, New York. In 2005, the gym's name was changed to Powerhouse Gym.
Throughout the 1980s and early 1990s, Bev was universally known as 'the world's strongest woman.'
Chen Wei Ling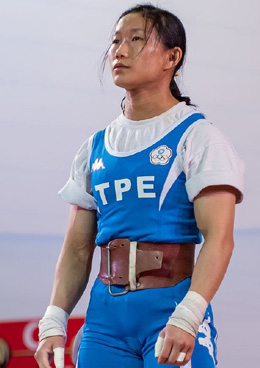 Chen Wei Ling is a Taiwanese weightlifter. The 35-year-old has lifted more than three times her own body-weight. At a weight of just 101 pounds, she has deadlifted 430 pounds and squatted 457 pounds. These lifts were kind enough to win her the victory at the World Games. She is also a 2008 Beijing Olympics bronze medal winner.
Aneta Florczyk
Aneta Florczyk is a 35-year old from Poland. She was named World's Strongest Woman in 2003, 2005, 2006 and 2008. It gives her more titles than any other woman in history. She also holds a Guinness World Record for lifting the most men over the head in two minutes (twelve).
Tatiana Kashirina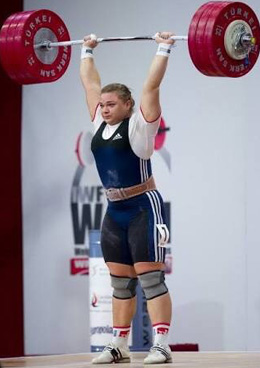 Russian weightlifter Tatiana Kashirina is a 26-year-old who currently holds five world weightlifting records. Her best lifts include 341 pounds on the snatch and 425 pounds on the clean and jerk.
Robin Coleman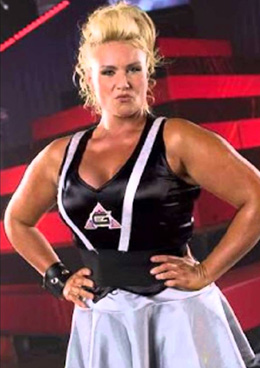 No, she's not related to 8 times Mr. Olympia Ronnie Coleman, but Robin Coleman has got the same freaky natural strength that has made Ronnie a legend. Born in Texas in 1973, she became well known to TV audiences as 'Helgga' on American Gladiators.
In 2001, Robin competed in a strong woman competition in which she had to squat a car. The most that any of the other competitors could achieve was 3 reps. Robin managed to rep out 15 times, only being stopped because the time was up. You can watch this fantastic performance here.
In 2001, Robin came third in the World's Strongest Woman competition. She has since gone on to forge a career as an accomplished actress, with appearances in the movies Ultimate Revenge and VIP. She is also a competitive rower.
Heini Koivuniemi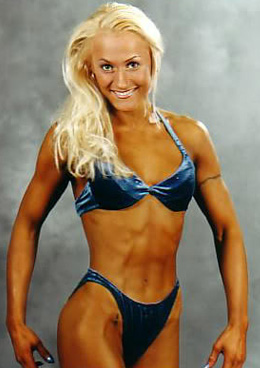 Heini Koivuniemi is a 44-year old Finnish weightlifter. She competed in the World's Strongest Woman competition in the 2000s.
In 2001 she placed second, dropping to third in 2002 and 2003. She also has the distinction of holding the Guinness World Record for throwing a beer keg for height.
To achieve this record, she tossed a 27-pound beer keg over a bar that was set at the height of 11 feet, four inches.
Watch her do it here.
Becca Swanson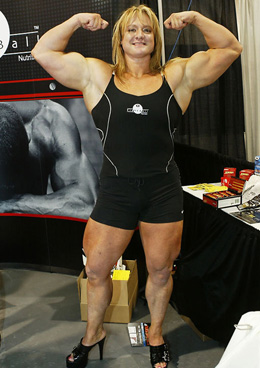 Becca Swanson is an American powerlifter who was born in Nebraska in 1973. She began competing in powerlifting competition in 2002. She is the only woman to squat more than 800 pounds. She has also squatted four times her body weight.
Her best lifts are as follows:
Squat

–

854.3 pounds

Bench press –

600.8 pounds

Deadlift –

683.4 pounds
Becca has also competed in a bodybuilding competition, winning the Miss Midwest, Miss Nebraska, and Miss Rocky Mountain titles. She has even been a professional wrestler with the World Wrestling League.
Becca is considered by many to be the world's strongest women who ever lived.
Jan Todd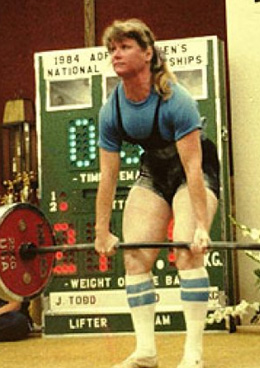 Jan Todd was born in Pennsylvania in 1952. She got started in powerlifting at the age of 21 having just married Dr. Terry Todd, the first powerlifting champ in the United States. Three years later, at her first competition, she a set Guinness World Record that would stand for the next 49 years – a 394-pound two-hand deadlift.
In 1975, after just a few years of training, Jan became the first woman to lift more than 400 pounds on my powerlifting. She deadlifted 412 pounds. Shortly after that, she was the first woman to achieve a three lift total of 1200 pounds in the squat, bench press and deadlift.
Jill Mills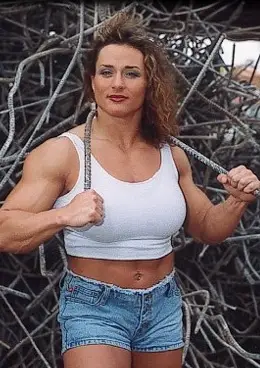 Jill Mills is an American powerlifter who was born in Nebraska in 1972. She won the World's Strongest Woman competition in 2001 and 2002 and came third in 2005.
The World's Strongest Woman Competition

The World's Strongest Woman competition was started in 2001 as an equivalent to the World's Strongest Man contest, which was hugely popular on TV. The format of the show was similar to that of the World's Strongest Man with a group of invited athletes from all over the world competing in a series of strength events.
In 2003, the event lost the sponsorship of the British Broadcasting Corporation (BBC). It was renamed the Strongwoman World Champs under the auspices of the International Federation of Strength Athletes. It was known as the United Strongmen Women's World Championships in 2012 and 2013. In 2016 it returned as the World's Strongest Woman.
World's Strongest Woman Winners:
2016 – Donna Moore
2015 – event not held
2014 – event not held
2013 – Kati Luoto
2012 – Kristin Rhodes
2011 – Nina Geria
2010 – event not held
2009 – event not held
2008 – Aneta Florczyk
2007 – event not held
2006 – Aneta Florczyk
2005 – Aneta Florczyk
2004 – event not held
2003 – Aneta Florczyk
2002 – Jill Mills
2001 – Jill Mills
2000 – event not held
1999 – event not held
1998 – event not held
1997 – Michelle Sorenson
That was our list of strongest woman in the world of all time which is not to be underestimated!
Most Read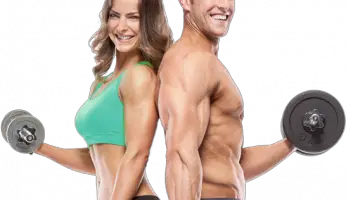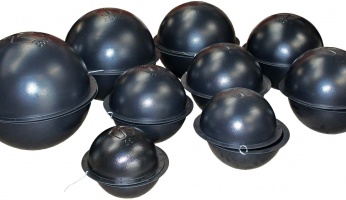 Subscribe to our newsletter