Best Strongman Workout Sled and Yoke Reviews 2023
last updated:
Jan 07, 2021
Strongman training requires working out on apparatus that simulates what you experience in competition. Two moves that are unique to Strongman competition are the Yoke and the Sled. The only way to prepare for these events is to train with your own versions of these pieces of equipment. In this article, we will check out the best sled and yoke equipment in the marketplace and help guide you in the right direction.
This is the best product on our list that is currently in stock: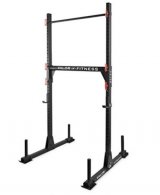 Valor Fitness BD-21 Yoke Rack
Why is it better?
Heavy-duty construction
Adjustable crossbar and pull-up bar
Includes J-hooks for barbell storage
Unique skid sled style
26
Researched Sources
12k
Reviews Considered
40
Hours Researching
14
Products Evaluated
Features
Durability
Ease of Use
Effectiveness
Versatility
By Default
10 Best Strongman Yokes and Sleds
1

. TDS Fitness Strongman's Yoke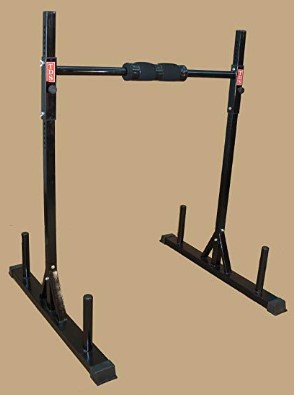 Has a stable base
2-inch cross beam
4 Olympic pegs to hold weights
600 weight capacity
Does not come with neck pad
The TDS Fitness Yoke is an excellent piece of equipment to help with your strongman training and complete your fitness gym. It weighs a sturdy 75 pounds. It is easy to assemble. It ships quickly. This set includes tall pegs which are convenient for the added weights and quality hardware to keep it all together.
Read more
The TDS Fitness Yoke uses a 2-inch wide tube base to give you the stability you need during your lifts. It has a 2-inch square tubular frame and a round pipe for the cross beam.
The frame can hold up to 600 pounds on the four Olympic sized pegs. It is 52 inches wide, 50 inches deep, and 67 inches tall. This equipment will be great for Strongman training.
2

. Valor Fitness BD-21 Yoke Rack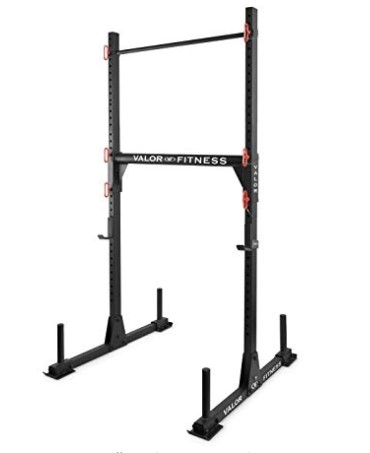 Heavy-duty construction
Adjustable crossbar and pull-up bar
Includes J-hooks for barbell storage
Unique skid sled style
Only good for light commercial use
The Valor Fitness Yoke is a piece of exercise equipment that was designed with versatility and functionality in mind. It is made of solid steel, 11-gauge, which is sturdy enough to handle even the most intense, rigorous workouts. This rack can also be used for doing pull-ups and muscle-ups. When you use J-hooks you can perform squats and bench presses. And of course, you can do yoke as well as Zercher carries.
Read more
This Yoke Rack is made from an 11 gauge heavy-duty solid steel. The tubing is designed for durability and strength so it can stand up to your most intense workout. The frame includes 4 plate pegs for storage, two on each side of the base, so you can store your bumper plates and at the same time provide stability of the unit.
This unit is highly versatile. It can not only be used as a basic yoke carry but also pull-ups, squats, bench presses, and muscle-ups as well. The storage pegs on either side let you add extra weight for sled training.
It has a fully adjustable pull-up bar and crossbar which will lock in place with popper pins. The height range is 72 inches. There are also J-hooks on either side so you have extra storage for your barbell during squats and bench presses.
This equipment has a style referred to as a skid sled, so you can lift and slide the rack during sled exercises since the rack weighs 160 pounds.
3

. Rep Fitness Weight Sleds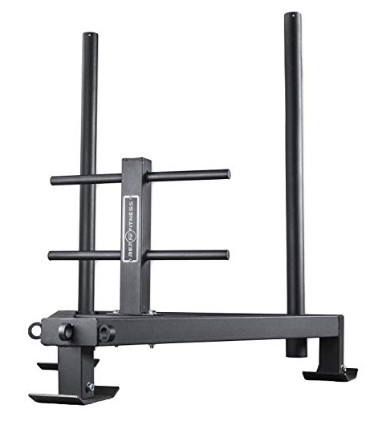 Built to be heavy duty
Replaceable skid pads
High/Low push handles and eyelets
600 lb capacity
Cannot carry standard plates
This Rep Fitness sled is a heavy-duty, high-quality sled weighing 68 pounds. Constructed from 7 and 11 gauge steel makes this sled extra beefy. It is equipped with skid pads that are replaceable, so if you use your sled on rough surfaces daily, you can easily replace these pads when they wear out.
They also come with push handles that are high and low along with eyelets so you can attach a harness or a rope to for your dragging exercises. It has a 600-pound weight capacity.
Read more
The Rep Fitness Sled is a heavy-duty piece of training equipment. The unit requires self-assembly, which is reasonably straight forward with the instructions provided. The center loading pillar of the unit bolts to the mainframe and the rear push poles slide into position and can be locked in placed with the turn of a knob.
This sled is made from quality 11-gauge heavy-duty steel. The skis are made of one continuous piece, allowing them to slide freely on all surfaces. You can even use the Rep Fitness sled on grass. The unloaded sled weighs in at 70 pounds.
4

. Titan Fitness HD Weight Sled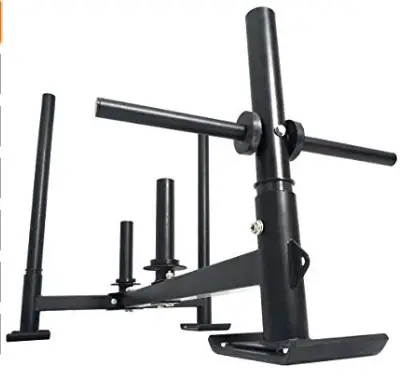 Made of heavy-duty 11 gauge steel
Low push/pull handles with strap hook
Black powder-coated frame
Breaks down easily for transport or storage
Challenging to put together
The Titan Fitness sled is very heavy duty 11 gauge steel with dual plate horns. They are 10 inches high. It has handles for pushing and pulling handles and a strap hook. It has thick replaceable feet. It has a black powder coat frame and breaks down so you can transport or store it. It has a 600-pound weight capacity and weighs about 64 pounds.
Read more
This weight sled will help you build speed and strength. It is easy to break down for transport, while not sacrificing any portability with the heavy-duty steel construction. This sled is compact and designed for convenience. It can be used on almost any surface, indoors or outdoors.
The sled is built sturdy with 11 gauge steel construction. You can count on it being part of your home gym for years to come. It features replaceable sled shoes which you can also buy separately. This is designed to be used with Olympic plates.
5

. Econ Prowler Weighted Push Sled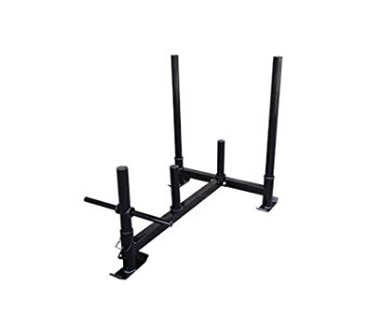 Weighs 33 pounds
Has mounting bracket to use with a harness
400-pound weight capacity
Specially engineered base plates
Might need different washers
The Econ Prowler is designed to be assembled fast. It only takes a few minutes to insert the rear bolts, the hitch pin in front, and drop the rear handles into their slots. All you need is a 16mm and 17mm socket with a wrench or ratchet. This sled has a 400-pound weight capacity and a powder coat finish which is gloss black. There is a mounting bracket you can use to attach a pull strap or harness if you have one. There are also removable handles for storage.
Read more
The weighted prowler sled will help you work on conditioning, muscle building, fat loss, and muscle building training. It has some specially designed metal base plates which allow for smooth pushing across asphalt, grass or concrete. The sled weighs 33 pounds and has a 400-pound weight capacity. It also fits all 2-inch plates.
This push sled is made of lighter grade steel so it packs, ships, and assembles much easier than the heavier sleds. It can take a beating though and it has detachable handles which allow for more compact storage. There is a mounting bracket that will let you use a harness for your pulling workouts.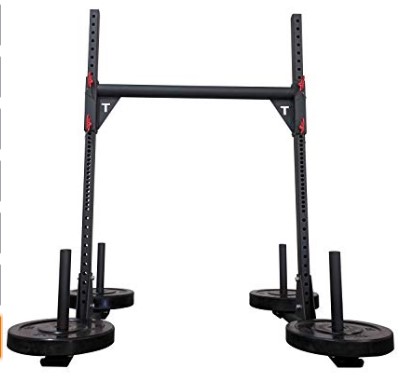 A great alternative to a power rack
Use as squat/press stand, drag sled, or yoke.
Adjustable crossbar to custom fit your height.
Compact 72" design
The Titan T-3 is a great alternative to using a power rack. It serves the same purpose plus more. You can use it as a squat or press stand, a drag or push sled, or a yoke. This equipment will definitely be a huge part of your Strongman training. It has an adjustable crossbar which you can customize perfectly for your height. It has a compact design you can take with you anywhere you want to do your training.
Read more
The Titan T-3 is a multi-function yoke. It can either replace or work with your current power rack to add extra bench press, squat or plate storage. It is available in two different models to fit your needs.
This tool is a staple piece of equipment for Strongman training to use as a yoke or a drag tool. The adjustable crossbar can be set up perfectly according to your height. It also has vertical storage for plates. The uprights have holes spaced 2 inches apart. This compact design can be taken to wherever you want to work out.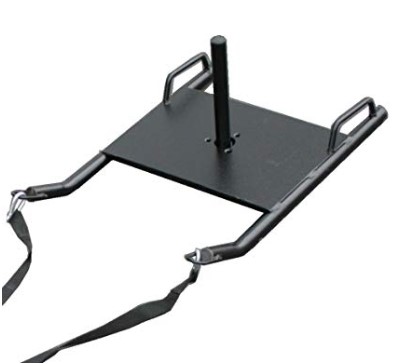 Adds resistance to drills
15 inches wide
Almost 2 feet long
Can add Olympic weights
The Bluedot sled is perfect for pulling during a short distance sprint to boost your leg power and the length of your stride. Make your work out even more intense by going up hills. This sled is excellent for adding some speed training to your workout whether it is for strongman, aerobics, football, or other sports.
Read more
The Bluedot will help you burn fat and calories quicker by adding some resistance to your running drills. You can add the amount of weight that will best fit your training needs. Weights not included with this set.
This sled will help you develop your power, training, and speed for exercise and speed improvement. You can perform your short distance sprints to help improve leg power and stride length. This sled can be loaded up with any of your standard Olympic bar plates.
8

. OneFitWonder Weighted Sled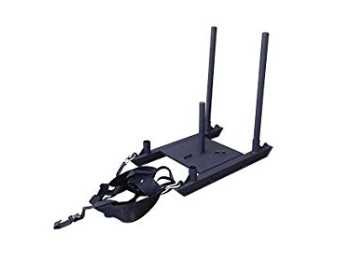 Weighted chariot sled
Easy to assemble
Detachable handles
Black powder coating for durability
Might dig in grass a little
The OneFitWonder allows you to add over 500 pounds of weight to your resistance training. This sled includes the harness to use for your push or pull workouts. It has black powder coating for a finish which will stand up to workouts either indoors or outdoors. The handles on this sled pop out to make quick direction changes. The compact size makes it portable enough to fit in the trunk of most cars.
Read more
The OneFitWonder is a chariot style sled which is weighted and gives you dynamic training focused on conditioning, building muscle, and sport-specific training. The sled harness is included for push or drag workouts. It will help you develop strength and speed.
This sled is easy to put together and has detachable handles so you can store it flat in a tight space. The black powder coat finish lets it slide on any surface.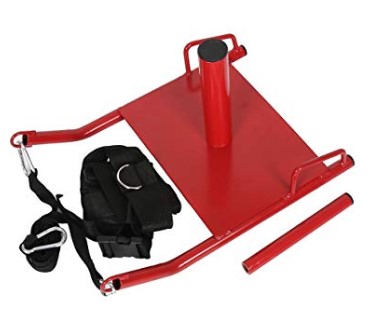 Designed to be used on most surfaces
15 inches wide
Comes with adjustable shoulder harness
Excellent for adding speed training
The harness does not adjust at shoulders
The Ecotric sled is 15 inches wide and 20 inches long. It is designed for use on most surfaces like grass, sand, snow or turf. It comes with an adjustable shoulder harness to give you the best security during your workouts. It is excellent for adding speed to your training.
Read more
This training sled is designed to be used on most of the surfaces from grass, snow, or sand.
The power sled shoulder harness gives you maximum security during your most intense workouts.
This sled helps to develop leg and back muscles and is excellent for adding some speed training to your regular workout. This will be a welcome addition to your training equipment.
10

. Popsport Power Speed Sled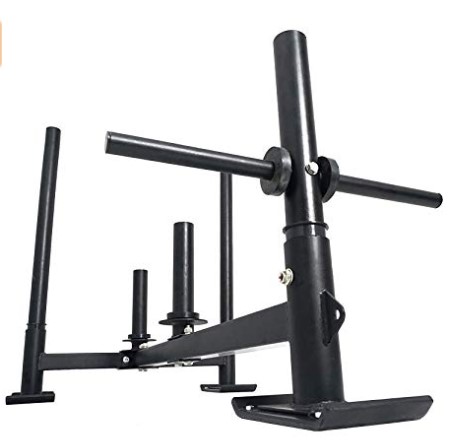 Made of solid metal
Versatile amount of exercises you can do
Black powder coating
Fits standard Olympic plates
Have to double-check the hardware
The PopSport sled is a durable metal sled with nice skis and weighs 64 pounds. You can add the amount of weight you need for your goals. You can burn more fat and calories by adding some resistance to running drills. You can use this for multiple types of workouts or exercises with this one sled. It has a frame finished with black powder coating and breaks down easily so you can store it or transport it easily. This training sled is the perfect tool for adding speed to your workout.
Read more
The Power Speed Sled can help you build up your speed and strength into your workout. It will not let you sprint but forces you to tow weight on the sled. It is designed to be used with standard Olympic plates and is a great fitness tool addition to any personal or professional gym.
Use this equipment for burning fat and calories quickly. You can add resistance to your running drills. It also includes low push and pulls handles with strap hook and has thick replaceable feet so you will always have a good skid while you are pulling.
The black powder-coated frame keeps your rack protected even through the most intense workout. It also breaks down quickly and easily so you can store it in a tight spot or take it with you. It works for pulling, drag, or you can use it for so many other activities. It is designed to be used on almost any surface. It comes with a waist belt and some dual leads which help to stabilize your sled during the runs. It includes two poles which are about two inches in diameter. It also fits all of your standard 2-inch Olympic plates whether they are bumper or steel plates and still have plenty of clearance.
Criteria Used for Evaluation

Features
These yoke racks consist of a durable metal frame which has a padded crossbar. This rack has to be extremely sturdy and ready to carry weight during your workout. The frame includes four corners with pegs which you can add weight too as you increase your workout. Many of them can also be used as a squat rack, a power rack, and a sled.
The Yokes will also have an adjustable cross beam which lets you change the height to fit your stature. The crossbars come in different widths. The wider bars are more comfortable since they allow you to spread the load. You are using this tool to simulate the Yoke walk which is the event in the competition where you get under the crossbar with all the weight, pick it up, and walk a set distance with it.
Sled training is also a Strongman exercise, one which can also be used in general fitness training. Sled exercises are popular to improve general athletic ability. You will find them used in CrossFit training and on the track. The only difference with Strongman training is the amount of weight you use.
Sled training was originated by Scandinavian loggers. They developed fantastic strength in their legs and back. They would harness the logs to their body and pull them out of the woods.
There are a few different sled designs available. The basic concept is a platform you can add weight and then drag, push or pull. You can also attach a harness or towing strap to them.

Durability
It is absolutely vital that this equipment is durable. Strongman competitions are extremely intense and your workout and practice for this are going to be intense as well. You have to have a piece of equipment which is going to stand up to this beating.
They should be made of sturdy heavy-duty steel. The welds need to be thick quality and sturdy so you can trust the frame is going to stay together no matter how much weight you are lifting. The hardware needs to be quality steel as well. The base needs to be stable and able to hold the weight you are working with.
The sleds also have skids on the bottom of them which need to be sturdy and able to work on a variety of different surfaces so you can take it anywhere to work out, indoors or outdoors.

Ease of Use
If you are serious about training for your Strongman competition you are going to need a yoke and sled which are easy to use. This equipment should be sturdy so you can confidently bang it around without worrying about it coming apart.
For your yoke to be easy to use, the crossbar needs to be adjustable so you can easily get it set up for your perfect height. The pull-up bars should also be adjustable.
The sled should be able to lift and slide during your workout. You should be able to use it anywhere on any surface like grass, floors, or even pavement. The harness should be adjustable so you can fit it snug and be comfortable. If you use straps, they should be easy to attach and use as well.
With both of these pieces of equipment, it is convenient if they work with the standard 2-inch Olympic plates. The pegs should be sturdy and able to hold the weight you want to train with, which you should be able to easily take on and off.
Speaking of storage, it is handy if you can fold down your device when you are not using it and stash it under a bed or some other convenient corner. Some of these models are more compact and fold down so you can fit them into your car's trunk and take them to wherever you want to work out.

Effectiveness
For this equipment to be effective, it needs to be a big part of helping you get ready for your Strongman competition. The contests in this competition are fairly specialized and the best way to get ready is to work out with equipment which closely resembles what you are going to be training with, hence our list of yokes and sleds.
To train for the yoke competition you need a sturdy rack to work with. It is handy if the crossbar can be adjustable so you set it to your height. It needs to have sturdy pegs on the sides so you can add weight to constantly bulk up your work out and add to your muscle tone and effectiveness.
The sled also needs to be sturdy and durable. This is going to be a piece of equipment you are going to drag and continue to add weight to. It needs to be tough and able to hold a good amount of weight. It should be easy to add weight to, maybe by having a peg in the centre of the sled which will hold your weight plates and you can continue to add weight. The sled needs to have good skids, maybe even replaceable ones, which can slide on just about any surface either indoors or outdoors.
It should also come with a harness that is adjustable and comfortable. It needs to be durable to stand up to an intense workout, even when you had more and more weight. The sled should have an easy spot to connect your pull ropes and harness to. This equipment needs to be close enough to the actual contest version that you are going to get worthwhile practice to improve your chances at the competition.

Versatility
Being versatile means being able to adapt to other purposes. In this case, these tools can be used for other exercises besides just the Strongman competition.
The yoke can be used like your gym's power rack which will save you space having to set up fewer pieces of equipment. The crossbar can also be used as a pull-up bar. You can do pull-ups or muscle-ups. If you add J-hooks and your weight bench you can do some squats and your bench presses. You can also use this rack for your weight storage. So you will get a lot of use out of this rack.
For the sled, you can pull it with less weight to develop your legs, glutes and more. You can use it to work out for running, soccer, football, or weightlifting. You can also push it for a workout for completely different muscle groups.
Expert Interviews & Opinions
Most Important Criteria
(According to our experts opinion)
Experts Opinion
Editors Opinion
Users Opinion
By Default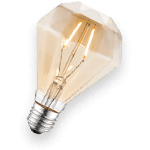 Find A Team Or Training Partner
It is a little hard to find a training partner who will be a good fit. It is also hard to find a team and train with them as a beginner. The best thing about Strongman is the camaraderie everyone has towards each other whether you are a beginner or a professional. It is important to get yourself into the team atmosphere, including helping load and unload equipment, spotting others and helping clean up after training.
Do Your Research
Immerse yourself in the culture, the environment and the mindset of Strongman. Follow professional and even experienced amateur Strongman competitors and learn from them. When you are new, you will have lots of questions. The pro athletes will often have videos or blogs on some of the topics you are going to be interested in. Being able to watch others will help you learn proper form as well as get you inspired.
Other Factors to Consider

Portability
If you have limited space, it is possible to find equipment which is a little more compact. It is also good to find pieces which will fold down and can be stashed under a bed or into a tight corner. If you are lucky, you will find one which can fold down and fit into the trunk of your car. That way you can take it with you to wherever you want to workout.
Frequently Asked Questions
q:

What should I know for my first competition?

a:

You want to bring drinking water, extra clothes, and any wraps, belts, and straps you have been training with. Some people like a big breakfast, others barely eat anything.

When you get there, find out where you store your stuff and set up camp. Make sure you can see and hear the competition field and the announcer. Soon after you get there, you will attend a rule meeting for all of the competitors where they go over any last-minute event changes and clarification on rules. Make sure you understand and if you don't, ASK.
q:

How do I train like a strongman?

a:

The obvious answer is that you want to be strong. Be sure to focus on workouts like the deadlift, the overhead press, and squats. To build core strength, use weighted holds and carries. You can also work on cleans, rows, abs, curls, and grip work.
q:

How do I get started with Strongman?

a:

Just keep developing your strength in the basic movements. Work on your squats, deadlifts, bench presses and overhead. Add in some muscle conditioning. At the end of the day, a good athlete crosses over to a good strongman.
q:

What does the yoke walk work?

a:

The yoke helps you lift more, help you increase your time under tension, and help you build core strength. The yoke walk is a test of limit strength, your strength endurance, your core stability, and explosive power. It also works almost every muscle in your body.
q:

What muscles does a weight sled work?

a:

Using your sled for pushing and pulling will develop some strength in the glutes, hamstrings, calves, quads, and core. You can also improve aerobic and anaerobic conditioning.
Subscribe to our newsletter