Hip Mobility Exercises
The mobility of your hips is the most crucial factor when it comes to lower body performance in the gym. If you're an athlete, it is also crucial to your on the field performance. If you don't have good joint mobility, you are not going to be able to exercise to your full range of motion in the two biggest strength moves that exist – the deadlift and the squat. In this article, we are going to highlight the best hip mobility exercises.
How Your Hip Works
The main function of your hips is balanced standing and locomotion. Compared to your shoulder joints, your hips sacrifice mobility for stability. These joints are extremely strong and to a degree, this is their nemesis. They are bound on all sides by powerful muscles to keep your torso poised upright on the femoral heads. The muscles of your inner thigh, outer thigh, and the glutes fire off intermittently bursts of contraction, both to keep your pelvis balanced laterally and to prevent folding up at your hips.
The gluteal muscles perform the most important role of propelling your body forward while walking or running. At the same time, all the powerful muscles that work your hips generate upward forces to keep the femoral head securely seated in the socket.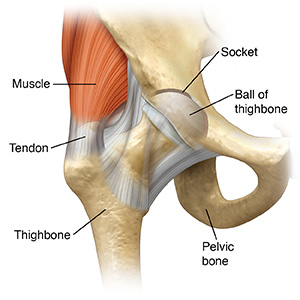 When it comes to the health of your hips, stretching alone is not going to cut it. You also need to perform hip mobility exercises along with your flexibility moves. The key muscle to target for hip mobility is the psoas.
The psoas is a large muscle which runs from the lateral aspect of the vertebral body in the lower thoracic spine down to the femur. It is the muscle that is primarily responsible for hip flexion. The psoas also attaches to all of the lumbar vertebrae and into the thoracic spine. This is why tightness of the psoas leads to lower back pain. This is often felt by people when that is training their abs.
When you focus on stretching out the psoas, you will greatly increase hip flexibility. Here is a great drill that you can do it increase your psoas mobility, and therefore increase your hip flexibility.
Great Mobility Exercises
Psoas Lunge
Set up a Smith Machine bar at the level of your hip.
Now position yourself side on to the bar with your hands resting on your knees.
Square up your body and keep your toes facing straight ahead. Now slide under the bar by sitting low, taking a lateral step up the bar, sliding your body and keeping the other foot in position. You should now be in a lunge position.
Turn your torso and arch it upward, keeping your hips down. Stretch your arms up into the air. Finally, lead your torso to the side away from your forward leg.
Continue a slow, controlled backward, forward motion until you have done 8 lunges on each leg. If you do not have access to a Smith Machine, you can set up a broomstick between two chairs and use that as your bar.
Resistance Band Exercise
When you do a hip mobility drill, you want to put the joint in an open pack position. When it is in a loose position, the capsular structure around the joint is also loose. This allows you to increase the mobility of the joint. However, if you try to perform a drill with the joint in a closed pack position, you will be attempting to loosen a joint that is already in a maximally taut position.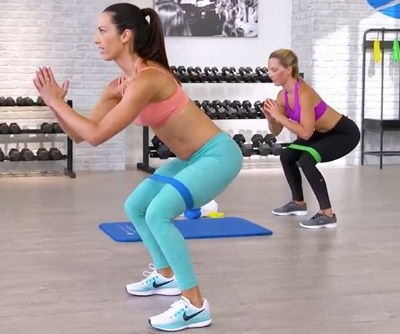 To get your hip into an open pack position for this band drill, loop a thick resistance band around an upright structure, such as the frame of a power rack, and set it about 36 inches from the ground.
Kneel side on to the upright and place one leg through the end of the band, drawing the band up as high as you can to the groin. Move it about three feet from the upright to put some tension on the band.
In this position, the hip is being pulled laterally in the ball and socket joint to provide some space. Now place your hands on the floor so that you are down on all fours.
Next, drop your knees back until your legs form an angle of about 30 degrees of flexion. Sit your butt back as far as you can to feel the stretch in the psoas. Slowly come back. Repeat this movement pattern for 10 slow, controlled reps. Over time move further away from the upright.
Perform 10 reps on each side with this exercise.
Resistance bands are a great way to increase hip flexibility. They allow you to add graduated resistance through every plane and range of motion. Here are a handful of hip mobility exercises that you can do to improve your hip mobility and flexibility.
Hurdle Overs
Here is a fantastic joint mobility exercise that you can perform when you're in the gym as part of your warm-up before performing deadlifts and squats. Doing so will allow you to perform the exercises more efficiently and to lift more weight.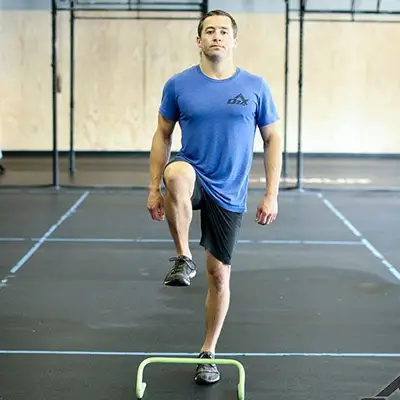 Stand in front of a bench or other object that is sitting at hip height.
Keeping your leg straight bring one leg up and over the object while maintaining an upright torso. The hip flexors should be doing all the work here.
Repeat with the other leg. Complete 3 sets of 20 hurdle overs to free up that hip joint.
Side Shuffle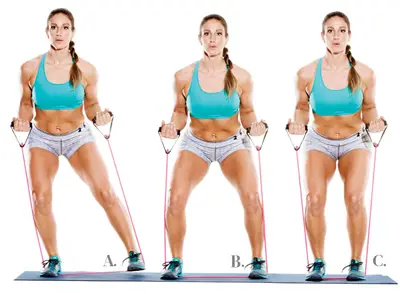 Anchor a resistance band against an upright at a low level.
Stand with your feet hip distance apart. Secure the other end of the band around the ankle of your inside leg.
Keeping your hips squared and draw your leg towards the midline of your body.
Be sure to keep constant tension on the band to make this exercise more effective.
Lateral Walk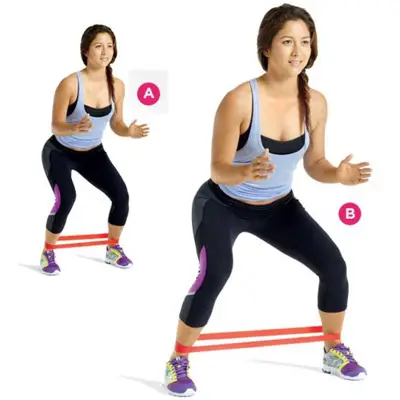 For this hip mobility exercise, you will need a mini resistance band.
Slip the band over your legs and position it just above the knees.
Position your feet slightly wider than shoulder-width apart and angles your feet slightly outwards.
Now, keeping your torso upright, your spine neutral and your core tight, go down into a three-quarter squat position. Place your arms out directly in front of you.
Take a step to the side and then bring the other foot towards the first foot.
Perform the movement in slow, controlled action. Take 5 steps to the right and then 5 steps back to the left.
Floor Abduction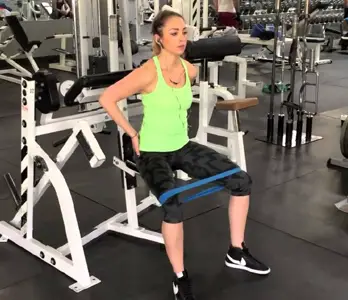 Anchor a resistance band against an upright at a low level.
Secure the other end of the band around the ankle of your inside leg.
Sit on the floor with the banded leg outstretched and the other knee bent.
Rest your hands behind you.
Now draw the leg with the band to the midline of your body.
Be sure to engage your abs to avoid stressing your lower back.
Try These 4 key flexibility stretches
Buttock Stretch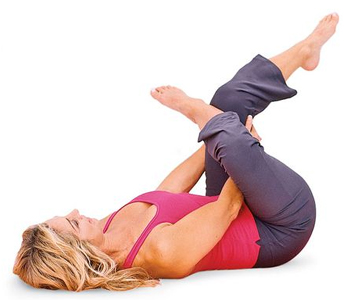 Lie on the floor close to a wall. Your back should be close enough to the wall that, when resting your left foot on the wall, both your hip and knee bend at 90 degrees.
Bring your right foot up and place the outside ankle on top of your left knee.
Apply gentle pressure with your right hand and push your right knee towards the wall.
Bounce it gently for 2 minutes, trying to push it a little further with each bounce.
Take your left foot down from the wall and change sides.
Repeat once to each side. With practice, you will be able to add greater stretch by pointing the toe on the wall or bringing your bottom closer to the wall.
The Dead Blowfly
Lie on your back on the floor and bring your right knee up towards your right armpit, holding the outer part of your foot with your right hand.
Do the same with your left leg, so that both your knees and thighs are wide apart.
Bend your knees at a right-angle so the soles of your feet are parallel to (facing) the ceiling.
In this position, pump one knee then the other, alternately, deeper into each armpit.
Continue for 30 seconds and release. Repeat twice.
Knees Apart Stretch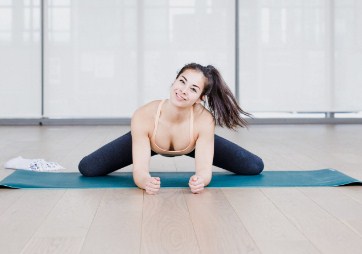 Kneel on your hands and knees with your big toes pressed together and push your knees as far apart as they will go.
Lower yourself forwards onto your hands, pivoting on your knees. You are aiming to place the front of your chest on the floor.
Your butt will remain perched up in the air and your feet will come up. The tighter your adductors, the higher your bottom will stay off the floor.
Remain there for one minute, breathing easily.
Allow your knees to creep further apart as your hips release; this will lower your butt.
Push yourself back with your hands and sit on your heels and rest.
Repeat twice.
Floor Lunge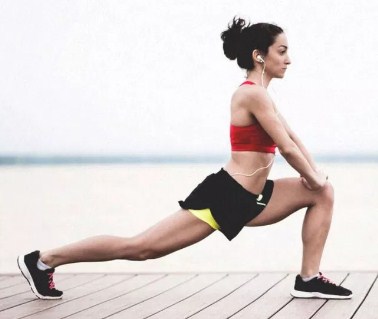 Kneel on all fours on the floor and bring your right knee up toward your right hand.
Position your right foot in front of your left hip so that your foot rests on the front of your groin as you straighten out your left leg by moving backward along the floor.
Sink your body onto the right foot trapped under your left groin.
Try to keep your body low and straight along the floor and resist the temptation to roll off the trapped leg.
This is one of the best hip mobility exercises.
The Importance of Stretching
When combined with the hip mobility exercises already described, stretching will keep your hip joints juicy and slack enough to sluice wave after wave of fresh cleansing blood through to guarantee maintenance. Your joints must be kept loose enough so the head of the femur can move about freely. This allows the forces to be distributed more widely across a greater surface area and does not gouge a single track in the cartilage beds.
Most Read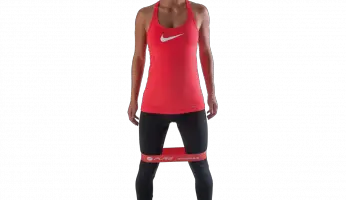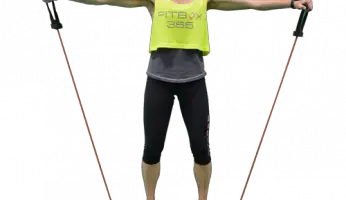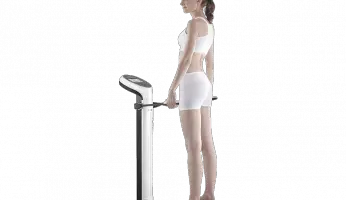 Subscribe to our newsletter