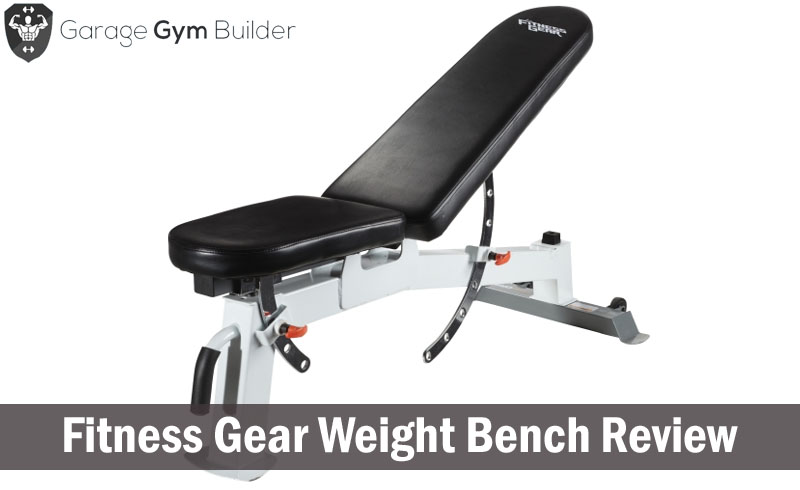 Fitness Gear Utility Bench Review 2018
Fitness Gear produces a full line of exercise equipment including a variety of benches and boards that have garnered a fair share of attention for their high quality, and low price. Though not as well known as other brands of weightlifting benches, Fitness Gear products are excellent entry level benches that are made to last and handle the most extreme loads. Here we'll look at what we consider their three best benches and choose a "best of."
Fitness Gear Bench Review: The Top Three
The Fitness Gear Pro Utility Bench is a versatile, well balanced, good looking piece of fitness equipment made to stand up to day to day use and fully compatible with the company's various rack systems.
The bench feels stable and comfortable regardless of load. And speaking of load, the bench sports a 600 lb total capacity; excellent for a bench this size. The upholstery is wide, firm and comfortable with double stitched seams.
Other features include:
Back pad adjusts to 8 positions
Seat platform can be set to three levels
Powder coated finish to resist normal wear and tear
Discreet wheels and handle for ease of portability
---
The Fitness Gear ab bench has a broad footprint that makes it feel like it's bolted to the floor. The leg rollers are generously padded and precisely aligned to lock your legs into position comfortably and effectively. Also great to use for decline bench presses and will handle up to a 400 lb load.
Other features include:
Great for ab training and dumbbell routines
High density foam upholstery, 2" thick, double stitched
12 gauge steel construction, powder coat finish
Low, wide, stable profile
---
Excellent for CrossFitters or dedicated lifters this Fitness Gear bench can handle up to 400 lbs, is great for all your decline bench press routines and will also allow you to get in a full complement of core work as well.
Low to the ground, comfortable and affordable the standard Utility Bench, like its cousin the Pro Utility Bench is fully adaptable to any Fitness Gear rack system.
Other features include:
High grade heavy duty steel construction
Quick adjustment back rest for any FID routine
Versatile and adaptable to dumbbell, barbell or core exercises
Attractive price point
The Top Three Head to Head
Best Value -

Since none of these benches will break the bank and all are versatile, multipurpose lifting/core benches the standard Utility Bench is just too attractive to ignore. Its ability to adapt to the Fitness Gear rack systems just reinforces the benches' overall value.

Winner: Fitness Gear Utility Bench

Build Quality -

All are made by the same company using basically the same components and quality of steel. All feature double stitched upholstery that complements a wide seat and all are powder-coated to resist abrasion. For our money though there's something about the way the Pro Core bench feels welded to the floor that makes us want to sing its praises, so we will.

Winner: Fitness Gear Pro Core Utility Bench

Performance -

We detected virtually no drop off in performance between the Pro Utility and its standard counterpart. Comfort was virtually the same on both benches as well but the Pro Utility earned separation with its 600 lb carrying capacity. A full 50% greater than either the standard Utility Bench or the Pro Core.

Winner: Fitness Gear Pro Utility Bench
If you've got a few extra bucks and are the type of lifter who might actually need a 600 lb max weight consider laying out the extra $80 to get the Fitness Gear Pro Utility Bench. You'll be happy you did. For the rest of us the standard Utility Bench will do just fine. To learn more about Fitness Gear weight benches click here