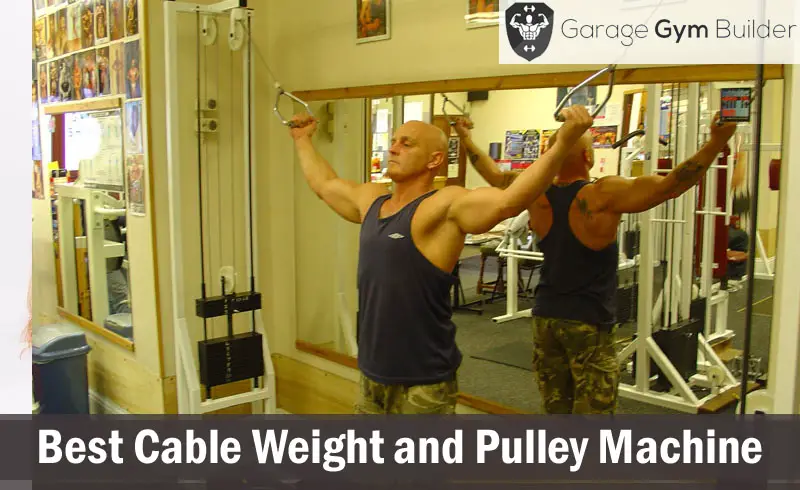 Best Cable Weight and Pulley Machine Reviews 2018
Cable and pulley machines mark the difference between a good and a great home gym. Pulleys will allow you to work your body from different angles, provide you with an unlimited range of exercises and allow you to do eccentric and isometric training. Yet, finding a quality cable and pulley machine for your home gym isn't easy. In this article, we bring you the 10 best cable machines on today's market.
A Quick Glance at the Top Cable and Pulley Machines
We loved the Powerline PCC090X Cable Crossover machine,which is our favorite cable and pulley machine. It packs 8 high resin pulleys into a commercial grade machine that you can have at a garage gym price. We were also very impressed with the Caribou III Home Gym & Smith Machine, with it's smooth oilite cabling system coupled with a high end Smith machine.
Our third favorite cable and pulley machine is the XMark Functional Trainer Cable Machine, which provides dual weight stacks on smooth tracks for a very natural training experience.
Top 10 Cable and Pulley Machines
We've rated the Top 10 cable and pulley machines on the basis of price and durability, and then given an overall rating. The following section will provide in-depth reviews of all 10 machines.
The Top 10 In-Depth
The Powerline Cable Crossover home gym provides you with a very sturdy large frame that contains eight high resin pulleys. Each pulley contains sealed ball bearings for the smoothest operation. The carriage system moves along nylon bushings to provide you with a friction free movement in every direction. The top and bottom pulleys swivel to 180 degrees.
The Powerline Cable Crossover does not comes with a weight stack. However, you can load it with either standard or Olympic weight plates. You can perform chin ups on the top of the main frame and the unit comes with handles for this purpose. You also get two cable handles and an ankle strap. The frame comes with an impressive 10 year warranty.
Eight high resin pulleys
Friction free cable movement
180 degree pulley swivel
Great price
The Caribou III by Yukon is a beast of a home gym which provides you with one of the safest, most natural feeling cable systems out there. It features a cable crossover, high and low pulley system and smooth oilite bush and cabling system. This is really a complete home gym in one very impressive unit.
The Caribou III is also a Smith machine. It provides you with the feel of free weights backed by the safety of the most advanced Smith carriage on the home gym market. The unit comes with dual bar holders and safety rail spotter arms. It also comes with a padded bench that is adjustable for incline and decline work. The weight stack is not included in your purchase.
Cable Crossover
Oilite bush and cabling system
Smith machine
The X Mark functional trainer cable machine provides you with dual weight stacks which are each attached to cable pulleys. This allows you to work each limb separately. The weight stacks run to 200 pounds each. The quick adjust pulleys can be instantly set to 19 different points along the frame, allowing for user customization.
The main frame is heavy duty 2 inch by 3 inch square steel with a powder coated finish. The unit comes complete with sturdy pull up bars and a storage area in the center to hang your spare handles and cables. Included in the purchase are two hand straps, two long strap handles, a triceps rope, a short bar, long bar, leg extension / curl strap and an ankle strap.
2 x 200 lb weight stacks
19 pulley settings
2 inch by 3 inch heavy gauge steel framing
Expensive
Difficult to assemble
The Body Solid Cable Cross Training Center features a dual weight stack of 160 pounds each. Each stack arm features a vertical cable carriage system which is made from fibreglass reinforced nylon pulleys and locking, with universal attachment connections. This provides a very smooth, friction free cable operation. The cables swivel to 180 degrees, allowing for unrestricted movement through multiple planes of motion.
The frame of the Body Solid is made from commercial grade 11-gauge 2 inch by 4 inch oval tubing. It is finished with a scratch resistant powder coating. The handles are ergonomically designed to provide the best level of grip comfort and range of exercise motion. This unit comes with a dual position chin up bar.
Dual 160 lb weight stack
Cable swivels to 180 degrees
Friction free cable operation
11-gauge 2 inch by 4 inch oval tubing frame
No rubber stoppers on the bottom of the weight stack guide rails
The Marcy 150 lb Stack Gym is a complete home gym with padded seat and pec dec. It features both a high and low pulley and comes with a 150 pound vinyl coated weight stack. The pulley system features reinforced nylon cabling and ball bearing operation that is smooth and natural feeling. Dual function press arms allow you to work each limb individually.
The Marcy 150 lb Stack Gym is made from heavy duty 14-gauge steel, and is finished in a stylish powder coating. Thick, padding on the seat and back provide support and comfort while training. An adjustable preacher bicep cable attachment allows you to perform cable preacher curls. It also comes with a lat bar, ankle strap and link chain.
150 lb vinyl coated weight stack
Nylon cabling and ball bearing operated pulley system
Thick padded seat and back support
Unclear assembly instructions
Limited weight stack
The Marcy Smith Machine is an all-in-one home gym system that features an excellent high pulley cable system. It includes a Smith machine pressing bar, pec dec station and and a fully padded bench with incline and decline capability. The independent motion upper pulley station features a steel aircraft cabling system that is smooth and quiet. It is rated to 2,000 pounds.
Marcy Smith Machine comes with it's own pull up bar and leg extension / curl attachment. It is constructed from 14-gauge square steel tubing to create an extremely robust frame. The back pad is multiple position and offers thick cushioning with a vinyl leather covering. The back of the unit has four Olympic weight storage posts.
Aircraft steel cabling system
2000 pound cable rating
14-gauge square steel construction
Multi purpose bench
Assembly instructions hard to follow
No lat pulldown bar
The BSG10X home gym comes nearly fully assembled; you simply have to secure nine bolts and you are done. This gym has a very compact footprint, with the frame measuring just 4 foot by 6 foot. The 160 pound weight stack can be attached to high, mid and low cable pulleys. Military grade aircraft cables have a whopping 2,200 pound tension strength.
The cables swivel at the ends to provide a safer, more durable weight and pulley experience. The no cable change design means that you can switch between exercises quickly and easily. Precision machined ball bearings allows for a very natural, smooth cable movement. The frame of this unit is made from 11-gauge square steel, making it tough and durable.
Comes nearly fully pre-assembled
160 pound weight stack
Military grade aircraft cabling
No overly stable when max weight is selected
The Body Solid Powerline home gym provides you with an impressively durable mainframe made from 11-gauge steel tubing. The cabling is even more impressive, with a 2,200 pound tensile strength rating. A telescopic, chrome plated adjustable seat post allows for customized positioning while the swivel ends on all of the cables provide for a very smooth dbling experience. The max poundage on the selectorized weight stack is 160 pounds.
The Body Solid home gym features high, mid, and low pulleys to provide you with a huge range of exercise options. You also get an 8-position adjustable arm and leg developer and a lat pulldown bar. Body Solid Powerline home gym even comes with a seated rowing foot plate.
The Valor Fitness Plate Loading Lat Pulldown features high tension nylon pulleys to provide a natural, smooth pulley operation. It provides you with both high and low pulleys for a full range of exercises. The plate loaded carriage system can hold up to 250 pounds of resistance.
The solid steel frame of the Valor Lat Pulldown is made from 2 inch by 2 inch, 12 gauge steel tubing. It features a thick padded seat with knee pads to allow you to lock in your position. A back pad against the main frame provides extra support. The system comes with a neoprene ab crunch harness, and a front lower cable attachment.
High tension nylon pulleys
Plate loaded carriage system (250 pounds)
Solid steel frame
Get the most from your cable weight and pulley machine with a complete cable machine workout for every part of your body. Check it out here . . .
The Body Solid Dual Cable Column features a twin 160 pound weight stack attached to cable handles. The mainframe is very solid, being built from 2 inch by 4 inch steel. The unit is quite compact, requiring just a 3 foot by 4 foot area. The pulleys are fully adjustable up and down. They can be moved instantly with a pop-pin arrangement.
The cables and pulleys used on the Body Solid Dual Cable Column are aircraft quality, rated up to 2,000 pounds. This provides you with an impressively smooth, quiet cable workout experience. You can perform more than one hundred exercises on this unit. This home workout machine comes with an unconditional lifetime warranty.
Twin 160 pound weight stacks
Fully adjustable pulleys
2,000 aircraft quality cabling
Conclusion
The best home based cable weight and pulley machine that we found was the Powerline Cable Crossover, which provides you with a smooth, natural commercial gym-like operation for a fraction of the competition's price. We also loved the Caribou III home gym, which provides a very smooth cabling operation and comes with a high end Smith machine. We strongly recommend these for your home gym.

Our bronze medal home cable system winner was the X Mark functional trainer cable machine. It gives you dual 200 pound weight stacks, multi adjustable pulleys and a very solid frame structure.