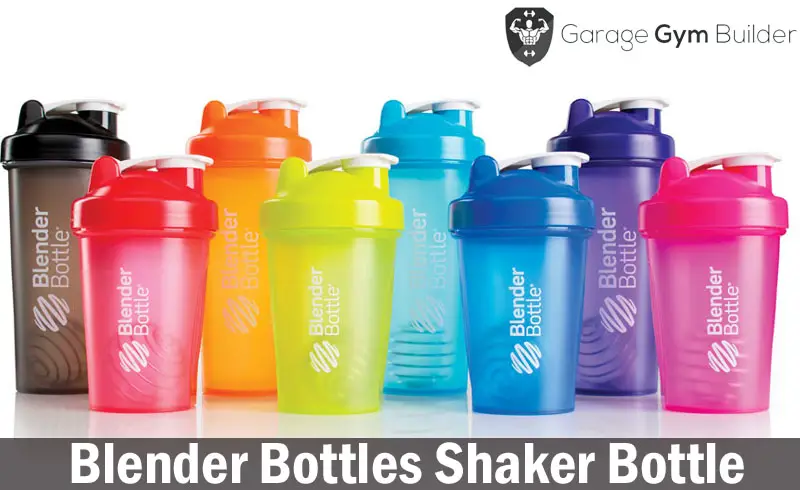 Blender Bottles Shaker Bottle Review 2018
Getting protein into your bottle before during and after your workout is the key to muscle growth. It will fast track amino acids directly into the muscle cell, putting you into an anabolic, muscle building state. Blender bottles allow you to carry, mix and consume your protein shake right in the gym. Advanced blender bottle technology now allows you to blend up your shake as effectively as if you were using an electric blender.
In this article, we take close look at the popular Blender Bottle shaker bottle. We'll also compare it with 3 alternative brands.
The Blender Bottle Shaker Bottle is a loop top shaker bottle that comes in three sizes; 28, 30 and 32 oz. The patented mixing system makes use of a high quality 316 surgical grade stainless steel blender ball that is unique to the Blender Bottle brand. The ergonomically designed flip cap makes it easy to work with and the tapered spout is extremely pour friendly.
The Blender Bottle Shaker Bottle is BPA and Phthalate friendly and can be used in the top layer of your dishwasher. It also features a loop carry top which allows you to connect the bottle to a backpack or the outside of your gym bag. This Blender Bottle provides a very smooth consistency of blend without having to over-shake it. There are no chunks, clogging or residue in your finished shake.
The Blender Bottle Shaker Bottle comes in a range of colors.
316 surgical grade stainless steel blender ball
Patented loop top
BPA and Phthalate free
Blender Bottle Shaker Bottle Alternatives
​The Blender Bottle people produce a range of high quality protein mixers. In this section we discover how they compare to the competition as we zoom in on the Umoro V3, the Fit 'n Fresh Jaxx and the Gabor Sports Octomixer.
The Umoro V3 Shaker Bottle is a 3 in one blender bottle that provides you with a blender bottle, storage box and water bottle. That makes this is a more convenient product that the Blender Bottle as it allows you to keep all of your gym supp requirements together in one compact unit.
The Umoro V3 Shaker Bottle instantly transforms from a water bottle to a shaker bottle with the simple push of a button. The Umoro V3 is also BPA and Phthalate friendly. And if the bottle does end up leaking you are protected with a 12 month warranty.
3 products in one
BPA friendly
12 month warranty
The Fit 'n Fresh Jaxx 28 ounce blender bottle makes use of a patented agitator which does a superior blending job thanks to a metal weighted center. The result is a harder working agitator that provides you with a better quality of blend that produces a very consistent drink. This bottle also features a unique design that works with the agitator to improve blending results.
The Fit 'n Fresh Jaxx shaker bottle comes with resilient leak proof lid that will keep your shake in the bottle where it belongs rather than all over your gym bag. The bottle is available in six colors, is BPA and Phthalate free and dish-washer safe.
Patented agitator
BPA free
Leak proof lid
Lid is hard to pop on and off
The Gabor Fitness Pro Sports Octomixer is much more than just a blender bottle. It also provides you with not one but two compartments for storage of your supplement capsules and and your protein powder. When it comes to providing you with a quality mix, this blender stands out. The patent pending Octomixer provides you with an eight edged blade to provide you with a very concentrated mix that produces a smooth clump free finish.
The Octomixer comes with very secure screw on lid long with lockable flip top. The integrity of these components ensures that you won't have to suffer with spills or leakage from your blender bottle. This BPA and Phthalate free bottle even comes with a lifetime warranty.
Two storage compartments
Patent pending Octomixer
Tight screw on lid
A little tricky to hand wash
Conclusion
The Blender Bottle Shaker Bottle is a top quality shaker that features a patented loop top and 316 surgical grade steel ball for a quality mix. This is a user friendly bottle that is both reliable and cost effective.
When it comes to Blender Bottle alternatives, we prefer the Umoro V3 Shaker Bottle, with its 3 way versatility, high quality blending ability and 12 month warranty.