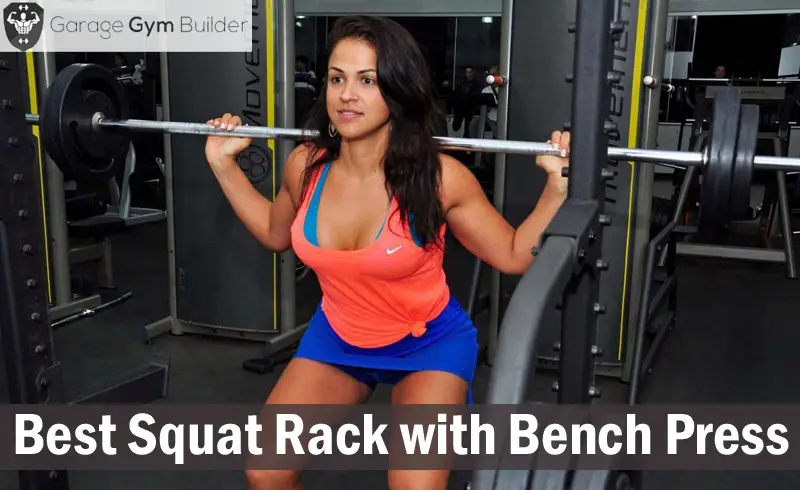 Best Squat Rack with Bench Press Review 2018
If you want to pack on muscle, your two big moves are going to be the squat and the bench press. They will pack mass onto your frame quicker than any others. Your home gym needs to be equipped with a hardy rack that will allow you to perform these two vital exercises safely and securely. In this article, we'll review the top 10 squat racks with built in bench press capability.
A Brief Overview of the Top Squat Racks with Bench Press
Our favorite squat and bench rack combination is without a doubt the Rogue 90-Inch Monster 3 x 3 Power Rack. This heavy duty beast features 3 x 3 inch high grade steel framing, Westside hole spacing and comes with a multi grip pull up bar. The Powerline PPR 200X olympic bench and squat rack also impressed us,with it's high end specs, generous interior room and reliable safety supports.
The best value rack we found was the Valor Fitness BD7. It is a full spec power rack that allows you to perform squats and presses with absolute confidence and at a price that won't break your budget.
To make it easy for you to compare the Top 10, we've rated each weight bench with squat rack on a scale of 1-5 in terms of price and durability. We've also given an overall rating. In the following section we'll go in-depth on each product.​
The Top 10 In-Depth
The Rogue 90-Inch Monster Squat Rack provides all the strength of a full-on power rack in a compact form. The 3 x 3 inch 11-gauge steel uprights with huge ⅝ inch bolts provide maximum rigidity with a max weight capability of 1,000 pounds. It features a fat/skinny pull up bar and Westside hole spacing, which gives you more squating options.
With one inch spacing through the bench press zone and 2 inches through the squat zone, the Rogue Monster allows you to get the perfect placement. It comes with a pair of j-cups with protective plastic inserts. This rack is the sturdiest, most well constructed squat / bench combo that you'll find anywhere.
3 x 3 inch 11 gauge steel uprights
Westside hole spacing
Max weight 1,000 pounds
The Powerline PPE 200X power rack bench press and squat unit provides a wider than normal walk in zone to allow you to more efficiently get into squat position. You also get a lot of side to side movement inside the rack to allow you to perform lateral power moves. The rack provides 18 hole positions to allow you to squat and bench at a range of heights.
The Powerline PPE 200X power rack comes with a pair of heat tempered lift-offs and two saber style safety rods. An optional lat pulldown attachment is available. The rack is compact, with a footprint of 44 x 82 x 46 inches. Assembly is straight-forward with tools provided. Powerline provide a 10-year warranty on the frame.
Wide walk-in zone

Compact footprint

10 year frame warranty
Some shakiness when you load the plates
The Valor BD7 is a full power cage made from 2 inch by 2 inch, solid steel uprights. It has four 8 inch plate storage pegs, and four chrome adjustable weight bar supports. A full range of holes allow for flat, incline and decline bench pressing. The hole spacings range from 17.5 to 68 inches.
The Valor BD7 is a solid, reliable olympic bench press set that comes in at a great price point. It allows you to safely squat up to 585 pounds and bench at every conceivable angle. It will not take up a huge amount of space and comes with a lat pulldown and low pulley attachment to allow you to work your lats and biceps.
Excellent price

Compact

Lat pull-down attachment
Limited range of motion on lat tower
The Body Solid GPR378 squat rack set is made from heavy duty high tensile 11 gauge high strength steel, making it incredibly rugged. It features all four side welded construction and oversized industrial hardware. The power rack is finished in a powder coat finish which is chip and rust resistant. The unit has a wide walk in design to give you more freedom of movement inside the cage.
Heat tempered lift offs provide maximum strength for the squat bar. Saber style safety rods act as a reliable spotter when you're on your own. There are twenty levels of adjustment to allow you to squat, bench and deadlift at every level. You can lift a maximum weight of 800 pounds with this unit.
High tensile 11 gauge steel frame

20 levels of adjustment

Max weight 800 pounds
Bottom cross bar may interfere when unracking for squats
The Titan T2 Rack is a 2 inch by 2 inch heavy gauge steel adjustable squat rack that can be lowered to accommodate bench pressing. The bar supports are adjustable 21 positions and the frame has extra wide feet to provide maximum stability. This compact unit measures 48 x 45 x 58 inches, providing you with plenty of walk in space for side to side movement.
The Titan T2 Rack is very easy to assemble. The spacing between the uprights is generous, meaning that your can perform both close and wide grip bench moves. This short power rack is ideal for squats, military press, bench press, curls, shrugs and dips.
2 inch by 2 inch heavy gauge steel construction

Compact footprint

Easy assembly
Not suitable for taller users

The Merax Athletics Power Rack has an 11-gauge 2 x 2 inch steel mainframe with a scratch resistant powder finish. The 1/8th inch wall tubing is very strong. You get four solid chrome adjustable weight supports with this rack along with an impressive 21 hole positions to place them, ranging from 17.5 inches to 68 inches.
Your purchase of the Merax rack comes with a lat pulldown tower, which runs smoothly, enabling you to get in a great back and triceps workout.
The load capacity is 800 pounds when using the safety bars. The two safety spotter hooks are fully adjustable. There are also four olympic weight plate storage pins.
The Merax Power Rack has a scratch resistant baked powder coat finish, and skid resistant feet. The base of the unit is extra wide, providing maximum rigidity.
11 gauge 2 x 3 inch steel main frame

Lat pulldown

21 bar positions

Extra wide base

A bit crammed inside the cage

The Fitness Reality 810XLT is made from oversized heavy duty steel tubing. It has a generous walk in space providing easy side to side movement.. The unit has an 800 pound maximum weight capacity. The two solid safety catch bars are fully adjustable.The rack is made from 2 x 2 inch square steel tubing. There are two 3 ¼ inch long chrome dual mounted safety bars and two 23 inch long chrome dual mounted safety bars. The safety bars are suitable for 7 foot Olympic bars.
Rubber feet on the base of this unit are anti skid and scratch free, giving you the peace of mind that the unit won't move when you're under the heavy iron. The uprights are adjustable enough to allow you to perform decline bench presses though the safety catches need to be a little longer to provide true support..
800 pound max weight capacity

Solid safety catch bars

Skid resistant rubber feet

The REP Power Rack PR 1000 is a heavy duty squat stand with built-in bench press safety stands. The two inch by two inch heavy gauge square steel tubing is extremely hardy, allowing you to perform heavy squats as well as incline decline and flat bench presses in perfect safety. The base of the unit is extra wide to increase stability.
The REP Power Rack provides a full range of adjustable positions that are spaced two inch apart throughout the working area. There are also storage weight pegs on the back of the unit to add extra stability. The unit is finished in a scratch resistant matt black paint. This rack provides you with a 1,000 pound weight capacity, and 400 pound capacity on the pull up bar.
2 x 2 inch heavy gauge square steel construction

Extra wide base

Storage weight pegs for added stability

Corners of main frame may chip paint
The Ollieroo Multi Function Rack is a free standing squat rack that is height and width adjustable. This is a sturdy and durable rack that is made of high quality steel. It has a max load capacity of 480 pounds. This rack is double height adjustable. The adjustable barbell rack accommodates a variety of heights.the bracket height range is between 46.8 and 68. Inches.
Non slip and abrasion resistant rubber end caps firmly position the end caps and prevent damage to your floor area. The innovative and multi function design features a Bell Bar and a unique base design. This rack is ideal for flat, incline and decline presses, squats, curls and rows. There are two plate holding pegs on the base of each upright to keep your area tidy while also providing extra stability.
Sturdy and durable

Double height adjustable

Non slip rubber end caps

Some users have noted wobbling of uprights with heavy weight
The Yaheetech 2 piece adjustable rack consists of a pair of adjustable barbell stands. They are constructed from heavy gauge carbon steel. The base of the stands are very secure with extended feet. Anti skid and anti scuff rubber feet provide stability, preventing any movement while you are lifting weight. Each post comes with a fully adjustable safety spotter.
The maximum capacity of the Yaheetech 2 Piece Adjustable Rack is 390 pounds. You can perform incline and decline bench work by adjusting the safety spotters accordingly. The uprights are easy to assemble and comes with a full set of instructions. This is a good choice for beginner / intermediate lifters who have limited space and don't require a full power rack set-up.
Heavy gauge carbon steel uprights

Very secure base

Easy to assemble
Limited max weight of 390 pounds
Squats are the number one movement for getting big and strong. They are also the most abused and incorrectly done exercise in the gym. Check this clip to perfect your squat form and get the most out of the king of exercises . . .
Conclusion
The very best squat rack bench press combo unit on today's market is the Rogue 90-Inch Monster Squat Rack, with it's 3 x 3 inch high grade steel framing, Westside hole spacing and generous interior spacing. We were also very impressed with the Powerline PPR 200X power rack, which provides plenty of cage room and offers superior level of support and rigidity.
The Valor Fitness BD7 rounds out our top 3 favorite bench / squat combination racks. It is a full feature power cage that is very sturdy and comes in at an extremely affordable price point. Read our guide here if you want to know more about power racks.