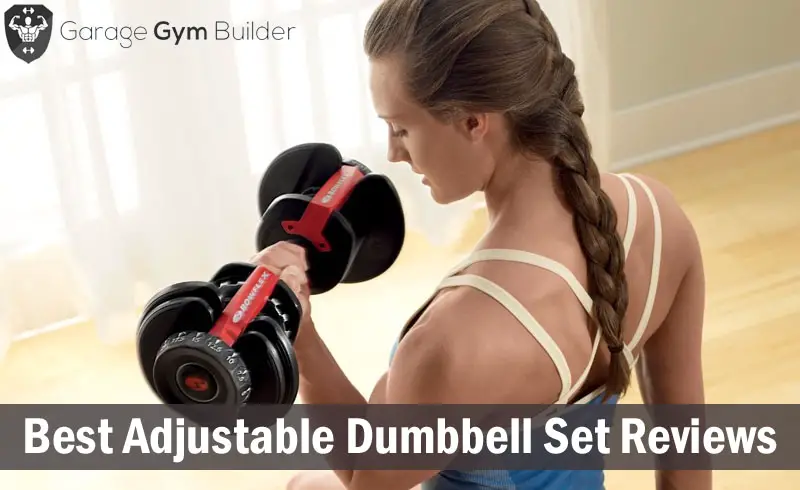 Best Adjustable Dumbbell Set Reviews 2018
If you are seeking the best adjustable dumbbell sets on the market today, you can easily locate them online at the top fitness companies. We've listed the 4 best adjustable dumbbell sets below. Below that table we have gone into much more detail about each of the four brands.
To make things easy,and consistent I rated dumbbell sets that come in a pair. All of these sets have options to upgrade to higher weight.
| | | |
| --- | --- | --- |
| | | AMAZON BEST SELLER: Each adjusts from 5 to 52.5 pounds; adjusts in 2.5-pound increments up to the first 25 pounds. ​Combines 15 sets of weights into one. 2 year warranty on weight plates and parts​ |
| | | Has a weight range of 5-50 lbs per hand. 10 year home use warranty. Replaces 16 pairs of dumbbells in the space of 1 |
| | | BUILT TO LAST: Adjusts from 5-45 lbs in 2 1/2 lb increments. Heavy duty construction with welded steel, chrome plated handles. No plastic or fragile parts to break. Limited lifetime warranty |
| | | BUDGET OPTION: Adjusts from 5-25lbs. Comes with storage tray |
Those four premium brands all make adjustable dumbbells that are premium in quality and equitable in price. You just need to determine which of the four dumbbell sets best meets with your personal preferences and weightlifting and fitness criteria.
The Bowflex name is synonymous with fitness and working out and these dumbbells are no exception to that fact. These dumbbells are relatively inexpensive and are helpful in enhancing the exerciser's range of motion or ROM.
Bowflex adjustable dumbbells enable veteran lifters to maintain and add to their muscle building routine and help new weightlifters to lose weight and stay toned. If you start out with these dumbbells, it is unlikely you will make a switch unless you want to experience more of a challenge or start working out to compete in weightlifting contests. If that is the case, you probably would make a switch to the Powerblock adjustable dumbbells, which are often used by weightlifting aficionados. Otherwise, you will probably stay with Bowflex as long as you make weightlifting a habit.
If you do choose the Bowflex brand, you will also need an adjustable flat bench. The bench should incline at 45 degrees and 90 degrees. A rubber mat should also be included as an accessory. Don't forget a dumbbell rack too for your new Bowflex equipment. Among Bowflex models, you will be very pleased with the Select Tech 552 dumbbells, which are noted as being the best adjustable dumbbells online by many weightlifting experts.
The weights on this Bowflex dumbbell set range from 5 pounds all the way to 52.5 pounds, each of which can be increased in 2.5 pound increments. Since many adjustable dumbbells increase in 5-pound increments, beginners appreciate the more gradual increase in weight. You will like the dial on the dumbbells which allows you to increase the weight in a blink of an eye. The weights come with a 2-year guarantee- a great deal if you are just beginning a weightlifting program or routine.
Powerblock adjustable dumbbells are some of the sturdiest dumbbells on the market. The weights can be made heavier or lighter, depending on your workout routine. These dumbbells are simple to adjust and therefore make quick work out the process. The fast change tool on the dumbbells is one of the equipment's popular features.
Powerblock dumbbells feature a selector pin which naturally fits into one of various sockets. The Elite 90 dumbbell set by Powerblock comes with selector weights that range from 5 to 90 pounds. The adjustable weights also come with a couple 2.5 pound removable weight bars.
According to fitness experts, the Powerblock dumbbell set is an advanced adjustable system. Once the dumbbells are set at the fixed rate, they almost seem to lock in place. The pin weight on the equipment is virtually unbreakable, if not indestructible. This strong set of dumbbells makes any user a stronger and more proficient weightlifter.
Ironmaster lives up to its name as its adjustable dumbbells provide a rock solid workout as they are, not in anyway, flimsy, once you adjust the weight. It does take more time to readjust the weight settings. However, it is worth the extra time it takes to make the adjustment (mere seconds) even though the brand says its adjustment setting features a quick-lock mechanism
You won't experience any problems with rattling or a less-than-secure setting once the adjustment is made. Therefore, you are guaranteed a safe and optimally secure workout.
This set of adjustable dumbbells are traditionally designed and safe and secure, making them a bit higher in price. If you can afford to spend the extra money, you won't regret the purchase. Most consumers either choose the 45 lb. adjustable Ironmaster set or the 75 lb. dumbbell set. Both come with the Quick-lock feature and stand. The brand also sells an adjustable weightlifting bench.
If you regularly lift weights, you probably also consistently hear about Weider products. The Weider name is routinely acclaimed. Weightlifters like the adjustable Weider dumbbell sets for their knurled type handle, which makes each dumbbell easy to grip and lends to a better workout routine.
The Weider adjustable dumbbell set offers a power switch feature that permits weightlifter to switch between weights without difficulty. The user simply adjusts a knob for the desired weight and proceeds with his workout routine. The only drawback about the adjustable set is its flimsy plastic tray, which is used for storing the equipment. It certainly won't last like the weights. However, if you don't care about the tray, then buying the dumbbells is still a good purchase to make.