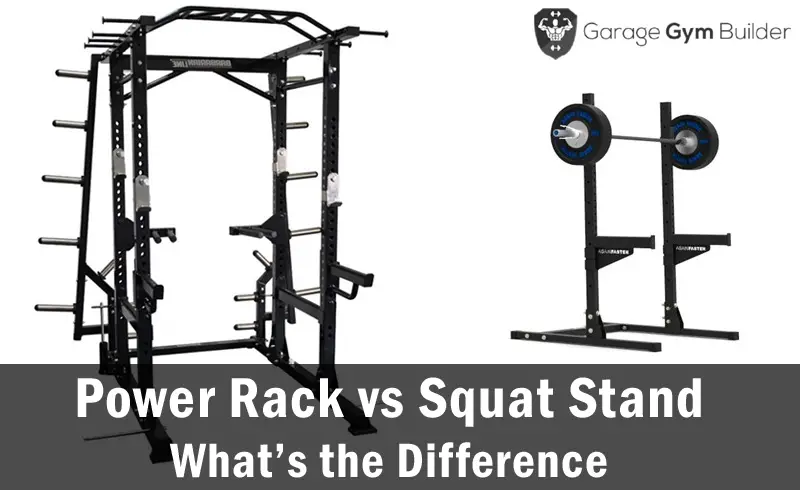 Power Rack VS Squat Stand: Which One Should I Get?
I was planning to max out on the front squat the day my partner decided not to show for our 7am training session in my basement gym. In a weak moment I considered switching to light leg day. But then I saw the power rack beckoning me.
"Come on - man up! I'll be your spotter!"
So, I did.
And it did.
In fact that power rack has proven to be the best training partner I've ever had. It never sleeps in and it will always catch me when I fail. Makes me sorta' glad that I made the extra investment over a standard squat rack.
A month ago, I was weighing up whether to go for a power rack or a squat rack to complete my home gym set-up. February be you've got that same power rack vs squat rack issue going on in your brain. Let me share my experience in overcoming the squat stand vs power cage dilemma to help you make the smart choice.
Squat Stand vs Power Rack
The Squat Stand

A Squat stand is a device specifically designed to support the weight when you are performing variations of the squat movement. It consists of two adjustable metal stands which support a barbell. You position yourself under the bar and lift it off the stands before stepping back and performing the exercise. After the last rep, you replace the bar on the stands.
There are a huge number of machines which mimic the execution of a squat using the squat rack. may bodybuilders and powerlifters prefer to use a squat rack with a free weight because it increases balance, works the stabilizer muscles of the core more effectively and feels more natural.
The Power Rack

A power rack (or power cage) is a device which is designed to allow for spotter free safe weight training using a loaded barbell. It consists of four upright metal posts connected by horizontal framing to form a cage. Two of the uprights feature catches for the bar to sit on at a variety of heights. There are also two horizontal bars which can be set at various heights as safety stoppers for the bar being lifted.
Many power racks also feature extra stations to allow for a wider exercise selection. Typically these will include a chin up station and a dip station.
Squat Stands vs Power Rack: Which Is Best?
If you are looking to equip your home gym, you need to ensure stability and safety when working out. As squats are the undisputed king of weight training movements, you clearly need either a power rack or a squat stand to make your gym complete.
The following considerations will help you to decide between them:
Squat Stand Positives
Cost:

A quality squat stand will cost you between $300-500. This is easily less than half the price of a power rack of comparable quality.

Space:

A squat rack has a relatively small footprint in comparison to a power rack. A typical squat stand will fit into a corner whereas the power rack requires at least a cubic meter of space and a rather high ceiling to accommodate it.
Power Rack Positives
Safety:

The lateral safety pins are your heavy training insurance policy. You can set them to catch the bar if you fail. You'll simply be able to walk out from the rack, or slide out if doing bench pressing type movements.

Rigidity:

Power racks are generally far more robust and sturdy that squat stands. When you are going into the heavy zone, you need to have utter confidence in your equipment. The power rack will give you that assurance more readily than any squat rack.

Versatility:

The squat rack will allow you to do squats in all of it's manifestations. Inside a power rack, however, you can perform squats, along with deadlifts, bench presses, inverted rows, dips, chin ups, rack pulls, upright rows, barbell curls along with many other movements.
We've scoured the market to find the most versatile, hard working, safe and cost effective power racks available today. Here are our top 3 picks:
Here are our top 3 picks:
The Rogue R3, R4 and R6 Power Racks series are the Ferarris of the industry.
Their showpiece mode is the R6 which features 2" x 3" 11 gauge steel, has plenty of plate storage, features two different pull up bars and protective j-cups and spotter bars.
The Rogue R6 is an ideal rack for the experienced lifter who is used to throwing around serious poundage and demands a rack that's as tough as he is.
---
Specifically designed for rooms with low ceilings, this versatile rack offers 21 setting positions, comes with j-hooks and includes a chin up bar.
Titan Short Power Rack has a wide walk-in design which allows for plenty of exercise options inside the cage.
The Titan Short rack is ideal for people who have limited gym space in their home and are looking to cater for a safe, compact no frills workout.
---
A basic power rack that does the business that has provision for lots of extras including a lat pulldown attachment.
Unlike the two racks above, this one cannot be anchored to the ground.
This NYB power rack is a great choice for the novice lifter who wants a reliable, safe cage to train in that will allow him to work the whole of his body without having to buy extra equipment.
If you simply don't have the room, or the budget, for a full power rack, there are some great squat stands out there worthy of your consideration.
Here are our top 3 picks:
This solid steel offering from Rogue Fitness is built to last. It's made from 3" x 2" tubing and stands 92" tall.
Rogue 90 has a chin up bar attachment and has a very sturdy base.
The Rogue 90 is a great choice for the serious squatter who demands a solid platform to handle the heavy poundages he throws on his back.
---
With 12 different peg settings, this affordable squatting option can also be used for benching and shoulder pressing.
York FTS also provides two plate storage pegs.
The York FTS is an impressive entry level squat stand for novice lifters that will offer safety and reliability as they master their technique.
---
This heavy duty model from Valor Athletics offers multiple bar rests and adjustable spotter catchers and a walk in squat rack.
Valor Squat / Bench combo can also be used in conjunction with a utility bench for incline, flat and military presses.
The Valor Squat / Bench combo is a heavy duty unit for the experienced lifter who wants a heavy duty squat rack that will also do the business when he wants to max out on the bench press.
The choice between Power Racks vs Squat Racks will generally come down to money and space. If you have enough of both then opt for a Power Rack. Click here to read our in depth article about Power Racks. If you're limited in terms of space, go for a premium squat rack that offers some accessories and that is sturdy and safe.