11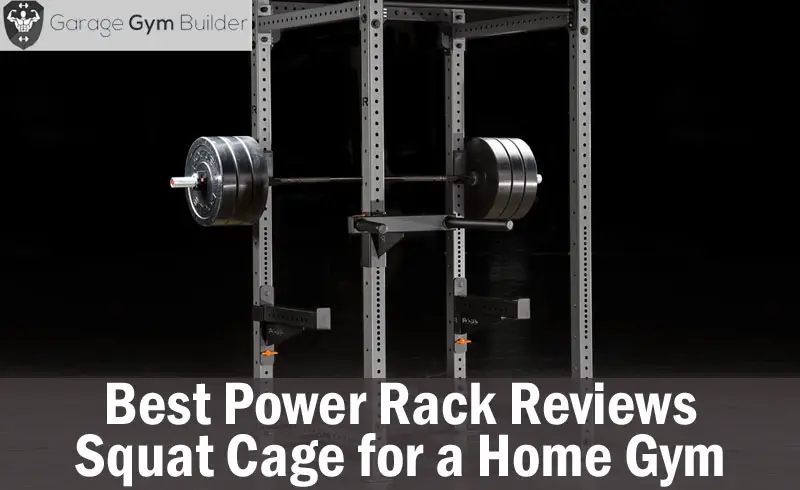 Best Power Rack Reviews 2018 – Squat Cage for a Home Gym
Pro tip:

Make sure to read til the end of the article for a special offer
The power rack is without a doubt going to be your most important, and most beneficial purchase that you make for your home gym. This piece of exercise equipment will take your home gym to the next level and than some.
The Power Rack is an incredible piece of exercise equipment for men and women alike. The versatility of it will blow your mind. It can be used for aerobic exercise training doing Crossfit like workouts or strength training to gain massive muscle all over your body.
We´ve explained everything in detail below, but if you´re in a hurry and just want to know what the best Power Rack for a home gym is we've made it simple for you by choosing the products with the best total value, best overall (regardless of price), and most affordable.
Our Top Power Racks
Best Value Power Rack
BEST BANG FOR YOUR BUCK
The rogue R4 has many of the features of the R6 (our best overall power rack), but is $500 cheaper. The biggest difference between the two is the lack of plate storage on the Rogue R4. However, this issue can be solved by simply buying a cheap plate holder with your rack. This will save you a few hundred dollars, but may take up slightly more room.
The Rogue R4 comes with a built in skinny and fat pull up bar. It's made with stainless steel and is an extremely durable and stable piece of equipment. Definitely the best value product on the market, and one hell of an investment. On the product page you will see an option to purchase a bench with this power rack. If you are planning on doing any type of bench pressing or dumbbell flies I would recommend going for it. The Rogue Bench's are some of the best on the market.
Note: We did a really in depth review of why we think this product is hands down the best power rack currently on the market: Check that out here.​
Best Power Rack Under $500
GO TO CHOICE FOR THOSE ON A STRICT BUDGET
With a large walk-in design, 800 pound max weight capacity and having 2 inch x 2 inch framing, the Fitness Reality 810XLT is easily the most budget friendly power rack on the market. To ensure maximum training safety, a pair of rear lock in stability bars act as a self spotting system. You also get two 23 inch chrome safety bar catches.
With a large walk-in design, 800 pound max weight capacity and hrdy 2 inch x 2 inch framing, the Fitness Reality 810XLT is easily the most budget friendly product on the market. To ensure maximum training safety, a pair of rear lock in stability bars act as a self spotting system. You also get two 23 inch chrome safety bar catches.
Best Power Rack Overall
HANDS DOWN THE BEST FITNESS POWER RACK ON THE MARKET
For the truly serious home lifter, the Rogue R-6 is without a doubt the best squat rack / power rack on the market right now.
If you want enough plate storage and stability to push your limits, be stronger than you've ever been in your life, and set world records, than the Rogue R6 is for you. If you are looking for a power rack that you will never have to replace, the R6 is for you. With 2x Double Plate storage, and 4x Single Plate Storage, along with with a monkey chin up bar, a skinny AND fat pull up bar, and 6 band pegs, this product has it all.
It is a bit more expensive than other racks, but has everything you need or will ever need. This is a squat rack that will never break, and never be outdated. This is an investment that you will not regret.
You will have the option on the product page to buy this power rack with a bench. The Rogue bench's are extremely high quality and unless you already have one at home, I suggest opting for the upgrade.
Note: The Rogue RML-690 technically has more features but is designed more for commercial use. If you are building a gym for your business, or in a school the RML-690 is your answer.
Best Power Rack for Limited Space
FOR THOSE WITH OUT A TON OF SPACE
Not everyones got space for a massive piece of fitness equipment. For those with less available room comes the Rogue RML-390F flat foot monster lite rack.
This rack weighs just under 300 lbs and is actually on the more affordable side for a Rogue Fitness product. The dimensions are 48 x 49 inches, so just about 4 feet by 4 feet, and is only about 92.5 inches tall, or 7 and a half feet tall, leaving more than enough room for most house holds.
Best Entry Level Power Rack
The Merax Athletics Fitness Pro Rack constructed from solid steel chrome with 2 inch by 2 inch uprights. This is an entry level rack that provides a maximum capacity of 500 pounds, but this goes up to 800 pounds if using the safety catches. You get a wide walk-in area to allow you to perform every exercise without restriction. You get some great extras with this rack, including a quality lat pulldown and pull up bars with multi grips. There is also a low cable rowing attachment to allow you to maximally work your back muscles. There are 17 bar position adjustments to allow you to get customization of your bar placement.
This rack is easy to put together and sturdy. One of the best entry level racks we've come across.
2018's Best Premium & Budget Power Racks
More Information on these models, plus a few more...
| | |
| --- | --- |
| | R3 retains all of the same great features of the R4 while taking up a much lesser space. Check out our in depth Rogue R3 review here. |
| | The Rogue R4 is a slightly less expensive version of the R6. It you can't afford the R6 this is a great choice. Check out our in depth Rogue R4 review here. |
| | The Rogue R6 is a fantastic piece of equipment with over 90 different exercise combinations. This is the Power Rack that we use and we love it. Check out our in depth Rogue R6 review here. |
| | The most expensive Rogue Power Rack available and for good reason. This power rack is a beast. Check out our in depth Rogue RML 690 review here.. |
| | Great power rack for a great price. Again, if you can't afford the Rogue products this is a great rack to look at. Check out our in depth Valor athletics rack review here.. |
| | |
| | Ideally, if you can't afford the others this will do the job.The Titan Short Power Rack comes with a basic but durable frame, weight pegs, a, 700 lb Rating, and Optional Upgrades. |
| | A solid steel rack that comes with so me solid extras, including a lat pulldown. This is a solid entry level power rack. |
Power Rack Benefits
Why a Power Rack is So Much Better Than Other Gym Equipment
Basically no other type of gym equipment provides a complete body workout the way a Power Rack does. Nothing else compares! Without a doubt, once you purchase and start using your Power Rack on a regular basis you will come to realize what an outstanding piece of equipment it really is. No other piece of gym equipment can get you the same results a Power Rack does.
Power Rack Frequently Asked Questions
How to choose a Power Rack?
What to Ask Yourself When Deciding on the best home power rack for you?
A Power Rack workout plays a significant role in any exercise program. But before you make this kind of investment and purchase a top rated power rack, you need to take certain things into consideration.
What Other Equipment Will I Need to Buy?
Housing the Power Rack is one thing, but you also need to think about all the other equipment that goes along with it. You are going to need to make space for weights and other sorts of equipment that goes around the Power Rack.
Remember the barbells are Olympic Size, which means they're quite long. I will write more here later but for now, check out our FAQ that should answer most of your questions in terms of equipment you'll need, and which options are best. See FAQ HERE
Do I Have Enough Space?
To determine whether or not you have enough space you need to measure the Power Rack you have your eye on. Then carefully measure your floor space to see if the Power Rack will fit there. Don't forget to measure the height of your room up to the ceiling, as a Power Rack is no small piece of equipment.
If your ceiling isn't high enough it just isn't going to work, especially since you need to have room enough for your head to fit above the Power Rack when you do chin-ups and pull-ups.
Do I Have Space For Additional Equipment?
You can't have all this equipment rubbing against your walls. Think about whether there is adequate space in your room for the bar to be lowered onto the rack. If not you would have to move around awkwardly carrying heavy weights and bars. So picture how you will actually be using all the equipment and make sure you have ample space for everything.
It can be extremely annoying to go to all the trouble and expense of buying a Power Rack, only to realize after its all set up that you're missing some of the most important accessories. Do your homework ahead of time, reading all the information on the different Power Racks so that you make the right choice. Make sure the one you choose includes all the accessories you want before you actually make your purchase.
How Can I Tell Which Size is Best for Me?
The correct size Power Rack will be different for a man over 6' 3" than for a woman under 5' 5". Again do your homework ahead of time to make sure you do not choose one that is either too small or too large.
Look at all the dimensions and make sure that the squat cage is large enough for you. The shorter and narrower it is, the lower the price usually. But don't let price be a consideration when determining the correct size for you.
Can I Anchor My Power Rack to the Floor?
If you plan on doing chin-ups and pull-ups your Power Rack had better be solidly anchored to your floor. However not every Power Rack has this option, so you decide how you're going to use it and make sure you're going to be safe.
How Easy is It to Use and Adjust?
Before you make your purchase make sure you know exactly how to use a Power Rack and that you're able to easily make all the adjustments. Some come with a safety system that uses pins and for some people adjustments are difficult to make. Do your homework reading all the reviews online and see what real users have to say about the ease of use.
Does the Power Rack Come With a Stabilizer?
Some Power Racks do not need to be anchored to the floor and instead may come with a stabilizer bar. At times this bar can be annoying, as it seems to be in the way and can possibly cause an injury. You must look to see if the Power Rack you are thinking about has a stabilizer bar and if so look at it carefully and consider whether you want it or not. If it isn't removable or at least flush to the floor, you may want to pass.
Shipping a Power Rack
This is a huge piece of equipment. Because it's so heavy and cumbersome it can be very costly to ship. You also have to consider how you're going to get it inside.
Before you buy, ask:
How they intend to ship it.
Will it come in parts that need to be assembled once inside your home?
Or does it come all in one piece?
If so how will it fit through your doorways?
What will the shipping costs be or do they provide free shipping?
If the cost of shipping the Power Rack is going to be nearly as much as you're paying for the rack itself, you may want to reconsider.
Advantages of Using a Power Rack
Power Racks were specifically designed to be used with free weights. When you workout with free weights you can become stronger and build more muscles than by working out on a machine alone.
When working out with free weights you are required to use your primary muscles as well as your stabilizing muscles. Using both a Power Rack along with free weights will give you much better results than just using the machine alone.
Power Racks have safety pins on each side that can be set according to your needs. They are there to stop the barbell in the event that something doesn't go as planned. This safety feature allows you to do your workout without needing a spotter. If something happens, you can just let go of the bar and the pins are there to catch and stop it.
If you want to gain muscle mass and build strength you will want to include squats in your workout. Without having a power rack it is nearly impossible to get the bar up and on your back. But what's worse, trying this could lead to an injury because you might use an improper method or form. But by using a Power Rack, squats and other exercises can be performed quite easily.
To have a good workout you will want to be doing a lot of different exercises. Power Racks are very versatile in that you can do chin-ups, pull-ups, dips, bench presses, squats and all sorts of other exercises. This is a supreme piece of equipment for weightlifting.
Disadvantages of a Power Rack
Make no mistake a Power Rack is an incredible piece of equipment for getting great results from working out. It's a winner when it comes to a home gym. But to be honest there are some problematic issues that people need to consider.
This is a huge piece of equipment to have in your home. You will need a large room to house it and all the other equipment that comes with it. Your ceiling must be high enough to give you head room when doing pull-ups and chin-ups.
A Power Rack won't come with all the weights and other equipment that you are going to want. This means that you will need to buy these things. So figure in the cost of benches, barbells and weights.
Because it's a given that you will have to buy more equipment, the total cost of a Power Rack will be more than you would spend on many other pieces of workout equipment. Power Racks are more costly than a squat stand would be on its own.
Smaller Options to Consider Over a Power Rack
If it turns out that your house will just not accommodate the size of a Power Rack there are other alternatives. Should you buy a Smith Machine or perhaps a Bow Flex? Well I wouldn't recommend those if you are aiming for good results. Keep in mind that nothing provides better results than using free weights.
Squat Rack
This is fundamentally an open Power Rack really. It is slightly smaller, but keep in mind it isn't as safe as a Power Rack and this is because they don't usually come with pins. When they do, they aren't adjustable. The top of the line squat rack really doesn't hold a candle to a Power Rack. Love it? Read our best squat rack with bench press review article.
Squat Stands
This is another option that would be smaller than a Power Rack. But, they tend to be unstable and have been known to tip over if the user isn't careful. They also do not come with safety pins. But people have used sawhorses instead of safety pins and I suppose there are other types of equipment that could serve this purpose as well. For more information check out our article on the differences between squats vs power racks.
Half Racks
For those without a high ceiling this can work well. It is shorter than a Power Rack and a lot less expensive. But if you need a pull-up bar, you're out of luck with this piece of equipment.
Smith Machine
The truth is this is not much different than a Power Rack with the barbell attached. It seems safe to assume this would be even safer than a Power Rack, but it's really not. The other downside to this piece of equipment is that it is dramatically less effective in getting results than free weights because the user isn't working the stabilizer muscles trying to keep the bar level. We honestly do not recommend this piece of equipment at all.
Top 3 Power Rack Guides