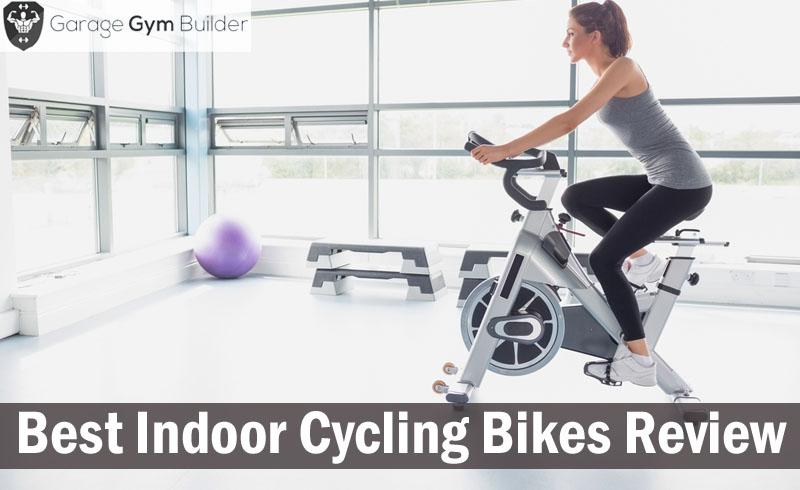 Best Indoor Cycling Bikes Review 2017
Outdoor cycling is a great way to get fit. It is incredibly low impact, burns a ton of calories and does your cardiovascular system a world of good. Indoor cycling takes all of those benefits and adds the convenience factor, allowing you to cycle in any weather and at any time. In this article, we present the top indoor cycling bikes of 2017 to allow you to choose the ideal cycle for your home gym.
A Quick Snapshot of the Top 10
Our favorite indoor cycling bike is the Sunny SF-B1516, a commercial grade bike at a home bike price which features a huge 48.5 pound flywheel for the smoothest ride and micromagnetic adjustable resistance. We were also impressed with the L Now Indoor Cycle, with its 550 pound max user weight, 40 pound flywheel and quality LCD monitor.
The third best stationary bike trainer indoor cycling machine is the Marcy XJ-3220, which provides you with a 40 pound flywheel, quick stop brake mechanism and pedal basket cages.
To allow you to more easily compare and contrast the best indoor cycle bikes, we've rated the Top 10 in terms of price and durability, and then given each one an overall rating out of 10. In the following section, we provide detailed reviews of each product.
| Product | Product Name | Price | Durability | Overall | Product Link |
| --- | --- | --- | --- | --- | --- |
| | | 4.5/5 | 5/5 | 4.75/5 | |
| | | 4.5/5 | 4.5/5 | 4.5/5 | |
| | | 4.5/5 | 4.5/5 | 4.5/5 | |
| | | 4.25/5 | 4.5/5 | 4.25/5 | |
| | | 4.25/5 | 4.5/5 | 4.25/5 | |
| | | 4/5 | 4/5 | 4/5 | |
| | | 4.25/5 | 4/5 | 4/5 | |
| | | 4.25/5 | 4/5 | 4.25/5 | |
| | | 4/5 | 4.25/5 | 4/5 | |
| | | 4.5/5 | 4/5 | 4.25/5 | |
The Top 10 In-Depth
The Sunny SF-B1516 is a commercial grade indoor cycle for discerning home gym users. It is extremely attractive and well designed to provide a sleek finish. The micro magnetic adjustable resistance with press down braking system provides you with a very natural, smooth ride, helped no end by the 48.5 pound cast steel flywheel. The dual click and caged combination pedals ensure that your lower body is ideally positioned for optimum performance.
The Sunny SF-B1516 stationary cycling bike is adjustable in both the seat and handle bars to allow for customized body alignment. The frame is made from high gauge steel, able to support a max user weight of 300 pounds. You also get two water bottle holders and easy transportation wheels with this bike.
PROS
37.5 pound flywheel
Micro magnetic adjustable resistance
300 pound max user weight
The L Now Indoor Cycling Bike has a heavy duty curved steel frame that provides an impressive level of rigidity when pushing hard on the pedals. The 40 pound flywheel is bidirectional and fitted with a continuously variable resistance adjuster. These features ensure that you get a quality, smooth riding experience that simulates what you'd get riding on the road. Seat and handlebars are completely adjustable to fit every member of the family.
The L Now Indoor Cycling Bike can support up to an impressive 550 pounds, making it one of the toughest bikes we've come across. It also provides you with a quality LCD screen that gives you clear readouts of all of your training data. Hand pulse monitors even record your heart rate.
PROS
40 pound flywheel
550 pound max user weight
Continuously variable resistance adjuster
CONS
Handle bars are not completely sturdy
The Marcy XJ-3220 gives you a very smooth ride thanks to it's 40 pound heavy duty flywheel. A centrally located, easy to use adjustable resistance knob allows you to control the intensity of your training session. The quick stop brake mechanism allows you to quickly stop the wheel motion. Your custom fit is assured with complete fore and aft seat adjustment.
The pedals of Marcy XJ-3220 indoor cycling machine are fitted with basket cages that are adjustable, allowing you to push your riding session to the limit. The saddle is a road bike design that is ergonomically designed to provide the most realistic on the road experience you can get. This stylishly designed bike also have transportation wheels for ease of storage.
PROS
40 pound heavy duty flywheel
Quick stop brake mechanism
Basket cage pedals
CONS
Foot pedals may be too small for some
The Pinty Indoor Upright bike provides a quality ergonomically designed shape to give you with a near commercial gym riding experience. It has a 20 pound flywheel which provides a high inertia pedal that is very smooth. The frame of this bike is very strong, as evidenced by its 400 pound maximum user weight. It also features a large foam padded seat for riding comfort.
The Pinty Indoor Upright bike allows you to track your workout with a large LCD display, along with pulse sensing handle bars. Skid proof feet keep the bike rigidly in place when you are working hard. The pedals are made of lightweight aluminum and have adjustable straps to secure your foothold.
PROS
20 pound flywheel
400 pound max user weight
Very strong frame
CONS
A little noisy at full speed
Learn how to set up your indoor cycle for optimum performance with this informative clip:

The Xtreme Power USA indoor cycle is an elegantly designed bike with a solid sleek black frame. It has a 22 pound flywheel, along with a chain drive mechanism, to give a smooth jerk free riding experience. Form fitting pedals feature basket cages to securely lock your feet into place. The seat and handlebars are fully adjustable to allow for customization.
​The Extreme Power cycle has a centrally located LCD monitor to provide you with accurate readouts of your time distance calories burned and speed. An adjustable resistance knob allows you to vary the intensity of your workout, and there is also a quick stop brake for safety purposes. Overall, this is a solidly performing indoor bike that comes in at an attractive price point.
PROS
Chain drive mechanism
Basket cage pedals
Fully adjustable seat and handle bars
CONS
May not be suitable for very tall users
Discover the very best home exercise bikes across all market segments with our Best Exercise Bikes Review 2017 - your new bike may be waiting!
The Tauki Indoor Upright Bike provides a very solid steel frame that can support up to 300 pounds of user weight. The 30 pound flywheel does a good job of providing a fluid, jerk free pedal motion. The adjustable resistance features a press down brake system to allow you to instantly stop the wheel motion. Resistance can be increased or decreased with a simple twist of the dial.
Both the seat and handle bars of the Tauki Indoor bike are completely adjustable to suit every user. A centrally positioned monitor provides you with an LCD readout of your speed, time distance, pulse and calories burned. You also get a phone holder to keep you connected. Transportation wheels allow for ease of movement.
PROS
Solid steel frame
30 pound flywheel
Press down brake system
CONS
Seat may tip back a little while riding
Sunny Health and Fitness are a California based producer of top quality, great priced home fitness gear. Get a comprehensive look at their home cycle range with our Sunny Health Exercise Bikes 2017 - it may lead to the best bike for your budget.
The GoPlus Exercise Bike provides a 22 pound optimally weighted flywheel to provide a relatively smooth riding experience. This bike is ideally suited for children and the elderly, though people who are less than six feet tall will be able to use it effectively. It has a 264 pound weight capacity. The seat is well padded and comfortable, and is able to be adjusted in all directions to provide a custom fit.
The felt brake pad of the GoPlus exercise bike allows for a smooth, easy to operate resistance system. The display monitor provides a record of your important training data, including heart rate and calories burned. You also get a plastic water bottle with this unit.​
PROS
Well padded seat
Felt brake pad
Plastic water bottle
CONS
Only suitable for people under 6 feet tall
The Cycle Fire Indoor Cycling Bike is a stylish indoor cycle that delivers a top riding performance. It has a rugged steel frame that provides you with maximum rider stability.The 40 pound bi-directional flywheel ensures the smoothest of riding experiences with no stuttering or jerkiness. A handy, easy to user tension adjuster allows you to very easily control the intensity of your training session.
The Cycle Fire cycle exercise bike provides a comfortable riding experience. The seat is fully padded and fully adjustable both fore and aft, while the multi grip handle bars can also be adjusted for ideal body placement. You also get a secure tablet holder and a water bottle holder. This heavy duty performer will handle a user weight up to 400 pounds.
PROS
400 pound max user weight
40 pound bi-directional flywheel
Tablet holder
CONS
Handle bars not very sturdy
Nordictrack are an established home exercise manufacturer, best known for their ski machines. Find out how good their home cycle range is with our NordicTrack Exercise Bikes Review 2017 - you might be surprised.
The Xspec Pro Indoor exercise cycle bike has a lightweight, yet heavy duty aluminum frame that ensures that the bike stays in place as you cycle. The saddle is ergonomically designed for ideal lower body positioning and is well padded for comfort. Handlebars have a non slip surface to ensure that your get the best, most secure grip. A belt drive operation combines with the 30 pound flywheel to produce a smooth, natural cycling motion.
The Exspec Pro Indoor bike gives you a high spec LCD monitor to track you vital training stats, including your time distance, calories burned, and speed. It has an emergency brake system, slip free pedals and a maximum user weight of 250 pounds.
PROS
30 pound flywheel
Ergonomically designed saddle
Belt drive operation
CONS
A little noisy at high speeds
The Bladez Fitness Echelon GS is a stylish black curved frame bike with a 40 pound flywheel and a smooth belt drive operation. This gives you a very smooth, natural riding motion. This bike is also incredibly quiet while in operation. It features an adjustable top down resistance with emergency brake to allow for a quick cycle motion stop.
The padded, comfort style seat and multi grip handle bars are fully adjustable fore and aft to provide customization. Pedal toe baskets allow you to secure your foot position and the handle bars are anti slip for a secure grip. The Bladez Fitness Echeleon GS is a racing style exercise bike that is ideal for both novices and serious cyclists.
PROS
40 pound flywheel
Very quiet operation
Pedal toe baskets
CONS
Monitor is a little flimsy
Conclusion
The overall best indoor cycling bike of 2017 is the Sunny SF-B1516, with its massive 48.5 pound flywheel and magnetic adjustable resistance, stylish looks and ergonomic design. Our second favorite is the L Now Indoor Cycle, offering 40 pound flywheel and an amazingly rigid frame that can handle 500 pounds of weight.
​Rounding our top three indoor cycles is the Marcy XJ-3220, a beautiful looking unit that packs in a 40 pound flywheel, ergonomic seat and pedal design and a quick stop brake mechanism.