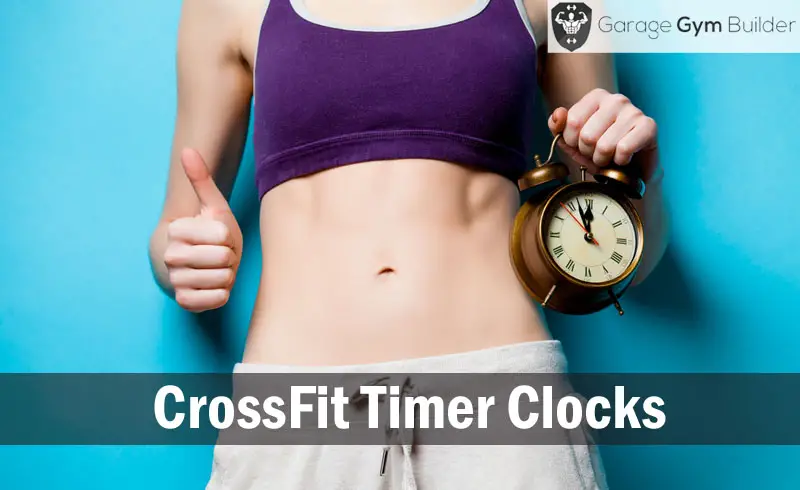 CrossFit Timer Clocks Review 2018
The CrossFit style timed workout has become hugely popular over recent years. The problem for many has been how to time their workout without having to fiddle with the stopwatch function on their phone half way through their workout. A relatively recent fitness innovation has been the CrossFit timer clock. This large, bright, full function timer unit will allow you to monitor your workout time from anywhere in the gym.
In this article, we review the Top 10 CrossFit timer clocks on the 2018 market.
A Quick Glimpse at the Top 10

To make is easy for you to compare the Top 10 Crossfit timer clocks on the market, we've rated each one on the basis of price and durability. We've then given an overall rating out of 5. In the following section, we provide detailed reviews of each clock.
The Top 10 CrossFit Timer Clicks In Depth

The Flex Timer is a completely independent CrossFit and gym timer that you control completely from your Smart Phone. It allows you to instantly and easily connect to your LED fitness training clock. You can choose between five popular interfaces including Interval and Tabata. You can also set the timer to either count up or count down.
The Flex Timer features large, clear LED display that is visible from anywhere in the gym. The portability and easy set-up of this unit makes it ideal to take with you to the gym or to set up in your own garage gym. With this device you can fully plan your workout in advance, or save it for later analysis. It provides you with a 100 foot range, so you will never be tethered to the clock. You can even control the timer around corners and through walls.
Controlled from Smartphone
Five interfaces
100 foot range
Multiple users can access it
The Ganxin CrossFit timer takes CrossFit timing into the 21st Century. You can use an IOS or Android phone or Tablet to interface with the clock. You can set interval programs, rest periods and much more. The timer comes with a durable aluminum housing and you don't need an app to use the device.
On the down side, the screen of the Ganxin CrossFit timer is not as large as comparable models on the market. This unit comes with a full feature remote control.
Compatible with your Smart Phone
Interval programs
Smaller screen than similar models
The EU Display timer is perfect for use during your Crossfit session, P-90X or Insanity workout. It's also ideally suited to track your time during a boxing or wrestling match. You can even use it to time debate or chess match. This circuit trainer timer allows you to count both up and down. It features four red and two green digits and the remote works within 30-foot range.
Up and down timer
30 foot range
Heart rate feature unreliable
The BTB Sign CrossFit Trainer is a very functional, easy to use clock that acts as a great workout motivator. A ten second countdown to your workout culminates in a powerful beep. However, it is up to you if you choose to use it. This timer is accurate to within one minute per year.
Unfortunately the included remote with this WOD timer is not very durable and breaks easily.
10 second training countdown
Accurate to one minute per year
The Azoou training timer features one of the clearest, most easy to read LED displays of any similar device on the market. You'll be able to easily see the available time remaining, even at a glance, no matter how brightly lit the room is. This digital workout clock comes with a very intuitive remote control unit. However, the batteries for the remote are sold separately.
The Azoou training timer is quite expensive in comparison to similar models.
Easy to read display
Great remote control
The Flex Timer gym edition is a beefed up version of the home editio of the Flex Timer. The four inch blue and red digits are visible from hundreds of feet away and the 95 decibel buzzer is very loud. This means that you will never be tethered to the clock. On this timer you can record an unlimited number of custom workouts spanning six different timer modes: Standard, Round, Interval, Tabata, EMOM and Laps.
The advanced options on this gym edition CrossFit interval timer include configurable prelude times, round warnings, and a 3 second segue between rounds. You can also link multiple timers together for commercial gym use.
Multiple linking ability
95 db buzzer
Custom workouts recordable
A third more expensive than the home version
The Ledgital Fitness Tabata Wall Timer comes with all the mounting hardware you need to secure it to the wall or ceiling. The sounds on this device can be disabled if you want silent operation. Otherwise, a buzzer lets you know when an exercise is over.
You get multiple pre-set interval options on this CrossFit gym timer. However, the instruction manual that comes with the timer clock is quite unclear, making it a little tricky to initially set the timer up.
Multiple pre-set interval options
Clear buzzer
Unclear instruction manual
The EU Countdown digital interval countdown timer provides you with a very clear and easy to read digit display. Two digits display in blue with the other four red. The aluminum housing of the unit is quite robust and compact, with dimensions of 26 inches x 6.3 inches x 1.6 inches.
The clock mode of the EU timer can be set to either 12-hour or 24-hour. There are ten levels of adjustable brightness, which are adjustable by IR remote control. This circuit training clock also supports ten personal custom training times.
Compact, robust housing
10 levels of adjustable brightness
10 personal custom training times
The Workoutz Ultimate Cross Training gym timer is a commercial quality timer that comes in at home gym price. The large clear digits are easily visible from any part of the gym. The bold, bright 4 inch digits are in two colors - blue and red. This versatile timer can be programmed with your own custom timing intervals or simply used as a pre-set.
The presets in The Workoutz Ultimate Cross Training gym timer that are provided with this timer are MMA1, MMA2, Tabata, and Fight Gone Bad (FGB). The unit comes with a one year warranty.
Large clear digits
Custom timing intervals
12 month warranty
The HongHao CrossFit WOD Timer is a very sturdy, functional gym timer that you can pick up for a very sharp price point. The unit comes inside of a high quality aluminum alloy housing. The four inch digits come in blue and red. You can set either a 12 hour or 24 hour clock format, and can set up to 20 groups of training and rest. You can also set up to 10 preset workouts.
Sturdy housing
10 pre-set workouts
Unreliable remote control unit
Conclusion
The best Crossfit Timer Workout Clock of 2018 is the Flex Timer, Home Edition with its 100 foot range, five interfaces and Smartphone control . We also loved the Ganxin CrossFit Timer, which provides Smartphone compatibility and interval options.
Our third favorite Crossfit Timer Interval Clock is the EU 1.5 Inch Display Timer, with its up and down timer and 30 foot range.
---