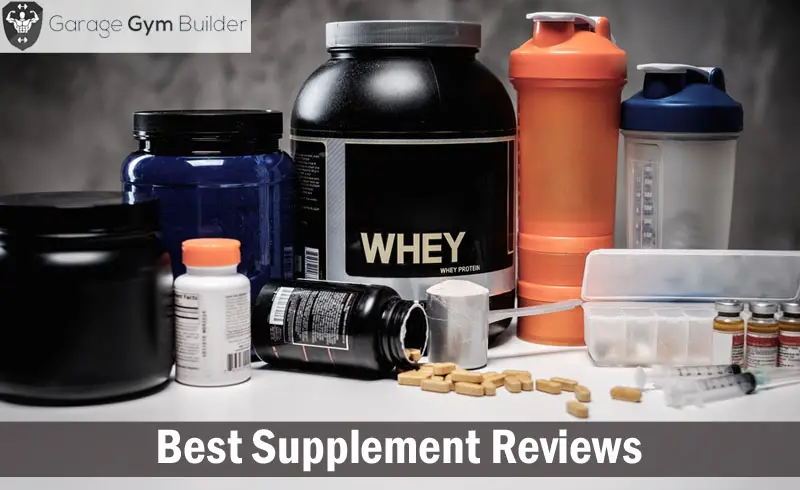 Best Supplement Reviews 2017
It doesn't matter how hard you work in the gym, if your diet is off you aren't going to get results that your efforts deserve. Supplementation is a vital part of the nutritional equation. Knowing the supplements that actually work for pre and post workout, fat loss and muscle building are key to maximum performance and results. This mega article brings together the best supplements to get you jacked in 2017.
A Quick Look at our Favorite Supplements

The best supplements for working out that gives you the greatest training bang for your buck is creatine. Creatine will produce more immediate energy, so you can lift heavier for longer. Our favorite creatine brand is Optimum Nutrition's Creatine powder.
The best post workout supplement for men, and our second overall favorite, is whey protein powder. Whey powder delivers essential amino acids to your muscle cells, creating the anabolic environment needed for growth to occur. Our preferred whey protein brand is Optimum Nutrition's Gold Standard 100% Whey.​
Our third best supplement for working out is beta alanine. Beta alanine boosts the body's natural production of carnosine, which, in turn, increase the body's training energy and offsets fatigue. Our preferred brand of beta alanine is Now Foods 750mg beta-alanine capsules.​
Top 10 Supplements

In order to take the confusion out of the supplement market, we have scoured the marketplace to sort out the best from the rest. Here are the 10 overall top workout supplements, including pre workouts and post workouts, fat loss boosters and mass builders.
To make it easy for you to compare them, we've rated the Top 10 on the basis of price, and effectiveness and then given an overall rating out of 5.
The Top 10 Supplements In Depth

Creatine is the most heavily studied workout supplement on the planet. Time and again, studies have shown the effectiveness of creatine in restoring ATP, the body's main energy source, to the muscle cell. This allows for more strength, explosive endurance and less workout fatigue. Optimum Nutrition's pure creatine powder provides 5 grams of 99.9% pure micronized creatine. The micronization process means that the creatine will mix more readily and more quickly absorb into the bloodstream.
Optimum Nutrition creatine is unflavored, making ot ideal for stacking with such other supplements as beta alanine and glutamine. It mixes very well with water or juice and can also be added to your post workout protein shake. This product is completely additive and artificial flavoring free.
PROS
Pure creatine
Mixes well
Additive free
Optimum Nutrition 100% Whey has been rated as the top whey powder on the market for many years, attesting to its effectiveness as an anabolic booster. It contains three different types of whey – whey isolate (whey with lactose and fat removed), why concentrate (whey with the fat and lactose left in) and whey peptides (amino acids that have broken into tiny chains). This blend also contains 5 grams of BCAAs and 4 grams of glutamine.
Optimum Nutrition 100% Whey use the natural sweeteners Ace-K and Sucralose to deliver their impressive array of delicious flavors. Also included is Amino Gen, Optimum's own enzyme brand designed to break down amino acids. This lean protein powder is easily digestible. Gold Standard mixes very well and tastes great.
PROS
3 types of whey
Includes BCAAs and Glutamine
21 great flavors
CONS
Formula changed from original
NOW Foods Beta Alanine contains 75 grams of pure beta alanine in every capsule. Beta alanine is a naturally occurring amino acid that increases the body's production of carnosine. Carnosine, in turn, helps to delay the onset of fatigue. It also works alongside creatine to restore ATP levels and allow the trainer to push through to get that extra one or two reps.
The NOW Foods Beta Alanine 75 g contains no sugar, salt, starch, yeast, wheat, gluten, soy, milk, egg or preservatives. It is also a vegan friendly supplement.
NOW Foods beta alanine supplementation may cause a slight tingling sensation to the outer extremities when you first take. This is a normal reaction and is not harmful.​
PROS
Pure beta alanine
Vegan friendly
Cost effective
Legion Pulse is a pre workout supplement that has been designed to cover all of your training bases. It provides increased energy and blood flow, reduces fatigue, improves muscular endurance and even sharpens mental focus. Each of the ingredients in Legion Pulse has been selected on the basis of peer reviewed research studies to demonstrate its ability.
Rather than packing their pre-workout with cheap stimulants, Legion have only added caffeine as a stimulant in order to provide a smooth energy rush effect. Key ingredients in this formula are citrulline malate, ornithine, beta-alanine, betaine, caffeine, and theanine. Legion Pulse is 100% naturally sweetened and flavored. It is made in the USA and comes with a 100% money back guarantee.
NOW Foods beta alanine supplementation may cause a slight tingling sensation to the outer extremities when you first take. This is a normal reaction and is not harmful.​
PROS
All ingredients scientifically proven
Natural sweeteners
Made in the USA
Branch chain amino acids are vital for muscle building. These three essential amino acids are leucine, valine and iso-leucine. Together they provide a muscle sparing effect during your workout, preventing you from going into a catabolic state. When taken after your workout, they will kick start protein synthesis, shunting your body into an anabolic, muscle building state. Optimum Nutrition 1000 BCAA capsules deliver 1000 mg of branch chain amino acids directly to your muscles.
Optimum Nutrition BCAA Capsules deliver the three amino acids in the ideal ratio for absorption by the body of 2:1:1: where you get twice as much leucine as you do valine and iso-leucine. The capsule format makes the formulation easy to swallow and is quick and easy.
PROS
1000 mg per capsule
2:1:1 ratio
Easy to swallow capsules
Legion Athletics Recharge is a post workout supplement that is designed to allow you to build more muscle and strength, while also reducing post workout muscle soreness and speeding up recovery. To achieve this, Legion have included in this product a handful of ingredients that have been scientifically proven to be effective. All of the ingredients are 100% natural, with no artificial ingredients added. Each ingredient is used at the clinically effective dose.
The Legion Athletics Recharge formulation includes creatine monohydrate, L-Carnitine, L-Tartrate, and Corosolic Acid. This last ingredient improves blood glucose control and boosts insulin signaling to enhance post workout carb consumption. This product is 100% naturally sweetened and flavored. It is made in the USA and comes with a 100% money back guarantee.
PROS
Natural, scientifically proven ingredients
Includes corosolic acid to regulate blood glucose
Naturally sweetened and flavored
CONS
May cause a bloated reaction
BSN NO Explode is the original pre workout formula from BSN that first came out in 2004, reformulated and more potent than ever. The new NO Explode formulation includes 275 mg of caffeine to deliver the right amount of energy and focus without bringing on the dreaded post exercise crash. 1.8 grams of beta alanine provides extra training endurance, off setting fatigue. This is combined with 3 grams of creatine for even more power.
BSN NO Explode features a unique myogenic Matrix that consists of an advanced creatine blend. It boosts the effects of creatine to the max, allowing you to train with more intensity. You'll also get enhanced endurance from the Endura Shot blend.
PROS
Includes Creatine and Beta alanine
Great taste
Good caffeine dosage
Cellucor C4 Pre Workout Energy Drink is a ready to drink version of Cellucor's popular powdered pre workout formula. It is designed to provide you with explosive training energy, intense and workout focus. It comes in ultra handy 10z bottles. The product contains scientifically proven ingredients that promote energy, pumps and performance. These include beta alanine for muscular endurance. Creatine is blended with nitrate for strength and a pump effect.
All of the flavors of Cellucor C4 provide a great tasting pre workout drink. Unlike may pre-workouts, it isn't overly sweet. The Pink Lemonade version is naturally colored with beet root. This product includes caffeine and beta alanine. People who are sensitive to these ingredients may experience some tingling when they take the product.
PROS
Ready to drink
Creatine
Great tasting
CONS
May produce a tingling sensation
Naturo Nitro Creatine is an advanced patented form of creatine designed to maximize the already amazing effects of this essential pre workout ingredient. Magnesium creatine has been shown to be absorbed more readily by the human body. This allows the creatine to take effect much sooner, flooding your cells with ATP energy and allowing you to push harder for longer. Unlike many creatine formulations, there is no loading phase required when you use this product.
Naturo Nitro Creatine comes in capsule form. You get 90 capsules in each bottle, giving you a full month's supply of the product. There are no fillers or artificial ingredients in this product – just pure magnesium creatine to power your workouts to new heights.
PROS
Faster absorbing
No loading phase required
No fillers or sweeteners
Alpha GX7 is a pre workout supplement that comes in powder form. It is designed to make you stronger in the gym, while training harder and more efficiently. It contains a whopping 1500 mg of citrulline coupled with beta alanine. This combination provides a huge energy boost, which will also give you a strength surge. They will also deliver increased mental focus and drive.
Along with citrulline and beta alanine, the ingredients consist of Niacin, Arginine Alpha-Ketoglutarate, L-Carnitine, Mucuna L-Dopa 20%, Taurine, Caffeine, Theobromine,and Yohimbe HCL. Each of these ingredients have been scientifically proven to boost your training efficiency. Many users believe that this is the best tasting pre workout on the market.
PROS
Large dosage of citrulline
Beta alanine
Yohimbine for blood flow
Conclusion
The supplement market is saturated with all manner of products promising to give you the best workout possible, while building max muscle. In this article, we've waded through the market to bring you the best supplements on the market. Our single favorite product is Optimum Nutrition's pure creatine powder, which provides 99.9% pure creatine, mixes well and is additive free.
Optimum Nutrition 100% Whey is our second favorite overall. This top rated protein powder is a mix of three types of whey, includes glutamine and BCAA's and comes in 21 great flavors. Our third ranked supplement overall is NOW Foods Beta Alanine 75 grams, which is a cost effective pure beta alanine product.
---