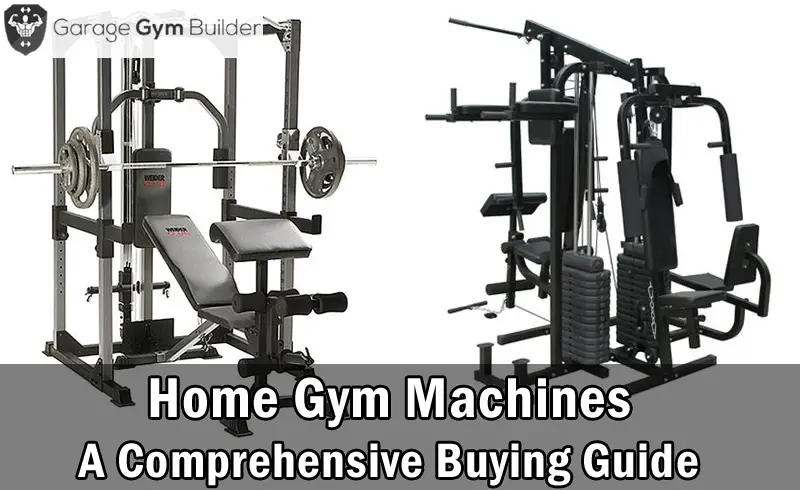 What's The Best Home Gym? Home Exercise Equipment Reviews
There are a ton of complete home gym systems on the market at the moment and sifting through the flips and the flops can prove to be a difficult challenge. Below, we have listed some of the top 10 home gyms on the market right now. This guide will always be up to date and unbiased. Enjoy our home exercise equipment reviews:
If you are in a hurry and looking to purchase something quickly take a look below. These are the best (and most affordable) home gym systems on the market at the moment.
(You can scroll right if you're on mobile)
Image

​Model

Features

​

Consumer magazine's best buy home gym: Pec Station, Press Arm, Leg Developer, High, Mid, and Low Pulleys.

210 lbs of resistance

BEST VALUE: Combo chest press/butterfly arms, High and low pulleys 4-roll leg developer. 330 lbs maximum resistance 125 lb vinyl weight stack

Over 30 strength exercises, Includes horizontal bench press and lat pull down

210-Pounds of resistance

AMAZING FOR TONING: Adjustable incline bench on wheels with a pulley on each side. Space saving design. This is hands down the best home gym system for getting tone and losing weight, and at an amazing price
Finding The Top Home Gym For You
When searching for a home gym there are a few questions that you need to ask yourself. What are my goals? How much weight lifting experience do I have? How much available room do I have? What is my budget? These are all huge factors that are going to come into the picture when deciding on the best exercise machine for you. Use the table of contents below to find the perfect home gym for whatever you are looking for.
Home Gym Buying Guide - Table of Contents
What Are Your Goals?
Do you want to lose weight and tone out? Do you want to bulk up and try and actually put on a few pounds? Are you just looking to gain strength regardless of how you look? Really drill down and look within yourself to figure out what you want. This is the most important aspect of choosing your exercise machine. I can take a wild guess here that you do not want to purchase more than one piece of home fitness equipment and you want to use the one that you do choose for a very long time. This is will likely be a relatively big investment for you financially so lets make sure that you choose the right machine.
Looking to bulk up/ Gain Strength?
If you are trying to add a few pounds of muscle, or a lot of muscle you are going to want to choose a machine that has a high amount of resistance with it. This will basically remove the Weider Total Body works as that machine works mostly on your body weight. The Gold's Gym XR55 is fantastic for this. It has a maximum resistance level of 330 lbs! Unless you're a seriously experienced body builder this weight level will be out of your reach for a very long time.
Honestly, the Gold's Gym XR55 is a fantastic workout machine. It doesn't take up a huge amount of room, the resistance is massive, especially for that price, and it has a ton of different exercises that are guaranteed to keep your body guessing for years to come. I highly recommend it.
Trying to Slim Down and Tone Up?
Suspension Trainers are a great, cheap option for a complete home gym that is portable and versatile. You can perform more than 300 exercises on a good suspension trainer, and each one of them will be core centric, turning every move into an ab toner. We recommend the Emerge EX2 Suspension Trainer, which is the most versatile, durable and cost effective suspension trainer on the market.
If you couldn't care less about getting stronger or gaining a few extra lbs of muscle than perhaps you will be more interested in one of these complete home gyms. The Bowflex PR1000 home gym is a great starting point for anyone looking to build some muscle and tone up. Bowflex receives a lot of criticism as it's resistance is not controlled by weights, however, the fact of the matter is that the resistance is still there and it's actually quite impressive. The Bowflex PR1000 has a whopping 210 lbs of resistance available with over 30 exercises.
Option number 3 for toning up is without a doubt the Weider Ultimate Body Works. This machine was built for toning up. The weight resistance is low and can only go 50 lbs above what your weight is but this is perfect for high intensity, high volume work. This is superior in price and effectiveness to the machine pushed by Chuck Norris, "The Total Body Gym". Total Body Gym will cost you upwards of 500$ and is essentially the exact same machine as this. Just look at the reviews on Amazon for this piece of equipment. 448 reviews and still more than 4 stars. Workout equipment typically hangs on the low end of review scores on Amazon because people who do not follow the instructions for certain types of equipment leave a bad review.
Conclusion -
If you are looking to tone up while also gaining a bit of strength the Bowflex PR1000 is a great choice. If you are trying to slim down and tone up go with the Weider Ultimate Body Works or Emerge suspension trainer (for a cheaper option). Both are great pieces of equipment and either way you will not be disappointed with your purchase.
How Much Experience Do You Have?
What is your level of experience? Are you a power lifter that is tired of waiting in line for the squat machine at the gym or are you just now getting into fitness?
For experienced weight lifters:
You have quite a few options, however, I would again, suggest the Gold's Gym XR55 as it has 330 lbs of resistance and a ton of lifting options. This is one of the few machines out there that have that type of resistance and that many different exercises.
Unfortunately, there aren't too many complete home machines out there that will cover all the lifts an experienced lifter would need. I personally recommend that if you are looking to build a truly awesome home gym, you need to invest in a power rack with some bumper plates. We've got a great guide on purchasing a power rack here. RogueFitness also offers a few different garage gym bundles that might interest you as well. The W4 package comes with a wall mounted power rack, barbell, adjustable bench (as add on), weights, and a few other goodies. If you don't think you need or have room for the power rack, the charlie package comes with all that minus the rack. You can also pick and choose what you want from each package, making the price range from very affordable to extravagant.
For Beginners:
If you are just getting into fitness and lifting I personally recommend the Body-Solid StrengthTech system. For a beginner, this weight system has everything and it makes it extremely easy to transition into an at home fitness life style. With the Body-Solid StrengthTech system you will have access to an enormous amount of different types of resistance training. This is great for a beginnner, it will help you learn about each of the different exercises and how they affect your body very quickly.
If the price is a bit high, the Bowflex PR1000 is fantastic substitute. It's extremely easy to use and there are tons of workouts online that go along with it.
How Much Room Do You Have?
Most of the machines I have recommended here will have no problem fitting into an average size gym. However, make sure to check the dimensions that you have available with the dimensions of the machine. You do not want to get half way through setting up your gym and realize that it's too high or your elbows hit the wall when you are working out.
What is Your Budget?
Obviously the biggest number that will be entering into the equation here is the price. While it would be nice to easily afford some of the more expensive machines, sometimes it's just not an option. Click here to find out how to build your own home gym with just around $650.

Strength training:
The Gold's Gym XR55 is going to be the cheapest option for those that want some serious resistance. If you are looking to bulk and gain as much strength as possible, this is hands down the best option.
If you are looking to simply get into shape, grow your strength, and get to an impressive state of fitness than the Bowflex PR1000 is the choice for you. The Bowflex PR1000 is fantastic for high intensity strength training.
For Toning Up and Losing Weight:
​A suspension trainer is a fantastic tool for toning, burning calories and getting a terrific weight loss workout. Weighing in at just two pounds, a suspension trainer will provide you with the means to do more than 300 toning and shaping exercises anywhere, anytime. We recommend the Emerge EX2 Suspension Trainer, which is the most versatile, rugged and functional suspension trainer out there. And Emerge EX2 trainers provide you with the best value for the best price.
Without question, the best option here is the Weider Ultimate Body Works. This is an extremely affordable, and very versatile weight lifting machine. It's fantastic for burning calories with high intensity workouts.
This article has helped with finding the best weight lifting machine for you. We also have an article detailing how to purchase an aerobic exercise machine if that is something that you are interested in.

Well that concludes my home gym buying guide. I hope it was helpful and please make sure to point out any errors I have made. My goal is to have an accurate resource available to my readers and if there is an error I want to know about it! Please like and share my page with your friends if it was helpful as that is extremely helpful to my website. Leave a comment with any criticism or questions!