2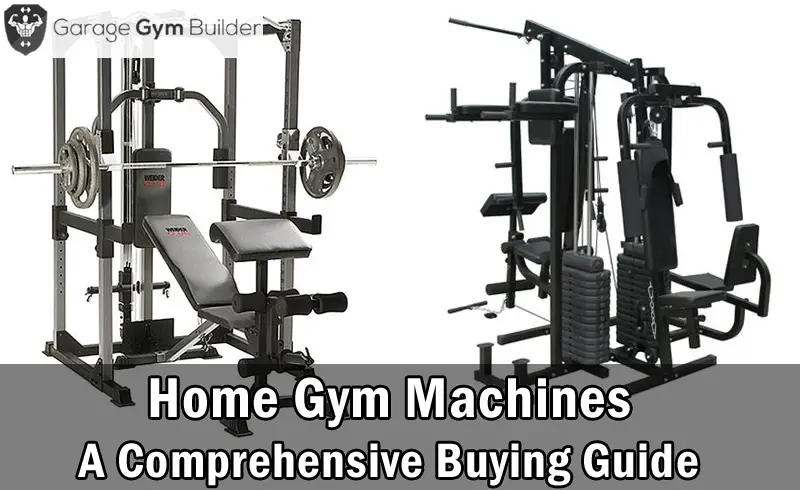 What's The Best Home Gym? Home Exercise Equipment Reviews
​Several different home gym systems and home exercise equipment are available for consumers so they can experience a fulfilling workout from the comfort of their own home. However, sifting through them and finding the best home gym equipment between all the pros and cons may seem like a daunting and time-consuming task.
Below, we have listed some of the top home exercise equipment that is available, and this guide will help guide you in making your final decision on which equipment is right for you and your household for your workout.
Home Gym Buying Guide - Table of Contents
If you are in a hurry and looking to purchase something quickly take a look below. These are the best (and most affordable) home gym systems on the market at the moment.
(You can scroll right if you're on mobile)
Consumer magazine's best buy home gym: Pec Station, Press Arm, Leg Developer, High, Mid, and Low Pulleys.

210 lbs of resistance

BEST VALUE: 800 lb weight capacity Power Cage, adjustable bench, multi position overhead chin up / pull up grip bars.

Over 30 strength exercises, Includes horizontal bench press and lat pull down

210-Pounds of resistance

AMAZING FOR TONING: Adjustable incline bench on wheels with a pulley on each side. Space saving design. This is hands down the best home gym system for getting tone and losing weight, and at an amazing price
Finding the Top Home Gym for You
​When searching for a home gym or other home exercise equipment, there are a few questions you should stop and ask yourself:
What are my goals for the workout?
How much weight lifting experience do I have?
How much available room in my home do I have?
What is my budget?
What exercises am I going to focus on more?
These are all huge factors that come into play when you are deciding which home exercise equipment would be best for you.
What Are My Goals?
​Is your goal to lose weight and tone your muscles or do you want to bulk up and increase your strength and endurance? Most of the time, people would rather purchase one piece of fitness equipment that fulfils all of their needs, rather than buying several and having to find the room to accommodate them all.
Home exercise equipment can be a costly endeavor, so it is important to purchase exactly what you want. Here are a few examples of total gym fitness equipment pieces that don't require you to purchase several smaller items.
The Marcy Multi Position Foldable bench features an ergonomic design to contour to your body, allowing for a more natural exercise motion. It comes with a preacher curl bench, leg developer, a step in squat rack and an adjustable back and seat. This unit is made from heavy duty construction to make a very solid bench at an extremely impressive price point.
This unit can provide you with a full body workout, allowing you to build your legs, chest, back and arms. It is also ideal for power training exercises.
Looking to Bulk Up and Gain Strength?
​If you are trying to add a few pounds of muscle or a lot of muscle, you are going to want to choose fitness equipment that has a high amount of resistance with it, and this will basically remove the Weider Total Bodyworks as that machine works mostly on your body weight.
The Fitness Reality 810XLT is ideal for this. This is a full on power cage that is available at a very sharp price point. It includes a quality multi angle adjustable weight bench, along with multi-position overhead chin up / pull up grip bars. You will have to buy your weight stack separately, but this unit will give you a great base to work from.
The Fitness Reality 810XT is made from heavy duty 2 x 2 inch square steel framing to provide you with a very robust, solid workout base. Chrome lock in safety bars provide a secure self spotting system and the seat features 12 adjustable positions, including flat, incline and decline. Their are 19 adjustable height levels in the uprights.
Key Features
800 pound max weight capacity
2 x 2 inch framing
12 position weight bench
Multi position pull up / chin up bars
Very affordable price
Looks good and is made of high-quality construction
Allows you to participate in several different exercises
Difficult to assemble
Does not include weights
Suspension Trainers are a great and more affordable option for a complete home gym that is portable and versatile. You can perform more than 300 exercises on a good suspension trainer, and each one of them will be core-centric, turning every move into an ab toner during your workout.
We recommend the TRX Suspension Trainer, which is the most versatile, durable and cost-effective suspension trainer on the market for those who wish to workout at home. The TRX Suspension Trainer includes the trainer, a door anchor, a suspension anchor extender, a mesh carry bag, and a full color 35 page workout guide to getting started. The TRX sets up in seconds and can anchor onto everything from a tree to a ceiling beam.
If you couldn't care less about getting stronger or gaining a few extra lbs of muscle than perhaps you will be more interested in one of these complete home gyms.
The Bowflex PR1000 home gym is a great starting point for anyone looking to build some muscle and tone up during their home workout. Bowflex receives a lot of criticism as it's resistance is not controlled by weights. However, the fact of the matter is that the resistance is still there and it's actually quite impressive.
The Bowflex PR1000 has a whopping 210 lbs. of resistance available with over 30 exercises and provides you with a great opportunity to strengthen your muscles and add cardio into your routine. This home exercise equipment can help work out your abs, chest, back, shoulders, and your lower body. It also includes triple-function hand grips, a horizontal bench press, and a Four-inch upholstered roller cushion with extensions.
Option number 3 for toning up is without a doubt the Weider Ultimate Body Works. This machine was built for toning up. The weight resistance is low and can only go 50 lbs. above what your weight is but this is perfect for a high intensity and high-volume workout.
This home exercise equipment features an adjustable incline bench that is on wheels, and the bench can be adjusted to a steeper incline to help increase the amount of the weight resistance. The cable and pulley system allow for increased versatility, and it has a space saver design which is optimal if you don't have much space to work with in your home for exercise equipment.
Total Body Gym will cost you a decent amount and is essentially the same machine like this. Just look at the reviews on Amazon for this piece of equipment. Tons of reviews and still more than four stars.
Workout equipment typically hangs on the low end of review scores on Amazon because people who do not follow the instructions for certain types of equipment leave a critical review.
The Total Body Gym is suitable for the entire family and can work with all different fitness levels from beginners and up to advanced. It does not require any assembly, and this workout equipment can fold up to provide you with easy and convenient storage. It includes a wing attachment, leg pull accessory, ribbed squat stand, five different workout DVD's, an exercise chart, a training deck, and a nutritional meal planning guide to help incorporate a healthy and balanced diet into your new workout routine.
How Much Experience Do You Have?
​What is your level of experience? Are you a powerlifter that is tired of waiting in line for the squat machine at the gym or are you just now getting into fitness?
For Experienced Weightlifters
​You have quite a few options. However, I would again, suggest the Gold's Gym XR55 as it has 330 lbs. of resistance and a ton of lifting options; this is one of the few machines out there that have that type of resistance and that many different exercises.
​Unfortunately, there aren't too many complete home machines out there that will cover all the lifts an experienced lifter would need. I personally recommend that if you are looking to build a truly awesome home gym, you need to invest in a power rack with some bumper plates.
We've got a great guide on purchasing a power rack here. RogueFitness also offers a few different garage gym bundles that might interest you as well.
The W4 package comes with a wall mounted power rack, barbell, adjustable bench (as add-on), weights, and a few other goodies.
If you don't think you need or have room for the power rack, the Charlie package comes with all that minus the rack. You can also pick and choose what you want from each package, making the price range from very affordable to extravagant.
If you are just getting into fitness and lifting, I personally recommend the Body-Solid StrengthTech system. For a beginner, this weight system has everything, and it makes it extremely easy to transition into an at home fitness lifestyle.
​With the Body-Solid StrengthTech system you will have access to an enormous amount of different types of resistance training. This home exercise equipment is great for a beginner, and it will help you learn about each of the different exercises and how they affect your body very quickly.
It features a 210-pound selectorized iron weight stack in ten-pound plates and has heavy duty steel, DuraFirm padding, and no cable changes. It also has a pec station, press arm, leg developer, high, mid, and low pulleys.
If the price is a bit high, the Bowflex PR1000 is a fantastic substitute. It's extremely easy to use, and there are tons of workouts online that go along with it.
How Much Room Do You Have?
​Most of the machines I have recommended here will have no problem fitting into an average size gym. However, make sure to check the dimensions that you have available with the dimensions of the machine.
You do not want to get half way through setting up your home exercise equipment and realize that it's too high or your elbows hit the wall during your workout.
What Is Your Budget?
Obviously, the biggest number that will be entering the equation here is the price. While it would be nice to afford some of the more expensive home exercise equipment easily, sometimes it's just not an option.

Click here to find out how to build your own home gym with just around $650.
Strength Training
The Gold's Gym XR55 is going to be the cheapest option for workout equipment for those that want some serious resistance. If you are looking to bulk and gain as much strength as possible, this is hands down the best option for strength training.
If you are looking to simply get into shape, grow your strength, and get to an impressive state of fitness than the Bowflex PR1000 is the choice for you. The Bowflex PR1000 is fantastic for high-intensity strength training.

For Toning Up and Losing Weight
​A suspension trainer is a fantastic tool for toning, burning calories and getting a terrific weight loss workout. Weighing in at just two pounds, a suspension trainer will provide you with the means to do more than 300 toning and shaping exercises anywhere, anytime.
​We recommend the TRX Suspension Trainer, which is the most versatile, rugged and functional suspension trainer out there. TRX are the original and the best suspension trainers
​
Without question, the best option here is the Weider Ultimate Body Works. This is an extremely affordable, and very versatile weight lifting machine. It's fantastic for burning calories with high-intensity workouts.
This article has helped with finding the best weight lifting machine for you. We also have an article detailing how to purchase an aerobic exercise machine if that is something that you are interested in.
With the variety of home exercise equipment that is available today, it is important to remember why it is you want a machine and what you plan on accomplishing. The best bet would be to get a total gym system that covers every area possible.
While they may take up a bit more room, they are a sound investment and will be worth the money spent. There are also more compact options available, and some options that can even fold up for easy and convenient storage.
Finally, keep your budget in mind. Again, it can be a hefty investment up front, but you are making the investment in yourself and ensuring a healthy future for both yourself and your family.
Type of Resistance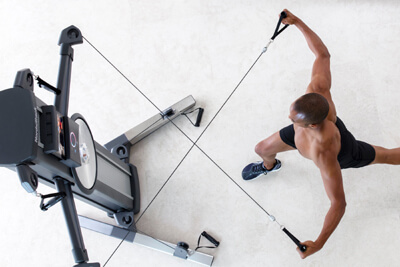 The type of resistance that you can get from a home gym varies greatly and will have a large bearing on the success of your workout. Many home gyms can with a built in plate weight stack that is attached to the bar you are pulling or pushing by way of cables. Some machines provide you with dual action cables on independent pulleys which allow you to work each side of the body independently when doing exercises like lat pull-downs. These weight stacks come in the form of rectangular metal plates. They usually consist of 2.5 pound plates for the first 20 pounds and then 5 pound plates thereafter. The more expensive units will start with five pound plates and then go up to 10 pounders.
The more budget home gyms may simply provide you with a weight plate holder that you can add traditional barbell weights to. This obviously requires that you buy the weights separately and load them on and off for the workout. This can become quite expensive and cumbersome. You will also usually find the the weights on these types of machines have a tendency to sway around as the attached cable brings them up and down.
You can also get machines, such as the Bowflex range, that feature Power Rods. The great advantage of these rods is that they are lightweight and compact when compared to using traditional iron plates. These power rods provide you with a very smooth and fluid movement, which will prevent connective tissue injury.
Bowflex have recently introduced their new Spiraflex technology to their latest home gym, The Bowflex Revolution. The Spiraflex technology revolves around cleverly designed plates, each of which is constructed with a heavy duty elastic strap housed inside the plate. When you perform an exercise, the Spiraflex plates rotate around the center. This stretches the elastic strap and creates resistance. The plates combine with a mechanism inside the machine to create constant resistance throughout the entire range of motion. The result is a more consistent gym quality experience.
Check out the Bowflex Revolution here.
Other versions of home gyms use elastic bands and rubber weight straps to provide the resistance. These offer certain benefits, such as being cheaper than traditional weight plates as well as being a lot lighter. However, they often do not provide the same feeling that you get from the real thing. They also often lack any resistance during the negative (eccentric) part of the exercise. Studies have shown that it is actually during the negative part of a repetition that the most stress occurs on the muscle fiber (that's a good thing!). There is also quite a lot more involved in adjusting the resistance with these types of machines.
Another resistance option is the Total Gym, which makes use of your bodyweight and gravity to provide the resistance. The higher on the ladder you place the body board the harder the resistance. The latest version of the Total Gym also features a bar that you can add traditional weight plates to.
Things to Avoid
There are a number of warnings signs to watch out for when shopping for your new home gym. Here are the top 6:
Difficult Assembly - The last thing you want is to spend a decent chunk of cash on a machine that you find impossible to put together.Check online for reviewer comments on how easy it is tp assemble the machine. You can often also find Youtube videos that step you through the assembly of home gyms. You should be able to complete the assembly within an hour and all assembly tools required should be included in the box.
Cheap Components - a home gym is no place for cheap parts, especially when you are lifting substantial amounts of resistance. You do not want any pulleys that are constructed from plastic, not should they be fitted with bushings. Instead opt for steel pulleys and ball bearings. The cables shpuld be of a large diameter and be encased in a plastic sleeve for protection. The ends of frames should not be covered in plastic caps as they may easily break, revealing sharp ends.
Fragility - You need your home gym to be solid and stable. You do not want any wobbling. This is especially important when you are doing exercises that support your bodyweight such as dips or pull ups. You do not want any movement at all when you place pressure on the frame uprights.
Unnatural Movement - If you're buying online, you are not able to actually try out the machine you are planning on purchasing. So you will have to rely on reviews, such as those found on this page. Look to see of the exercise range of movement is complete or whether the machine impedes your movement. This is often the case with exercises like the pec dec fly or the vertical bench press.If you are unable to bring the pec dec pads together in front of your chest or to fully stretch your pecs out on the negative part of the rep, the exercise is going to be pretty ineffective.
You also need to check to see if the cable movement is natural when you do exercises such as triceps pressdowns and lat pulldowns. A jerky cable that stutters half way through a rep will be the height of frustration.
Thin Padding - You are going to spending a lot of time on your home gym, so you had better make sure that it provides you with a decent level of comfort. Check the padding on the vertical bench press and lat pull down seats and the back supports. If you are in the store, you can do this by pressing your thumb into the padding. You shouldn't be able to feel the wooden base behind the padding. If you can, the seat is not going to provide you with the level of comfort that you deserve.

Lack of a Decent Warranty - A home gym is a sizeable investment and it should be protected by a lengthy warranty. Most home gyms will provide two aspects to their warranty; parts and frame. As a minimum you will want 12 months warranty on all parts, cables and ball bearings. A minimum warranty length on the frame should be 10 years.
Key Points to Remember
With the variety of home exercise equipment that is available today, it is important to remember why it is you want a machine and what you plan on accomplishing. The best bet would be to get a total gym system that covers every area possible.
While they may take up a bit more room, they are a sound investment and will be worth the money spent. There are also more compact options available, and some options that can even fold up for easy and convenient storage.
Finally, keep your budget in mind. Again, it can be a hefty investment up front, but you are making the investment in yourself and ensuring a healthy future for both yourself and your family.