Best Food Scale for Weight Loss 2023
last updated:
Jan 07, 2021
When it comes to losing weight, you need to keep a close eye on the make-up of your food. While the total number of calories you consume through the day is important, it is the macronutrient constituency of that food that really counts. Getting your protein, fat and carbohydrate intake right is the key to fat loss. In this article, we review the 6 best macro diet calculators on the 2019 market.
In a Hurry? The test winner after 8 hrs of research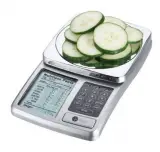 Kitrics Digital Nutrition Scale
Why is it better?
Database of over 1000 foods
Counts macros plus fiber, sodium, and cholesterol
You can add 99 foods
18
Researched Sources
3k
Reviews Considered
8
Hours Researching
6
Products Evaluated
Accuracy
Effectiveness
Ease of Use
Value
By Default
6 Best Nutrition Scales
1

. Kitrics Digital Nutrition Scale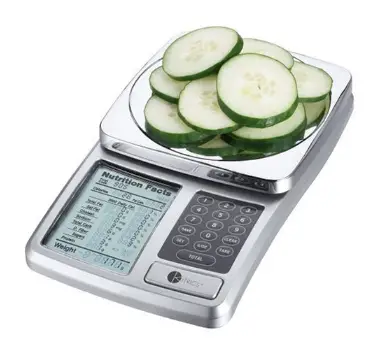 Database of over 1000 foods
Counts macros plus fiber, sodium, and cholesterol
You can add 99 foods
The Kitrics Digital Nutrition Scale is a blend between a nutrition scale and a calculator. As well as very accurately calculating the portion weight of your food, it will provide you with all of the nutritional information that you would see on a nutritional label.
You get a breakdown of your calories, proteins, fats, carbs, fiber sodium cholesterol and sugars, all at a glance.
Read more
Kitrics Digital Nutrition Scale also allows you to store your nutritional information for up to 99 food products. The built-in database includes more than 1000 types of foods.
The measuring plate is large enough to hold all types of food without covering the display screen. This nutrition scale is the ultimate solution to counting the macros of everything that goes into your mouth.
2

. Wasserstein Nutritional Scale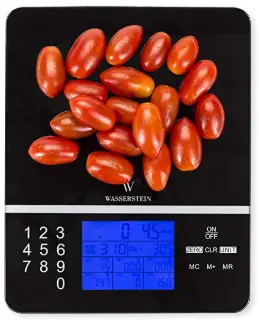 Measures macros and micros
Accuracy to 0.1 oz / 1 gm
Stores your data
You must manually input your food code
The Wasserstein Nutritional Scale is a stylish digital scale with the ability to measure your macronutrient levels, as well as fiber, sugars, cholesterol, and sodium.
There are four high precision sensors on the food macros calculator, making it able to measure the weight of your food with an accuracy to 0.1 oz/1 gm.
Read more
After measuring your food item, you are able to look up the food's code in the accompanying manual and enter it into the scale. You'll then get an instant readout of the food's Macro diet and micronutrient details.
You're able to seamlessly switch from pounds and ounces to kilos and grams. You can also save the nutritional facts for each food item to allow you to work out the total Macro diet of your meal.
3

. Perfect Portions Digital Scale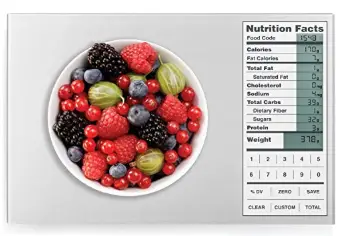 2000 food items in the database
Very stylish
2-year warranty
Requires manual to add food codes
The Perfect Portions Digital Scale is a upmarket slimline scale that allows you to measure full nutritional information for over 2000 food items.
You can also add your own custom entries. As well as the proteins, fat and carb make-up of your food item, it also tracks the fiber, cholesterol, sodium, and sugars. The tempered glass top is extremely durable and is easy to clean while looking great.
Read more
The Perfect Portions Digital Scale has the ability to shut off and calibrate automatically.
You can weigh items up to 11 pounds (5 kg) on this scale.
The hand tare function means that you can measure messy items in a bowl. It also is non-scratch and has slip-resistant feet. This Macro diet product carries a 2-year warranty.
4

. Spirit Digital Multifunction Digital Pocket Scale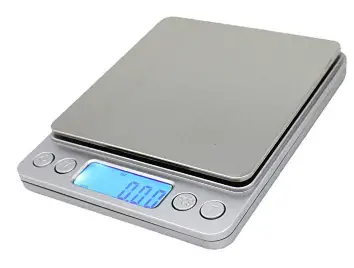 Compact
Backlit display
High precision sensors
The display may be covered by food plate
The Spirit Digital Multifunction Digital Pocket Scale is a fantastic scale in miniature that allows you to track your nutritional intake on the run. It features a clear backlit display and a clear LCD screen.
The scale weighs in at just 3kg and is able to be carried with you in your pocket, gym bag or briefcase. It is fitted with high precision sensors to give extremely accurate weight settings.
Read more
The Spirit Digital Multifunction Digital Pocket Scale is able to be used as a postal scale, jewelry scale or a medicine scale. You are able to instantly convert between grams and ounces. Counting, tare, and auto-off functions are a convenience to your measuring tasks.
This scale runs on 2 AAA batteries.
Discover the best supplements to take before you train without the Best Pre-Workout Supplements 2019 Review feature article.
5

. Zerla Digital Kitchen Scale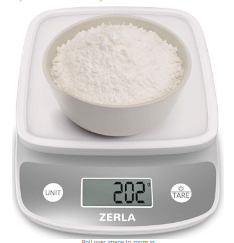 Compact and lightweight
Accurate to 0.05 oz (1 gm)
Clear LCD display
The Zerla Digital Kitchen Scale is a compact, lightweight scale that is compact and portable enough to be used anywhere.
The Zerla digital scale is able to measure foods and liquids up to 11 pounds in weight. The accuracy of the scale allows you to measure foods to an accuracy of 0.05 oz or 1 gram.
Read more
A precision tare button calculates with precision the net weight of your food item by automatically subtracting the weight of the container.
The LCD display is very clear and large enough to be read by the elderly. Unlike many digital scales, it used 2 x AAA batteries rather than hard to replace lithium batteries. Zerla Digital Kitchen Scale item weighs in at just 1.1 pounds.
6

. Eat Smart Precision Elite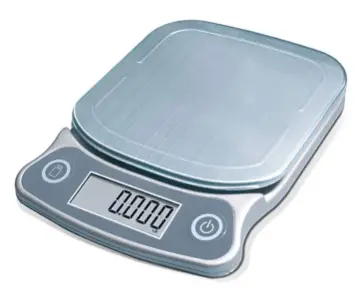 Stainless steel platform
Professional grade
Tare feature
Takes too long to power up
The Eat Smart Precision Elite digital scale is a professional grade display with a very stylish stainless steel platform. It also features a large, easy to read LCD display.
This scale has a maximum measurement weight of 15 pounds, which is the most we have come across. Food weights are displays in both ounces and grams.
Read more
The tare feature on Eat Smart Precision Elite allows you to instantly know the net weight of your item by eliminating the weight of the plate.
A 3-minute shut-off allows you to prepare ingredients without wasting battery life. Rather than lithium batteries, this scale uses easy to replace AAA batteries. It comes with a 100% Eat Smart guarantee.
You also get a free calorie counters Macro diet book.
Criteria Used for Evaluation

Accuracy
Accuracy for a scale matters
Accuracy is very important for measuring weight via a Macro diet scale, all six of our products are very good.
During our review to come up with the top three weights and we concluded as explained below:
The best Macro diet calculator for weight loss is the Kitrics Digital Nutrition Scale, which provides you with a database of over 1000 foods, and has the ability to calculate your Macro diet, in addition to fiber, sodium, and cholesterol. The second best Macro diet calculator is the Wasserstein Nutritional Scale, which measures macros and micros, and has an accuracy to 0.1 oz / 1 gram.
The third best Macro diet calculator is the Perfect Portions Digital Scale, which has a database of 2000 foods, is very stylish and comes with a 2-year warranty.
To make it easier for you to compare and contrast the best macro diet calculators, we have rated the top six on the basis of price and effectiveness. Then, we've given each one an overall rating.

Effectiveness
Effectiveness and accuracy work together
Effectiveness during our comparative review looked closely at what you get from the Macro diet weight scales in terms of performing easily.
We looked very closely and though we found six high performing products, we were particularly impressed with our chosen top three.
Our favorite food macro calculator is the Kitrics Digital Nutrition Scale, providing a database of more than 1000 foods and measuring your proteins, fats, and carbs as well as fiber, sodium, and cholesterol. We also loved the Wasserstein Nutritional Scale, which calculates all of your macros and micros and is extremely accurate.
Rounding out the top 3 is the Perfect Portions Digital Scale, with its 2000 food database, professional grade quality, and 2-year warranty.

Ease of Use
While comparing the scales we looked at ease for use in terms of the functions, the weight of the product and how well it gives out information.
Functions
we looked at the range of features and how effective and accurate they are, for examples the readout had to be clear and very accurate.
Weight
We looked for scales which are lightweight and easy to set up and stow away after use. Though we looked for light scales we wanted to be sure that the product still offered a stable base upon which to measure food weight accurately.
Information
We looked for clear easy to read out screens with nice easy to see digital readouts, our selected scales me this criterion comfortably. All of them offer quick accurate readouts.

Value
For value when considering scales we did look at what the buyer gets for his or her payment.
We focused on lightweight scales which are very easy to set up and equally easy to stow away after use, we also looked for scales which could be portable so that they can easily be carried and used elsewhere.
We looked and compared prices within this range of light scales and we had to factor in accuracy and effectiveness with the price.
Using these criteria we were able to select six very good scales which do vary in price and all offer top performance.
These products in this guide will be accurate, they will be effective and all of them give very good ease for using at home or can be taken out from the home and used.
Expert Interviews & Opinions
Most Important Criteria
(According to our experts opinion)
Experts Opinion
Editors Opinion
Users Opinion
By Default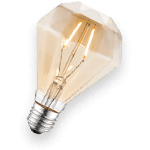 Power Source
When choosing a lightweight scale you need to consider the power source.
You will get three choices.
Battery: This is a good option and if you go for this choice, please ensure that the type of battery which comes with the scale is easy enough to source when you need to replace. You can even consider looking at rechargeable battery option.
Mains: If you choose a mains only option you will be limited to where you can set up and use the scale, you will always need to be close to a source of power. Therefore a mains powered scale though very good it will restrict you to using only in the home.
Battery and mains: The dual option is always a nice choice because it doubles up your options for where you can use the scales. The price may well be higher but the investment would be worthwhile.
USB: This is a very good option, using a USB charger to recharge your system. Look for this feature when choosing a Macro diet measuring product.
Durability & Materials
Think about the materials which are used to build the scale, you want highly durable materials which can offer longevity.
There is a wide range of heavy duty kitchen scales on the market, but light small scales are more unique, they can be used at home or carried and used elsewhere.
Durability will be important because the scales may take a few knocks at times and they will be subjected to holding different weights so they need to be built from a material which gives strong structural support.
Other Factors to Consider

Durability
While reviewing the Macro diet scales we looked for evidence that the casings for the scale were made from highly protective, supportive and durable materials because the scales will potentially be used often and will be holding a lot of different weights, fruits, vegetables, meats all can leave residue on scales. This means you want a durable surface which can resist staining and corrosion and will be easy to clean.
The favorite material for construction is to use strong molded plastics which hold shape, easily hold weight, are resistive to corrosion from food products and simply and easily wipe clean.
Some scales feature a main sturdy plastic casing with some metal fittings to ensure a secure build. Our selection of scales all meets the need for durability through being built with strong durable materials.
Frequently Asked Questions
q:

Are battery scales ok?

a:

If you invest in a good quality Macro diet scale which works on batteries the chances are that it will be fine. If you take such a choice, just do some checks to ensure that the batteries are easy enough to find and buy when they need to be replaced.
q:

Is maintenance easy or do I need guidelines?

a:

Maintenance is straightforward, when using the Macro diet scales, wipe them clean with a damp cloth. If you have been weighing any type of meat, be sure to use an acceptable light detergent which will properly clean the Macro diet scales so that bacteria cannot take a foothold and start breeding.
q:

Portability, what the smalles option?

a:

There are scales on the market which are designed to fold and fit in the pocket, these Macro diet scales are super convenient, they are light, offer good readout via LED screens, tend to be built in a tough durable casing and are good value. This type of Macro diet scale will require batteries.
q:

Any scales with USB charging options?

a:

Yes, there are small Macro diet scales on the market which will offer the option to recharge via a USB charger.

Go online read buying guides offering Macro diet scales and you are sure to find what you want.
q:

Are small scales accurate?

a:

You will need to indulge in a bit of investigative research if you are looking for spot-on accuracy. Modern scales are electronic and give digital readouts via LED style screens.

For finding a small sized Macro diet scale which will give reliable accurate weight readouts you will need to shop around, research your options. A good way to do this is just going online check guides from online stores, these sites will often provide customer reviews and you will pick up a lot of feedback on how consistent, reliable and accurate a Macro diet weight scale will be.
Subscribe to our newsletter