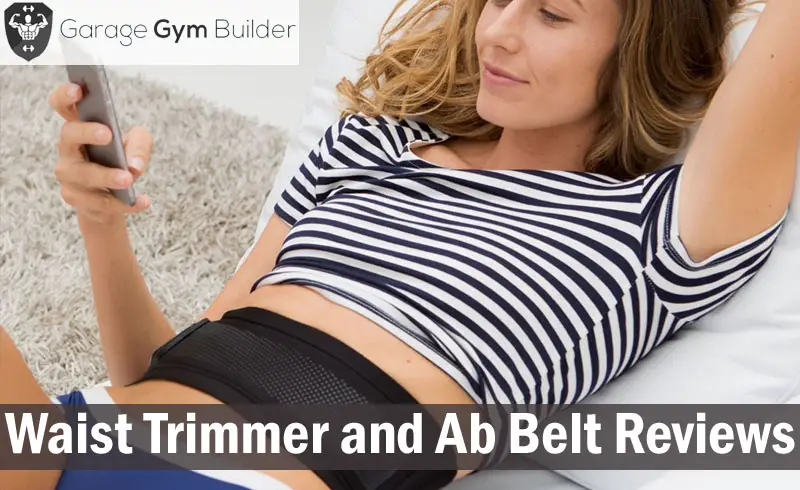 Do Ab Toner Belts Actually Work? Best Waist Trimmer and Ab Belt Reviews for 2019
updated January 1, 2019
Abdominal belts have been around for a number of decades. Over their history, they've generally gotten a bad rap. In their early years, they were seen by the fitness establishment as a ridiculous gimmick masking itself as the lazy man's way to a six pack. That image persists in the minds of many.
Over recent years, however, the abdominal belt has grown up. More correctly known as the electro muscle stimulator (EMS), the device has become more streamlined, more technically advanced and more user friendly. While there are still plenty of low quality ab belts out there, it is possible to now find abdominal belts that really do work.
Our favorite abdominal belt is the Flex Belt. This stylish electrical muscle stimulator will give your abdominals and obliques the workout of their lives, strengthening and toning them, even while you're watching TV. We also loved the Slendertone Flex, which is from the same manufacturer as the Flex Belt.
Under the general of umbrella of ab belts also sits what are commonly known as waist trimmers. Waist trimmers do not involve electrical muscle stimulation. Rather, they are a back support which also acts as a sweat belt to aid with weight loss and water retention in the abdominal area. Our favorites, and the two we will review here, are the Sweet Sweat Premium and the McDavid Waist Trimmer.
The Reviews
The Flex Belt promises to give you a top class workout with no work required apart from strapping the belt on and flicking a switch. By sending electrical impulses to your abs muscles, it will force repeated contractions without the need for endless crunches and sit ups.
The Flex Belt allows you to control the intensity of the zap that you give to your muscles depending on your training level. The more current you apply, the harder and more forceful the current is. At the highest level, you get a super intense abdominal burn.
The Flex Belt is packaged as a streamlined black, neoprene belt. On its reverse are positioned three electrodes and replaceable gel packs designed to sit over your abdominals and your obliques. You also get a remote control unit to allow you to control the level of resistance.
The Flex Belt is manufactured by the established and reputable medical device company, Bio-Medical Research Ltd based in Ireland. They have been around for more than 40 years, with their products being used in medical facilities all over the world. To add to the credibility of their product, the Flex Belt has been cleared by the FDA as a Class II medical device.
The Flex Belt causes your entire abdominal structure to contract. In the space of a 30 minute session, you will get hundreds of contractions in the upper and lower abs as well as the intercostals and obliques.
Just put it on and select your program. This machine will actually allow you to strengthen and shape your abs while lying in bed!
The Flex Belt comes with 10 different programs, allowing you to work at your level. Each level provides a different amount of electrical current to stimulate the muscles and produce a greater or lesser amount of muscular contraction.
For the larger belly, the belt comes with an extender that allows for a comfortable fit.
The remote control allows you to train to a range of preset programs.
The Flex Belt comes with a two year warranty.
CONS
Several users report that, although the Flex Belt claims that you can use it while doing other activities, the belt in operation is too uncomfortable and distracting to allow you to focus on anything else.
Some users report that when you are increasing the energy level your body receives a constant jolt until your get to your desired level.
Battery Pack Requires Charging Ahead of Time -
There is no facility for a wall plug in.
It claims weight loss which will not happen without cardio and diet changes.
Summary
The Flex Belt is the real deal when it comes to EMS type training. It will definitely work in terms of strengthening and toning your entire abdominal area. We love that it offers 150 different exercise levels. Combine it with cardio and proper nutrition to bring out your awesome abs.​
An honest Slendertone review:
The Slendertone Flex Belt offers a wide belt that provides direct stimulation to all three major muscles of your abdomen simultaneously: the rectus abdominis and the internal/external obliques. This eliminates the need to twist and turn to hit the different muscles, thus saving your lower back from potential injury.
Slendertone belts are produced by the same parent company as the Flex Belt, Bio-Medical Research Limited out of Galway, Ireland.
The Slendertone offers three different belt varieties. There is a mens', a womens' and a unisex belt. It does not feature a separate battery pack, with the control unit being positioned at the front of the belt. You are able to set the intensity level from 0 to 99, which is about the same intensity as doing a hard set of crunches. After a few months of working with the Slendertone, you will probably be ready to advance to higher settings, which this unit does not provide.
With the Slendertone system you get 7 pre-set workouts that are programmed into the unit. And, with a price tag of a hundred or so dollars less than the Flex Belt it is clear that the Slendertone ab belt is the pared down, younger brother of the Flex Belt.
When it comes to features, the debate over Flex Belt VS Slendertone is a no brainer; the Flex Belt offers more training stimulation, more programs and more overall grunt. For those who can't meet the price range of the Flex Belt, however, the Slendertone is a great alternative.​
Male and Female Specific Models -
This allows for a better contoured fit to meet the differing body shapes of the sexes.
7 Pre-set workout programs -
Training variety is critical to results and the Slendertone allows you to do a different program every day of the week.
Established manufacturer -
You can have confidence that the product is made with quality materials and craftsmanship.
CONS
The maximum intensity level of 99 may not be strong enough for people who are advanced trainers.
No external rechargeable battery pack -
When the batteries run you simply have to go replace them.
Summary
The Slendertone Flex Ab Belt provides the affordable electronic muscle stimulation workout for the beginner and intermediate level person who is looking for a non-exercise way to strengthen and tone their abs. Although not as powerful as the Flex Belt, it does offer a decent training experience for the majority of people.
Sweet Sweat provide an extra long, one size fits all neoprene belt. It comes with an all natural gel which you place a thin layer of over your abs before applying the belt. Once your sample pack runs out you'll have to buy extra jars of the gel. The belt is applied tightly to the mid section with the velcro tabs that are part of it.
Affords quality lower back support

Constructed from thermal 100 percent latex-free neoprene

Comfortable contoured design

Hand washable
CONS
Some users have reported that the material bunches up rather than staying flat against their stomach
The McDavid 491 Waist Trimmer is a one size fits all ab belt that also provides solid back support and taut abdominal bracing. It is designed to retain body heat, which will help with muscle soreness as well as water loss. Although it does a good job of cushioning and covering your rectus abdominis and obliques, it doesn't reach all the way to the hips to provide the figure hugging look that some women may desire.
Affords quality lower back support

The unit has added thickness and padding to induce greater water loss

One size fits all

Great back support

Strong and durable

Wrap constructed from 100 percent latex free neoprene

Fits up to a 50 inch waist

The non-slip neoprene inner layer prevents the wrap from moving around
CONS
The unit does allow for full coverage of the entire abdominal area in one sitting
The best Ab Belts have the ability to strengthen and tone the rectus abdominis, along with the external and internal obliques without the need for crunches, sit up or, in fact, any other movement exercises. They will not, however, remove body fat from your waist, which is the key to revealing your abdominals. To achieve that you will have to start following a clean eating pattern, restrict your caloric intake and do whole body cardiovascular exercise. Then you will be able to showcase the rocklike abdominal wall that your ab belt has helped you to create.
My name is Jim Roose. I'm a former competitive power lifter and gym owner. I've bought millions of dollars of fitness equipment over the last 20 years. This site is my way of giving back to the fitness community that's done so much for me. Every article on here is carefully researched and written by me. Leave a comment if you have any questions.