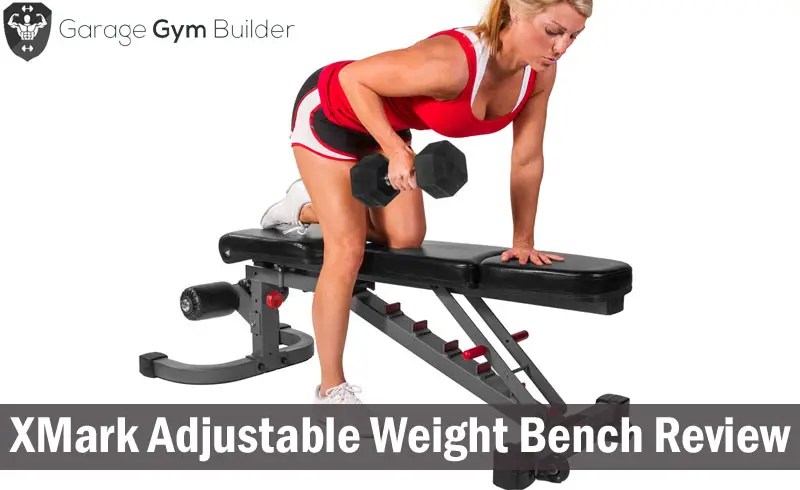 XMark Adjustable Weight Bench Review 2016
The XMark Weight Bench may be unique in its embrace of no nonsense function over all else. They're tightly wound purpose built tools meant to last. The look of the bench is a direct result of the function and build quality and not a separate consideration that influenced design. In that sense they have a lot in common with heavy duty cranes. In fact, maybe that's a better term for the XMark adjustable bench: workout crane.
XMark 12 Position Ergonomic Adjustable Decline Ab Bench Reviews
For the purposes of these XMark fitness reviews we're taking a look at three of XMark's best adjustable benches. Two have no flat option while the third does. So we're going to compare the two decline benches first and then take a brief look at their best, true FID bench as well.
First on our itinerary is the XM-7608. As we said this bench has no flat setting. Once you dare to enter there's no going back. It's not going to let your abs off the hook but it will allow you to get in some intense dumbbell work nonetheless.
The 7608 adjusts to 12 different angles so there's no core muscle group that'll be left out of the fun. The upholstery is firm but comfortable and the bullhorn assist handle not only helps you mount/dismount but is an integral workout feature as well.
Key features include:
Rock solid 11 gauge steel
Adjusts easily to 12 different angles
Vinyl covered, oversized leg restraint system
Duraguard vinyl upholstery is sweat resistant and cleans up quick
---
Like the 7608 this XMark weight bench is dedicated to the proposition that your abs need work. Though it features an even more minimalist profile than its slightly more expensive relative the wider bench makes it friendlier to larger lifters and keeps you on track during those oblique twists.
Perfect for crunches, leg raises, sit ups, decline presses and more the 4416 will help turn your loose collection of stomach tissue into a sculpted work of art.
Key features include:
400 pound total carrying capacity
Rugged 14 gauge steel construction
Simple pop pin 12 point adjustment system
Hardy, Duraguard vinyl upholstery resists tears
Our Choice for Best XMark Adjustable Ab Bench
Maybe it's just the price. Maybe it's the fact that we see little difference in performance capabilities between this bench and the 7608. Maybe it's just that wide flat, firm, single piece bench that makes you feel like you could curl up for a (declining) nap when you're finished working out.
Actually it's all of those things that informed our selection of the 4416 as the best adjustable ab bench from XMark. If you're serious about turning your core into a physical showpiece this is the bench you want to have.
XMark Weight Bench Reviews: Additional Information
Both 7608 and 4416 are primarily decline benches. But what if you want a more straight up dumbbell-centric FID bench experience? Well XMark has the answer to that in the form of their amazing, heavy duty XM-7630.
XM 7630 XMark Fitness Commercial Rated Adjustable Dumbbell Weight Bench
Rated to an incredible 1500 lb total carrying capacity the XM-7630 can do weekend duty holding your car off the ground while you change the oil or repair the muffler. Basically this bench is the equivalent of a 9-axle ultra heavy duty truck crane.
With an adjustment range that spans dead vertical to steep decline and a 7 position seat back and 3 position saddle the 7630 will accommodate the most extreme of lifters without bending, breaking or even working too hard.
Key features include:
Built in wheels and handle for easy portability
Skid resistant feet keep you glued to the floor
Total capacity of 1,500 lbs (can't say that enough)
Lifetime warranty on the 11-gauge steel superstructure
Final Thoughts
There's no need to search for superlatives when describing an XMark weight bench. They're fabulous pieces of equipment that put function first, last and in between. If you want to transform your core into the stuff of legend their decline benches will get you there in a hurry.
If you want a more well rounded workout on maybe the best built FID bench on planet earth, there's the 7630. Whatever your need XMark has you covered. See the 7630 in action in this short video.
Besides, Rogue Adjustable Benches and Universal Five Position Weight Benches are also good choices when it comes to solid models. Check them out and don't forget to read this article for an overall look of best weight benches.