Weider Incline Weight Bench Review (& Alternative Benches)
last updated:
Mar 19, 2021
If you found that your standard bench press has hit a plateau, you may need to invest in an incline bench. By simply adjusting the height of the bench activates more muscle groups than your standard lift. Inclines help to activate your upper pecs, as well as your triceps.
What we love most about these versatile benches is that they are constructed from strong and sturdy steel that holds up under heavyweight, and are super easy to adjust.
Plus, many have flat and decline options so you can fit in multiple lifts to light up your upper body like a Christmas tree on a single bench.
In this guide, we have compiled some of our very favorite incline benches to help to sculpt and build muscle in your upper body.
This is the best product on our list that is currently in stock: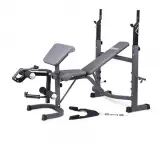 Body Champ Olympic
Why is it better?
Workouts for every muscle group
Safety features
Powder coated finish
Easy to assemble
Preacher pad has adjustable height
30
Researched Sources
13723
Reviews Considered
30
Hours Researching
10
Products Evaluated
Adjustability
Capacity
Effectiveness
Features
Stability
By Default
Best 10 Incline Weight Benches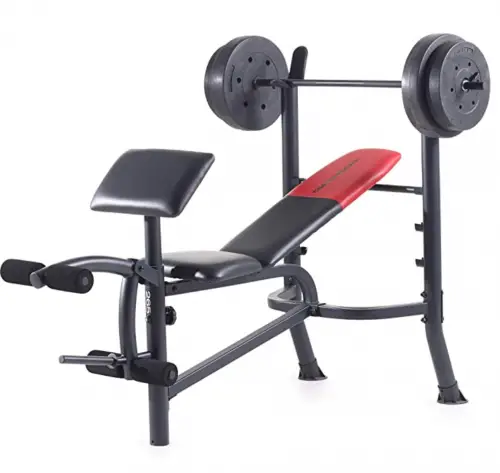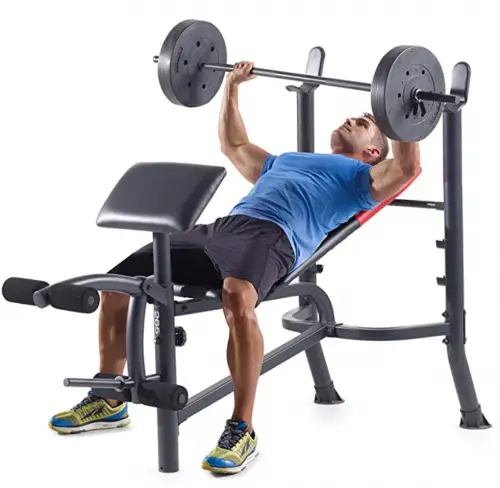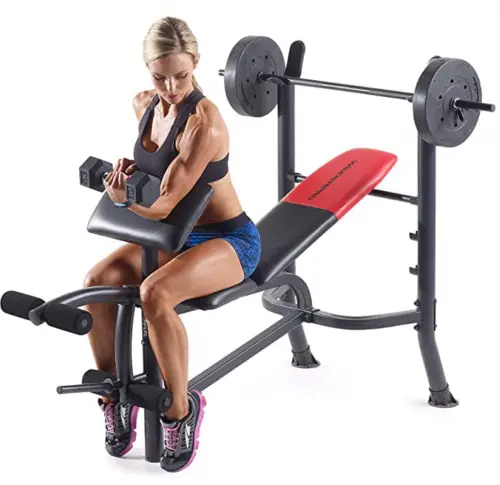 All models are affordable
The 395 is an Olympic set
Barbell comes with its own universal collars
Metal uprights for safety/storage
Leg and preacher pad stations come standard
Vinyl weights not as durable, grippy as higher end rubberized
Safety is a big priority for us, so the Weider bench is equipped with spotter racks for easily reracking your bar when benching weights low enough not to need a spotter. There are Weider benches with more features than the Pro Standard, but for beginners especially, it is hard to beat the price point and safety of this model.
Read more
This one comes with 80 pounds of vinyl weights, and spring clip collars you can use with any standard barbell or dumbbell. The comfy padded bench adjusts to incline positions, to help you target different muscles and keep your routine fresh.
You also get a removable preacher curl bench for bicep shredding, and a leg station with foam ankle padding to let you perform leg curls and extensions. Many higher-priced benches do not offer these extras or will charge extra for them as options.
If you prefer something more advanced, Weider has two sibling products in the Pro line. The Pro 345 adds decline presses, and the top of line 395 offers military presses, adjustable uprights (bar holders) as well as using Olympic plates and bars for those ready to upgrade from the somewhat limited standard size.
The seats on all the Pro benches are stitched, not stapled, giving them a longer life. The padding will keep your back stationary, making sure your chest and arms are doing all the work of benching the bar.
Weider is a champion at education, so you get a large, easy-to-read chart with all the different moves you can do on your bench.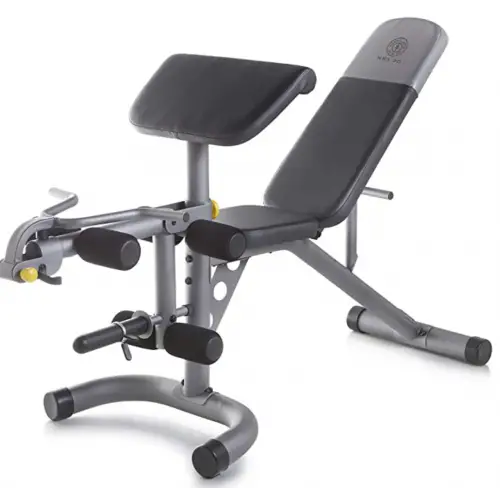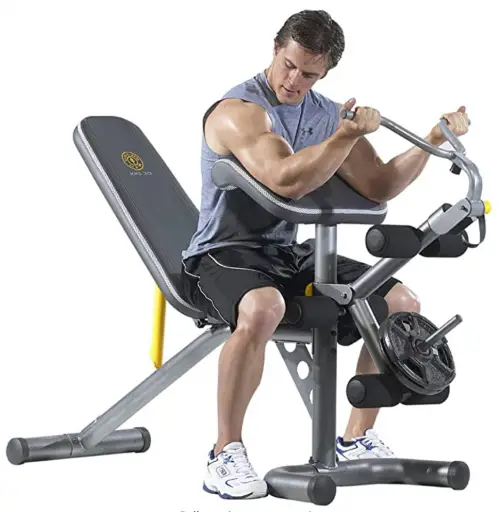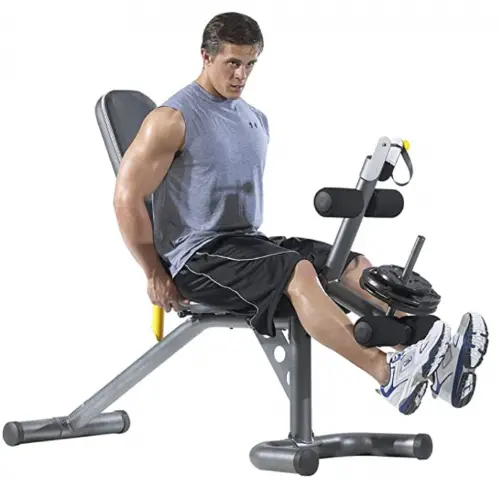 Standard preacher pad and leg station
Curl yoke is simple to install and remove
Bench/uprights give you 600 pounds user and bar capacity
Uprights are stable, safe, and adjustable up to 9.5'
Squat rack tops out at 300 pounds
Our second to top pick includes movable uprights that double as a squat rack if you face them the other way. The uprights and included attachments qualify this as a multistation or multigym bench, with a heart made of bench presses.
Read more
You get both a super versatile padded leg developer and a steel preacher curl pad with stitched foam padding. The preacher pad has a rolled top, rather than a flat surface, which increases comfort and also gives you a better range of motion when isolating your biceps. The uprights, or "safety spotters" as Weider calls them, are adjustable to different heights and let you easily switch between wide and narrow grip bench presses.
The bench has an ample 600-pound capacity, including 300 pounds of free weights and 300-pound user weight. Benching 300 puts you in the advanced category. However, we do wish the uprights could handle more than 300 pounds as a squat rack. Typical lifters can push a lot more with their back and legs than they can with their arms and chest.
The preacher pad pairs with a curl yoke to give it motion, and you can take the yoke off when you want to do leg exercises. A four-point base, with rubber, covered feet, keeps you 100% stable while protecting your floor from damage. Even with all the stations it offers, this bench is compact enough not to hog space in your home gym or spare room.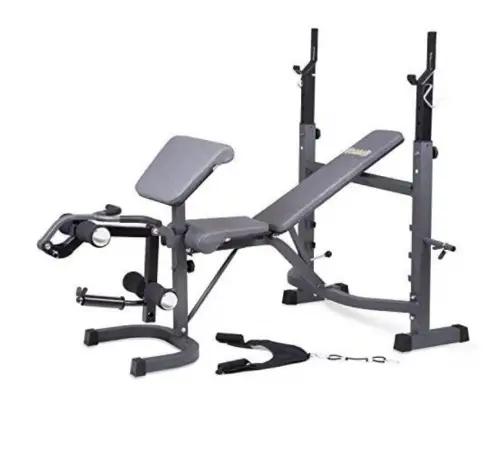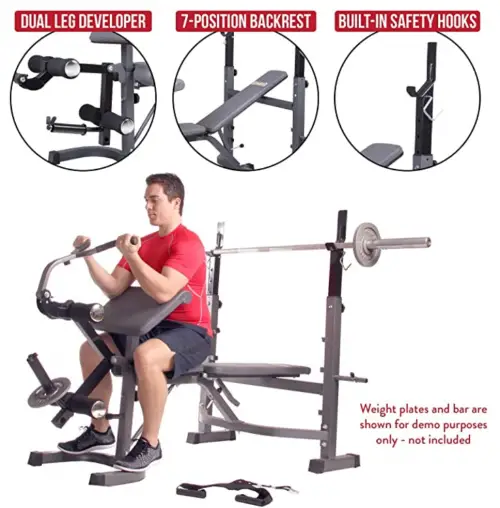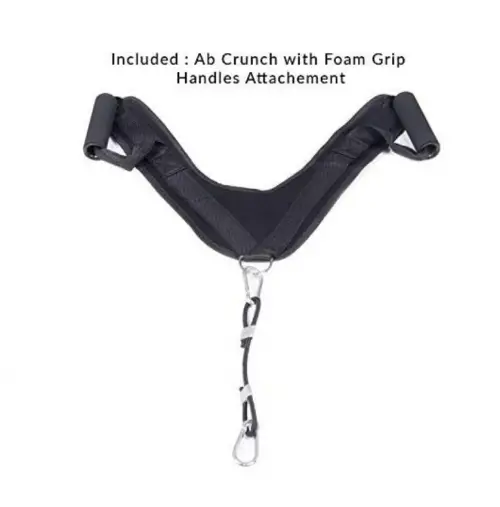 Workouts for every muscle group
Safety features
Powder coated finish
Easy to assemble
Preacher pad has adjustable height
Fixed uprights won't let you do squats
Here is another affordable, flex use bench that lets you isolate your arms, build up your legs, and even do ab crunches in addition to the foundational bench press. The simple gray and black padding, frame, and upright color pattern give the machine a serious, no-nonsense look.
Read more
Uprights are height adjustable but are permanently attached to the bench frame so you cannot use them for squats. The bench lets you do flat, incline, and decline bar presses ordumbbell lifts.
This is both a standard and Olympic bench, with a leg peg that takes Olympic plates (with an adapter sleeve) for your leg curls and extensions. That peg doubles as the load bearer for preacher curls. Body Champ added safety hooks and anti-pinch guards for safety. The leg stabilizer uses a U-shape, which gives you even more safety. The design, along with a U-shaped front foundation and four-point rear foundation, gives you six points of rubberized floor contact for one of the most stable benches we can imagine.
Ab crunches come by way of a y shaped nylon yoke with a lanyard. It's an unconventional design, meaning there's a learning curve, but reviewers indicate the yoke is effective and pain-free.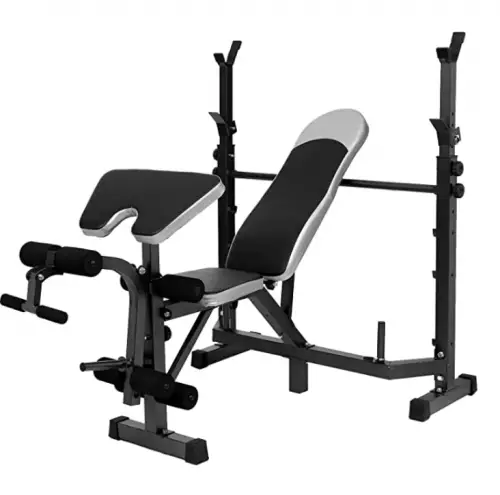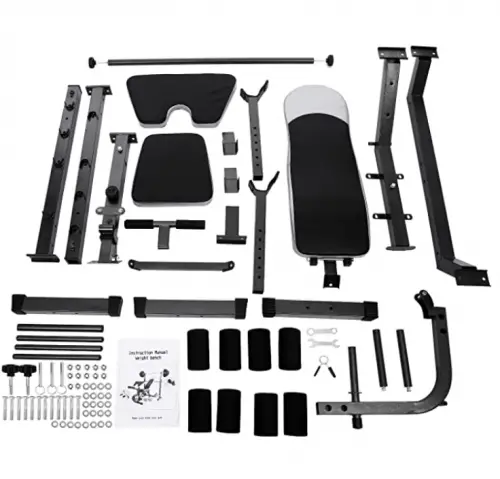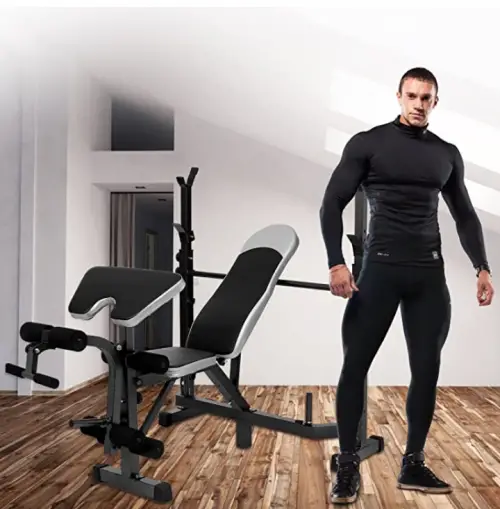 Upright stand doubles as a squat rack
Olympic plates out of the box
Rope resistance attachments
Resists rust and moisture
Preacher pad requires dumbbells or curl bar
Tomasar offers us another moderately priced Olympic bench that will help you take every major muscle group to the next level of your training plan. This is another iron-centered multigym with the price and simplicity of an advanced weight bench. You even get resistance bands for extra training on the leg developer.
Read more
Uprights are adjustable and, to every squat junkie's delight, can become a squat rack when you move the bench piece out of the way. This is a light commercial, gym ready unit that you can use at home to free up some space for cardio machines or other additional equipment.
Briefly, our research shows you can do bench presses from any angle, preacher curls with one or two dumbbells, leg extensions and curls, and of course the uber-important barbell squats.
Weight plates and the bar are not included with the purchase. You can get them as an option from Tomasar, but any Olympic bar and plate set will fit the unit.
We did notice that the preacher curl pad is flat, without the rounded top part for comfort. Since the leg peg is not attached to the preacher pad, you have to use dumbbells or a curl bar for your biceps isolation. It is a small missing convenience that we are sure will not take away from the usefulness and utility of Tomasar's bench.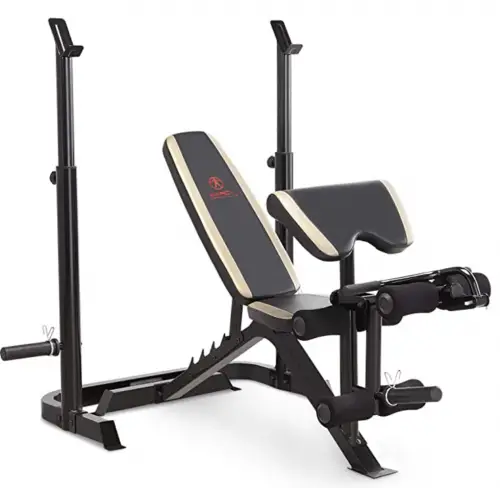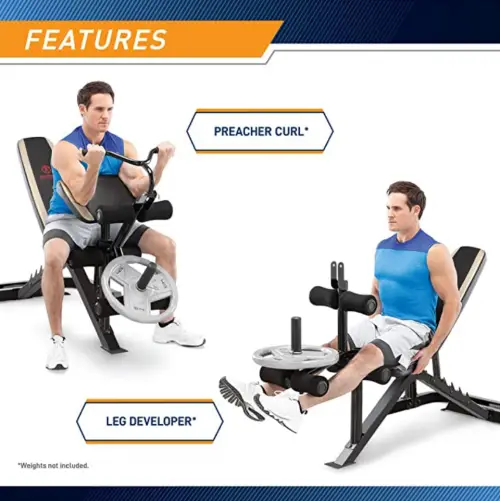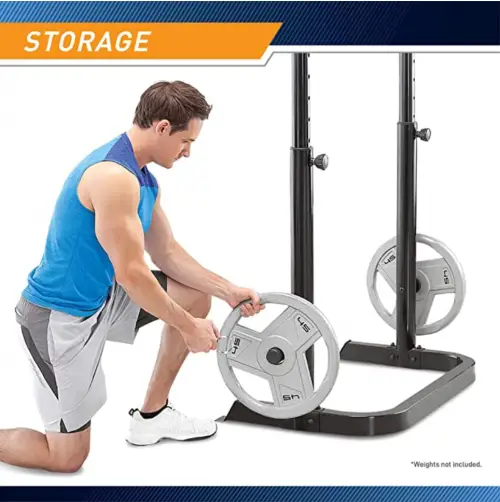 Multiposition padded backrest
Preacher curl attachment has wrist saver Y handle
Removable standalone squat rack
Bench seat is not height adjustable
We have come to expect some of the best durable, full-featured, compact exercise equipment from Marcy Pro, and always at an affordable price. This Olympic bench carries on that tradition, to your benefit.
Read more
First of all, the clean-looking comfort padded bench will adjust to any angle you wish for targeting your chest, arms, or core. It is a gap-tooth design, with a tab on the back of the bench that snugs down into the teeth. There are no pins or knobs to fuss with when you want to go low or high with your bar or dumbbell upper body exercises.
The vinyl seats are packed with foam for a comfortable ride that will not allow excess back movement and won't cause pain or injury. On top of that, you get rubberized grip handles for arm curls. The handle will fit securely in your hands, no matter how much of a sweat you work up. The one-piece handle assembly has a wrist-friendly "Y" shape, too, letting you curl heavier and harder without any extra stress on your arms.
Uprights are height adjustable to please shorter or taller than average users. In addition, you can use the upright assembly as a standalone squat rack. Safety locks throughout the frame will keep you stable without restricting your range of motion at all.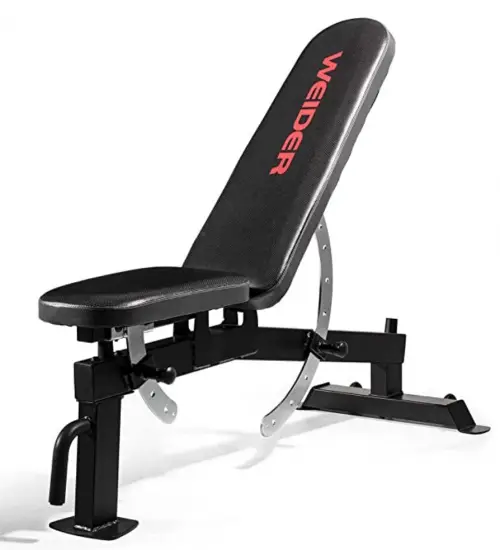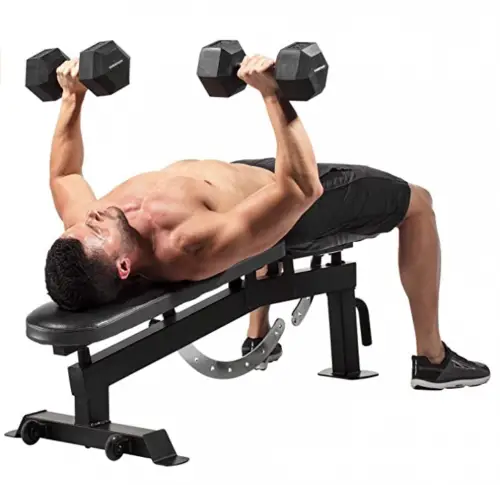 Easy to assemble
Durable box-stitching
Wobble-free
A little time consuming to adjust
What we love most about this simple design from Weider is that it is made from strong and sturdy materials that are easy to assemble, and will not wobble under heavy weights. It is able to be adjusted to accommodate both incline and declines, and can even be used as a flat bench as well. Plus, it comes in at an affordable price point that won't break the bank.
Read more
The very first thing that we noticed about this design is that making adjustments to the pitch of the backrest is quick and easy. It has a central pivot point and pegs that allow you to adjust the pitch of the backrest up to 8 different ways. Unlike many designs out there on the market, you can even adjust the pitch of the seat as well to 3 different angles.
One of the most notable features of this design is that it is composed of strong and sturdy materials that are wobble-free. The frame is made from solid steel construction with a glossy black powder-coated finish that not only looks sharp but is also resistant to rust. The seats are made from high-density foam with durable box stitching that will hold up quite well over the years.
If you are in the market for something that is strong and sturdy and able to take a beating, this option is a great choice. We love that it is composed of strong materials that can be adjusted in a variety of ways to target a myriad of muscle groups, and comes in at an affordable price point.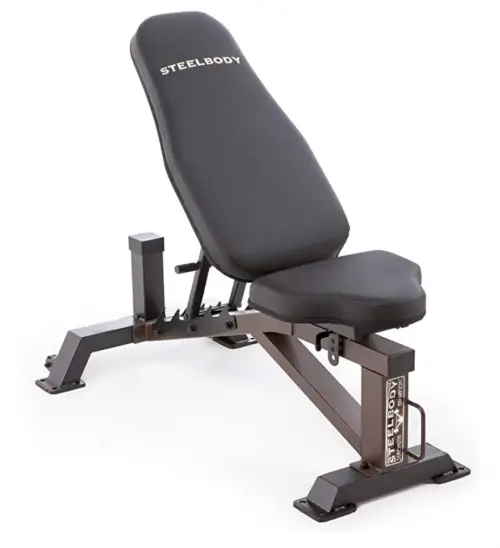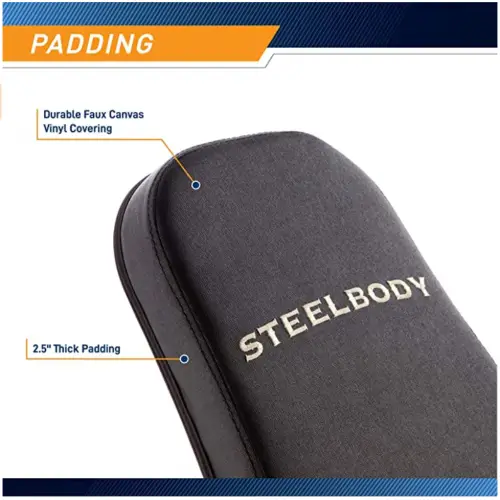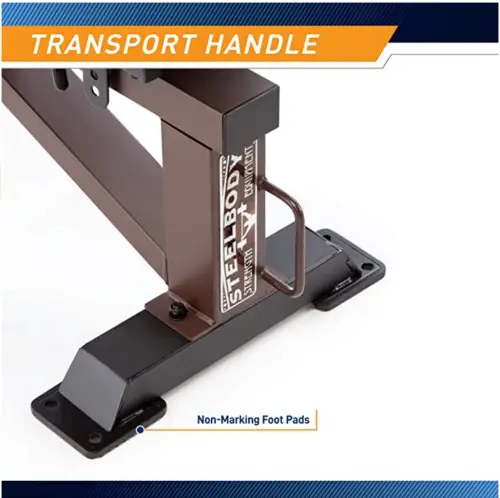 Dumbbell or light barbell exercise
Customizable, adjustable--quite versatile
Easy to use and adjust
Wheels for easy transport
No uprights for storage or bench presses
Here is a simple weight bench that does not have uprights for weight racking. That means no heavy barbell squats or bench presses. You can do dumbbell flys, and light bench presses for toning and sport-related speed.
Read more
More intense bench presses are fine, the bench can handle the weight, but positioning will be harder and a human spotter is an absolute must for safety.
With this bench, you can do overhead dumbbell presses by setting the bench at the highest position. The adjustment is an easy gap tooth design, with powder coated steel frame construction. The backrest goes to six declines, flat, and incline positions. Padding is 2 inches thick for comfort and back stabilization, with faux vinyl covering that will be easy to keep clean.
At the bottom, you get four points of ground contact. They all have square rubberized feet to avoid damaging your floor. Back wheels and a fixed front handle will make it easy to move the bench, should you need to.
8

. Weider Platinum Strength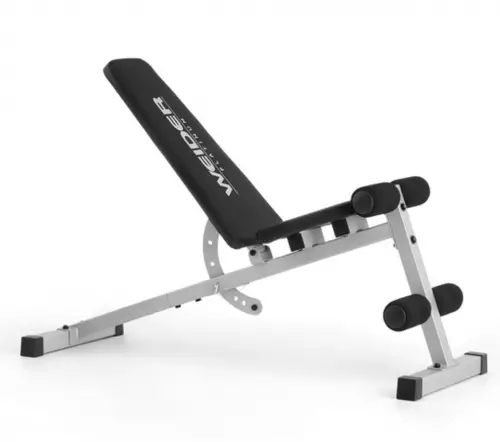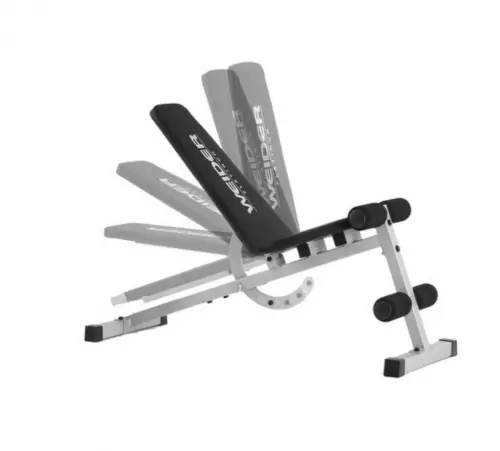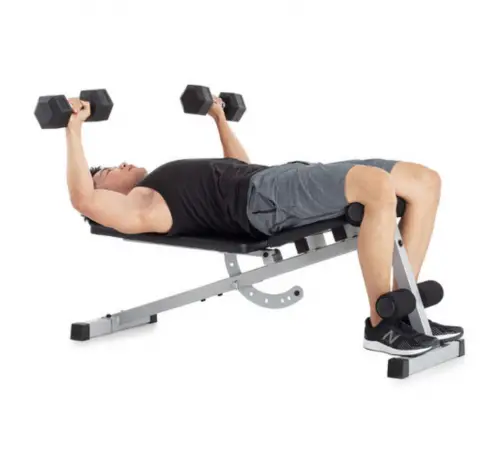 Affordable
Leg developer
Easy to adjust
Detachable preacher pad
If you are really working on a budget, this option offers the biggest bang for your buck. It is composed of strong and sturdy materials that hold up well under higher weights, and making adjustments to the pitch of the bench is super quick and easy. It even comes with some additional features that are great for isolated movements.
Read more
What users love most about this design is that making adjustments to the bench is super easy, which makes it a cinch to adjust between snappy drop sets. Simply lift up the back of the chair and place it into the grooves in the metal for your desired incline or decline. It can also be used as a flat bench as well.
Users also love that this machine comes with a detachable leg developer that allows users to load up plates onto the pegs to ensure that they never skip leg day. It also includes a detachable preacher pad for more isolated movements that help to really build muscle.
If you are in the market for something that is simple and affordable, this design is worth checking out. Even though it clocks in at a super reasonable price point, it still includes beneficial attachments such as the leg developer and preacher pad for a full-body experience. Plus, it is made from strong and sturdy materials that are made to take a beating!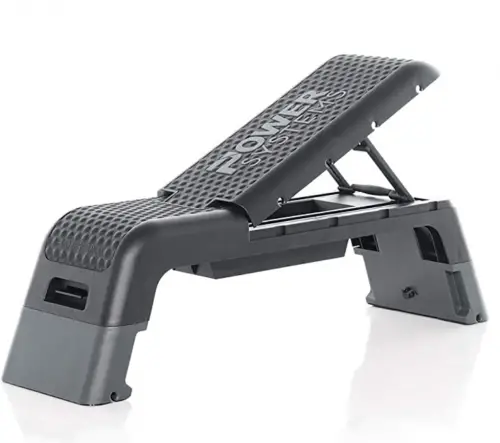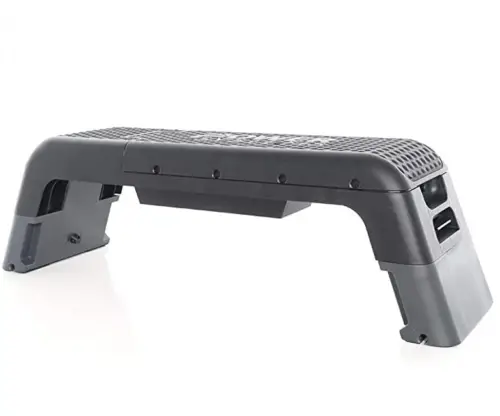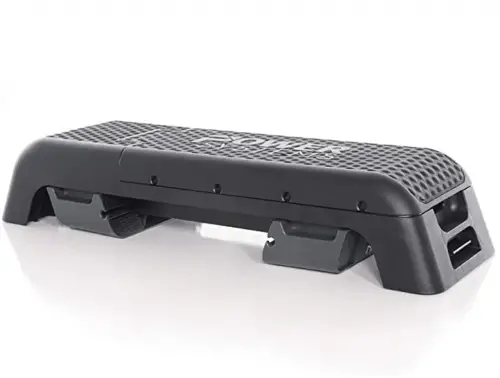 Lightweight and versatile
Aerobic step and light-duty weight bench
Resistance bands for extra training
Sturdy nonslip plastic
Not a traditional bench, so zero extra features
As usual, we have included an unconventional tool on our list that has a more eclectic use, while still staying true to the bench theme of our buying guide. This one is meant for fitness classes ideally, but you can do a lot with it at home.
Read more
You can lower the bench part to make a flat aerobic step that looks like the bottom of an upside-down letter "U". It is a height adjustable step, too, one that can grow with you as you get stronger and your heart becomes more efficient.
As many of us know, aerobic steps are also good platforms for inclined pushups, ab crunches, lunges, kicks, and even step up squats with body weight or dumbbells. This actually makes the Power Systems deck more versatile than a traditional bench in terms of strength training. You also get an easy ability to meld strength and cardio movements.
Before we get too carried away praising the step aerobics features, we need to talk about what this unit does as a bench. First, it is not for heavyweights. The construction is plastic. You do get resistance bands you can use along with dumbbells. The bench, like the step surface, is non-slip for added stability. Rubber pads protect your floor while keeping the entire unit in place.
Although this is not the platform for you to max out on the bench press, the deck has an overall capacity of 300 pounds including user and dumbbells/barbell.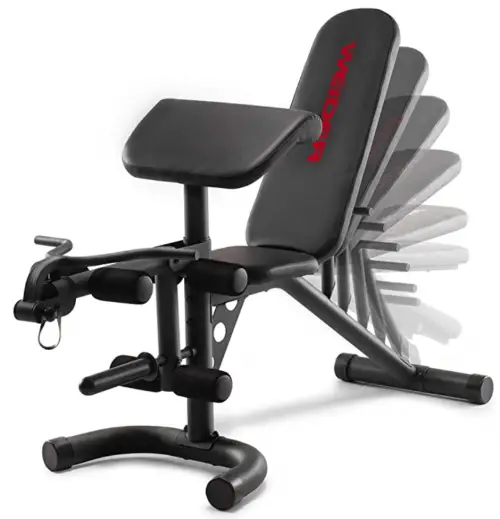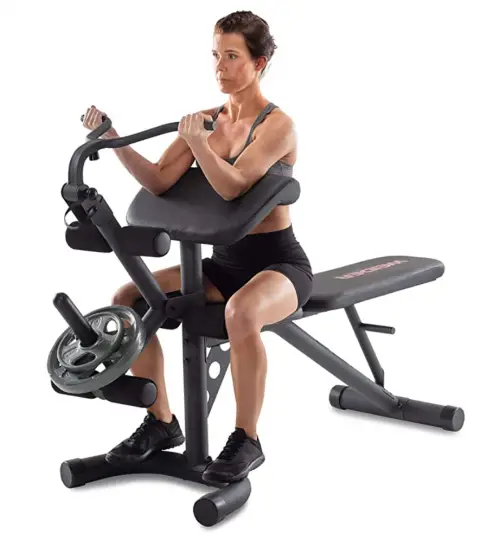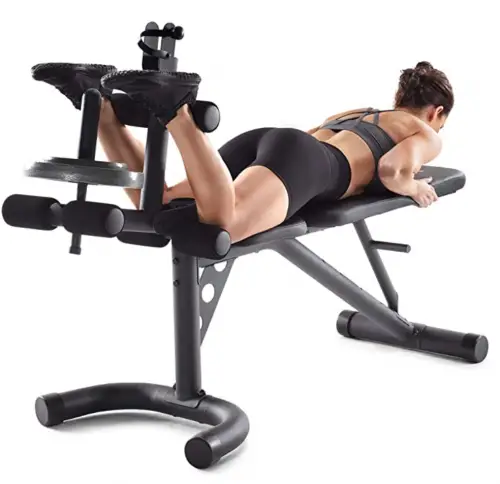 Easy to assemble
Detachable preacher pad
Leg developer
Wobble-free
The XRS 20 from Weider is a great choice for lifters looking for something that is a cinch to adjust and comes with a variety of bonus features to help you fit in a full-body workout. The frame is composed of strong and sturdy materials that hold up well over the years, and users find that this design is generally easy to assemble right out of the box.
Read more
Users have the option to adjust the back of this bench to 5 different incline, decline, or flat positions to activate a variety of different muscle groups as needed. Making these adjustments is as simple and gliding the backrest up and down the provided pegs and then locking it into place.
This design also comes with a detachable preacher pad that is ideal for isolated movements. It also includes a front-loaded leg developer to help tone and sculpt hamstring, quads, and glutes. The entire frame is made from solid steel construction, and when assembled properly is wobble-free!
If you are in the market for something that is super easy to adjust and versatile, the XRS 20 is worth a look. We love that it includes bonus features such as a detachable preacher pad and leg developer in one small and compact package that comes in at a price point that won't break the bank.
Criteria Used for Evaluation

Adjustability
Today's customers want a bench that can fit their body type, grow with them, make things convenient, and basically give them a custom experience, tailored to their needs.
The great number of fitness enthusiasts has led to competition among manufacturers. To keep their share of the market, makers know they must provide inclines and declines, support stack height adjustments, removable accessories, and more.
The benefit to you is that you can pick and choose the bench that will most comfortably fit in with your goals, body type, and fitness level.

Capacity
A bench with too low a weight capacity will need to be passed on and replaced eventually.
That is because, if you use the bench consistently, you will make strength gains and reach a point where you need more weight than the machine can provide, just to maintain your current fitness level.
This is not always the case, of course. Many of us look to weights just for toning, added balance, and the ability to perform our everyday tasks without getting fatigued. If this is you, it's okay to save money by getting something that tops out at 200 pounds or less. 200 pounds will likely be more than you ever need.

Effectiveness
Isn't all fitness equipment effective, if you use it long enough?
The answer is yes...kind of. If you are used to picking up and carrying a five-pound rock, switching to a ten-pound rock will be an effective improvement. You will have doubled your working weight.
But that doesn't mean the ten-pound rock will do anything for you over the course of months or years. To be effective, a machine has to have built-in adjustable resistance. Arm and leg attachments count because they make the machine more effective at all body fitness.
All of the benches on this list, including the simplest ones, are effective at taking you from point A to point B in your fitness journey when you use them properly and make them part of your routine.

Features
Don't lose your original purpose in all the features.
What we mean is that, when a bench becomes feature rich, giving you dozens of options and combinations of settings, you can lose sight of the fact that you bought the machine to lift weights and improve your bench press. The easiest machines, as far as focus, are the ones that really don't let you do more than lift dumbbells and barbells at different angles.
This isn't to say features are bad. Machines that add on crunches, leg curls, leg extensions, and crunches are great. We just believe, from experience, that the more features a machine has, the more likely it is that some of those features will be gimmicky and not of much practical use.

Stability
Nothing good can come of lifting without a stable platform.
That is why we prioritized stability as one of the factors we examined. A stable bench, with three or more points of ground contact, allows you to have confidence no matter how intense you decide to make your workout.
Other factors affecting stability include the steel tubing and placement of accessories. It is also important to stay within the limits of how much weight the bench is rated for. Going above this limit will cause even the strongest bench to become unstable.
Expert Interviews & Opinions
Most Important Criteria
(According to our experts opinion)
Experts Opinion
Editors Opinion
Users Opinion
By Default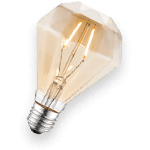 Leg Station Safety
Since none of the benches on this list use weight stacks, the danger of getting a cable tangled or pinching a finger between plates is nil. However, just because that leg station is simple and only has fulcrum doesn't mean it can't injure you.
Professional gyms actually agree that the leg curl/extension can be dangerous. The bench types more or less lock you into position, so you may not get injured from lifting the wrong way, but it is still possible to misalign your knees with the pivot point. Since bench leg stations typically don't have pivot points, proper placement is crucial. Keep your knees roughly in a line with the top center fulcrum point.
The ankle roller should sit on your ankles, never your shins. If you cannot adjust the pad away from your shins, you are probably too tall for the unit.
Start with your feet at a natural position, not shoved all the way back as far as they can go. That will lead to hyperextension. Exhale as you lift the legs up parallel to the floor, hold the weight for a second, then slowly and deliberately inhale as you go back to start.
We cannot stress enough that the leg curl/extension is not a "go big or go home" machine. The more weight you pile on, the more strain your knees are receiving. Keep the weight light, aim for speed and toning, and save the heavyweight for squats, calf raises, and leg presses.
Proper Bench Press Form
Always use a spotter for the bench press, unless you are lifting a lightweight that you know you are capable of handling. The only exception is if you use a machine that keeps the weight far away from your chest, neck, and groin. These are areas you can seriously injure if you drop a loaded bar on them.
Now that that's out of the way, let's review how to use proper form when you bench.
When you lie prone on the bench, with the bar securely on the uprights, your eyes should be looking directly up at the bar. Put your arms up, and grip, not too tightly, with your thumbs wrapping around the bar to form a seal with the palm and the rest of your fingers. Now you can get the bar off the rack by extending your arms out straight.
Once it is off the stand, take the whole bar down to your middle chest area. This means the weight has to come forward a tiny bit since it was centered over your eyes when you started.
When you reach your chest, at the bottom of the repetition, straighten your arms and place the bar back on the upright. This is a time when you may need your spotter the most, because the bar may resist going back onto the holders.
Other Factors to Consider

Portability
People who buy weight benches typically do not plan on using them outside of the home, but nothing is impossible. Most of the benches here can be transported if you have a truck or van. A few of the lighter duty ones can fold, stow, and be carried around or placed in a regular car's trunk. Also, most of the single piece benches we found have wheels. A few have handles.
We wanted to provide for as many lifters' needs as possible, so we considered portability as a secondary factor in our research and reviews.

Weight
The weight of a bench helps add to its stability rating. However, some benches are too heavy for some situations. For the benches on our list that qualify as multi gyms, we strongly suggest getting some thick flooring or pads to protect your home.
Remember, too, that more attachments will add to the weight, and that the uprights can often double as plate storage. These factors will all add to the total weight of the bench and should be kept in mind during the planning phases for your home gym.
Frequently Asked Questions
q:

Should I buy a flat bench or an incline bench?

a:

The answer to this question boils down to a matter of personal preference, as well as the style of lifting that you enjoy. Flat benches are super secure, but lock you into one type of flat lift. If you need a secure base for heavy bench presses, a flat bench is a great option for you.

However, an incline bench is great for targeting various muscle groups in your upper body. When pitching the bench at even a modest angle, you will find yourself struggling under the weight you can easily knock out when you lie flat!
q:

Why do incline and decline bench press?

a:

When you engage in flat bench presses day in and day out, your muscles become accustomed to the movement and that's where plateaus happen. To ensure that you work all facets of your upper body, simple incline and decline presses can make all of the difference in the world.

Incline presses work the upper part of your chest as well as triceps (a common sticking point in standard bench presses), and declines work the lower pecs as well as important stabilizing muscles in your upper arms.
q:

Is an incline bench easier than a flat one?

a:

Incline and flat presses aren't harder or easier, they are just different styles of lifts. It's similar to hammer curls and straight curls. One isn't easier than the other, they just activate different muscle groups. Inclines primarily work your upper pecs, anterior deltoid, and triceps.

If these muscles are strong, inclines may seem easy. If they are weaker than other parts of your body, you may find them more difficult.
q:

Does padding help with performance?

a:

It can because it increases comfort while decreasing pain, leading you to focus deeply on the lifting task at hand. Also, the padding can help prevent you from wiggling your back to get the bar into position or get an extra boost. Wiggling or moving your back can both injure you and shortchange you on chest strength results.
q:

What if I can't get access to a human spotter?

a:

Unfortunately, in this case, we really must insist that you hold off on substantial bench press weight. There just is not a safe way to lift, barring the use of a Smith or Hammer Strength machine.

However, there are still plenty of exercises you can do to hammer on and develop your chest strength. These include planks, crunches, pushups, dumbbell flys, upright rows and many more.
q:

Are bench presses purely a strength exercise?

a:

No. Any exercise will involve some sort of cardio element because you will change your breathing enough to have an effect on your heart. So even the bench press is a low key cardio exercise, which depends on the blood flow to and from your heart, as well as all your lung power, in order to accomplish the task.
q:

How do I position myself for dumbbell flys?

a:

We have found the easiest way to be grasping a dumbbell in each hand, sitting slowly on the bench, and holding a dumbbell to each side of your chest. You then can slide down to a prone position, extending the dumbbells out to each side to begin your butterfly style reps by drawing the dumbbells laterally towards your pecs.
q:

What good is a flat bench?

a:

Flat benches are good! If they have uprights, you can use them for benching lighter weights, or heavier ones with a squatter. The flat presses don't target all the specific muscle groups as each incline does, but you still get all the benefits to your pecs. And if the bench doesn't have uprights, you can still do things like triceps kickbacks using the bench as a platform.

Don't forget about incline planks, incline pushups, and pushups with your feet on the bench so your back has an easier time.
Subscribe to our newsletter