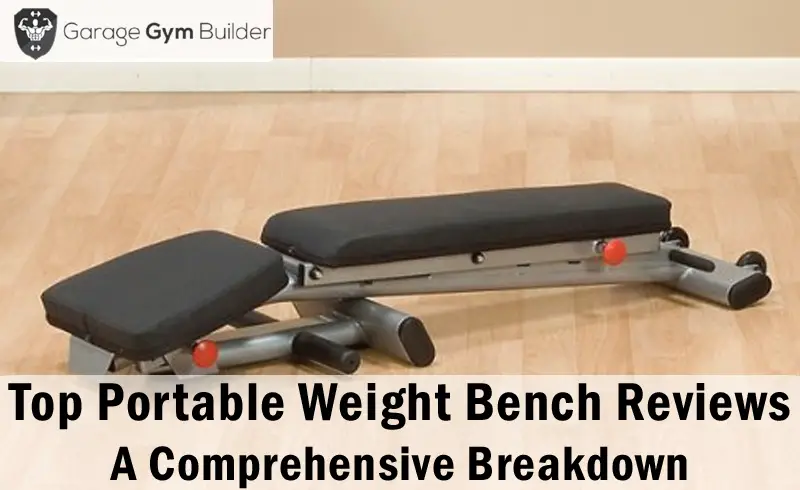 Best Portable Weight Bench Review 2017
Adjustable weight benches are a lifesaver for workout enthusiasts who aren't able to get to the gym all the time. But a lot of really incredible adjustable benches pose a fairly vexing question: Where do you put them when you're not using them?
Fortunately there are a number of great adjustable benches that fold up and can be wheeled away after use. In these foldable weight bench reviews we'll look at our 3 favorites then move on to all the top brands.
Our Three Favorites
"Best in Class" is our choice for the best collapsible weight bench, bar none. "Best Overall Value" is our choice for the portable bench that will deliver the best dollar for dollar value and our "Most Affordable" is the best portable weight bench for less than $100.
BEST IN CLASS
BEST BENCH IN THE MARKET (REGARDLESS OF COST)
XMark XM-7630 Adjustable Weight Bench
Because of its many virtues this bench is already our favorite overall adjustable bench. And because it also folds up nicely and rolls away on its built-in wheels when you're done with it, it also wins our Best in Class as a portable weight bench. Just an outstanding piece of equipment no matter how you measure it.
​
Features include:
1500 lb capacity
Lifetime warranty
11-gauge 3 x 3 steel frame
BEST OVERALL VALUE
BEST BANG FOR YOUR BUCK
At 57 lbs the Sport Bench is one of the lightest folding weight benches going. The backrest is wide at the base and narrower at the top where you want room to move your arms.
You can also add a dip attachment to ramp up your entire workout. And when you're done, just fold it down and whisk it away.
A remarkable value for money option.
Features include:
Rated to 550 lbs
Fully assembled on arrival
Wide, low profile keeps things stable
MOST AFFORDABLE
GREAT CHOICE FOR THOSE ON A BUDGET
Marcy Adjustable Utility Bench
At first you may not believe this outstanding collapsible weight bench is actually less than most weightlifting shoes, but it is. It has the feel of weight benches many times its price. If you're on a tight budget this is the bench for you.
Features Include​:
Adjusts to all FID positions
Clean no-nonsense design
Wide sharp-looking seat back and saddle
TOP BRANDS
HAMMER STRENGTH
Hammer makes high end benches that reflect the time and money that went into their creation. Nothing is overlooked from the close tolerances to the proportional relationships to the quality of materials. You'll pay more for a Hammer bench but you'll get more.
---
This is a versatile, high performance folding adjustable weight bench that's stable as the pyramids and built to last nearly as long. It also happens to fold up neatly for storage. Features include:
High quality naugahyde upholstery
Full 90 degrees of adjustability
11 gauge steel framing
There are several reasons to buy this Hammer Strength Adjustable Bench, read through our detailed analysis. We suggest you to have a look!
---
BEST FITNESS
Best Fitness brand equipment runs the gamut from space-age looking exercise bikes to minimalist weight benches. They put ample consideration into everything they make and their FID benches are no exception.
---
The narrow profile of the BFFID10 belies the fact that it's an extremely stable compact weight bench. The pull pin adjustment system is simple and hassle free and when you're finished the whole thing collapses into itself and slips away quietly.
Features Include:
Comes pre-assembled ready to go
Adjustable to 12 different angles
Easily accessorized
Know more about this affordable combination Best Fitness BFFID 10 FID weight bench affordable and find out several reasons to buy one. Also watch the video review.
---
BODY SOLID
Body Solid makes weight benches that prove the value of discreet design and restraint in presentation. Other benches make use of the same basic T-shape for their benches but (almost) none pull it off as well as Body Solid.
---
The GFID225 is a seriously comfortable and attractive fold up weight bench that can be set up in an instant and disappears just as quickly when you've finished. It's strong, it's wide, it's stable and it adjusts easily.
Features include:
High tensile steel framing
Fully assembled out of the box
Powder coat low maintenance finish
Read about great features of this highly stable Best Fitness GFID 225 Folding bench which has an amazing capacity of 1000 lbs. We suggest you to dig into details.
---
BOWFLEX
Bowflex has worked hard to earn the trust of their customers. That hard work is reflected in the quality of their adjustable weight benches. All thoughtfully engineered and well-built, Bowflex benches are extraordinary pieces of equipment that will provide years of service.
---
Bowflex touts the 5.1's ability to promote proper posture while lifting and it certainly feels like the back is getting a leg up (so to speak) when you're going through the motions. A sharp, affordable fold up weight bench.
Features include:
Removable leg restraints
117 degree adjustable range
14 gauge steel framing for long lasting durability
Read detailed review about this amazing 5.1 Adjustable folding weight bench, and you will start loving it more. Compare it with 3.1 and 4.1 Bowflex bench.
---
CAP BARBELL
CAP has been around a while and has learned a thing or two about making high quality folding weight benches. They've also learned a few things about keeping costs down without sacrificing quality and for that they've earned the admiration of a lot of lifters.
---
The Deluxe Utility Bench demonstrates what can be done if you put the emphasis where it belongs; on performance. It will handle 500 lbs flat and 400 on the decline/incline. A great foldaway workout bench.
Features include:
High grade steel construction
Optional resistance bands
Built in handles for ab work
We have made it easier for you to choose a suitable CAP Barbell Deluxe Utility Bench. You can read and compare various benches available by CAP.
---
LEGEND
Legend opened the eyes of the entire fitness industry with their scheme to make weight benches customizable in appearance. Not many have followed suit yet but it seems just a matter of time since the effect of myriad color combos is so striking on the Legend benches.
---
Note: this product is discontinued: please see this bench for a great alternative
---
The 370 Boa is Inov8's grab for the "best lifting shoe" brass ring and features a revolutionary closure system. That system - the "Boa" of the shoe's name - allows the user to adjust tension on the strap by turning a built-in dial that eliminates the need for laces. Some of the 370s other virtues include:
Features Include:
11 gauge 3 x 3 inch framing
Fully customizable color scheme
An overbuilt weight of 93 lbs for incredible stability
What's so special about this really good looking Legend 3 Way Utility Adjustable Weight Bench. Read our review of this bench to know more about its features.
---
LIFE FITNESS
Life Fitness makes a full range of accessories and would like you to trip out your fold away weight bench to a serious degree. Fortunately, if you're a minimalist and like the idea of just using a simple FID bench you're in luck, because their benches also work fine on their own.
---
The Multi Adjustable Bench is practically unique in the way it integrates form and function. It was built to allow you to confidently face down the demon of personal limits and break on through to the other side.
Features include:
10 year warranty
Rubberized foot pads for extra stability
Contoured upholstery for comfort and stability
---
POWERLINE
Powerline specializes in home fitness equipment and some of their stuff is indistinguishable from what you'll see at the most well-funded fitness club, which begs the question: Why do I pay for a fitness club? Good question.
---
This folding adjustable weight bench is spare, bordering on the austere but doesn't scrimp where it counts. It's got a nice broad footprint to keep you stable and built-in leg restraints for even greater stability during decline lifts.
Features include:
Lightweight construction (57 lbs)
7 different incline/decline settings
500 lb total carrying capacity
This is one of the most stable, dependable FID bench. Read Powerline Weight Bench review to know why it is better than most of the expensive weight benches, and is a must have in home gym.
---
POWERTEC
Powertec benches are for people who are serious about fitness. They exhibit all the best qualities of the portable weight bench; affordability, outstanding build quality, ease of use. Their products bring a fresh perspective to bench design, one that engages the imagination and strengthens the body.
---
The Escape Fitness Deck is a versatile workout bench which can double as a stepper station. It is made from heavy duty PVC material. The maximum user weight on this bench is 242 pounds. It is adjustable to three positions, allowing you to perform incline exercises. This bench is 44 inches long and 13.9 inches wide.
This bench provides you with a very solid and secure platform to train from.The Escape Fitness Deck easily converts to a plyometric box or stepper. This makes it a great bench to use in your CrossFit gym, doubling and a weight bench and a plyo device. The unit can be quickly folded away for compact storage.
PROS
Workout bench and plyo box / stepper

Folds away for easy storage

Adjustable to 3 positions

---
PRECOR
Precor is another brand of weight benches that looks like a million bucks. The circle/square design motif lays bare the mechanics of the bench while the low profile and thick upholstery make you want to keep coming back for the experience.
---
Use the Precor Adjustable Bench as a stand-alone fold away weight bench in your bedroom or living room or use it as the centerpiece of your garage gym. Your friends will like the look, you'll like the results.
Features include:
Lightweight construction for ease of handling
Powder coated heavy duty frame
Long seat back for taller lifters
This makes you wonder why it is made so simple. Read our Precor Adjustable Bench review to know why this is the most complete bench built with the least possible material.
COLLAPSIBLE WEIGHT BENCH: CONCLUSION
If you've been holding off building your home gym or just buying a weight bench because you thought you didn't have enough space or you'd have to disassemble it every night the time has come to think again. There are lots of great folding weight benches on the market today. You won't have to break your bank to get a foldable flat bench either. So don't wait any longer. Pick up a compact weight bench today and get to work. Are you looking for best adjustable weight bench, we have written an in depth review that you may find useful to read, also on GarageGymBuilder.com.

Two of the most effective cardio trainers for your home gym are exercycles and ellipticals. Purchasing both separately can be very expensive and very space demanding. Fortunately, you don't have to. You can purchase hybrid trainers which combine these two great cardio machines. However, the quality of these trainers differs markedly. In this article, we take a close look at the Top 10 Hybrid dual cardio elliptical machines on the market.
A Quick Snapshot of the Top 10

The best hybrid elliptical machine on the current market is the ProForm Hybrid Trainer, with its easy two step adjustment, free range of motion and 16 levels of resistance. Our second favorite is the GoPlus 2 in 1, which feature a sturdy chain driven resistance fan, felt brakes and 250 pound user capacity.
Rounding out our top 3 hybrid elliptical trainers is the Akonza 2 in 1 elliptical, which has a solid steel frame, quick change between functions and easy transport wheels.
To make it easy for you to compare and contrast the best hybrid trainers, we've rated the top 10 on the basis of price and durability, along with an overall rating out of 5. In the following section, we'll go in depth on each product.​
| Product | Product Name | Price | Durability | Overall | Product Link |
| --- | --- | --- | --- | --- | --- |
| | ProForm Hybrid Trainer | 4.75/5 | 4.75/5 | 4.75/5 | |
| | | 4.5/5 | 4.75/5 | 4.5/5 | |
| | Akonza 2 in 1 Elliptical | 4.5/5 | 4.5/5 | 4.5/5 | |
| | FDW Elliptical 2 in 1 | 4.5/5 | 4.25/5 | 4.5/5 | |
| | Body Power 3 in 1 Trainer | 4.25/5 | 4.5/5 | 4.25/5 | |
| | Merax Elliptical Exercise Bike | 4.25/5 | 4.25/5 | 4.25/5 | |
| | Body Champ 2 in 1 | 4.25/5 | 4/5 | 4/5 | |
| | Palm Springs 2 in 1 | 4/5 | 4/5 | 4/5 | |
| | Body Rider Deluxe | 4.25/5 | 4/5 | 4/5 | |
| | Gracelove Elliptical 2 in 1 | 4/5 | 4/5 | 4/5 | |
The Top 10 In Depth

ProForm Hybrid Trainer
The ProForm Hybrid Trainer provides you with a combination elliptical trainer with a recumbent bike, allowing you to get two metabolism boosting workouts in one. This machine is fitted with iFit technology, so you can simulate training anywhere in the world. You also get access to unlimited workouts with some of the best trainers in the business. It take just two simple steps to transform the ProForm from an elliptical into a cycle.
The ProForm Hybrid provides you with a smooth frictionless resistance, thanks to it's SMR technology. You get 16 resistance levels and 16 different workout apps. The soft grip handles feature pulse tracking sensors. An adjustable cushioned seat and large format foot pedals add to the comfort level.
PROS
iFit enabled
2 step adjustment
16 resistance levels
CONS
Stride limited to 15 inches
GoPlus 2 in 1 Elliptical
The GoPlus 2 in 1 Elliptical is an upright cycle with elliptical handles that allow you to get in an effective upper body workout as you pedal. It is driven by a chain driven fan, providing a very smooth, jerk free movement. Felt brakes provide a very secure, efficient stopping mechanism. The LED display provides a readout of all of your vital training data, including calories burned, distance, speed and time.
The GoPlus 2 in 1 elliptical cross trainer and exercise bike is a compact unit that is surprisingly sturdy. It has a maximum user weight of 250 pounds. You also get a comprehensive exercise guide with your purchase. This machine is very low impact, making it ideal for children and the elderly.
PROS
Chain driven fan
Felt brakes
250 pound user capacity
Akonza 2 in 1 Elliptical
The Akonza 2 in 1 Elliptical is a cross between an upright cross trainer and an upright bike. Changing between the two is quick and easy. The magnetic tension levels are easily adjustable to provide a smooth movement between intensity levels. The frame is made from sturdy steel to provide a rigid base to work from. The chain driven chain resistance ensures a very fluid exercise movement.
The Akonza hybrid trainer has a fully adjustable seat, along with foot straps to keep your feet securely in place. It also has large wheels for easy transportation. The max user weight is 250 pounds. End caps on the feet ensure that this hybrid unit stays stable throughout your entire workout.
PROS
Sturdy steel construction
Chain driven resistance
250 pound max user weight
CONS
Wobbles under intense exercise
FDW Elliptical 2 in 1
The FDW Elliptical 2 in 1 trainer is a very compact unit that is ideal for apartments and other confined spaces. The FDW has been ergonomically designed to provide an extremely natural elliptical motion. This makes it much easier on your joints. Variable resistance is provided by way of a centrally located easy dial operation. The combination between an upright cycle and an elliptical provides you with a great upper / lower body workout.
The FW 2 in 1 elliptical recumbent bike combo is capable of both forward and backward motion on the elliptical and the upright, allowing you to work your muscles in unique ways. A chain driven fan resistance provides a very smooth, whisper quiet motion. The saddle of the bike is especially comfortable.
PROS
Impact free
Chain driven fan resistance
Forward and backward motion
Body Power 3 in 1 Trio Trainer
The Body Rider 3 in 1 Trio Trainer utilizes a unique patented design to provide you with a combination recumbent, upright and elliptical trainer. The transitions between the function is quick and easy, with no pedal adjustment required. You get a decent amount of lower back protection in the recumbent position. The console is completely programmable, allowing you to choose from 17 different workout apps.
You get a good stride length on the elliptical and a free range of pedaling range on the cycle functions. Integrated pulse and hand rail monitors allow for an accurate tracking of your heart rate. Comfortable cushioning on the seat and back add comfort and security. You get 16 levels of resistance on all 3 functions.
PROS
300 pound weight capacity
Upright and elliptical trainer
16 resistance levels
Merax Elliptical Exercise Bike
The Merax Elliptical 2 in 1 exercise bike provides an outstanding entry into the home cardio fitness market. You get an upright cycle, an upper body motion hybrid, and a standing upright elliptical. The rigid steel frame provides the stability that is missing from many machines in this price range. A large resistance fan keeps you cool as you work out. The dual action on the elliptical allows you to work all of the muscles of your lower body.
The Merax 2 in 1 bike has a max user weight of 250 pounds. The centrally located computer monitor provides you with readouts of your key performance indicators, including calorie burned, speed, distance, and time. The LCD display is large and clear.
PROS
Large resistance fan
250 pound max user weight
Rigid steel frame
Body Champ 2 in 1
The Body Champ 2 in 1 hybrid trainer provides you with an upright bike and standing elliptical trainer cross. Unlike many such units, you get a free and full range of motion on both moves. The patented elliptical motion gives you a very natural, smooth action, and the programmable magnetic system allows you to intensify your workout as you get fitter. 17 pre-set workouts provide you with a decent range of exercise options.
The Body Champ 2 in 1 elliptical stepper combo has a space saving footprint. It also features a number of comfort enhancing features such as a gel covered seat cushion, padded dual action handle bars and a full range ergonomic stride. The max user weight is 250 pounds.
PROS
17 pre-set workouts
Compact
Gel covered seat
Palm Springs 2 in 1
The Palm Springs 2 in 1 is an upright bike, elliptical hybrid. It provides a smooth, natural action on both functions. The LCD monitor provides you with ongoing monitoring of your training data, including your time speed, distance and calories. Because you can stride both forward and backwards on the elliptical and the bike, you get a great workout for your hamstrings and calves.
The Palm Springs 2 in 1 cardio dual trainer elliptical comes with a full factory warranty. It has a solid frame that is capable of a 250 pound max user weight. A handy instructional manual also comes with your purchase. You get a very low impact, versatile workout with this product.
PROS
Forward and backward motion
250 pound max user weight
Low impact
Body Rider Deluxe
The Body Rider Deluxe flywheel dual trainer provides you with a 15 pound flywheel for a natural, jerk free exercise motion. You also get a double set of handle bars to provide you with lot of options regarding the positioning of your upper body. The smooth, nylon flywheel belt ensures a smooth operation. You are able to adjust the seat both vertically and horizontally.
The Body Rider Deluxe dual elliptical and exercise bike has adjustable tension settings to allow you to intensify your workout as you get fitter. The electronic computer monitor gives you feedback on your training heart rate, distance, time and speed. A manufacturer's warranty accompanies your purchase.
PROS
15 pound flywheel
Double handle bars
Manufacturer's warranty
Gracelove Elliptical 2 in 1
The Gracelove Elliptical 2 in 1 trainer is a very compact hybrid between an exercise bike and a standing elliptical machine. It provides you with dual handle options so you can either use a motion or stationary hand hold. This unit has a solid steel main frame that keeps it sturdy during all exercise applications.
The compact nature of this unit, along with its lightweight design and travel wheels, make it easy for you to roll away for storage. The centrally located LCD monitor provides you with feedback on your training data, including your training heart rate. A tension knob allow you to adjust your training intensity to suit your requirements.
PROS
Very compact
Dual handle bars
Travel wheels
Conclusion
Our favorite combination elliptical is the ProForm Hybrid Trainer, which provides 16 resistance levels, easy function interchange and a full motion range. We also loved the GoPlus 2 in 1, with its chain drive mechanism, resistance fan and 250 pound user capacity.
Our bronze medal hybrid trainer is the Akonza 2 in1, providing you with a smooth exercise motion, sturdy frame and easy transportation.​
---