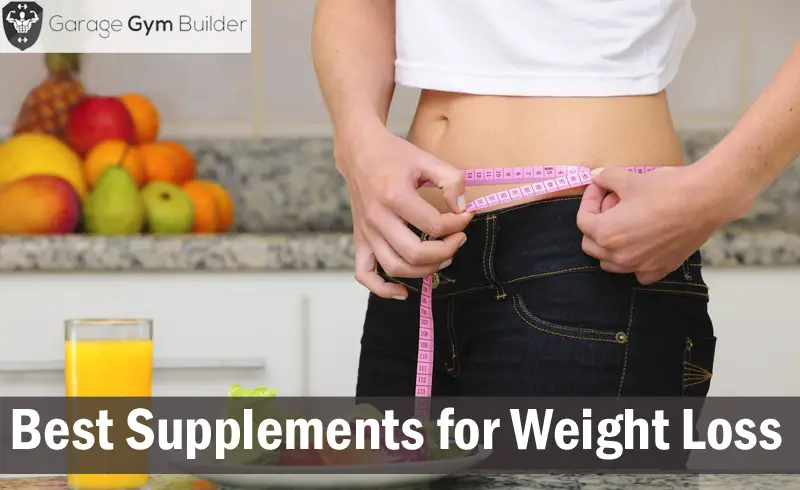 Best Supplements For Weight Loss 2018
Achieving your fat loss goals in 2018 means that you're going to have to nail your exercise, nutrition and supplementation plan. Taking the right supplements for losing weight can boost the effect of those other two elements, so you can strip off fat fast. Fat burners are designed to speed up the metabolism, boost energy levels and suppress appetite. In this article we identify the top 10 weight loss supplements of 2018.
The Top 10 at a Glance

The best supplement to take for weight loss in 2018 is Old School Labs Vintage Burn Fat Burner, which is specifically designed to burn fat while preserving muscle tissue, and also boosting mental focus. Our second favorite workout supplement for weight loss is Sheer Strength Labs Thermo, which includes 7 key clinically dosed scientific ingredients.
Rounding out our top 3 essential supplements for weight loss is Inciner8R Fat Burner, which has high stimulant properties to produce a powerful thermogenic effect while boosting energy.
In order for you to compare and contrast the best fat burners on the market, we have rated each of the top 10 on the basis of price and effectiveness, and then given an overall rating out of 5 for each one. In the next section, we provide in depth reviews of each product.
Old School Labs Vintage Burn Fat Burner addresses the challenge of preserving muscle tissue promoting while fat loss. Its original thermogenic formulation speeds up your metabolism to burn more calories while maintaining an anabolic environment to preserve muscle mass. It also sharpens your mental outlook to allow you to exercise and follow a clean eating lifestyle with more clarity. The potency and purity of the ingredients in this product are second to none.
Old School Labs Vintage Fat Burner was inspired by such vintage era old school bodybuilders as Mike Mentzer. It is completely natural, with no GMO or gluten ingredients. By increasing metabolism and preventing the formation of new fat cells, while curbing appetite, it offers everything you need in a fat burner.
Burns fat while preserving muscle
Boosts mental focus
No additives
Some reports of digestive issues
Sheer Strength Labs Thermo is a fat burner with a difference. It is built around 7 key ingredients that have been scientifically proven to boost fat loss by working with the body's natural metabolic process. Those key ingredients are yohimbine, green tea catechins, bacopa monnieri, 5-HTP, forskolin, hordenine and caffeine. You'll be able to burn stored fat for energy, while also boosting the metabolism for enhanced calorie burn.
Sheer Strength Labs Thermo includes 7 key all natural ingredients that are clinically dosed to ensure real world results. There are no proprietary blends or hidden ingredients and this product is vegan friendly. This product is manufactured in the USA and comes with a 30 day money-back guarantee.
7 key scientific ingredients
Clinically dosed
Made in USA
Inciner8R Fat Burner provides you with a potent thermogenic fat burn due to its inclusion of beadlets of red hot chilli pepper extract to boost the metabolism. Added to that are six key fat-vaporizing compounds and two synergistically paired ingredients to stimulate brain activity. These include choline, which improves focus while exercising. Theobromine is also included. This is a nitric oxide booster which improves blood flow, increasing the pump effect.
Inciner8R Fat Burner contains 395 mg of caffeine anhydrous per serving. This gives it a high stimulatory ability and is very close to the max recommended daily dosage of caffeine. This product will definitely boost your training energy while promoting fat loss. It is made in the USA and comes with a money back guarantee.
Powerful thermogenic effect
Energy booster
High stimulant properties
Potential caffeine side effects
C4 Ripped Pre-Workout is a pre-workout product that boosts energy for training while also putting a huge emphasis on fat loss. This creatine free formulation combines such powerful scientifically proven ingredients as L-Carnitine, Green Coffee Bean Extract, Capsimax Cayenne Fruit Extract and Coleus Forskohlii Root Extract to supercharge the body's natural fat burn process. Their Ripped blend combines L-Carnitine, Green Coffee Bean Extract, Cayenne and Forskohlii along with an energy blend for training endurance.
C4 Ripped Pre-Workout is available in a range of cool flavors, including Cherry Lemonade, Fruit Punch and Raspberry Lemonade. You get 30 six gram servings per container. This product is manufactured in a GMP compliant facility and comes with a money-back guarantee.
Great energy booster
Power metabolic booster
Great tasting
Max PM is a specific night-time formula designed to boost metabolism, burn fat and control cravings while you sleep. It includes a synergistic blend of such scientifically proven ingredients as green tea and garcinia cambogia to bring on a deep, restful sleep while super-charging the key hormones that control late night cravings and promote thermogenesis. Max PM is completely stimulant free.
MAX PM comes in capsule form. You get 60 capsules per bottle. You recommended dosage is two capsules per day, so you get a full month's supply with each bottle. This product is manufactured in a GMP certified facility in the United States. It contains no artificial ingredients and comes with a 30 day money back guarantee.
Sleep enhancer
Controls cravings
Thermogenic booster
Unleashed is a dietary weight loss supplement that uses three synergistic mechanisms to promote fat loss; energy and focus, thermogenesis and a lipogenic blend. The energy and focus blend is made up of caffeine, phenylethylamine, glucomannan fursultiamine and L-Tyrosine. The Lipogenic mix is composed of synephrine, kola nut, and L-Carnitine and the Thermogenic blend is made up of raspberry ketones, green tea and yohimbe bark extract.
Unleashed includes such inactive ingredients as gelatin, rice flour, magnesium stearate, silicone dioxide and titanium dioxide. Caffeine is also included for its stimulant properties. There are no reported side effects with any of the ingredients in this product. It comes with a 100% money-back guarantee.
3 fat loss mechanisms
Stimulant properties
Money back guarantee
Lean Mode is a multi purpose supplement that is designed to burn fat, enhance mood, speed up the metabolism, act as an appetite suppressant and boost energy levels all at the same time. In addition, this product has powerful antioxidant properties. This formulation includes such proven ingredients as garcinia cambogia, green coffee bean extract, conjugated linoleic acid (CLA), acetyl-l-carnitine and green tea leaf. All of these ingredients are completely natural.
Lean Mode contains garcinia cambogia extract, which includes 60% hydroxycitric acid (HCA). This is an effective appetite suppressant and mood controller. Acetyl-L Carnitine boosts energy levels while also making fat more available as an energy source during workouts.
Appetite suppressant and mood enhancer
Speeds up metabolism
Energy booster
Limited scientific backing of ingredients
Melt is a fat burner that consists of a proprietary blend of ingredients designed to suppress the appetite, boost the metabolism and provide more energy for working out. Then proprietary blend consists of L-Carnitine, beta-phenylethylamine HCI, capsimax, dendrobium extract, hordinine HCI, yohimbine extract, higemine, synephrine and huperzine A. It also includes caffeine anhydrous to act as a thermogenic booster and energy stimulant.
Melt is GMP certified, and is manufactured by an FDA regulated facility in the USA. This product is also designed to preserve muscle mass while increasing energy for training and maximizing fat burn. Melt is also an effective appetite suppressant. You get a 100% money back guarantee on this product.
If you're looking for the best protein supplements for women, do go past our Best Protein Supplements for Women 2018 super feature .
Appetite suppressant and energy booster
Preserves muscle mass
Money back guarantee
Possible side effects from caffeine
Lean Genes is a 100% natural fat burner that quickly puts your body into thermogenic state for 24 hour fat burn. It also has an appetite suppressant action that helps to limit the amount of calories going into the body. There are no stimulant inducing ingredients, which means that you won't get the jittery effects that come with many products.
A key ingredient of Lean Genes is citrus arantium, also known as bitter orange, which has been clinically shown to increase the metabolic rate, decrease the appetite and and promote thermogenesis. Garcinia cambogia is also clinically dosed, providing you with increased energy levels, an extra appetite suppressant effect and boosted metabolism.
Legion Athletics are a brand that have been gaining popularity in recent times. Find out what all the buzz is about with our Legion Supplements Review 2018 - you might just find your new favorite brand!
Appetite suppressant
Thermogenic effect
Citrus arantium
Burn XT is an energy boosting fat loss product that is packed with proven fat loss stimulating ingredients. The ingredients include Acetyl-L Carnitine, an amino acid with proven fat burning ability, green tea leaf extract, which contains caffeine to provide a stimulant effect, and cayenne pepper extract which is a powerful thermogenic agent. This is a completely natural formulation that will give you a real energy boost while promoting fat burn.
Burn XT is designed to stop food cravings by releasing the hormones that control the appetite. Unlike many other under dosed formulations, you can be assured that you are getting the right ingredients in the right dosages to bring about real, lasting fat loss results.
If you're after the best supplements across all categories, don't miss our review here - it's what you need to get on track in 2018.
Appetite suppressant
Boosts energy
Clinically dosed
Possible stimulant based side effects
Conclusion
---