Best Weight Gainers for Skinny Guys
last updated
May 12, 2019
There are a lot of guys who are desperate to gain weight and, if you're reading this you may well be one of them. Of course, what you're interested in is lean muscular body mass - not fat. To do it you need to hit the weights hard. But you also need to increase your daily caloric intake, with a calculated ratio of proteins, carbohydrates, and fats. Weight gain powders are an essential part of that equation.
In this article, we bring you the Top 10 weight gain products on the market. In addition, we provide you with the information you need to make the best choice when it comes to purchasing and making the best use of your weight gaining powder.
In a Hurry? The test winner after 17 hrs of research

Optimum Nutrition Serious Mass
Why is it better?
50 grams protein per serving
254 grams carbohydrate per serving
Maltodextrin
In a
Hurry? Editors choice:

Test Winner: Optimum Nutrition Serious Mass

42
Researched Sources
11k
Reviews Considered
17
Hours Researching
14
Products Evaluated
Materials
Ease of Use
Product Purity
Effectiveness
Potency
By Default
In Depth Review Top 10
Optimum Nutrition Serious Mass
BSN True Mass
Optimum Nutrition
Muscle Milk Gainer
Cyto Sport GainerCyto Sport Gainer
Naked Mass
Real Gains by Universal Nutrition
Mutant Mass
MuscleTech Mass Tech
Dymatize Super Gainer
Table of contents
Criteria Used for Evaluation
Frequently Asked Questions
Sources
10 Best Weight Gainers
1

. Optimum Nutrition Serious Mass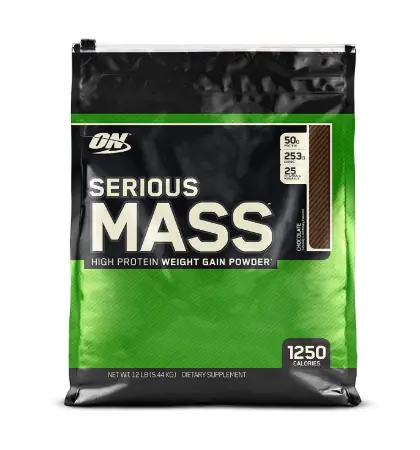 50 grams protein per serving
254 grams carbohydrate per serving
Maltodextrin
Contains sweet dairy whey
Contains lactose
Optimum Nutrition gives you a bunch of macros for your muscle cells. Each serving gives you 50 grams of protein and 254 grams of carbs. When they say serious, they mean it.
Plan a schedule for including this into your daily diet, continue your regular work-outs, give a reasonable amount of time and you will see the results which you want.
This product uses dairy whey, which may cause issues for people who are lactose intolerant.
Read more
The main carbohydrate source for Serious Mass is maltodextrin. Maltodextrin is a disaccharide form of sugar, which has a very high glycemic index.
This will allow it to be absorbed very quickly into your bloodstream. It is extremely beneficial for muscle recovery and glycogen replenishment. This is great for people who are trying to gain weight.
The protein blend in Serious Mass is made up of whey protein concentrate, calcium caseinate, egg albumin, and sweet dairy whey. This combination of whey, casein and egg protein gives you a sustained release of protein into the bloodstream.
Serious Mass includes one gram of creatine monohydrate per serving. Also included are 500 mg of L-Glutamine, 500 mg of Glutamine Peptides,
There is also a vitamin blend in the product.



630 calories per serving
46 grams protein
76 grams carbs
5 grams fiber
Extra enzymes for absorption
BSN True Mass contains 18 servings with 630 calories. It also contains 46 grams of protein, sourced from top quality ingredients. There are 16 grams of fat, only 5 of which are saturated fats.
Very popular because when you follow the regime for using this, stay patient and persistent, combine this with daily training and your muscles will develop the required mass.
Read more
This powder has 76 grams of carbohydrates and 5 grams of fiber. This is one of the best tasting powders we have come across and contains whey protein which is the best one for gaining lean muscle mass.
This supplement is easy to digest and tastes great.



650 calories
60 grams protein
7 protein sources
Relatively low in carbs (85 grams)
Optimum has 660 calories which will contribute to your weight gain. Every scoop has 60 grams of protein. 85 grams of carbohydrates will help keep your energy going and this product will help you reach your goal.
This has less carbs then some other brands and you get a decent amount of protein.
Read more
Pro-Gainer works to enable you to create lean-muscle mass. It also has fewer carbs. It contains 60 grams of protein.
It has good digestive enzymes and comes in a 5-pound bucket which gives you about 14 servings.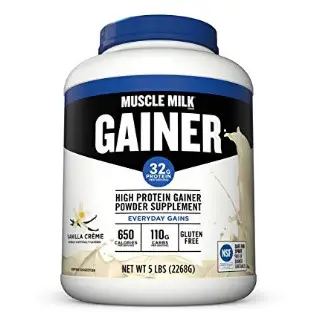 650 calories
32 gram protein
3 grams leucine
50 tasty flavors
Muscle Milk is a product made for hard gainers those who have trouble increasing their strength and size. It has 32 grams of protein. It can be used before or after your workout.
This is a supplement which gives a lot of choice choices for those who like to try out different flavors, fifty tasty choices, so you can rotate the flavors for variety in your diet.
Read more
Muscle Milk Gainer has been specially designed for hard gainers. It provides you with 650 calories and 32 grams of protein.
There are also 3 grams of leucine from milk protein sources. This weight gainer also provides you with 18 amino acids, including all of the essential amino acids.
You have an amazing fifty flavors to choose from with this product, including some very tempting and exotic combinations.
According to most reviewers, the majority of flavors are tasty. The powder mixes well in both water and milk without leaving any grittiness or residue.
5

. Cyto Sport GainerCyto Sport Gainer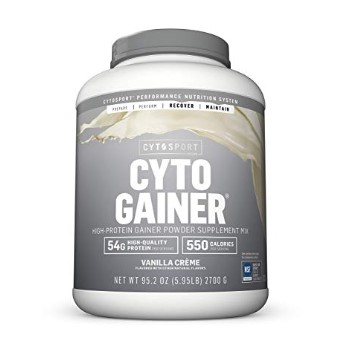 50 grams of protein
4 grams l-leucine
600 calories per serve
Whey / Casein protein blend
The Cyto Sport is a 96-ounce container of vanilla protein drink mix. It contains predigested whey peptides which help to process your protein and are glutamine-rich.
This product will replenish your liver and muscle glycogen after your workout so you can recover and grow muscle.
Read more
Cyto Sport is the people behind the hugely popular Monster Milk. Their Cyto Sport Gainer comes in a 6-pound container. This supplement gives you 50 grams of protein with 4 grams of l-leucine added per serving.
You get 600 calories with each serving. There are 73 grams of carbohydrates which gives you a nice ratio between protein and carbs.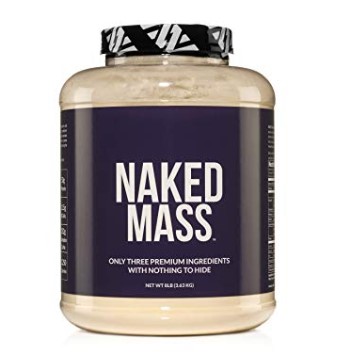 50 grams of protein
Organic maltodextrin
11 grams of BCAA's
No artificial sweeteners, flavoring or colors
Expensive
Very large serving size
Naked Mass has only three ingredients: whey, organic maltodextrin, and casein. It does not contain any artificial ingredients and is GMO free. soy and gluten free.
You get double quality in the form of casein and whey, this is a supplement which leaves out dairy and soy additives and focuses your diet on protein.
Read more
Naked Nutrition keeps its stripped back mission intact by using just three ingredients; Maltodextrin, Micellar Casein, and Whey Protein. They included no additives or fillers. This product gives, you get the best calories, generous amount of carbs and fifty grams of protein per serving. It's also free from gluten, free from soy and no dairy.
Naked Mass provides you with an easily digestible form of quality protein both whey and casein.
7

. Real Gains by Universal Nutrition



53 grams of protein
5 grams of fiber
High in calories
Relatively low in carbs (86 grams)
Only three flavors
Real Gains is the perfect supplement with over 600 calories per serving. It is perfect for athletes who want to pack on mass or make weight. It is easy to digest.
Universal Nutrition Real Gains comes in your choice of three sizes – 3.8 pounds, 6.65 pounds, and 10.6 pounds. The 10.6-pound bag provides you with 31 servings, each of which serving measure 155 grams.
Read more
A serving consists of three and a half scoops of the powder. With every serving, you get 53 grams of protein powder. The protein is sourced from micellar casein, ultrafiltered whey protein concentrate and isolate.
You also get 86 grams of carbohydrate and 5 grams of fiber in every serving. Universal Nutrition Real Gains comes in three flavors – chocolate, strawberry, and vanilla.
Reviewers tend to prefer the chocolate flavor, which provides a pleasant taste.
However, the powder has a tendency to clog up when it is mixed. This is because micellar protein is harder to mix. It does have very good digestibility. You will not experience, bloating or indigestion, constipation or diarrhea when you take this product.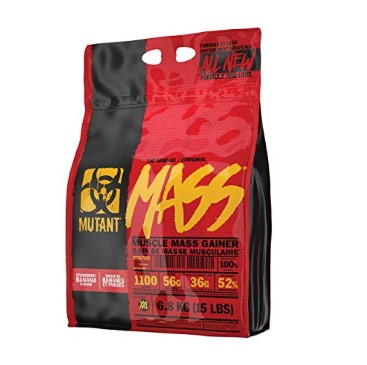 Delivers a LOT of calories per serve
Tastes great
Value for money
52 grams of protein
BCAAs
Glutamine
Can lead to gas and bloating
Difficult to drink a whole serving
This is a multiple-award winning protein powder which is sold in 100 countries. It contains quality protein and balanced nutrition.
Mutant Mass has 1060 calories per serving.
Therefore you get calories in abundance and this means food for the muscles and the reliable build up of lean muscles power, comes in a very appealing taste.
Read more
The carbohydrate and protein ratio is ideal for muscle gain. You will intake 182 grams of carbs as well as 52 grams of protein.
To gain muscle weight you need those calories in surplus.
You get a lot of calories with this product and muscle-enhancing calories. You do not need a separate protein powder.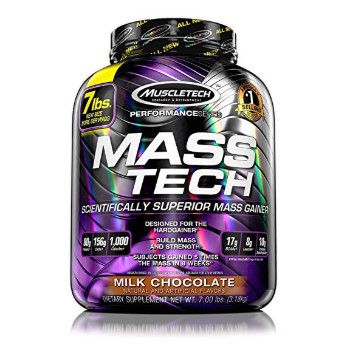 1170 calories
80 grams of protein
17 grams of bcaa's
10 grams creatine
This product contains more protein than a lot of the other choices as well as a better quality of calories to give you even bigger results.
MuscleTech Mass Tech is a supercharged weight gainer that provides you with a whopping 1170 calories and 80 grams of protein in every serve. You also get 154 grams of carbs and 17 grams of BCAAs with every dose. Unlike with many weight gainers,
Read more
The multi-phase complex carb matrix delivers a powerful blend of Glucose Polymers, Isomaltulose, Oat Bran, Amaranth, Quinoa, Buckwheat, Millet, and Chia to give you a long-lasting energy source.
Each tub of MuscleTech Mass-Tech provides you with 7 pounds of weight gain powder. You also get 3 grams of L-Alanine, along with 3 grams of Glycine, along with taurine and glutamine. In addition, you get a healthy dose of omega-rich fats.
This product is available in 3 flavors – strawberry, vanilla, and chocolate.
10

. Dymatize Super Gainer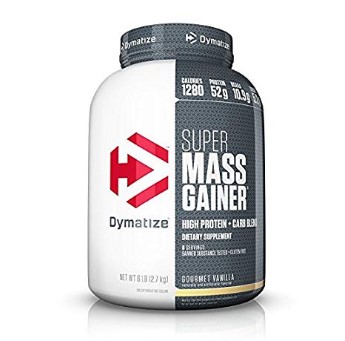 1280 calories per serve
50 grams of protein
50 grams of protein
244 grams of carbs
10 grams of fat
23 grams of sugar
Does not mix very well
Dymatize uses the best ingredients and nutrients to help you gain strength and size fast. It has 52 grams of protein in each serving to help you build and sustain muscle.
Dymatize Super Gainer is one of the most calorie dense weight gainers on the market. It delivers huge 1280 calories, with 50 grams of high-quality protein and 1 gram of creatine.
Read more
You also get an amino acid blend along with a powerful vitamin and mineral blend in each serving.
You also get 10 grams of fat and 244 grams of carbohydrates and 23 grams of sugar.
The protein blend is a mixture of five types including whey protein concentrate, milk protein isolate, whey protein isolate, whey protein hydrolysate, and micellar casein. Super Gainer does not mix very well when mixed in a shaker bottle. Unless you want a clumpy result you will want to mix your weight gainer in a blender.
The product comes in a variety of sizes and is available in seven flavors, all of which are quite tasty. It is also a gluten-free product which makes it ideal for people who are suffering from celiac disease. However it does contain lactose, so is not a good fit for those who have lactose intolerance.
Criteria Used for Evaluation


Materials
Good materials produce results
In this case, materials refer to the ingredients in each supplement. You want to check ingredients carefully to make sure it has the protein and calories needed to get the job done.


Ease of Use
Ease for use ensure usability.
You want something which will stir together easily and stay mixed without having to add a huge amount. It is also handy to have a supplement which tastes decent so it is not hard to get down.


Product Purity
Product purity works for the body
You want the best quality protein enhancement and enough calories to build mass without having a lot of needless or unhealthy additives. You do not want GMOs, gluten, or any garbage fillers.


Effectiveness
Effectiveness produces results
Effectiveness means the product having everything you need to be able to keep your energy going and be able to build up muscle mass without all the fillers which are not going to do you any good.


Potency
Potency gets results through regular use
We check to see how potent these supplements are to be sure you get the highest level to be able to attain your goal.
Expert Interviews & Opinions
Most Important Criteria
(According to our experts opinion)
Experts Opinion
Editors Opinion
Users Opinion
By Default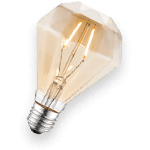 Look for Creatine
Creatine helps with weight gain and is well researched. If you include citrulline, caffeine, and beta alanine you should be able to exercise harder and stimulate your muscles.
Include whey protein
Whey protein and whey isolates are the best for weight gain if you are looking to build some lean muscle. Pay good attention to the ingredients.
Frequently Asked Questions
q:
Are weight gainers safe?
a:
Carbohydrates and whey protein do not have any side effects so they are considered safe. If they are combined with creatine, which a lot of these powders do, it may cause some stomach issues.
q:
How much weight can I gain with creatine?
a:
After researching the effects on adults, they reported that when they loaded up on creatine they gained between 1-4 pounds in the first week. Part of that weight is because of the water it holds in the cells of the muscles.
q:
Does sleep have anything to do with gaining weight?
a:
Getting plenty of sleep is vital when you are working to build lean muscle and gain weight. For one thing, you have better energy when you get good sleep. Your body gets rested so it can take care of damaged muscles. Also, a growth hormone is released during sleep,
q:
Will curling with heavy weights help with gain?
a:
Actually, the opposite is true. If you train with lower reps you can get through strength plateaus more easily. If you do too many of the smaller reps it is impossible to get more strength though.
a:
The exercise machine will give results but the barbell cannot be replaced. Machines tend to focus on isolating muscles which can be limiting. Bench presses, squats, and deadlifts help you build mass because they work with muscle fibers in numerous areas.