10 Best Socks for Basketball
last updated:
May 12, 2020
Basketball is a very demanding sport. It will stress out your feet, pushing their comfort and strength to the limits. You will run, jump, skip, jog, and everything else in between, and keeping your feet stable and supported throughout that will really make the difference between genuinely enjoying the game and just pushing through it. That's why you need specific socks made just for basketball. Your pair of basketball socks have to withstand constant stretching, pulling, and washing, while they support you, wick away sweat, and keep your feet cool. A good pair of socks is just as important as a good pair of sneakers! We combed the web for the best basketball socks out there, and it's up to you to make the choice!
This is the best product on our list that is currently in stock: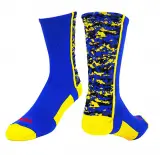 TCK Sports Elite Performance
Why is it better?
Vibrant Camo Design
Moisture And Odor Control
Anti-blister
Reinforced Heels And Toes
Ergonomic Padding
18
Researched Sources
16.5k
Reviews Considered
10
Hours Researching
14
Products Evaluated
Comfort
Use
Fit
Materials
Features
By Default
10 Best Basketball Socks
1

. Vigor Compression Running Socks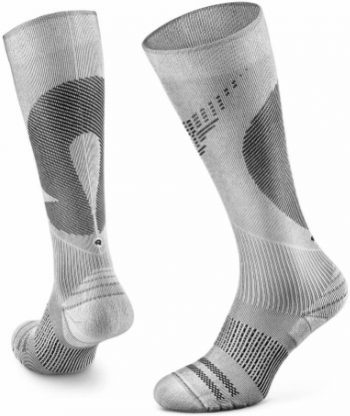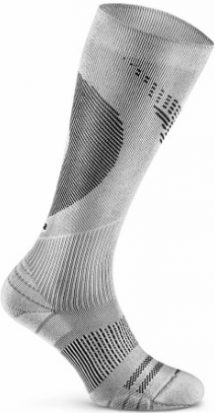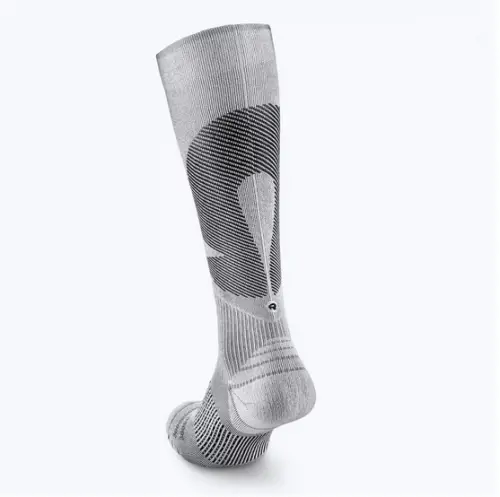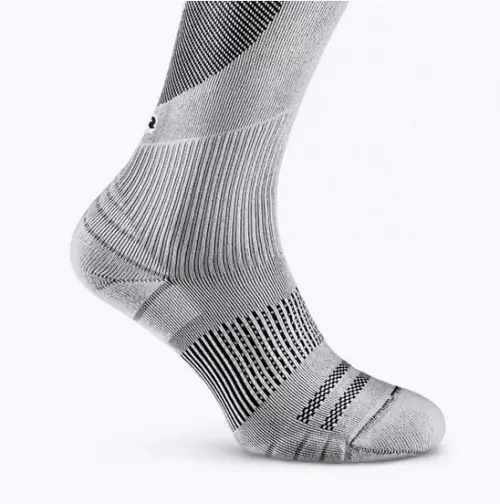 Graduated Compression
100% Recycled Materials
Seamless Toes
Arch Support
Performance Cushioning
The Vigor comes from a company known as Rockay. Although Rockay makes high-quality socks for running, the Vigor is an excellent sock that can be used for any demanding sport. Rockay is a European company that values its customers, creating athletic gear that is supportive, good-looking, and very durable. They also try to use as many recycled materials as possible, engineering them into optimal fibers that are good for you and for the environment. Their products are treated with Polygiene, a technology that fights off dirt, bacteria, and odors, so you won't even need to wash these socks as often as you would any other pair! Just hang them to dry and they will be as good as new.
Read more
The Vigor combines the best features of their ankle socks and their compression sleeve known as Blaze. These features work in harmony to support you and help you reach your goals. The Vigor has documented graduated compression around the calves.
The compression ranges from 16 to 23 mmHg, helping blood flow with ease throughout your calves and feet. This compression fights off swelling, pain, and fatigue, while wicking away moisture to keep you dry. The socks are made out of recycled materials, reinvented version of their past that do a better job than ever before. The toes of the Vigor are seamless. Irritation and blisters are a common occurrence in low-quality socks, even when you're walking, so by having a seamless construction, the Vigor minimizes these risks.
If you take a look at the bottom of the socks, you will notice a good amount of padding around the balls of the feet, and just under the heels. When you're jumping and running, you need something that can absorb the shock and distribute the pressure shoes create on your feet, and these pads will do that effectively. The other intricate patterns decorating these socks are more than just pretty. They show you where the socks support your arches, and where the breathable mesh zones intertwine with the regular materials.
Arch support is very important when you work out, as it will minimize aches and pain. Breathable mesh zones help the hot air escape, creating room for cool, fresh air to keep you dry and odor-free. Damp feet also cause friction, and by staying dry throughout the game, the risk of blisters and hot spots becomes almost zero. The socks have a little reflective logo above the heels, in case you decide to play in the dark.
The top band is tight and elastic, keeping the socks in place without suffocating your feet. Finally, Rockay offers a lifetime guarantee for their products, so if they somehow fall apart, or if you're not satisfied, you can expect a brand new pair to bring your faith back into them!
2

. Nike Men Elite Versatility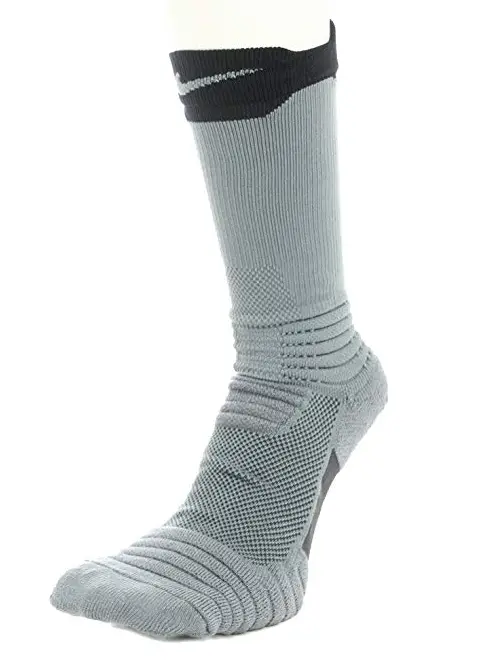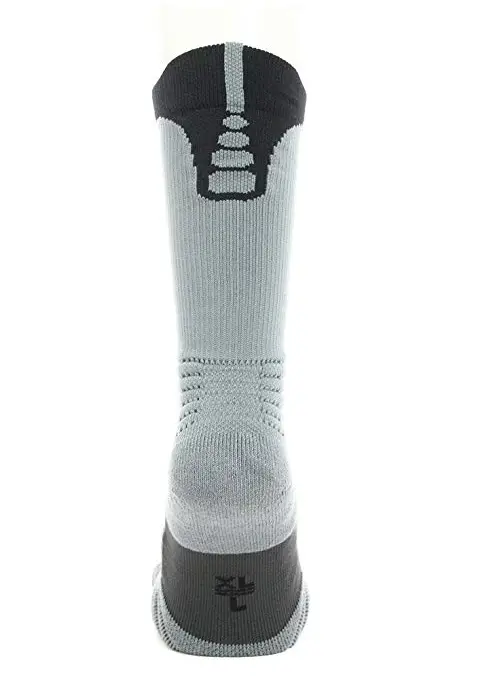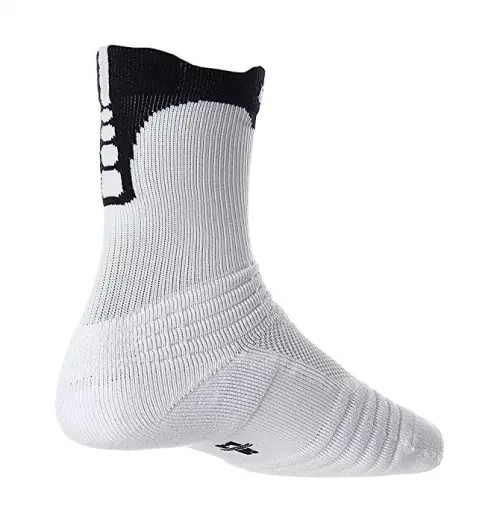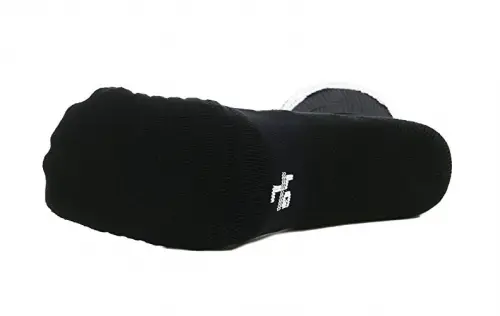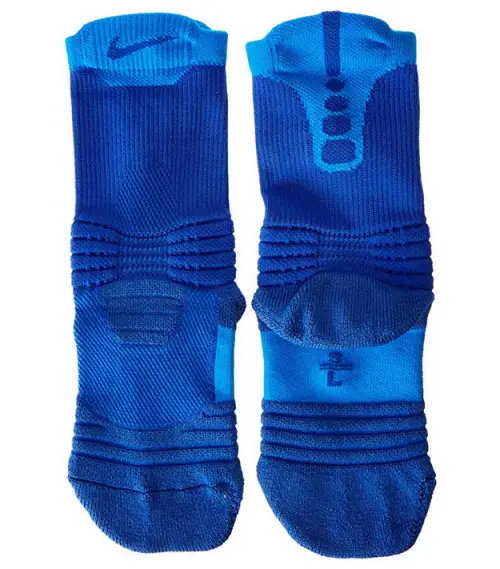 Footstrike-specific Padding
Support System Around Ankles
Dynamic Arch Support
Breathable Mesh Panels
Ribber Performance Welt
We've all heard of Nike before. They are one of the most popular sports brands in the world, and they have been around for ages. The company is very experienced, creating sports gear and apparel fit for every kind of athlete. Basketball is one of their areas of expertise, so it's not surprising to find their socks among the best. The Elite socks are crew length, giving your ankles and calves enough stability and support to keep you injury and pain-free. The socks come in different colors, either vibrant hues that are almost distracting or calm whites and neutral greys.
Read more
The Elite is made out of an excellent material blend, with features that complement each other and enhance your performance. Most of the sock is made out of nylon, in the form of a mesh, and the rest is reserved for polyester, cotton, and spandex.
Cotton is generally a poor choice for athletic socks, because of its poor durability and slow drying, but when blended with these materials, it only improves the breathability and makes the socks lightweight. These socks look very unique, and it's all thanks to their padding. The pads are strategically placed around the toes, under the heels, and above your arches.
This way the pressure is evenly distributed and your feet don't suffer when you jump around. A support system wraps around the ankles in 360 degrees, stabilizing them to give you security. A dynamic arch band creates a snug fit that doesn't bunch up. The breathable mesh panel on the top of the feet cools you down and gives you room to flex your feet. The ribbed performance welt on the top band keeps the socks glued to your calves.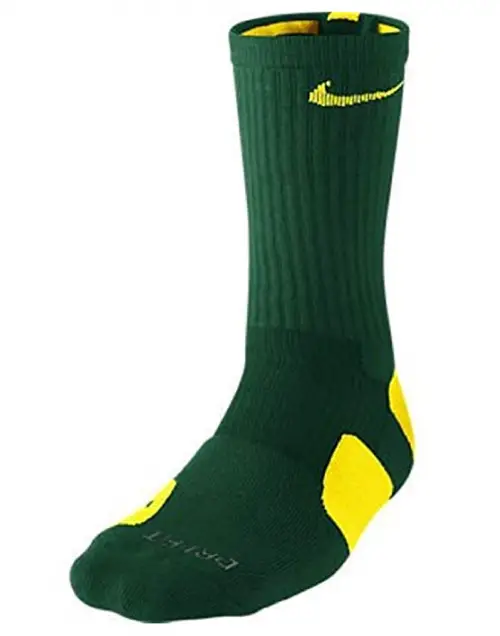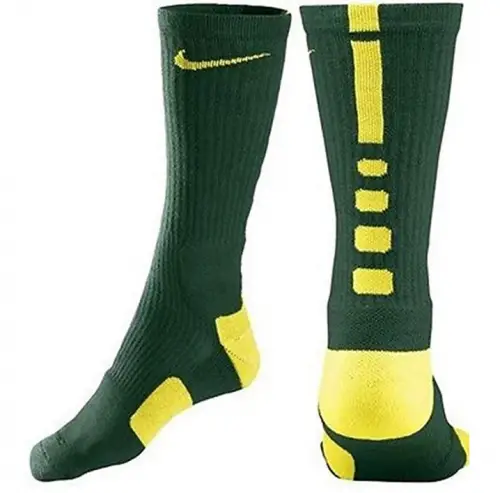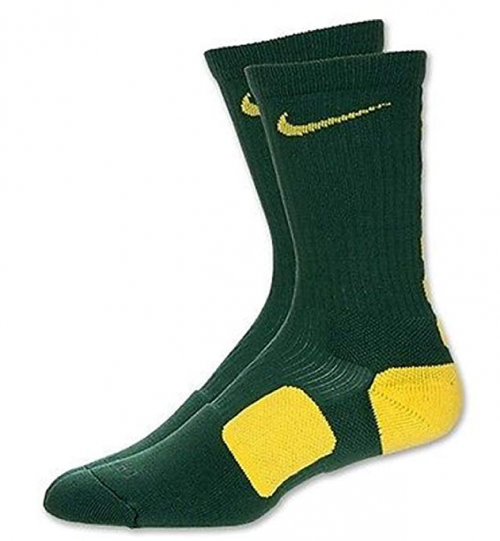 Dri-FIT Fabric
Footstrike Padding
Rib Cuffs
Machine Washable
Colorful
These colorful socks from Nike are very similar to the pair we described above, but they don't have the same features. They are a simpler version of the Elite Versatility, ideal for people who are looking for less bulk and more performance. As opposed to the pair above, most of these socks are made out of polyester. There's still a bit of nylon, cotton, and spandex there, but more polyester means a drier sock!
Read more
The polyester fibers are represented in the form of DRI-fit. You've probably heard of this technology before. Many worldwide popular brands use it for their socks, such as Adidas and ASICS, as these fibers do an excellent job of wicking away moisture. The DRI-fit fabric is tight and gentle, and it will keep you dry and odor-free.
Most of the socks have ribs. This knit pattern is designed to keep the socks in place and to give you gentle cushioning. The Elite has footstrike cushioning for improved comfort.
Footstrike cushioning is strategically placed on the sock where your foot is most likely to slam on the ground, such as the balls of your feet and the heels. This way, you are shielded against pain and stress, letting the padding do most of the work for you.
4

. TCK Sports Elite Performance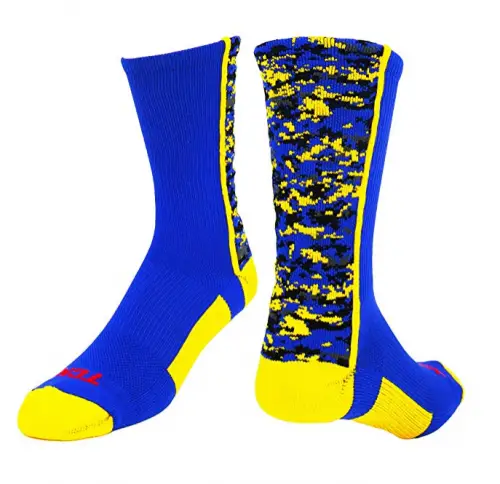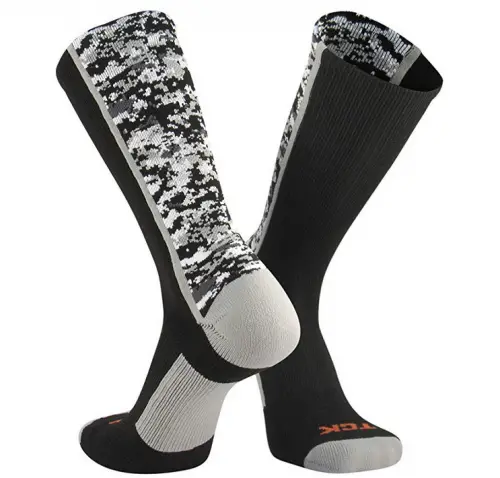 Vibrant Camo Design
Moisture And Odor Control
Anti-blister
Reinforced Heels And Toes
Ergonomic Padding
TCK Sports creates specific gear made for exercising, and the elite Performance is just like that. Right off the bat, these socks are very vibrant and colorful. They are very easy to spot in the crowd, and not even their camo will help them hide from curious eyes! Some of the pairs are a blend of black, gray, and white, which are ideal for people who do not feel like standing out from the crowd, while other pairs feature vibrant greens and blues, mixed with calmer colors on even brighter backdrops. Who says you have to sacrifice looks for functionality?
Read more
These high-quality socks are made out of 64% Polypropylene, 27% Nylon, 7% Elastic, and 2% Lycra Spandex. The carefully engineered material blend has all the properties to help you keep your head in the game! The socks won't bunch up or irritate you, distracting you from the task at hand.
The socks come in plenty of different sizes, fit for kids and adults alike. You need to carefully measure your calves and feet if you want the proper size though! The ribbed construction of the sock makes it breathable, while the tighter areas keep the socks glued to your calves.
The fibers control moisture and odors, leaving you dry and smelling fresh even after spending hours on the court. A light amount of padding is present, acting as final protection from shock and impact. If your shoes are generously padded, these socks are just what you need if you want to avoid the extra bulk some socks have.
The double welt top band prevents the socks from slithering down your calves. The heels and toes are seamless and reinforced - these areas suffer from wear and tear damage the most, which is why they need to be strengthened. The arch compression offers unwavering support for your feet.
5

. Nike Low Cut Elite Versatility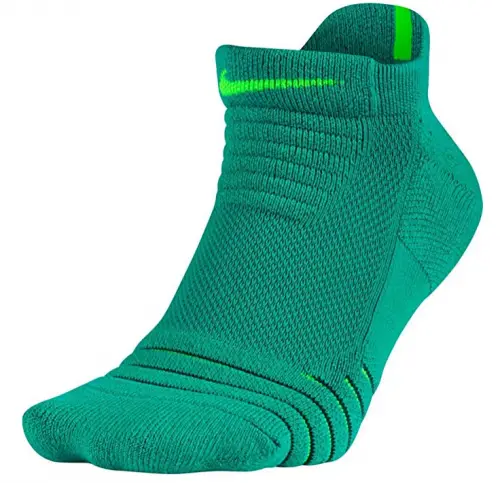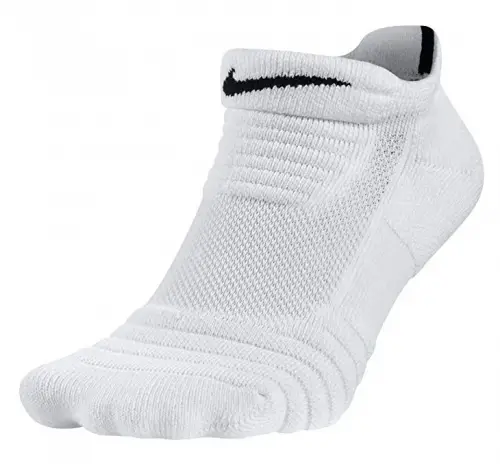 Cushioned Welt
Left/right Specific
Ventilation Zones
Dri-FIT
Plush Cushioning
Some basketball players prefer low cut socks. The reasons behind that are multiple, but the most common ones are less heat, more freedom to move your legs, and you don't really need crew socks if you already have calf sleeves! Our final product from Nike, the low cut version of the Elite Versatility, is here to give you all the benefits the longer Versatility has without the extra heat and tightness.
Read more
Just by glancing at this pair, you can already tell that it was made for performance. The Versatility is either solid white, with a little black logo contrasting the background, or a solid, emerald green with a neon green logo that livens up the calmer hues. The sock has a partially ribbed design, and we all know that these ribs are meant to keep the socks in place.
Low cut socks tend to slide into sneakers during high-intensity activities, and it's very important to prevent that. Not only can this become uncomfortable, but it can also cause blisters, which are the last thing you need when playing! If you look closely, you will notice that the welts appear swollen.
This is because the cushions have been placed inside, giving you comfort while securing the socks in place. The socks are left/right-specific, enhancing comfort. The dynamic arch support stretches and flexes as you move, offering just the right amount of support for every movement.
The breathable mesh on the top keeps the air moving, while the Dri-FIT fabric wicks away moisture and leaves you odorless. The forefoot and heels have plush cushioning that align with pressure patterns to create an optimal level of comfort.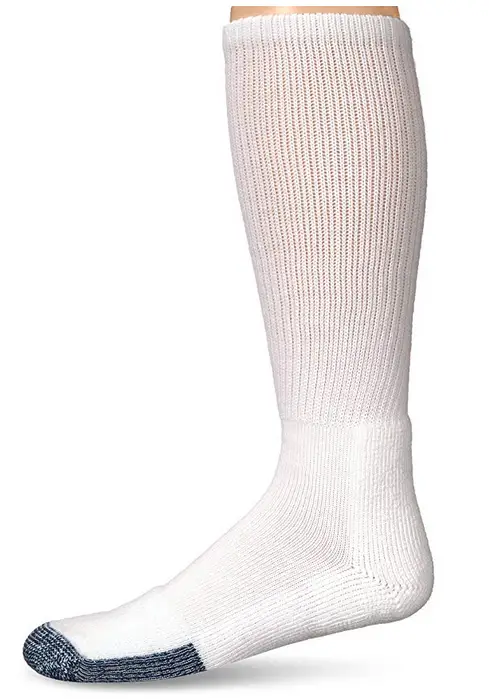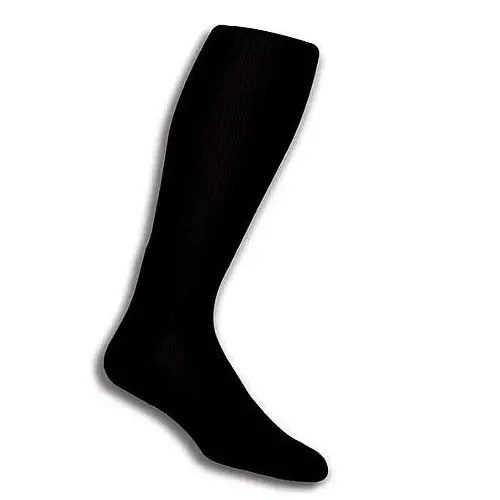 Thorlos Legendary Padding
Thor-Lon Fibers Wick Away Moisture
Sculptured Fit
Knee-Highs
No-rub Toe Seam
Thorlos is a company that primarily focuses on creating high-quality athletic socks, and Unisex B is an amazing pair that was carefully engineered to improve the basketball experience. This pair is the longest one we will feature, as it goes almost all the way up to your knees. Your calves are protected and warm, while your ankles enjoy improved stability and plenty of support. These socks are also the least likely to fall into your shoes, thanks to their length.
Read more
The Unisex B was proudly made in the USA, out of materials that strengthen and improve the construction. The socks are washing-machine friendly, but you will need to turn them inside out and avoid harsh chemicals. These socks are ideal for the basketball court, but they adapt well to all kinds of sports activities, making them very versatile.
Thorlos created highly specialized padding that is featured in all of their socks. This padding can be seen in the front and in the heel area, extending over the Achilles tendon. The pads protect your heels from pinching shoes while absorbing the impact forces on the front when you land.
Proprietary Thor-Ion fibers wick away moisture, protecting you from your own worst enemy- sweat. The socks will last you for years to come thanks to the amazing fibers that are woven throughout! The sculptured fit around the toes, heels, and instep creates a comfortable sock you will never wish to take off. The no-rub toe seam will not irritate you no matter how intense the game becomes!
7

. Under Armour Men's HeatGear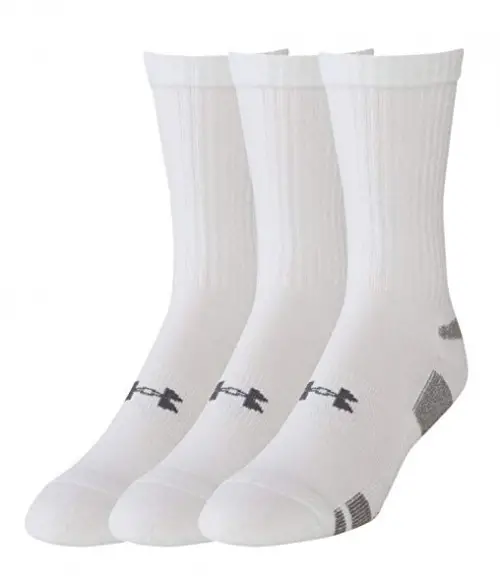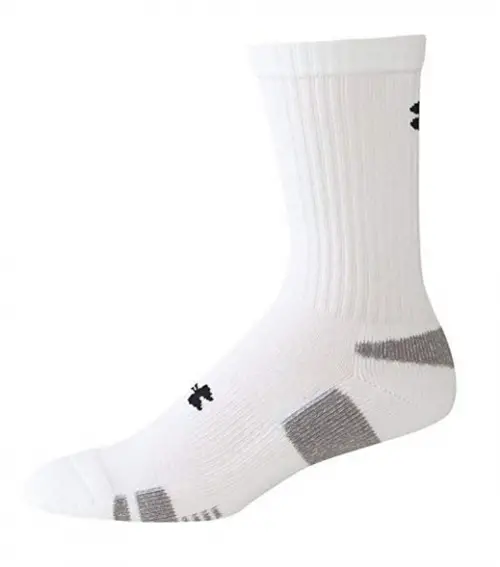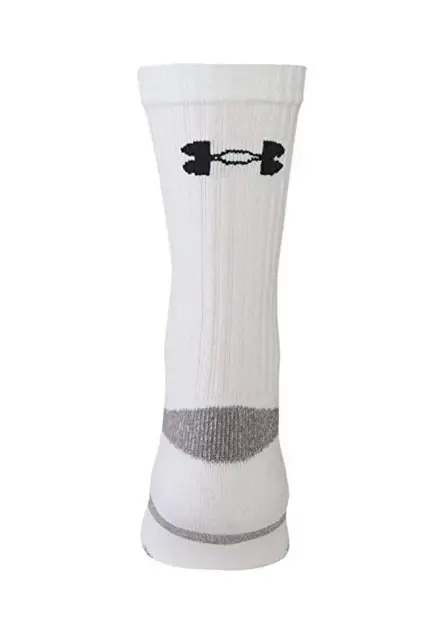 Athletic Crew
Moisture Transport System
Anti-odor Technology
Embedded Arch Support
Contoured Y-heel
Under Armour is a brand that was born thanks to one man's wish to change the way athletes think about clothing. He created gear made out of specific materials that target problematic areas, giving the athlete a dry and comfortable garment. These socks were engineered that way, with lightweight fabrics that improve mobility and comfort. Although the socks have a high cotton percentage, they still do an excellent job of keeping you dry and fresh.
Read more
The socks can be safely washed in a machine, but you should dry them indoors without the help of a dryer to avoid shrinking. They are 6" high and 3" wide, covering half of your calves. The moisture transport system keeps sweat at a safe distance, away from your skin.
If you pair these socks with the right footwear, you can expect to stay dry no matter how much you sweat! The HeatGear pair is treated with anti-bacteria technology that prevents the bacteria from developing and thriving. These microorganisms are the reason behind bad odors, and if they cannot live, you won't have to worry about smelling bad!
The embedded arch support minimizes fatigue and stresses your feet experience when you play. The toes are seamless to fight off blisters. Also, the contoured y-heel creates a perfect fit.
8

. adidas Team Speed Traxion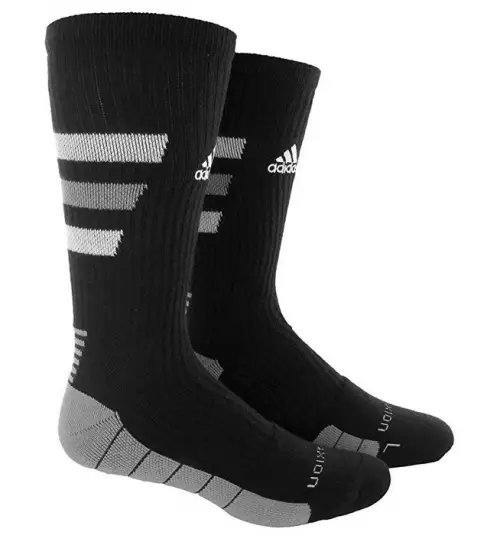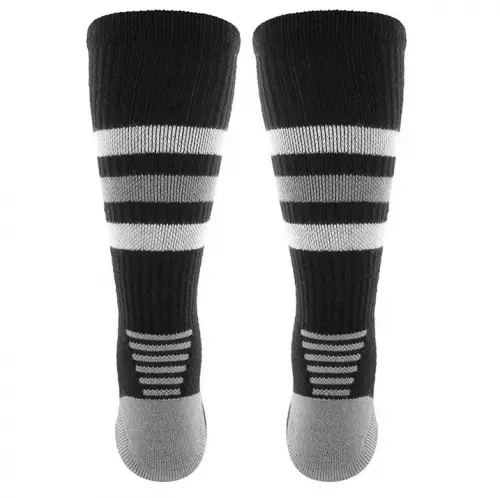 Ultra-cushioned
Traxion Areas
Climate Moisture-wicking Yarns
Anatomical Fit
Adidas is the biggest competitor to Nike, and they create engineering marvels fit for every athlete. There is no true winner here between the two brands, and it all boils down to what works better for your individual needs. The Speed Traxion socks were made for the elite athlete, decorated with features that help you excel. Acrylic dominates other materials here, giving the breathability and comfort of the sock. The Traxion is washing-machine friendly, but you have to wash them with similar colors to avoid bleeding.
Read more
The bottom of the socks and the materials around the ankles are adorned with generous padding. The cushions are very dense, but not thick enough to create bulk that will cramp up your feet. This amount of padding will effectively reduce the stress and pressure on your feet and ankles, saving them from pain and aches.
The traction areas around the Achilles tendon and the foot make the socks grippy, anchoring them inside the sneakers. This way, the socks stay in place without irritating your skin or creating blisters. Climate moisture-wicking yarns transport sweat to the upper layers of the sock, where it's free to escape, never to bother you again. The socks have an anatomical fit, with padding that is left-right specific, so make sure you pull them on the proper foot!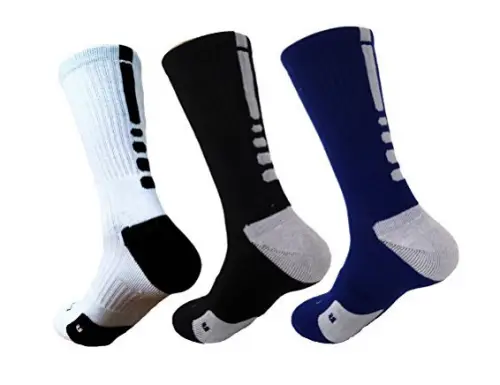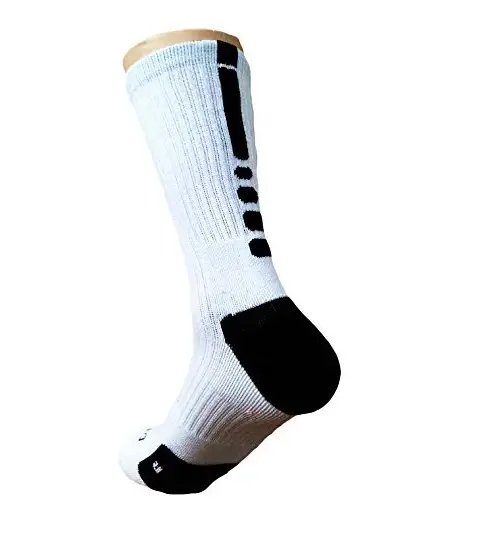 Left/Right Specific
Three Pairs
Air-circulating Ventilation Channels
Half-cushion Terry Foot
Lightweight
Most of the socks we talked about in this guide were made for general sports use, but only some of them are created specifically for basketball. These socks were made for basketball though, so you know they have the right features to truly help you play better. They come in pairs of three, in different colors, that you can change whenever you want to add a different shade to your style, or if the socks somehow unravel and lose their supportive properties.
Read more
The Hxst pair is made for the left and right foot, so there actually is a right way to pull on these socks. The air ventilating channels let the hot and humid air escape and invite the refreshing, cooling air inside. The air circulates in and out of your socks non-stop, so even if you do tend to sweat too much, you will remain fresh.
These ventilation channels work in harmony with the moisture-wicking yarns, saving you from sweat and bacteria. The half-cushion terry foot is soft to the touch, yet it absorbs impact to help your feet fight away stress and pain. The socks are very lightweight, and you won't even notice you have the pair on! The midfoot compression fit hugs your arches, keeping the socks in place while supporting you.
10

. Champion Men's 6 Pack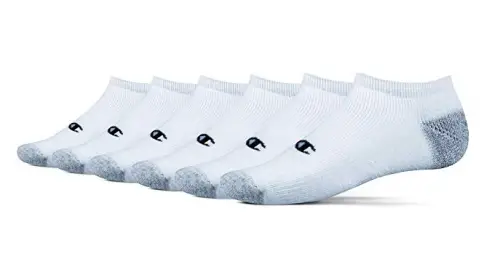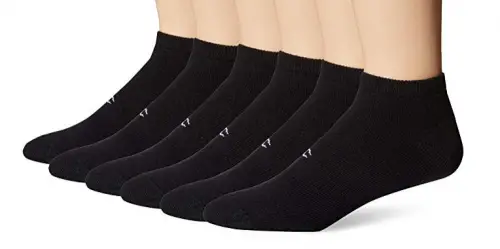 Moisture-wicking
Arch Support
Budget-Friendly
Fully Padded
Mostly Made Out Of Cotton
And finally, we have a simple six-pack from Champion. These low-cut socks support your feet while giving your calves all the freedom to breathe and move. They are either white or black, making them ideal for the athlete who doesn't want the attention that vibrant socks invite. The socks are mostly made out of cotton, with a little bit of polyester, spandex, and nylon to help wick away moisture. This is the reason why we decided to put this pack of socks in the tenth place! Cotton doesn't last very long, and it invites moisture like no other, drying very slowly.
Read more
The pull-on closure of these invisible socks will keep them tightly in place. The moisture-wicking fibers will do their best to keep you dry, but you can expect to feel some degree of moisture when you take these off. The socks are fully padded though, and you will get the shock absorption and reduced stress all the other socks provide you with. They also have arch support, so even if you do become wet, at least you won't be riddled with pain and angry feet!
Criteria Used for Evaluation

Comfort
Basketball s a sport that will have you running, jumping, and moving in every direction known to mankind. This is why your basketball socks have to be comfortable. They have to be able to handle the constant stress of moving and stretching without tearing or failing to provide you with comfort.
What makes a sock comfortable? For starters, it needs to be constructed properly. The toes and heels should ideally be seamless.
Thick seams and crooked stitching will create irritation points, and when you move they will pinch and press your skin, potentially creating blisters. If you're rendered a painful, blistering mess while you're trying to do your best out there, you won't have a good time.
You will have to stop often to apply bandaids! You don't have time to stop when you're shooting, so make sure your socks are anti-blister. Then you have to look at how padded the socks are. The cushions should sit in key areas, like the heels, toes, and ankles, to stabilize them and absorb the shock when you jump.
A sock that has too much padding is just as bad as a poorly padded sock though, so make sure you choose one that sits somewhere in-between. They also have to grip your skin tightly, ideally sitting above your ankles, to keep them out of your shoes.

Use
You must know what length to choose when it comes to basketball socks. Using the wrong length won't help you in any way, and you have to be on the lookout all the time. Crew length socks are generally the best for hiking or running, but they can be a good fit for basketball.
Ankle socks and no-show socks are not ideal, as they tend to slide inside the sneakers, and they don't offer as much support as long socks do. If they are constructed properly, they can be as effective as crew and over-the-knee socks.
Generally speaking, over-the-knee socks and knee-highs are the best for basketball. They offer just the right amount of protection. Most of the socks we described are crew socks though, but they make it up with their amazing features. The socks should be on the thicker side. A thicker pair will support your feet and legs, stabilizing them and helping you keep your balance. Your Achilles tendon can suffer from trauma too, so make sure the socks have an extended heel to protect them as well.

Fit
The way the socks fit will directly affect how comfortable and effective they are. If you want a proper fit, you need to go for the right size of socks. This is usually not too complicated, as the producers offer a sizing guide you should follow to get the best sock.
You should know what your shoe size is, and if the socks cover your calves, you should also know just how wide they are. Once you know these numbers, all you have to do is choose the right size according to that and you're all set. Some socks run large or small, so be sure to read the user reviews to be completely sure where you stand.
The arch compression and padding can affect the fit too. The weave around the arches should be reinforced and tight to give the arches the proper amount of support. Also, some socks have an anatomical right and left fit, making them even comfier.

Materials
Buying socks made out of the right material blend is essential to your success. Your feet are fragile, and they produce tons of sweat. They need the support and moisture-wicking some of these fibers offer. Cotton, as an example, is a very bad choice for athletic socks.
Not only is it not durable, but it also absorbs way too much moisture and it dries very slowly, so you'll have a sock full of holes that smell bad and cause unwanted friction. Polyester and nylon sit on the opposite end, especially if they are enhanced to wick away moisture or to breathe. Nike and Adidas weave in DRI-fit into their socks.
This amazing fiber simply pulls away moisture from the inner surface of the sock, giving it a chance to escape. Finally, the socks need to have some stretch, so spandex, even in the smallest percentage, is desirable. The spandex will adapt to the shape of your feet, moving and bending when you need to jump or run.

Features
Athletic socks have plenty of features that separate them from regular, everyday socks. They are anti-blister, moisture-wicking, padded, and very breathable. The arch support has to be unwavering, and the fit has to be tight, yet flexible, to allow your feet to move without the socks sliding and bunching up too much.
They are, simply put, engineered to perfection to help you excel when you play! We scoured the web to find the socks with the best possible features that are nothing but helpful. We also read through thousands of user reviews to really see whether the socks can support you or not, and you can rest easy knowing that you will be taken care of if you choose any pair found on our list!
Expert Interviews & Opinions
Most Important Criteria
(According to our experts opinion)
Experts Opinion
Editors Opinion
Users Opinion
By Default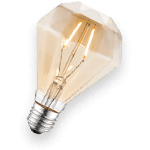 Durability
Your socks will have to survive a lot of trauma. They will be tugged, stretched, jumped on, and washed without mercy, and they must be able to survive all of that. We're not only talking about the fibers unraveling or sprouting holes.
A good, durable pair, must not lose its features no matter how many times you jump on them or put them through the washing cycle. Padding that falls apart as soon as you washing, or socks that shrink and ruin the fit are not desirable. You should also look for reinforced heels and toes, the areas most likely to fail first. A durable pair will be pricier, but it will last longer so it's more than worth the money!
Length
As we mentioned before, the length of the sock is important when it comes to sports, especially basketball. You can probably do well with ankle socks, as some of them do have the right features that support you, but the best choices are crew length and over-the-knee socks. No-show socks are good if you're already wearing calf sleeves or ankle braces, and you want to avoid the unnecessary traction created by them clashing with each other.
If not, make sure to go for longer socks. Don't go for super long socks either! They can cut off the circulation and restrict your movement. It's best if you find a pair that falls right in the middle.
Other Factors to Consider

Bottom Line
Finding a good pair that can effectively help you play basketball is a tough job. There are a lot of brands out there that claim they have the best pair for you, and new ones are emerging every day. Some of them you've never even heard of before, while others are known world-wide, yet their recognition doesn't mean that their socks are just what you need.
This is why we did that job for you, so now all you had to do was make a choice. We hope our guide has helped you understand why basketball socks matter, and that you managed to find an adequate pair!
Frequently Asked Questions
q:

Do I really need socks specifically for basketball?

a:

There is a reason why sports-specific socks exist. If you performed in the socks you use to lounge and do nothing every day, you can expect to experience a significant amount of discomfort. These socks do not have the right features that support you or help you become better, and it's never a good idea to exercise without having a good pair of socks strapped around your feet!
q:

Are basketball socks pricey?

a:

You can expect to pay more for these socks than you would pay for regular ones. After all, they have been meticulously engineered, with proprietary material blends and features no regular, cheap sock has!
q:

How long should basketball socks be?

a:

This all boils down to your personal preferences, but ideally, basketball socks should sit somewhere around your knees. This way, you get the stability and support from the socks, and they keep you safe from injuries as well. They are also the least likely to slide down into your sneakers!
q:

How should I wash my basketball socks?

a:

Usually, the sock manufacturers provide you with a care manual that shows you how to wash them and dry them. But if you can't see the manual, it's best to be careful when you wash them! This means that you will either need to use your hands or use a gentle cycle without harsh chemicals that can ruin the construction. Rockay socks don't even need to be washed that often, and it's all thanks to Polygiene that keeps them fresh and dirt-free!
q:

Can I use socks made for running?

a:

Running socks have similar features that basketball socks do. However, they might have too much padding, or they might be too short. If you really want to wear your running socks when you play, test them beforehand to see if they can handle it!
Subscribe to our newsletter