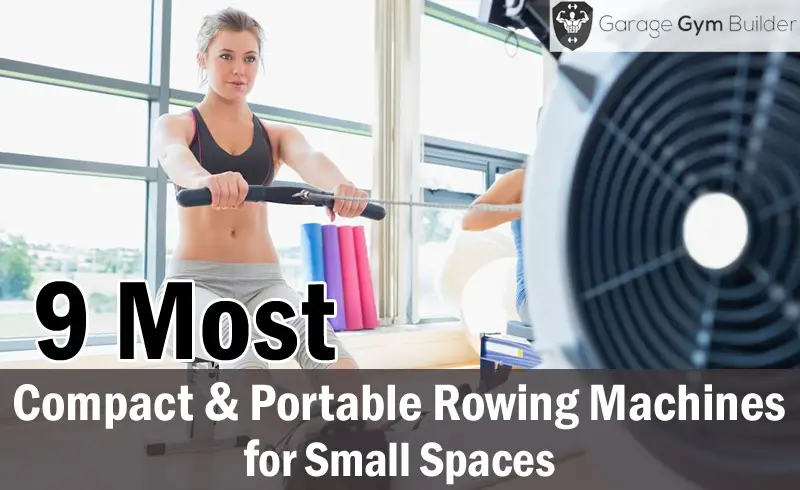 9 Compact and Portable Rowing Machines for Small Spaces
Updated on March 18th,2017
Adding a rowing machine to your home gym will provide you with an awesome multifunction machine. It uniquely combines cardio and resistance training to maximize weight loss while building muscle. But it usually takes up a large footprint and many people just don't have the space for it. In this article, we focus in on the 9 best compact and portable rower machines that will fit into even the tiniest of spaces.
A Quick Snapshot of the 9 Best Portable Rowing Machines
The most compact rowing machine that also has great portability that we found is the Sunny Health & Fitness SF-RW5606, which provides an awesome air resistance row, a high level of comfort and impressive monitor functionality, all in one compact unit. We also love the Sunny Health and Fitness rower with full motion arms, with its 12 levels of hydraulic tension resistance, and contoured padded seat.
Our third favorite portable rowing machine is the Stamina 1215 Orbital rower. This machine features 12 levels of adjustable resistance, a great range of motion and a very fluid rowing motion.
We've rated the 9 most compact and portable row machines in terms of their price and durability. Then we've given them an overall rating it of 5 to make it easy for you compare them.
| Product | Product Name | Price | Durability | Overall | Product Link |
| --- | --- | --- | --- | --- | --- |
| | | 4.25/5 | 4.5/5 | 4.5/5 | |
| | | 4.5/5 | 4.5/5 | 4.5/5 | |
| | | 4.5/5 | 4.25/5 | 4.25/5 | |
| | | 4.25/5 | 4.25/5 | 4.25/5 | |
| | | 3.75/5 | 4.25/5 | 4/5 | |
| | | 4/5 | 4/5 | 4/5 | |
| | | 4/5 | 4.25/5 | 4.25/5 | |
| | | 4.5/5 | 4/5 | 4/5 | |
| | | 4.5/5 | 4/5 | 4/5 | |
The 9 Best Portable Rowing Machines In-Depth
The Sunny Health & Fitness SF-RW5606 works by way of a hydraulic cylinder action, which is smooth and natural in it's motion. A deluxe ball bearing roller system makes sure that the seat moves naturally along its carriage. It provides for variable resistance with its adjustable tension cord. The sturdy central arm forms the basis of a strong frame. The unit features an LCD monitor which provides you with an ongoing readout of your essential training diagnostics.
The Sunny Health & Fitness SF-RW5606 is an extremely comfortable rowing machine. It has a comfort enhanced added seat, extra large foot pads with Velcro straps and comfort grip handles. An elastic pull cord enhances the smooth action. Your purchase is covered with a 100% replacement warranty.
PROS
Deluxe ball bearing roller system

Smooth and natural action
Comfort enhanced seat
CONS
Slightly noisy when in operation
The Sunny Health and Fitness Rowing Machine is a hydraulic tension rower the features extra long arms. It has 12 levels of adjustable resistance and a unique angled height which allows you to intensify your rowing angle. The seat is fully padded and contoured for comfort. The frame of this compact unit is made from solid steel, providing a high level of rigidity.
The foot pedals on the Sunny folding rowing machine are extra wide and have adjustable straps to allow you to secure your foot placement. The LCD display is prominently positioned and provides a clear readout of your vital training data. It has a maximum user weight of 220 pounds. This is a very lightweight, portable model, ideal for taking with you when you travel.
PROS
12 levels of adjustable resistance

Adjustable height angle

Extra wide foot pedals
The Stamina 1215 Orbital Rower is a very compact, portable hydraulic piston driven rowing machine. It offers 12 levels of adjustable resistance by way of centrally located dial. The rowing arms of the machine can be folded when not in use, making it even more compact. The range of motion of the 1215 is superb, allowing for a great calorie burning workout.
The Stamina 1215 provides a good level of comfort. It has a thickly padded seat that moves along a ball bearing track to give a fluid guide motion. The foot plates and handles are ergonomically positioned for ideal exercise movement. This foldable rowing machine provides surprisingly quality for the price and even comes with a 5 year manufacturer warranty.
PROS
12 levels of adjustable resistance

Excellent range of motion

Thick, padded seat

5 year manufacturer warranty
CONS
Not designed for short people
The Soozier Magnetic Fold Up Rowing Machine provides a compact, rigid design that offers a smooth, fluid rowing stroke. It has large foot plates with adjustable straps to provide a stable base to work from. 8 levels of shock resistance allow all family members to work at their own level. A central knob allows for quick and easy resistance adjustment. The angled seat rail provides for the ideal return.
The ABS monitor on the Soozier collapsible rowing machine provides a clear readout of all of your vital workout data. A scan function allows you to scroll through all readouts while exercising. When not being used, the Soozier can be stored on its end. It has a maximum user weight of 220 pounds.
PROS
Fluid rowing stroke

8 levels of shock resistance

Large foot plates
The Stamina X Air Rowing machine provides a more natural feel and level of resistance thanks to its air resistance system. This system allows for a natural variation in the resistance level of your workout. This rower provides you with an impressive length of seat movement, providing you with the maximum amount of contraction and extension on every repetition. The seat is comfortably padded and upholstered. Large footplates are fitted with strapping to allow for a firm hold.
The Stamina X Air Rowing machine features a large, easy to read display monitor that allows for immediate feedback on your training specs, including calories burned, distance, time and speed. The wheels and foldable frame make this a compact unit which is ideal for confined spaces. Your purchase comes with a 3-year warranty.
PROS
Generous seat movement

Comfortably padded seat
3-year warranty
CONS
A little noisy to operate

The best rated rowing machines on the market are the Concept 2 series. Find out if they really deserve to be number one with our Concept 2 Rowing Machines Review 2017 - you may be surprised!
The Stamina Body Trac Glider is a basic model rower that provides a very reliable workout. It has built-in shock resistance. This amazingly compact machine will fit into almost any space. It is also an ideal rower to take with you when you travel. A key feature of the glider is that has separate rowing arms. This provides you with a more realistic rowing motion.
The seat on the Body Trac Glider is adjustable so you can lift or lower it to suit. The seat is well padded and glides smoothly on the central track. For a cheap rower, this machine is surprisingly sturdy and wobble resistant. A centrally located dial allows you to adjust the resistance.
PROS
Built-in shock resistance

Separate rowing arms

Adjustable seat
CONS
Display data not reliable
For the most realistic rowing experience, you've got to experience a waterrower. Find out the best that the market has to offer with our Waterrower Rowing Machines Review 2017 - it'll change the way you think about rowing machines!
The Stamina Avari provides you with 12 workout programs by way of its magnetic system. It features a strong and robust central arm which delivers a full track for the seat to run on, ensuring that you are able to get a complete range of motion. You are able to easily adjust the resistance level of the row by way of a centrally located knob.
This machine provides you with a free and natural motion that is jerk free. The LCD monitor provides you with an ongoing readout of your time, distance, calories, and speed. The monitor can also be adjusted to a range of viewing angles. It has large foot pedals fitted with secure straps and foam covered handles. The Stamina Avari is compact and lightweight and can be folded for ease of storage.
PROS
12 levels of resistance

Full seat track

Jerk free motion

CONS
Calorie count not accurate
Find out the best deals on quality rowing machines with our Best 11 Affordable Rowing Machines That Won't Break the Bank article - it could save you some serious cash!
The Stamina In Motion Rower is a basic entry level small rowing machine that provides quality componentry for reliable performance. It provides 5 levels of adjustable resistance, giving a smooth rowing experience that is unusual for a rower under $100. It is simple to assemble, having the hydraulic tension arm at the from of the machine, rather than under it. This makes for a more natural feel during the rowing motion.
The foot plates on the In Motion rowing machine pivot to provide for a more natural leg action while exercising. At 56.5 x 19 x 23.5 inches this machine is amazingly compact, allowing you to get a decent workout in even the most confined of spaces. It can even be stored on end.
PROS
5 levels of resistance

Hydraulic arm at front

Very compact
CONS
Questionable customer service
Discover the best rowing machines of 2017 in every category with our guide here - we've got the market covered!
The Sunny SF-RW1205 Rowing Machine provides you with a powerful hydraulic resistance system that delivers a smooth, natural motion. It gives you 12 levels of resistance, providing you with plenty of variable training options. This makes it a great option for a low impact progressive resistance cardio workout. The fully padded ergonomically designed seat makes for a very comfortable ride.
The seat runs smoothly on the central arm, providing you with a jerk free motion. Large anti-slip foot plates and secure straps make sure that your feet are securely planted. Cushioned non-slip handlebars ensure that you maintain a comfortable, sweat free grip. The max user weight on this rower is 220 pounds. The unit folds for easy storage.
PROS
Hydraulic resistance


Ergonomically designed seat

Cushioned, non-slip handle grips
CONS
Max user weight limited to 220 pounds
The combination of rowing and high intensity interval training will allow you to torch your body fat faster than anything else. Kickstart your fat loss with this great HIIT rowing workout . . .
Conclusion
The best rower in terms of portability and compactness that we found is the Sunny Health & Fitness SF-RW5606. This air resistance machine offers a great mix of comfort, functionality and portability. Our second favorite is the Sunny Health and Fitness with full motions arms, which offers a great range of motion, a comfortable, padded seat and 12 resistance levels.
The third best compact and portable fold away rowing machine that we encountered is the Stamina 1215 orbital rower, with its 12 levels of variable resistance and surprisingly smooth rowing action.
Enter your text here...