The Best Stair Steppers for a Great Cardio Workout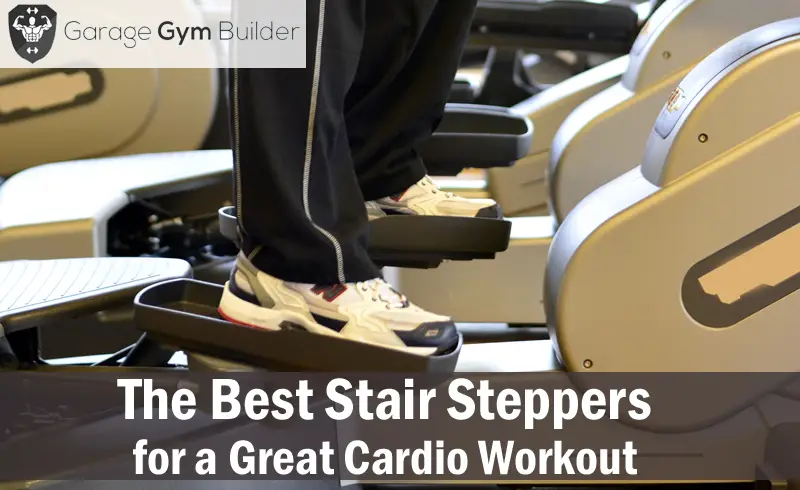 The Best Stair Steppers for a Great Cardio Workout
garagegymbuilder.com
updated January 1, 2019
Having a stair stepper as part of your home gym will give you some major training advantages.
But, how do you pick the right one for your needs while there are an endless supply of stair steppers on the market, often with conflicting reviews.
In this article series, we aim to provide you with the definitive guide to getting the stair stepper that best fits your budget and your needs. Our stair stepper reviews will cut through the fluff to give you the raw information you need to make a buying decision.
The best stair steppers we'll go in depth on are:
We'll also explain just why the stair stepper is a great addition to your home gym inventory. Check out more by navigating the table of contents below.
The Top 5 Overall Stair Steppers of 2019

The Bowflex TC-100 is a top of the line home stair stepper machines. It replaces the older TC-10 stepper and has several cool additions. The most impressive is Bowflex's 3-in-one design, which combines the benefits of walking running and training on an elliptical machine all in one unit. According to one study this will allow you to burn up to 423 calories in 30 minutes.
Each treadle has a belt speed of between 0.5 and 4.0 mph. The Climber offers a range of training inclines to increase the intensity of your workout. It also offers 12 resistance levels. The LCD screen is fully interactive, allowing you to sync your technology to your workout.
PROS
Maximum speed of 4 mph

Interactive back-lit screen

Stores and tracks user information (up to two people)

Compact design
CONS
Expensive

No MP3 connectivity

No wireless heart rate monitoring
Summary
The Bowflex TC-100 is a great stair stepper machine that will allow you to burn more calories more quickly. It offers a unique movement pattern and offers resistance levels and inclines that you won't find elsewhere. If you're budget can handle it, this would make a fine addition to your home gym.

The Sunny Twister Stepper provides a unique twisting action to allow you to work the muscles of the glutes and upper legs without any jarring joint action. It has a heavy duty steel construction, comes with a set of rigid handle bars for stability and balance and provides a multi-function LCD computer. The Sunny Twister also provides adjustable stepper height to allow for a full range of motion and multi user use.
PROS
Twist stepper action

LCD computer that records calories, scan and count

Adjustable step height

Handle bars to provide balance

Heavy duty steel construction
CONS
Tension adjustments are too subtle

Handle bars don't move, limiting range of motion
Summary
The Sunny Twist Stepper is a solid, compact unit that offers a good level of workout for beginning exercisers. The adjustable step height and unique twist action allow for greater muscle activation than many of it's competitors.

The Stamina Spacemate provides an effective, low impact workout targeting the hips, thighs and glutes. The compact design fits any workout area. The unit also folds for easy storage and portability. It provides a range of variable tension settings for a more challenging workout.
The Spacemate comes with a multi-functional electronics monitor. It tracks number of steps per minute, number of steps during the workout, workout time and calories burned.
Padded and textured handle bars and foot pedals provide for a comfortable workout experience.
PROS
Two adjustable resistance hydraulic cylinders

Padded and textured gripping surfaces

Multi function monitor

Compact and foldable
CONS
Overheating –

the hydraulic legs of the stepper can become very hot during an extended workout
Summary
​The Stamina Spacemate is a simple stepper with no frills that performs the job for which it was designed. It features a quality multifunction LCD display, a good range of tensions and comfortable hand and foot grips. This is a very well priced stepper that will provide you with a reliable, basic workout.

The Phoenix 98107 is an affordable stepper that comes with arms to provide stability and allow you to work your arms as well as your legs. It features a heavy duty steel frame, yet is compact and light-weight.
The design is simple, functional and effective. Hydraulic cylinders provide the resistance and a dial tensioner allows you to adjust the resistance of the arms.
PROS
Simple, yet effective design

Individual hydraulic legs

Arms for upper body workout

Heavy-duty steel frame
CONS
Has a lot of plastic parts which could break

Short warranty period
Summary
​The Phoenix 98107 will provide you with a reliable basic workout. The arms feature will incorporate your upper body in the training. This is very well priced no frills mini stepper that you can count on to perform.

The Sunny Fitness Folding Climber Stepper is a fan favorite, due to it's low impact, low cost and quality construction. The Sunny Climber comes with an impressive 12 resistance levels. This makes it extremely versatile, able to be used by all ages and abilities.
With independent stepping cylinders, you get a realistic, smooth and quiet stepping action on Sunny Fitness Folding Climber Stepper machine. The display monitor is quite simple, but clearly provides all of the information you need.
You can assemble the Sunny Climber in under 10 minutes.
PROS
12 resistance levels

Independent hydraulics

Smooth climbing action

Easy set up

Sturdy design
CONS
Holes may not align properly for assembly
Summary
The Sunny Climber is a solidly constructed cardio machine that provides you with an extremely impressive variable resistance range. The climbing action is fluid and the machine gives a good range of motion. Easy set-up and compact design make this machine a winner.
Stair Stepper Benefits
Now that you've had a glimpse at what's available in the market place, it's time to address the fundamental question of why you should invest in a stair stepper in the first place. Stair steppers have three major benefits over other types of cardio equipment:
A stair stepper works every muscle in the body.

The action replicates climbing stairs which actively recruits the glutes, hamstrings, quadriceps and calves. This provides you with a fantastic lower body workout. At the same time, he back and forth rowing motion of the arms effectively works your chest, back, biceps, triceps and biceps.

A stair stepper will give you a very effective cardiovascular workout.

Your V02 max will improve steadily as you use a stepper. This is an indicator of your aerobic capacity. You will be less out of breath when you climb real stairs as well as being able to get more life giving oxygen into your lungs.

A stair stepper will allow you to burn a lot of calories.

This, in turn, will translate to fat loss. Because the stair stepper engages both the upper and lower body, the calorie burn, and resultant fat loss, is greater than if you were using a treadmill or other piece of cardio equipment that just engages the lower body.
Stair Stepper or Elliptical?
To the uneducated eye, the stair stepper and the elliptical machine appear very similar. The machines look the same and, at first glance, so does the motion performed on them. The difference lies in the foot platforms and the way they are used. As the name implies, the elliptical machine will take your lower body through an elliptical range of movement. In contrast the stair stepper will simulate the action of walking up a flight of stairs.
In terms of pure calorie burning, the elliptical machine is more effective. According to a 2004 Harvard Medical School study, you'll burn around 50% more calories during a 30 minute session on the elliptical machine than you would on a stair stepper.
The stair stepper is more effective at tightening and toning the glutes, hips and thighs. That's because the stepping motion activates each of the muscles in your upper legs, as well as you calves. With the elliptical there is a measure of inertia, resulting from the pedal stroke.
Some people find an elliptical machine difficult to use. This can especially be the case if the stride length of the machine is either too long or too short.
The cost of elliptical stair stepper machines and stair steppers are quite similar. The home fitness market ranges from budget to top of the line for both types of exercise machine.​
Conclusion
The stair step machine used to be the hottest piece of equipment in the gym. People would flock to it, eager to get in their calorie burn. In recent times, though, it seems to have lost its mojo. Those that can be found are often empty while the treadmills are full to overflowing.
It's not the stepper's fault. It still provides the same kick-ass workout that is always has. Yet, not many people really appreciate the unique benefits that come with using a stair step machine. Quite simply, it is one of your best options for cardio training on the planet.
A stair stepper is a smart investment for your home gym. You can select a machine to suit your budget and your workout requirements. Once, it's in your home gym, you can use it any time to effect a quick fat melt and boost your cardio efficiency.
Be sure to check out our reviews of effective mini- steppers, top 5 stair climbers and best aerobic steppers to kick your butt into shape. We will provide the most effective, calorie burning workouts to help you reach your fitness goals. Then you can find out how to get the most benefit from you stair stepper with our comprehensive stair stepper workout guide.

Our #1. Recommendation
​BowFlex Treadclimber TC-100


My name is Jim Roose. I'm a former competitive power lifter and gym owner. I've bought millions of dollars of fitness equipment over the last 20 years. This site is my way of giving back to the fitness community that's done so much for me. Every article on here is carefully researched and written by me. Leave a comment if you have any questions.